From Dalgona coffee to the quesadilla wrap hack and the feta pasta trend, TikTok followed by Instagram, has given us some mind-blowing viral food trends in the past year. Now, months after the feta pasta craze, users are raving about yet another pasta dish – air-fried pasta chips. 
The recipe went viral after Michigan-based recipe developer YumnaJawad (@feelgoodfoodie), the woman behind the famous feta pasta, shared it on her profile. She makes her new favourite chips in an air fryer and believes they are easy to master. The food trend took no time to pick up on Instagram and as of July 7, 2021, the #pastachips tag has 2,687 posts and her post has over 1,88,233 likes and 93,600 views. According to Insider.com, on TikTok, the post has been viewed over 19 million times, as of June 30, 2021.
---
How to make air fryer pasta chips
Take a portion of cooked pasta, sprinkle grated parmesan cheese and olive oil on it. 

Fry it at 400 degrees Fahrenheit for 10 minutes in an air fryer or until crispy and golden. 

Once ready, enjoy these delectable chips with a side of feta and Greek yoghurt dip. 
---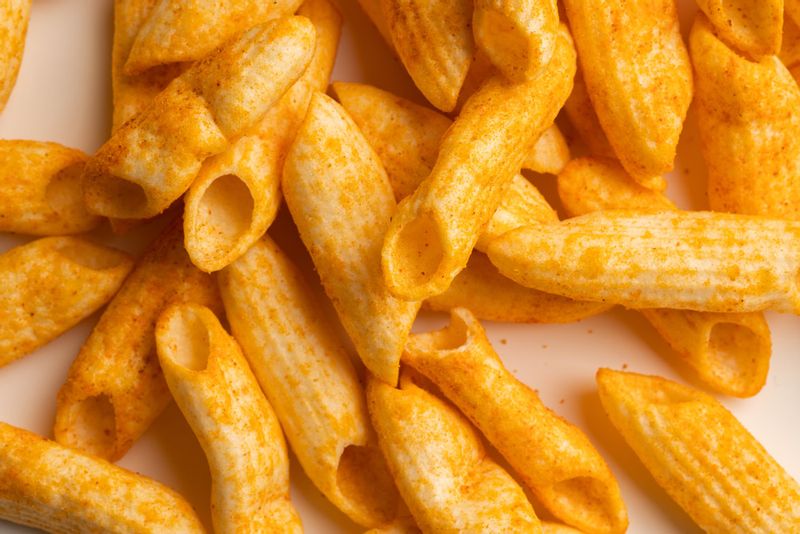 A great option for muchies at home, Roxanne Bamboat, a food writer and home chef at The Tiny Taster Kitchen, who tried her hand at this viral food trend, certainly vouches for pasta chips as a great appetiser. Bamboat made a version of this viral snack and shared it on her social media recently. "I don't try my hands at all the food trends that come up on social media but only the ones that are unique and easy. Also, I am obsessed with my air fryer and don't miss any opportunity to use it. In this recipe, the pasta is crispy and airy." To add a twist to pasta chips, she seasoned her air fryer pasta chips with salt and peri peri spice blend. To make it according to your own liking, she suggests that one can use a spice blend and pasta type of their choice for the recipe. "You can even add some grated cheddar cheese to it, it imparts a beautiful flavour." We agree. 
Pune-based chef and recipe creator Girija Kirpekar-Naik went with a classic Italian seasoning – dried oregano, red chilli flakes and salt and pepper for pasta chips. Easy, crispy, addictive. You get the drift.   
Scroll through the many variations of this viral snack on Instagram, and you'll notice that many, who didn't have an air fryer at home but wanted to hop on to this bandwagon, relied on a humble kadhai and a generous amount of oil. Instead of air frying, they deep-fried boiled pasta, and while the results weren't the same, none complained because they still taste good. Now, this variation isn't for the health-conscious, #justsaying!
If you're in the mood for a healthier version of the pasta chips, go for the ones made using whole wheat, chickpea quinoa or even buckwheat. 
Now, if you're inspired to tackle this food trend or create an original recipe that has the potential to go viral on the internet, don't forget to share it with us in the comments section below or tag us on Instagram, Twitter and Facebook. 
---
Photo: Shutterstock