Mango mania is real in India. Come spring and summer, people across India anxiously await their favourite variety of mango. Meticulous planning is undertaken to calculate the right time to get one's hands on the king of fruits. April is the time when a large part of the country is enjoying the king of mangoes, hapus aka Alphonso that hails from the coastal region of Maharashtra and Gujarat. But in Madhya Pradesh (MP) and a few parts of Gujarat, mainly those situated near the MP-Gujarat border, the waiting game only ends in June with the arrival of Noor Jahan, a sweet pulpy and fibrous variety of mango unique to the Katthiwada area of Alirajpur district, MP.  
Sold at a whopping INR 1000 per piece, we spoke to food experts to find our what's special about Noor Jahan mangoes.
What makes Noor Jahan mangoes so special? 
"Noor jahan is known as the Mallika (queen) of mangoes locally and it is booked months in advance since it is grown only in limited amounts," explains chef Shiv Pravesh, Executive chef, Indore Marriott Hotel and that it is the weight and size more than its flavour that has made this fruit so popular. "A single mango of this variety can weigh between two-and-a-half to five kilos, sometimes even more, and it is approximately feet or feet and a half long," he adds.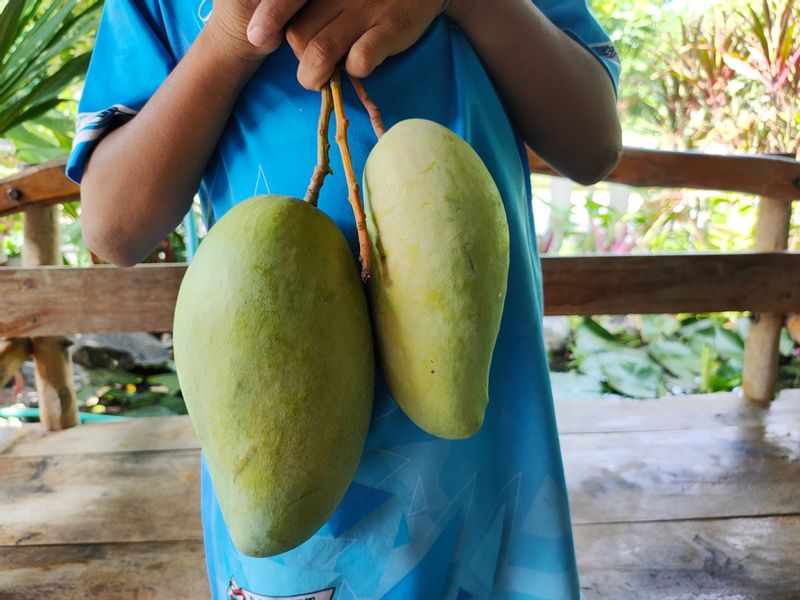 Ruchi Shrivastava, food researcher and owner of Greed Goddess Media, accredits the soil in the Katthiwada region. "This is a mining belt, so the soil here is different from other parts of the state. I think it is the sandy soil here that contributes to the uniqueness of the fruit." Also, there aren't many mango orchards that are solely focusing on growing this fruit, so the limited quantity may also be one of the reasons for its popularity. "It is not available in the market or at roadside stalls like the other varieties of mango." 
As for the taste and texture, the Noor Jahan mango is mildly sweet and fibrous. "If I had to describe its sweetness level, I'd say it is between a Badami and Dasheri. It is also slightly sour," describes the food researcher. 
Chef Pravesh points out that Uttarakhand has a similar variety of mango called hathi jhul aka hathi aam (elephant mango). "Based on my research, these two mango varieties are similar in size and quantity. But, yes, when it comes to taste there is something in the soil of Katthiwada that makes it so special." 
A blurred past 
When it comes to the origin of Noor Jahan, it is rumoured to have an Afghani lineage; however, there are no records to confirm this information. The official website of MP Tourism states that this variety was introduced by a local farmer named Thakur Pavnendra Singh. His son Shivraj Singh is quoted on the tourism website: "My father had a lot of fascination towards trying out different variety of mangoes. Hence, he had initiated this cultivation of Noor Jahan by preparing a graft and now after him, we are carrying forward the legacy."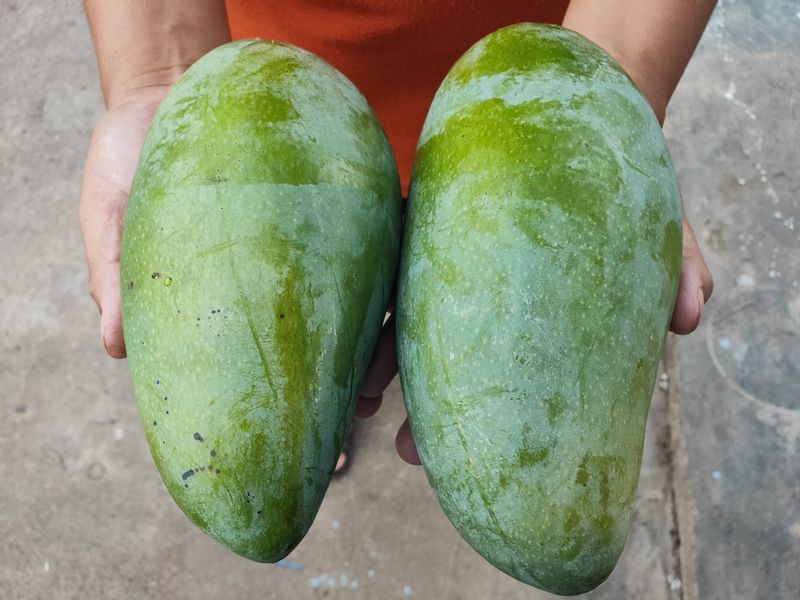 Ask Shrivastava about the origins of Noor Jahan, and she dismisses the Afghan origin claims, based on lack of records. "This story, I assume, has been spread by word of mouth, so we don't know how true it is. Some say that the sapling was brought to Valsad, Gujarat, from Afghanistan and then planted in the Katthiwada district. But if you research mangoes of Afghanistan you will get little to no information because the climate and terrain there isn't suitable for such a fruit." The Afghan hearsay, she feels, may have come from the fact that, at some point in the past, there was a large population of Afghani Pathan students studying in Indore and Bhopal. "Apart from that, there's no other written Afghan connection," she concludes. 
How to relish Noor Jahan mango?  
That you can slice it and eat it as is, is a given. But chef Pravesh says you can elevate its flavours by incorporating it in desserts. "I make a Noor Jahani kulfi with milk and nuts with this mango variety, and even use it in ice creams. You can also, relish its slices with some Himalayan salt and chilly. Since the mango is mildly sweet and sour, the salt-chilly combination gives it a distinct flavour dimension that is delicious!" He also suggests incorporating this in a shrikhand. 
Now that you're acquainted with the queen of mangoes, how about reading a little about the Mancurad mango that is the king of mangoes for Goans?
---
Photo: Shutterstock - Images used for representational purposes only