Chillas or Indian pancakes are made in many homes for breakfast or as a snack. The best part is that they are simple to prepare and delightful to consume. From the plethora of chilla recipes that exist in the world, we have listed some of the best from different chefs' cookbooks. These recipes not only features besan chilla recipes but a couple of more options you can try at home.
1. Besan chilla
If your browser history is filled with "tasty chilla recipes", here's an interesting and delicious one that you can try. Scroll down to check out how you can prepare this Kunal Kapoor style chilla at home in 20 minutes.
Ingredients
Besan – 1 cup

Maida – ¼ cup

Turmeric – ½ tsp

Chilli powder – ¾ tsp

Ajwain – ½ tsp

Ginger, chopped – 2 tsp

Green chilli, chopped – 1no

Onion, chopped – 1 tbsp

Spring onion, chopped – 2 tbsp

Coriander, chopped – 1 tbsp

Salt – to taste

Water – ½ cup approx

Baking powder – 1½ tsp

Oil – a dash

Green chutney

Mayonnaise

Chaat masala
Steps:
Take a bowl, and add besan, maida, and all the other dry ingredients.

For the second step, add ajwain along with the chopped fresh ingredients.

Now, add salt as per taste, and mix water to make a thick batter. Add in the baking powder and mix well. Let the batter rest for 5 min.

Heat a pan over medium heat. Spread some oil on it. 

Pour the batter over the pan and cook for a minute or two, flip to cook on the other side on medium flame.
Once it is properly cooked, serve hot with green chutney, tomato ketchup, or mayonnaise with a dash of chaat masala
2. Besan chilla wrap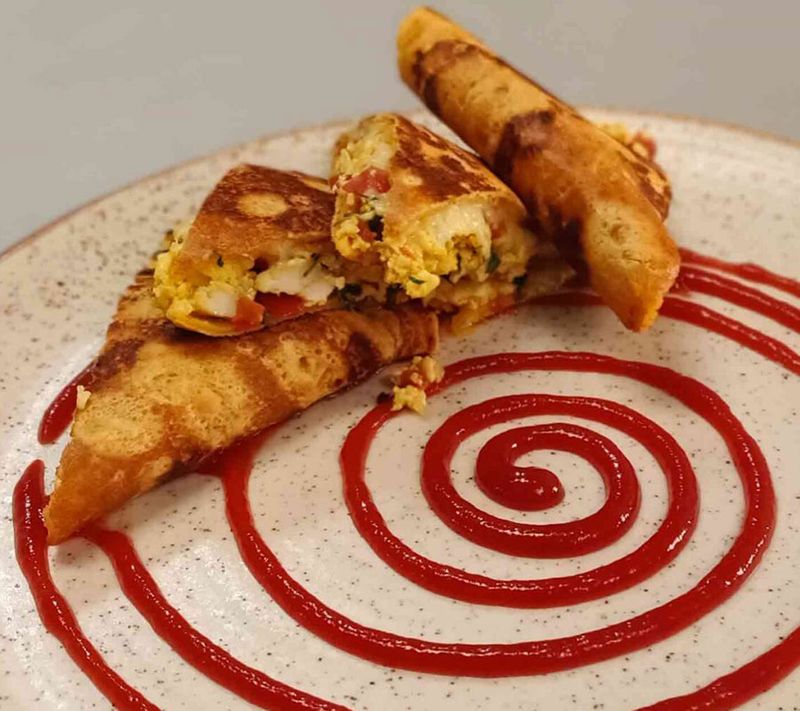 Chef Ajay Chopra also has a unique way of preparing besan chilla with a special touch of his creativity. The chef had modified the regular besan chilla into a wrap that will surely tempt your taste buds! Here's what you need, and how you can make it.
Ingredients:
Besan - 1 cup 

Hing - 1 tsp

Water

Chopped onion - 1 

Paneer bhurji - 1/2 cup 

Grated cheese - 1/2 cup
Steps:
Add besan, some red chilli powder, salt, hing, and some oil in a bowl.

Then, add water and make a flowing consistency batter.

Add some chopped onions in the batter and mix well.

In a non-stick pan, drizzle some oil and heat it on a low flame. 

With a ladle, spread the mixture gently. 

Cook the chilla on both sides.  

Add the paneer bhurji or any leftover sabzi on side of the chilla and top with cheese. 

Fold it in half and cook on both sides again.

Cut the chills into triangles and serve it hot with ketchup or chutney of your choice.
3. Wholewheat chilla
If you want to give your chilla a sweet twist, India's first MasterChef has a plan for you. You can try Pankaj Bhadoria's wholewheat chilla if besan is not the flour of your choice. This quick recipe will take only 30 minutes to prepare.
Ingredients:
Wholewheat flour

Milk - 1 cup 

Sugar - 1 cup

Fennel (saunf) - ¾ cup

Coarsely-chopped walnuts - ½ tsp

Coarsely-chopped almonds - 2 tbsp
Steps:
Mix all the ingredients in a bowl. 

Add a little water to make a smooth free-flowing batter.

Heat a non-stick pan on a medium flame. 

Spread a small amount of the batter on the pan and make chillas of the size you like.

Cook it properly from both sides. 

Roll up the chillas and serve hot.
Pankaj Bhadoria's quick-tip: You could give these rolls a stuffing of chopped fruits or go easy on the sugar and add some honey to it to make it nutritious and rich in vitamins.
4. Oats chilla recipe 
Try a yummy chilla recipe from chef Kunal Kapoor's kitchen. The renowned chef uses pav bhaji flavoured oats to give a spicy touch to the traditional chilla recipe. Here's how you can try this easy recipe.
Ingredients:
Pav bhaji flavoured oats - 4 tbsp 

Besan -4 tbsp

Salt - as per taste

Finely-chopped spring onion - 3 tbsp

Baking powder - 1 tsp

Water - 3/4 cup

Oil/butter to cook
Steps:
Mix the flavoured oats, besan, salt, and spring onion in a bowl. 

Add the water and make a batter with flowing consistency. 

Heat a pan and add some butter or oil to it. 

In the centre of the pan, pour some batter gently and slowly. 

Don't try to spread it, rather let it spread on its own. 

Once it is cooked from one side, pour some butter/oil and flip it gently. 

Cook it from both sides and serve it hot.
5. Moong dal chilla
If giving a modern touch to traditional dishes is an art, then chef Ajay Chopra is a fine artist. For anyone who enjoys healthy eating, Ajay Chopra's Moong Dal Chilla recipe is a must-try.
Ingredients:
Moong Dal (soaked for 6-7 hours) - 1 cup

Rice (soaked) - 1 large spoon

Green chillies - 1-2 

Ginger - 1 

Salt - as per taste

Cumin - 1 tsp
Poriyal ingredients
Black-eyed beans (soaked & boiled) - 1 small cup

Coconut (grated) - 2 tbsp

Chopped ginger

Chopped chillies 

Mustard seeds - 1 tsp

Dried red chillies

Curry leaves

Finely-chopped onion

Coconut oil

Salt

Turmeric powder

Red chilly powder

Black pepper powder
Steps:
Chilla batter:
Mix all the ingredients in a mixer jar and add some water. 

Grind it nicely to make a consistent batter. 

Let it rest for 10 minutes.
Poriyal:
Heat some coconut oil in a pan and add dried up red chillies and mustard seeds. 

Once the seeds start crackling, add curry leaves, chopped ginger and chopped green chillies. 

Now, add chopped onions, salt, turmeric powder and red chilli powder. 

Add a pinch of black pepper powder. 

Add soaked and boiled black-eyed beans to the pan. 

Once combined well, add the grated coconut and cook for two minutes.
Chilla recipe:
Heat a non-stick pan and sprinkle some water. 

Pour some batter on the non-stick pan and spread it gently to make it as thin as possible. 

Place a small portion of the poriyal in the middle and cook the chilla. 

Fold it and serve hot!
Try these chilla recipes to add an unusual yet tasty twist to your breakfast. 
---
Photo: Shutterstock, chefajaychopra.com