Dev Mishra presented a meal with lamb Mughlai curry and chicken kebabs at MasterChef Junior Season 3. He may not have made it to the ranks of the winners, but 13-year-old Dev Mishra, is a chef to look out for. He not only made it to the semi-finals, he wowed the judges from the very first day with his incredible skills. In an interview with Zeezest.com, the Indian origin prodigy tells us about his tryst with cooking at an early age, his restaurant dreams, and more.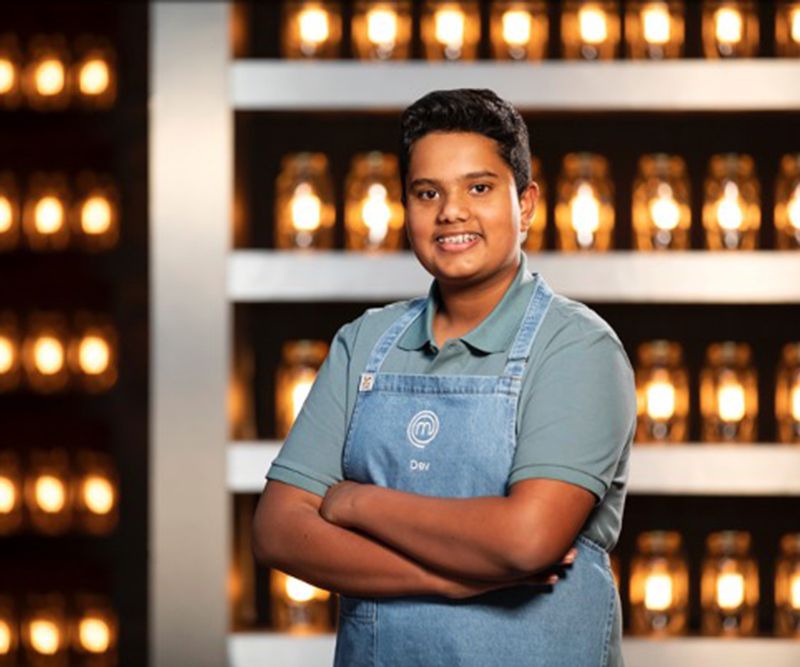 1. When did you first start cooking and what did you cook?
I started learning to cook since as long as I can remember. My mum always wanted my brother and me to be independent and she encouraged us to learn cooking. My first memory of cooking is when my mum would give me some dough to knead and roll to make roti or mix and prepare ingredients. She inspired me to cook, introduced me to various flavours, and taught me the initial cooking processes. The first full meal that I cooked independently was when I was in grade 4. I made scrambled eggs on toast and buttermilk pancakes for Mother's Day breakfast. My parents loved it and there has been no looking back since then.  
2. What attracted you to the art of cooking?
I love how food can create happiness and bring people together. I am always intrigued about how we can create different flavours using limited ingredients. With a little bit of effort, not only we can create delicious recipes, but also attractive and beautiful-looking dishes. I love to cook something that my parents absolutely cherish.
3. What's your favourite cuisine and what's your favourite dish?
It is hard to pick one favorite as there are so many delicious dishes from various cuisines. If I have to pick a couple of my favourite cuisines, then it would be Indian and Italian. I love the depth of flavours in Indian cooking. I am also amazed at how many different flavours you can create in Italian dishes with limited ingredients. My favourite savoury dish would be lamb Mughlai curry and smoked Indian kebab that I made on Masterchef Junior. I also love to eat classic French desserts.
4. You cooked 5 Indian dishes at MasterChef Junior, in record time. How did you achieve this culinary feat? 
I served an Indian feast consisting of lamb Mughlai curry, smoked chicken kebab, saffron rice, cucumber raita and coriander chutney. It represents my Indian heritage. It has authentic Indian flavours and has different techniques. I learnt them from my mother, and so it represents my family as well. We all had 75 minutes to cook our signature dish. It was a bit of risk as the cooking required a lot of steps, varied techniques, and required many ingredients and equipment. Then it was also quite intricate to balance all the flavours to ensure one element did not overpower others. To plate up all that in 75 minutes was a real challenge, and I am happy that I could pull that off. I got the best possible feedback from all judges on that dish, which made the whole experience so rewarding.
5. What are your learnings from MasterChef Junior? 
MasterChef Junior has been the best experience of my life so far and I have learnt so much from it. The three top learnings from MasterChef would be – believing in yourself, thriving under pressure and time management. I have learnt the magic that is self-belief. There were so many tricky situations and many extraordinary challenges that we were given. It took all of us out of our comfort zones. It is easy for us to start doubting our abilities when we are faced with challenging situations. But one of the key ingredients to success is to believe in ourselves and believe in our skills and abilities. Another thing that I learnt is how to handle pressure. There were many times when things did not go according to plan. What I learnt was not to give up, but to find the courage to keep going, and come up with better ways to complete the task. You are always short on time in the MasterChef kitchen, so I learnt how to manage time effectively. It involved various tricks – sometimes I did multi-tasking like in the Indian platter that I made; or sometimes I used a more efficient workflow like with the chocolate passionfruit sphere dessert.
6. What do you regret not making on the show?
I cook seafood well, and I was hoping to get a challenge where I could get a chance to cook a brilliant seafood dish.
7. How has your Indian heritage helped hone your cooking skills? 
Indian cooking has taught me to balance the flavours. In Indian cooking, we work with so many spices and ingredients, and it teaches us to balance those well to get the best taste. My lamb Mughlai curry was a good example where I managed to balance the flavours of many spices. Another thing that Indian cooking has taught me is to work with authentic techniques. In the smoked Indian chicken kebab that I made at MasterChef Junior, I used the technique of using charcoal to bring the smoked flavour to the dish. Indian cooking also teaches us to bring the depth of flavours which I absolutely love. This skill has helped me understand a lot of flavours when I cook other cuisines as well, including Chinese, Thai or Mexican.
8. What are your favourite cooking techniques and which ones do you dislike?
I love baking. I cook both savoury and desserts in the oven. I don't think I dislike any method that I have come across so far, but obviously, my parents ask me to be very careful while frying anything, and I am only supposed to deep-fry when they are around for safety. Presently, I am trying to master the sous vide technique (a French technique) and I am enjoying doing that.
9. What are your plans for the future? 
I want to open a restaurant that will serve food from across the world. I cook different cuisines, and I try to recreate authentic flavours with my twist to them. That's what I want to showcase in my restaurant.
---
Photo: MasterChef/Endemol Shine Australia