My nana may not be a professional chef, but her curries are to die for. The secret ingredient is love and the fact that she rarely follows a recipe closely. Instead, she improvises with whatever ingredients are available in the kitchen. Her Goan sorak curry is one such example. Made in a different manner every time, using different ingredients, it tastes just as delicious every single time and is wiped clean.
Decoding grandma's recipe
Following a basic recipe of fresh coconut and aromatic spices for the curry, it is enhanced with tangy tamarind or kokum to give the curry its sourness. At times nana uses dried mango pieces (ambiyachi solan) or fresh raw mangoes as a substitute when they are available. The curry is then spiced with onions, a couple of green or red chillies, and at times both for heat.
Once this foundation is set, in go the ladyfingers, drumsticks or pumpkin and at times even prawns (dried or fresh). Sorak Curry is best devoured with a plate of plain Goan steamed rice, salted fish and Bachao (prawn pickle); simplicity at its best.
And in the case of leftovers, nana simply cracks open a few eggs into the remainder of the Sorak Curry and serves it up as a completely new dish for the next day's lunch. Delicious and satisfying, especially when scraped directly from the handi, mopped up with a piece of soft Goan poi or bread. 
Reminiscing about earthen curries
The Goan Sorak curry is a very basic recipe that was traditionally made with no fish. Reserved only for the monsoon season when the fresh fish catch is insufficient, this curry was considered as poor man's curry.
Grandma says that back in the day, this plain coconut curry would also be cooked in an earthen clay pot called 'cudnem' or 'khundem,' lending a flavour of its own to this spicy curry. Nana still romanticises how the curries cooked over an open wood fire in earthenware pots taste better, adding that the tastes were probably enhanced by the smokey flavour and the traditional clay handis made from the soil of the land that lent a unique flavour and aroma to the dish.
Goan sorak curry recipe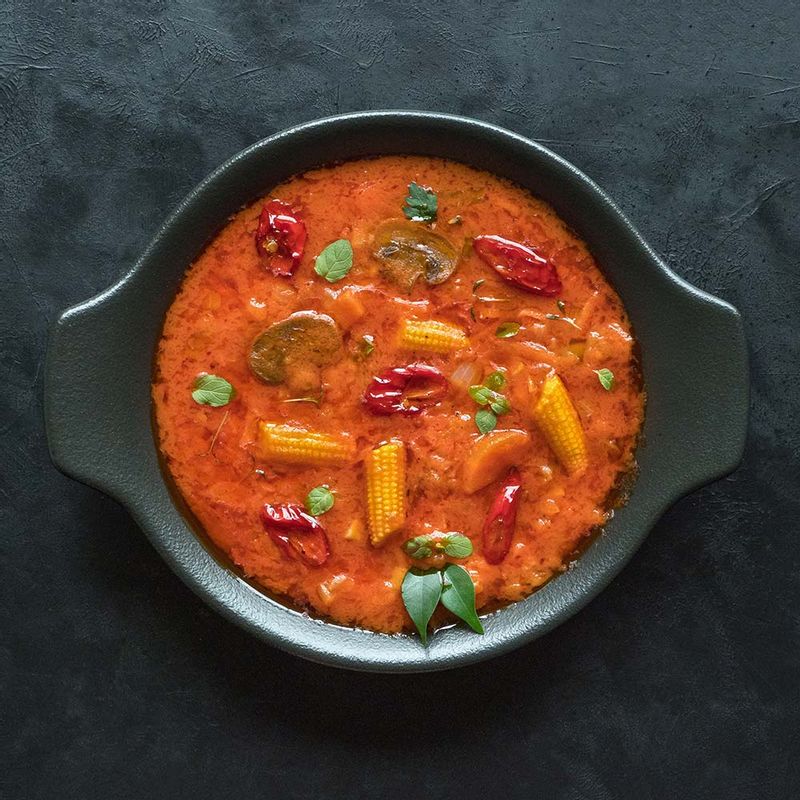 Ingredients
A handful of Kashmiri chillies (reduce if needed)
½ cup ground coconut
3-4 garlic flakes
2 pinches or ½ tsp cumin seeds
Around 4 pinches or 2 tsp coriander seeds
Around 4-5 peppercorns
1 whole pinch or 1/2 tsp turmeric powder
A coin-size ball of tamarind or 2-3 pieces of kokum (soaked in some hot water to extract pulp)
2 green chillies, slit
1 medium-size onion, chopped
1 small tomato, chopped
1 small piece of ginger, finely chopped
Oil, for frying
Water
Salt, for taste
Method
In a mixer, throw in all your dry and whole spices – grated coconut, Kashmiri chillies, cumin and coriander seeds, peppercorns, garlic, ginger and some kokum or tamarind water. Blend into a coarse paste. Grandma's tip: Scrape off the remaining masala from the sides of the mixer either using bare hands or simply pour in some water.
Next, heat a pan with some oil. Once hot enough, add the onions.
Once they begin to leave an aroma and start to turn translucent, toss in the tomatoes. In case you choose to enhance your curry with other additions be it veggies or fish, add them into the pan at this stage.
Once your tomatoes and onions have softened, add your freshly ground masala paste, little at a time. Make sure you have reduced the heat and keep stirring so as to prevent the ingredients from sticking to the pan.
Let the masala cook for a few minutes before you pour in some water to adjust the consistency. Grandma always likes to leave it a bit watery.
When about to boil, season with some salt, throw in the slit green chilly (take out the seeds to reduce the heat), and the kokum or tamarind.
Let the curry simmer over a low flame for a few minutes before taking it off the flame.
---
Photo: Shutterstock