If you love Snoopy, we don't need to tell you much about peanuts anyway! Now that you are a Peanuts fan, let's get you up to speed with the benefits of the equally yummy superfood.
With superfoods being all the rage, nuts have slowly elbowed their way into the long list of superfoods. A powerhouse of instant energy and nutrition, nuts are a good source of proteins, heart-friendly fats and essential minerals. While macadamia nuts, almonds, cashew nuts and walnuts steal the show, the humble peanuts have quietly maintained their status as the most accessible health nuts of all.
Get more out of peanuts
Peanuts are a good source of fibre, protein and unsaturated fats that can protect the health of the heart, reduce weight by increasing satiety, lower cholesterol and blood pressure and can ward off many diseases by keeping the body healthy. What makes peanuts a healthy snack is that they pack a punch with all the health benefits that other kinds of nuts also offer, but at half the cost of the fancier nuts.
During the groundnut harvest time in the south, it's not uncommon to see pushcarts of unshelled groundnuts lined up on the roads. It may seem strange for outsiders that peanuts are being sold with their shells intact, but in the south, raw whole peanuts boiled in salt water with their shells intact is nothing less than a delicacy. What adds to the charm is the evening activity of shelling the boiled peanuts over rounds of laughter and conversations with your family members. It's nothing short of a heavenly experience to savour the succulent nuts inside that are softened under the pressure of boiling.
Cooking with peanuts, the south Indian way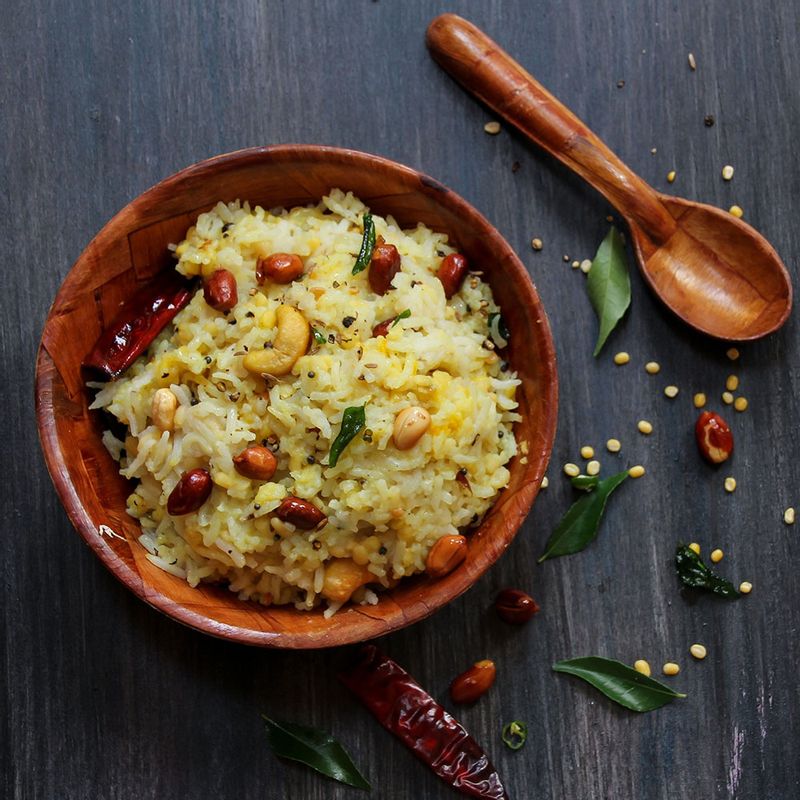 South Indians have long appreciated the resourcefulness of peanuts and used them liberally in their cooking. Karnataka celebrates the richness of peanuts by holding Kadalekai Parishe or the annual groundnut festival in November as an offering to Lord Basava or Nandi (Lord Shiva's vehicle). While peanut butter has taken over our modern kitchens as a fancy breakfast staple these days, there are various ways south Indians consume peanuts.
When it comes to dried groundnuts, there is nothing that you cannot do with them in Indian cuisine. All kinds of flavoured rice (called bhathin Karnataka and saadamin Tamil Nadu) from lemon rice, tamarind rice, mango rice to bisi bele bath and vaangi (brinjal) bath come with a generous sprinkling of roasted peanuts. So do several healthy and delicious breakfast items such as upma, shaavige bath (spicy vermicelli) and poha or avalakki bath. Verkadalai sadam in Tamil Nadu is one kind of flavoured rice that is made with groundnuts.
Another interesting way to use groundnuts in south Indian cuisine is by way of chutneys. Groundnut chutneys are very popular in the south and go well with pretty much everything from idlis, dosas, upma and various kinds of flavoured rice.
Peanut chutney recipe
Making peanut chutney is not time-consuming. Finely grind a cup of deskinned and dry roasted peanuts with two cloves of garlic, one or two green chillies and a fistful of curry leaves that are fried in oil. You can temper the mixture with mustard seeds, urad dal, red chillies, curry leaves and a pinch of asafoetida.
Snack time favourites
Peanuts are a healthy, handful snack that can stave off hunger pangs and curb your evening snack attacks. While dry roasted peanuts that are sold on pushcarts make for a healthy evening snack after a workout, sweet peanut balls or kadalai mittai aka chikki are a usual homemade snack in the south. It is nothing but a round-shaped chikki made with peanuts and jaggery.
For some mouth-watering savoury snacks with peanuts, try peanuts masala, where skinned groundnuts are tossed with salt, finely chopped onion, ginger, carrots, green chillies and fresh coriander leaves and sprinkled with a generous amount of lime juice.
With so much versatility to offer in terms of flavour and texture, it is no exaggeration to say groundnuts totally rule south Indian kitchens.
---
Photo: Shutterstock