It's been a little over a year since India's modern agave spirit, Maya Pistola Agavepura, was launched in Goa. A year later, the homegrown 100% agave spirit brand has five additional expressions. "We first launched our 100% natural, additive-free Reposado. Pistola is now available in variants such as Joven, Añejo, Extra Añejo and a Cask Strength Extra Añejo," says Rakshay Dhariwal, who is the partner at Pass Code Spirits Co., a sister concern of Pass Code Hospitality that runs acclaimed bars and restaurants such as PCO, Ping's, Jamun, and SAZ across the country. They have also added a Rosa as well as two special limited editions—Rosa Select and Phoenix Añejo. The latter was a result of a fire accident.
Joven (which means young) is a blend of unaged 100% agave and slightly aged 100% agave, a Reposado aged in ex-bourbon barrels, an Añejo rested in new American white oak for over 14 months, a Rosa aged in ex-cabernet sauvignon barrels and an Extra Añejo, rested in both ex-bourbon and new American white oak. "So far, we have the first four ready and in the market," says Radhika Dhariwal, partner at Pass Code Spirits Co.
We spoke to Radhika further to throw more light upon the provenance and the future of Pistola agave spirit.
Edited excerpts:
1. Why did you decide to develop agave spirit over any other spirit category?
Since we own restaurants and bars across the country, we noticed the appetite for agave spirits increasing since 2018. Our patrons were ordering more and more agave tequila and mezcal, thanks to their distinct character, crisp taste and lower calorie count than other spirits. During the lockdown, we discovered that agave grows naturally in India, so we decided to create a premium aged 100% agave spirit, where all the expressions are totally natural and completely free of additives and chemicals. This makes our agave spirit, Maya Pistola Agavepura. All the flavour is imparted naturally through the oak barrels and from the wild agave. Moreover, this spirit is touted as a 'hangover-free' spirit thanks to the fact that the liquid is 100% pure distilled agave and demineralised water.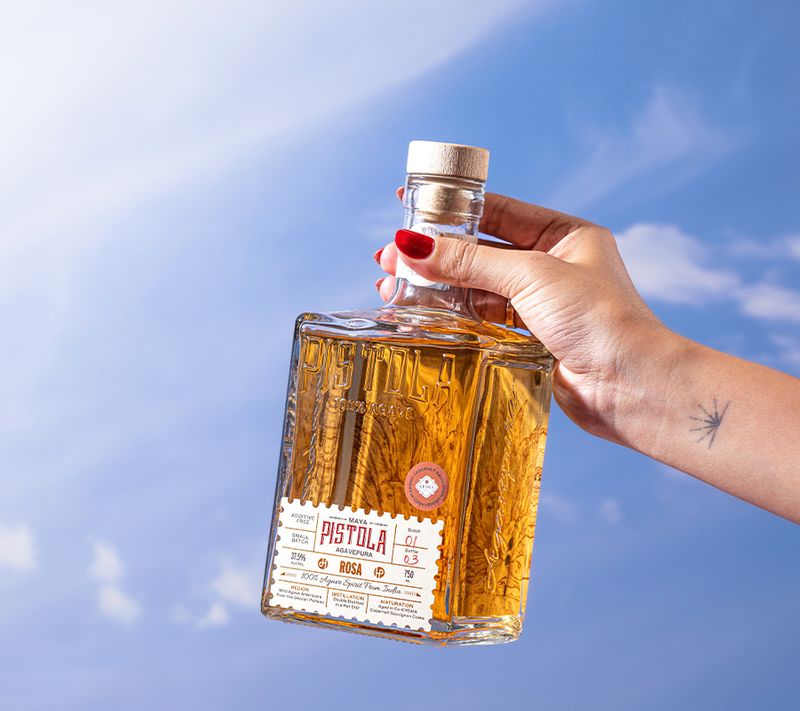 2. Why did you work on six expressions of Pistola?
We had always planned on having five expressions. Each expression caters to a different occasion or mood. The Joven shines in cocktails with its raw and cooked agave and crisp herbaceous notes, the Reposado is very nice to sip on and can appeal to whisky drinkers, the rosa appeals to wine drinkers and goes beautifully in spritzes and for afternoon brunches while the beautiful brown Añejo is the choice of single malt and cognac drinkers.
3. How did the two limited edition expressions of Pistola come about?
The two limited editions happened by chance. The first one—our Rosa Select—only available in Maharashtra, is a slightly more mineral and character-led agave spirit. It was created because one of the ex-cabernet sauvignon casks from KRSMA Estates was a special Tonnellerie Quintessence cask where the flavours were not as mellowed as the others. Our extra special Phoenix Añejo is a very special super edition. On Christmas Eve 2021, our rickhouse caught fire and all our barrels with liquid inside went up in flames. All we could salvage was 1,800 bottles of 20-month-aged spirit. This is our Phoenix Añejo.
4. Do you intend to expand on these expressions in the future?
We will be releasing an Extra Añejo in March 2023 and a cask strength extra Añejo next year as well. We are also releasing a super-premium Rosa, akin to a fine cognac, as a special edition. Since we are small batch producers, we will be releasing special editions all the time because we believe that each batch is special, unique and has its own character.
5. Has India evolved from 'shots' to sipping tequila/mezcal/agave spirits?
Indians have been sipping on tequila and mezcal for some time. While shooting tequila is still very popular, people also enjoy the actual notes of tequila itself and lots are beginning to drink reposado and Añejo on the rocks or with water.
6. What are some of the biggest trends you see emerging in craft spirits in 2023?
Agave is one of the biggest trends—with even the lesser-known sotol, bacanora, raicilla gaining steam. Rum also seems to be picking up thanks to the depth of flavour and ways it can be distilled. All in all, craft spirits as a category themselves have burgeoned and will continue to do so as people begin to want unique and high-quality spirits, where each sip feels special. 
---
Photo: Pass Code Spirits Co