As a hardcore non-vegetarian, I never imagined myself savouring tempeh in a flavourful Chettinad-style curry or kebabs made with tempeh—but it was surprisingly good. With their outlets in Bengaluru, Hyderabad, Chennai, and Mysuru, Hello Tempayy—a bean-based, easy to cook food—finally made its way to Mumbai. After trying out their entire spread, including tempeh peanut masala, salad with balsamic glazed tempeh, and spaghetti tempeh Bolognese, it didn't take much to convince myself that this new and versatile bean protein has the potential to be the next healthy staple in Indian kitchens.
For vegetarians who are bored of the same ol' food options, tempeh is the best kept protein secret to make healthy and tasty food choices. It's gluten-free, preservative-free, dairy-free, and currently available in six variants—natural, spicy peri peri, simply sriracha, peppery szechuan chilli, roasted Chettinad, and spiced tawa masala.
What is tempeh?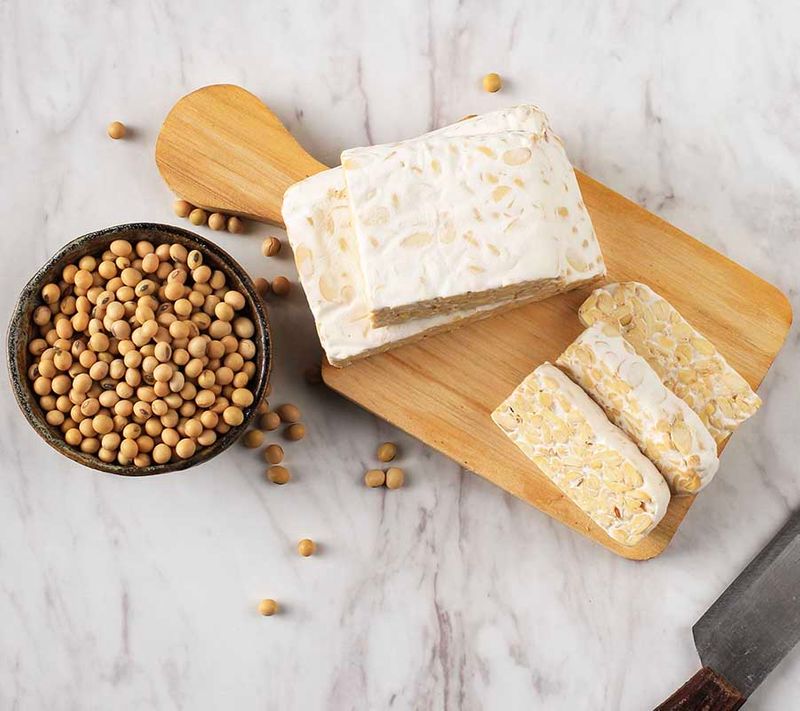 Tempeh or tempe is a delicious, nutritious, wholesome, and 100% vegetarian protein-rich food made by fermenting soybeans. It is packed with protein, fibre, and good fats—giving vegetarians, fitness enthusiasts and conscious foodies a delicious, nutritious, and healthy plant-based, protein-rich food. Tempeh is made from soya proteins which come from soya beans, so they are concentrated sources of the essential nutrient. Protein derived from soya is complete in itself, meaning it contains all the amino acids needed to support health.
Nutritional value of tempeh
Tempeh offers more protein than any other natural vegetarian or vegan product that is clean label i.e. 19 grams of proteinfor every 100 grams of tempeh. It is additionally fortified with vitamin B12 and iron, both of which are not easy to find in vegetarian food. Research has shown consumption of tempeh has benefits for overall health, including muscle gain and weight loss. It is also a great food option for diabetics. It is also low in saturated fats and carbohydrates, and good for the gut as it is fermented.
What makes tempeh distinct?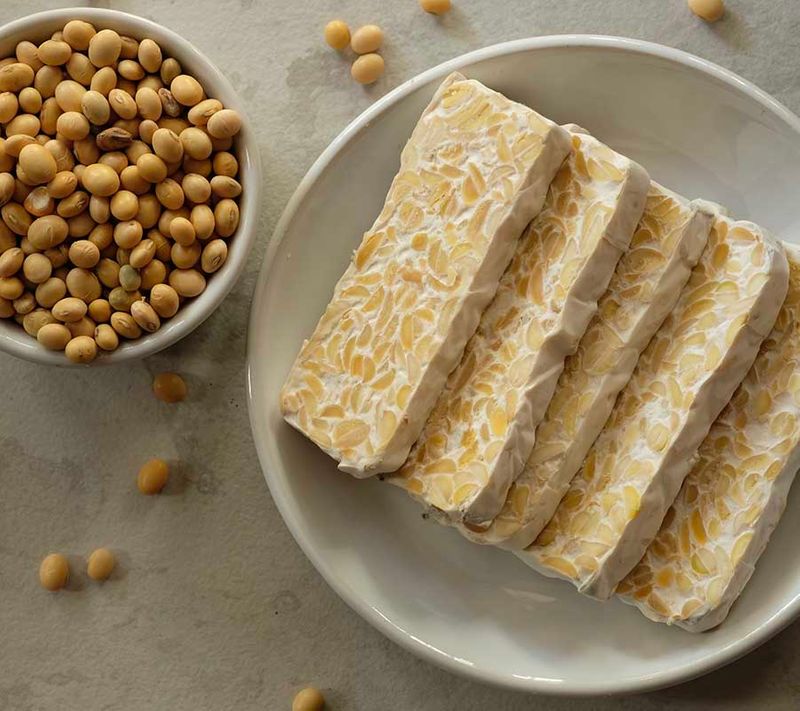 Siddharth Ramasubramanian, founder and CEO of Vegolution, explains, "Because of the porous nature of tempeh, it absorbs flavours and spices unlike paneer or tofu. This allows us to offer marinated varieties which make it even more flavourful and easy to use. Hence it is versatile and can be used across different applications and different kinds of cuisine and micro-cuisines, which is relevant in India given the number of regional cuisines and the nuances each of them have. Vegetarians are often looking for something else, other than paneer, to add to their diet. Something different that is flavoursome, easy to cook, accessible, affordable, and healthy. And tempeh fits that bill perfectly. Plus, one of the biggest advantages of tempeh is that it's a plant-based and not a dairy-based protein source, which is ideal for those who prefer a dairy-free diet. It's naturally cholesterol free and rich in fibre which makes it beneficial for gut health, diabetes, weight loss, and heart health too."
On how Hello Tempayy aims to bring a change in the Indian food scene, Ramasubramanian adds, "Our aim is to address the protein gap among people in India who mostly consume vegetarian food. We spent a fair amount of time understanding various protein-rich ingredients that would work within the Indian context of cooking and eating."
Still not convinced? Here are some easy tempeh recipes you can try for yourself:
1. Tempeh yellow curry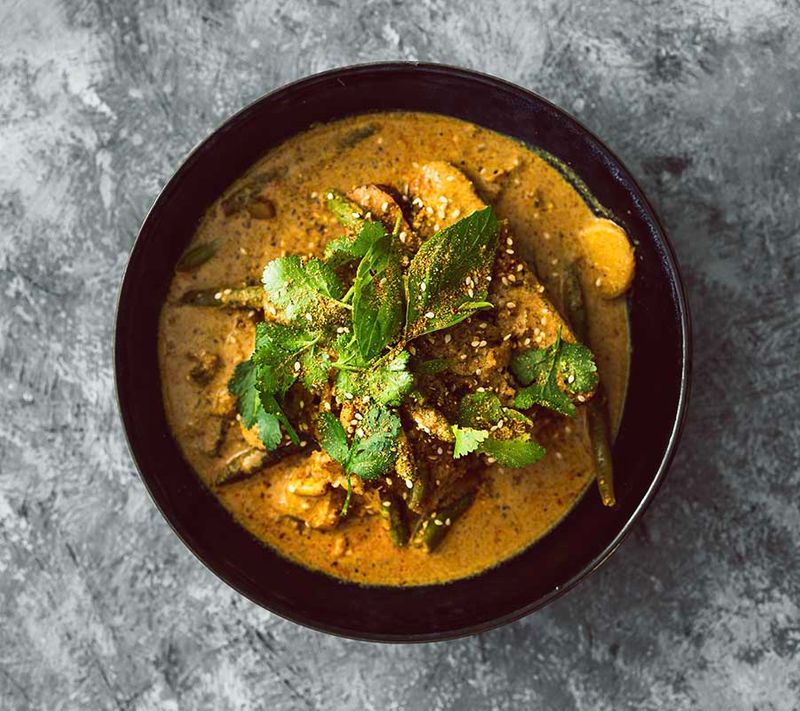 Prep time: 15 mins
Cooking time: 20 mins
Serves: 4
Ingredients:
200 gms Tempayy cubes   
2 tsp curry powder
4 tsp Thai yellow curry paste
1 green chilli
2-inch galangal
1 strand lemongrass
200 ml coconut milk
1tsp cornflour
1 tsp lemon juice
1 tsp sugar
4 kaffir lime leaves
1 tsp oil
Salt to taste
Preparation:
Marinate a pack of Hello Tempayy natural cubes with little salt, curry powder, and oil for 10 mins. Sauté in a pan with little oil for 5 mins till golden brown and keep aside.

Make a fresh paste using the chilli, lemongrass, and galangal; keep aside.
Method:
Heat some oil in a pan, add 4 tsp of yellow curry paste, and cook for 5 mins. Add two cups of water and kaffir lime leaves and let it simmer for 8 minutes.

Once it starts to boil, add the fresh paste and cook for eight mins.

Mix 1 tsp cornflour with 200 ml of coconut milk.

Once the curry has boiled for 5 mins, add the coconut milk and stir continuously for a few minutes.

Add Tempayy cubes and cook for 5-7 mins.

Finish the curry with some lemon juice, a dash of sugar and salt to taste.
2. Tempayy bhurji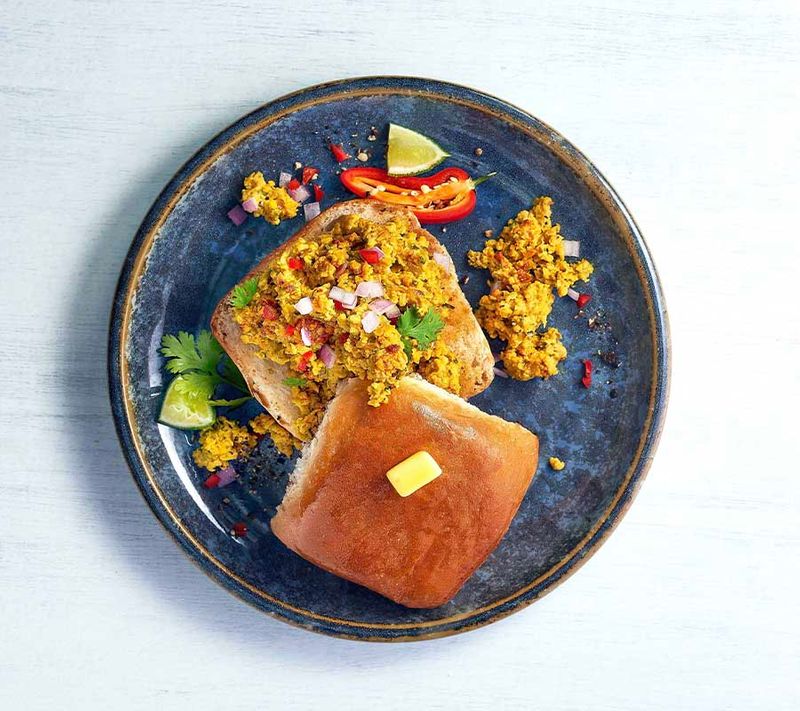 Prep time: 10 mins
Cooking time: 12 mins
Serves: 4
Ingredients:
200 gms Tempayy cubes 
¼ tsp turmeric powder
½ inch fresh ginger
1 onion
Fresh coriander leaves
½ cup milk
½ tsp black pepper powder
Oil
Salt to taste
Preparation:
Crumble the Tempayy cubes by hand and set it aside.

Finely chop onions, green chilies, ginger, and coriander leaves and keep them aside.
Method:
Heat oil in a pan.

Add chopped ginger and sauté for 30 seconds.

Add chopped onions and sauté for 5 mins or until they turn translucent.

Add chopped green chilies, turmeric powder, and crumbled Tempayy. Sauté for 7 mins.

Add salt, black pepper powder, and fresh coriander leaves. Sauté for 2 more minutes. Add salt to taste.

Pour milk and sauté for two more minutes.

Serve hot with some pao or sliced bread of your choice.
3. Tempayy stir fry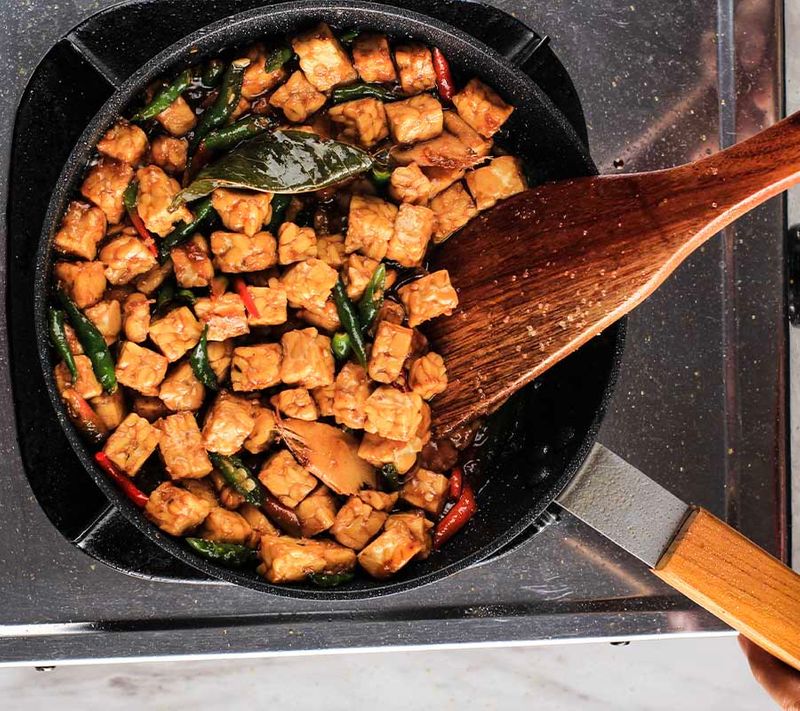 Prep time: 15 mins
Cooking time: 8 mins
Serves: 3
Ingredients:
200 gms Tempayy cubes 
1 tsp cornflour
2 tsp stir-fry sauce
2 tsp soy sauce
2 tsp green and yellow zucchini cubes
1 long beans
½ tsp each red, green, yellow pepper cubes
2 asparagus
2 tsp chopped garlic
3 tsp chopped ginger
2 tsp chopped spring onion
¼ tsp salt to taste
¼ tsp white vinegar
Sugar
Preparation:
Unbox Hello Tempayy natural cubes or Simply Sriracha/Szechuan Chilli Tempayy cubes.

Marinate the cubes with soy sauce and salt. Skip step two if using marinated cubes.

Sauté in a pan and keep it aside.

Make a slurry with cornflour and water.

Cube long beans and zucchini, cut cubes of pimentos and finely chop spring onions.
Method:
Heat oil in a pan.

Add chopped ginger and garlic, and sauté for 2-3 mins.

Add zucchini and pepper cubes. Sauté for 5 mins.

Add the sauces (stir fry sauce and soy sauce) and sauté for 2 minutes.

Add vinegar, spring onions, and sugar.

Toss the sautéed Tempayy and the cornflour slurry, stir for two minutes.

Serve hot immediately.
---
Photo: Shutterstock