Those who've tried north India's favourite aloo matar recipe, at least once in their lifetime, may agree when we say, aloo matar has the potential to be the star of the dinner table.
Think melt-in-mouth peas and potatoes in a mildly-spiced, thick tomato gravy. Oh, and did we mention subtle hints of ginger and lemon juice? These two ingredients are responsible for giving this vegetarian recipe that extra punch.
Healthy comfort food from the north
Originated in Punjab, aloo matar is a popular comfort food in parts of north India and almost every household has its own version of it. While some prefer finishing it off with a dollop of cream, a few replace the lemon juice with a pinch of amchur powder (dry mango powder), and others add a freshly-ground spice mix to elevate the flavours of the recipe. There are many who go on to experiment with the consistency of aloo matar and make a fairly dry version of it. They then use its leftovers to make aloo paratha, masala dosa and even aloo tikki. 
Flavours aside, the nutritional benefits of these two humble ingredients also need to be taken into consideration. Potatoes, the backbone of aloo matar recipe, are an excellent source of vitamin B6, which is essential for formation of new cells in our body. On the other hand, the starchy green peas are loaded with proteins, vitamins (A, K, folate and C), potassium and antioxidants. These nutrients and antioxidants support blood sugar control.
How to make and enjoy aloo matar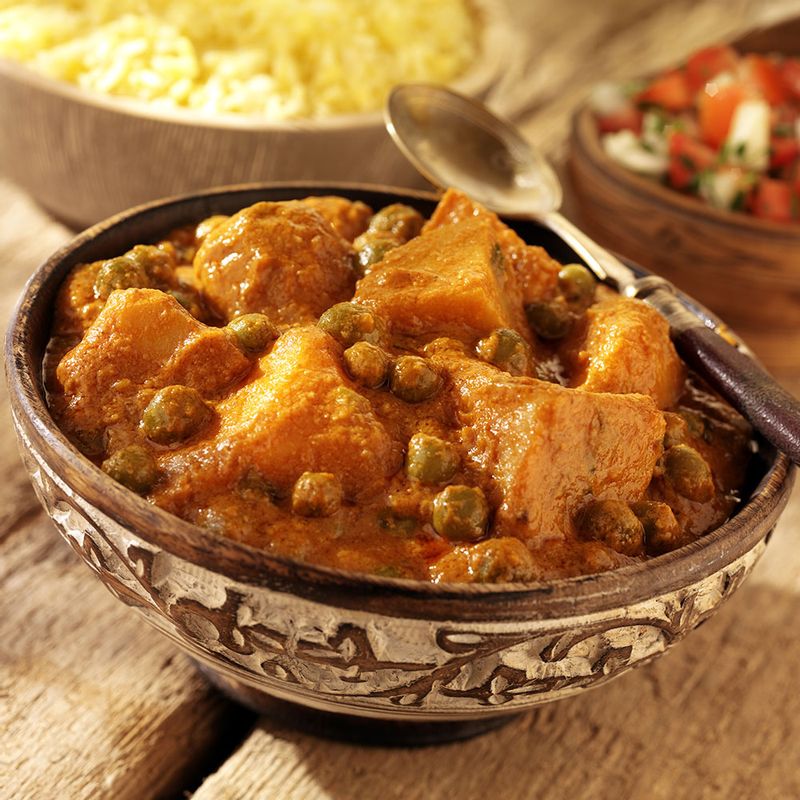 The aloo matar recipe is made using minimal spices and is best served with a bowl of steam rice or chapati. It is an easy-to-make recipe that can be prepared in less than 30 minutes. 
Once your aloo matar is ready, serve it with a hot bowl of steamed rice (brown or white, your choice) or some chapatis. Apart from chapati and steam rice, aloo matar also tastes great with puris. You can also try aloo matar with methi puris. To add more nutritional value to your vegetarian meal, you can try it with palak and beetroot puris.
---
Photo: Shutterstock