Running up to the nearest vegetable vendor to grab a bunch of betel leaves for either a rupee or two whenever we had lady guests at home was an errand I was often given as a child. And whenever we visited someone, my mom would always count her betel leaves, and would be thrilled if it were an odd number, especially three! She considered it a lucky omen and often admonished me when I placed the leaves upside down. Well, whether odd or even, betel leaves are an intrinsic part of Indian food culture and integral to festivals, auspicious exchanges, and several traditional customs. 
Synonymous with celebrations and rituals, betel leaves are mandatorily bought along with fruits, flowers, and coconuts as a symbol of prosperity and plenteousness. While it is a common sight to see Bengali brides arrive at the "mandap" covering their faces with two betel leaves, the leaf is an important part of the wedding customs. Symbolising not mere botany, but culture, tradition, and even the sacred, we look at its health benefits and how chefs and bartenders are giving the humble betel leaf a modern spin in food and drinks.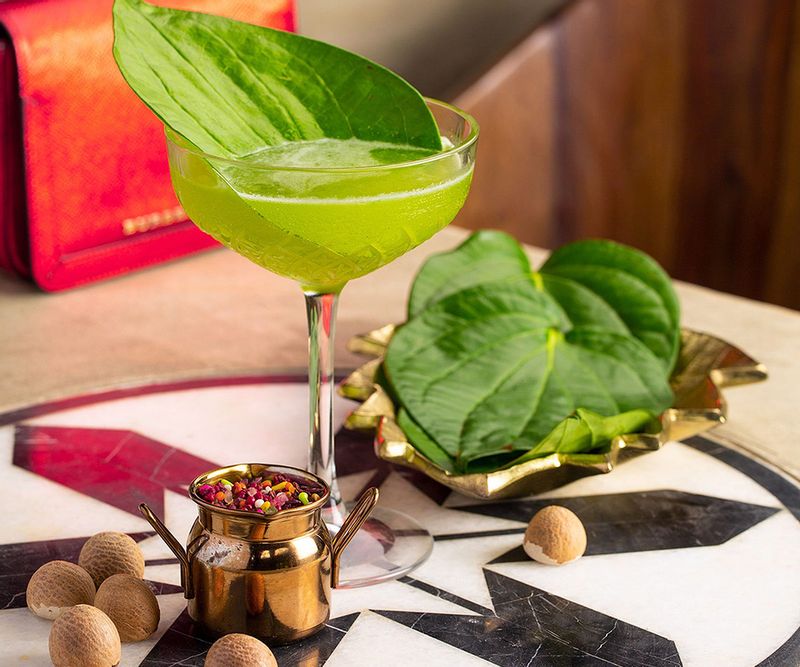 Betel leaf chewing: an ancient practice
Having a betel leaf along with betel nut and a dash of slaked lime (chuna) smeared on it and rolled into a small package is ingrained in Indian culture.  The package is called paan or betel quid and is prepared with other flavouring agents like cardamom, nutmeg, dried coconut, sugar, and fruit extracts. 
According to the book Indian Food – a Historical Companion by K.T. Achaya, the earliest reference of chewing pan is in the Buddhist Jataka tales and then in the famous Mandasor Silk Weavers'Inscription which dates to 473 AD. With innumerable paan shops throughout India, the making and rolling of paan today is art with chocolate, dried fruits, and even gold paan on offer.
The lime releases an alkaloid that emanates a red colour on chewing. Contrary to popular belief, chewing paan has a number of health benefits. It is known to have a positive effect in stimulating saliva and gastric juices after a meal, and hence acts as an effective digestive.  It is an excellent mouth freshener and helps reduce bad breath. It is also helpful in combating cavities, plaque, gum swelling, infections, and tooth decay. It is interesting to note betel leaves also have aphrodisiac and invigorating effects.  In fact, ancient Ayurvedic texts mention that betel leaves aid in treating male and female reproductive problems.  It is little wonder that it is was a ritual for wives to offer paan to their husbands after dinner each night.  In fact, it is customary to offer newly-weds masala pan given its stimulating effects.
Health benefits aplenty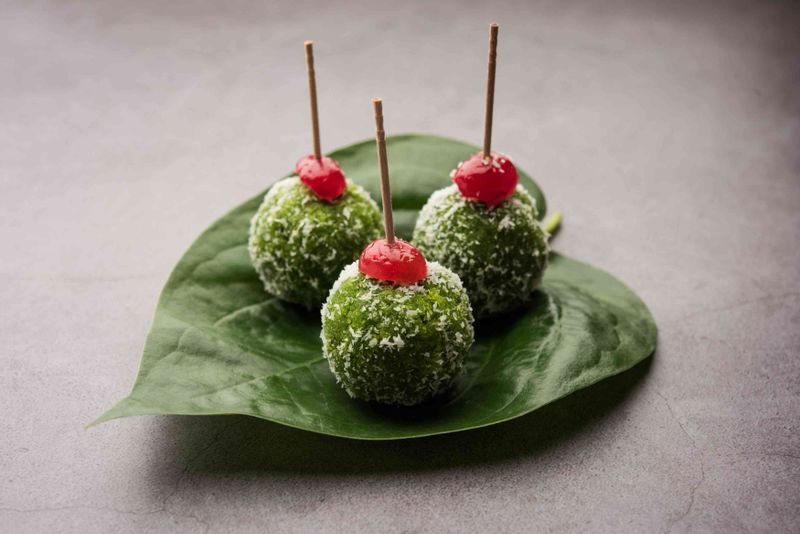 The characteristic slightly bitter pungent taste of paan is known to generate warmth in the body and is excellent for digestive health including having positive effects on treating gastric ulcers and relieving constipation. Apart from helping in digestion and maintaining oral health, betel leaves have a number of benefits. "Betel leaves have anti-inflammatory and antimicrobial properties. They are used widely in ancient Ayurveda for topical applications to treat skin problems. When heated on a pan and used with a few drops of castor oil, it provides relief from skin inflammation," says Luke Coutinho, holistic lifestyle coach—integrative and lifestyle medicine. 
He also adds that these leaves have antiseptic properties, polyphenols, and chavicol which fight germs and provide immediate relief from fungal infections. "When you suffer a wound, your body goes through increased oxidative stress that delays wound healing. Rich in antioxidants, betel leaves reduce this oxidative stress and aid healing," adds Coutinho. Betel leaves are also known to have a positive effect when it comes to controlling blood sugar and cholesterol. 
In her book Beverage Reboot, nutritionist Neha Ranglani says that betel leaves contain phenolic compounds that help heal gastric ulcers and create a balance in the stomach's acidic level. When combined with pepper, they help reduce constipation and eliminate toxins from the colon. Betel leaf as a natural herb is also used as an analgesic for relief from cuts, rashes, or bruises in Ayurveda. It is also used to reduce discomfort and pain, especially in the joints. 
"If you are suffering from rheumatoid arthritis or osteoporosis, all you need to do is heat the leaves and tie them around the affected bones and joints. This will reduce the pain, inflammation and provide relief," adds Coutinho. 
Betel leaf on your plate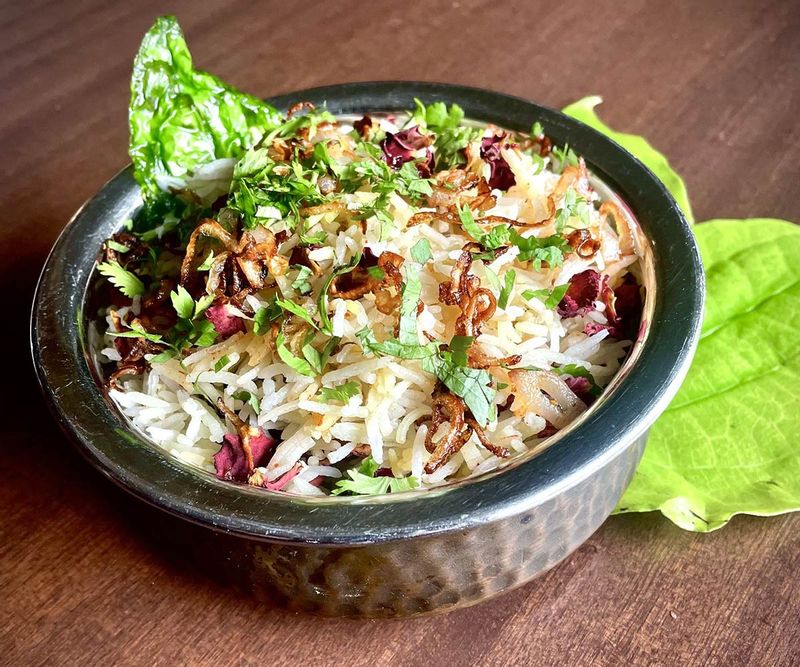 With a distinctive sharp taste that is slightly bittersweet with a trace of heat, betel leaves have a distinct aroma that imparts a unique flavour to the dish it is a part of. While Ranglani recommends combining betel leaf with fennel, ginger, aloe vera, and apple cider vinegar as an effective tummy tonic, Coutinho suggests boiling the leaves and consuming the extract with honey.   Betel leaves rasam is a common preparation in South India. Made using spices like ginger, cumin, and peppercorns, it forms a piquant broth and is a panacea for cold and cough. 
Apart from using this leaf purely for its medicinal value, the peppery taste of betel leaves has inspired several innovative culinary creations. "The betel leaf is used as a garnish for one of our signature 'Made in India' cocktails called Hawa Hawaii. It is a paan-inspired cocktail and is an extremely refreshing tropical drink. The betel leaf adds a unique aroma and flavour to the drink," says Ravi Singh, bar manager at Suzy Q by 1522—a stylish bar in Bengaluru. Paan milkshakes, chaats and deep-fried paan fritters are other common dishes served in mainstream restaurants. 
Betel leaf biryani is a popular dish in Grand Mercure Bengaluru at Gopalan Mall. "This dish is different from the usual biryani, and uses the Kolkata meetha paan leaf which is less pungent and less acidic. Awadhi potli masala, whole garam masala, and meetha paan masala give the rice a full-bodied flavour. Cooked traditionally in sealed earthenware pots on charcoal pits, the slow cooking process enhances and seals in the flavour of the betel leaves," says Suvaranjan Banerjee, executive chef at the hotel. Paan ice cream and paan laddoos are great options to satiate your sweet tooth.  And if you are in the mood to experiment, try Cha La Lot, a classic dish from Northern Vietnam. "Betel leaf is stuffed with the choice of minced filling. The dish has a bittersweet flavour on the outside and is delectable on the inside," says Diep Vu Thi Ngoc, chef and co-founder, Hanoi, a haven for Vietnamese food in Bengaluru. 
Twist to the traditional
Fancy cognac and scotch whisky flavoured paans? Taking a cue from the traditional paans of the yesteryears, several restaurants and eateries have been giving a unique spin to this humble yet traditional Indian dessert.  The Betel Leaf Co. which is the country's first FSSAI certified online Paan delivery firm has a plethora of products—flavoured paans, chocolate-coated paans, and even hangover paans, apart from the usual sada and traditional meetha paans. They even have betel bars which are chocolate bars infused with paans and also an IPL combo range of paans!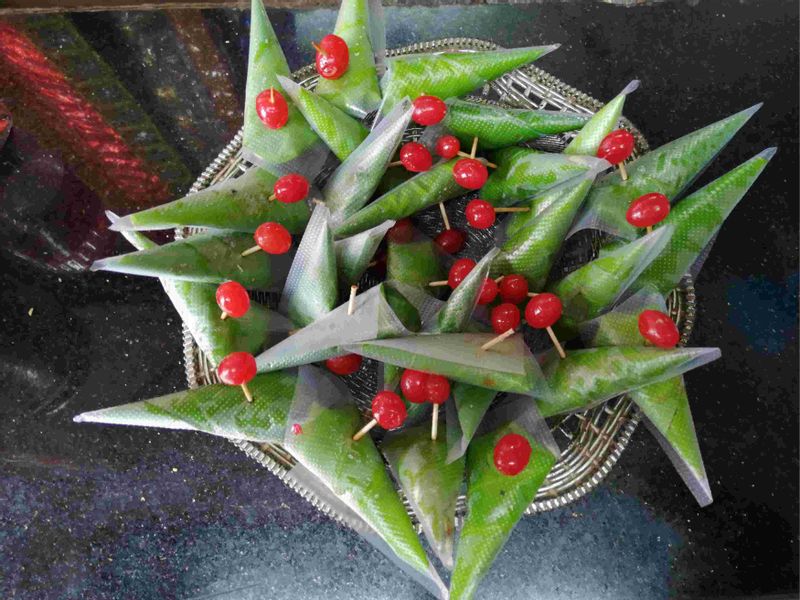 Le Paan, a Mumbai-based chain is known for its refreshing and innovative flavours of paan and includes a scrunchy sada paan and a nutty delight paan.  Yamu's Panchayat, a paan parlour in Delhi's Connaught Place retails a speciality called The raffaelo gold paan priced at Rs 600 apiece. The paan fever is not just limited to India. Pennsylvania-based Mr. Paanwala offers a variety of flavours like butterscotch, mango gelato, mint mojito and even kulfi paan.
---
Photo: Shutterstock