Summer's sweltering heat can leave you with little motivation to be anywhere near the stove. Add WFH stress to the mix, and motivation levels drop to zero. That's where these delicious, refreshing summer salads that we've sourced from some of India's best-known chefs come in. Minimal effort and maximum flavour - is a promise they are packed with. Oh, and did we mention, these recipes make the most of summer's bounty – from juicy tomatoes to succulent peaches – so you can celebrate the season in the most delicious way possible! 
1. Young Summer Fruit & Rocket Salad with Honey-Amla Dressing
By Chef Shantanu Gupte
Inspired by his time in the United Kingdom, where he learnt how to best use hyperlocal ingredients, this young summer fruit and rocket salad with honey-amla dressing promises to be a flavour bomb. "Back in the UK, one of our most popular dishes used to be a summer fruit salad with a tangerine dressing. Now that I'm in Mumbai, I have created a version of it with local ingredients, and the result is the recipe below. I prefer to use a combination of amla and orange instead of tangerine juice because I love the beautiful sweet-sour flavour amla brings to the dish," he tells us while talking about the recipe. You can use other seasonal fruits like grapes, apple, green apple, peach and pineapple too.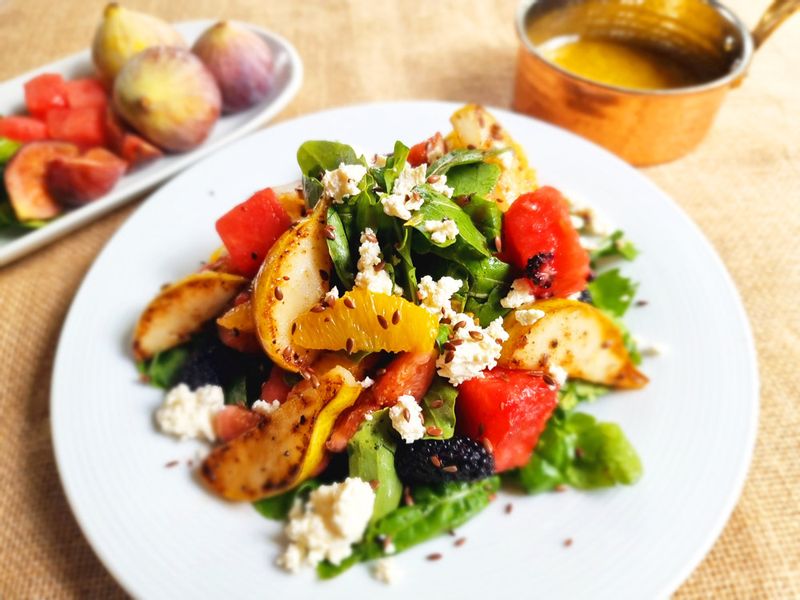 Ingredients:
For the salad:
100g rocket leaves
75 gm watermelon, chunks
1 pear
1 orange or tangerine
3-4 ripe figs
60 gm goat cheese
10 gm flax seeds
For the dressing:
3 amla (Indian Gooseberry)
15 ml orange juice
10 gm honey
15 ml olive oil
Salt to taste
Pepper to taste
Method: 
Cut figs into four quarters each, watermelon in chunks, and pear into 1/8th size pieces and throw away the seeds. Now, peel the skin and cut the orange into segments.
Wash the rocket leaves and remove the hard stems.
Season pear with salt and pepper, and grill them on a hot non-stick pan for less than a minute. Then keep in the fridge to cool.
To make the dressing, in a mixing bowl, finely grate amla and pour in the orange juice and honey.
Season the mixture with salt and pepper and then, in a steady stream, start pouring olive oil into the dressing, whisking continuously until the oil emulsifiers.
Now, mix all the salad ingredients in a large mixing bowl and drizzle a spoonful of dressing.
Mix gently and top the salad with goat cheese and serve.
Pro tip: Don't pour the dressing if you won't be eating immediately. Folding the dressing into the salad in advance makes the salad soggy. 
2. Baby beet, pears and avocado salad
By Dwipen Goswami, Executive Sous Chef – Taj Exotica Resort & Spa, Goa
Roasted baby beet, juicy tomatoes, crunchy pear, crisp lettuce and creamy avocado, all dressed in a peppery yoghurt dressing – this simple salad is a crowd-pleaser. "This is summer on a plate to me! The bounty of fresh ingredients – fruits, veggies and yoghurt – all coming together to pack a healthy punch," says chef Dwipen Goswami.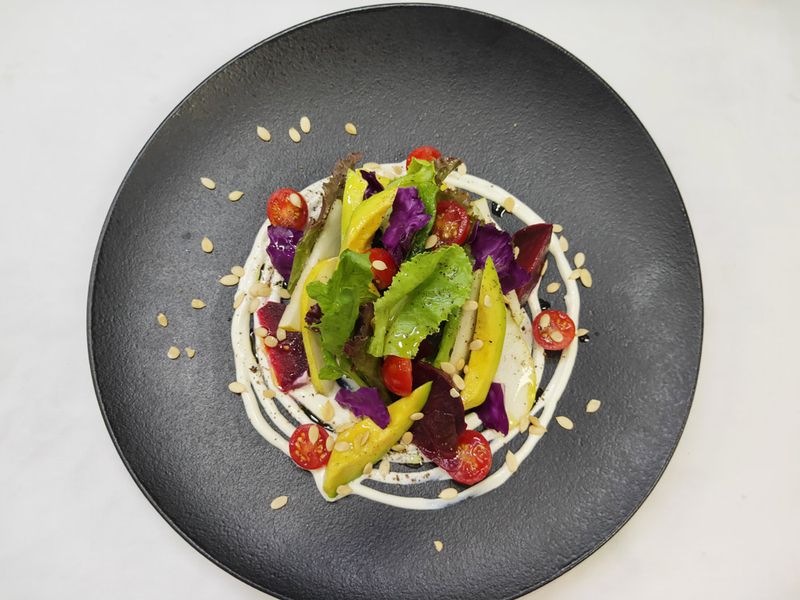 Ingredients
100 gm mixed lettuce leaves
1 medium-sized pear
1 small beetroot
3-4 cherry tomato
100 gm avocado
5 gm melon seed
50 gm yoghurt
20 ml olive oil
Salt to taste
2 gm black pepper (crushed)
Method:
For the dressing
In a bowl, add the yoghurt along with salt, pepper and gently whisk it.
While continuously whisking, add olive oil until the mixture slightly thickens. Store in a squeeze bottle.
For the salad
Wash and clean the lettuce leaves.
Wrap the beetroot in silver foil and roast in the oven for 15 minutes at 180 degrees. Peel the skin and cut into even size wedges.
Wash and slice the pears thinly.
Cut cherry tomatoes into halves.
Scoop out the avocado and slice it.
In a salad plate, squeeze the dressing at the bottom and then arrange the green leaves, pears, beets, cherry tomatoes and avocado.
Sprinkle melon seeds over the salad.
Drizzle with olive oil and serve cold.
Pro tips: 
Put the lettuce leaves in ice water for 10 minutes and drain off the water. An ice bath will give it a cool and crisp texture.
You can use homemade and flavoured yoghurt of your choice instead of regular yoghurt.
Refrigerate the serving bowls/plate for 10-15 minutes before assembling salad on it.
It is advisable to avoid boiled vegetable in a salad. The purpose of roasting beetroot is to keep maximum nutrients intact and also to add to the taste.
3. Chargrilled Broccoli and Orange Salad Topped with Feta Cheese
By Chef Rubal Pupneja, Hotel Samrat, New Delhi
Calling all broccoli lovers, here's a chargrilled broccoli and orange salad that is livened up with fresh orange juice, olive oil and Tabasco sauce dressing. What takes this salad to the next level is the creamy feta cheese crumbled on top.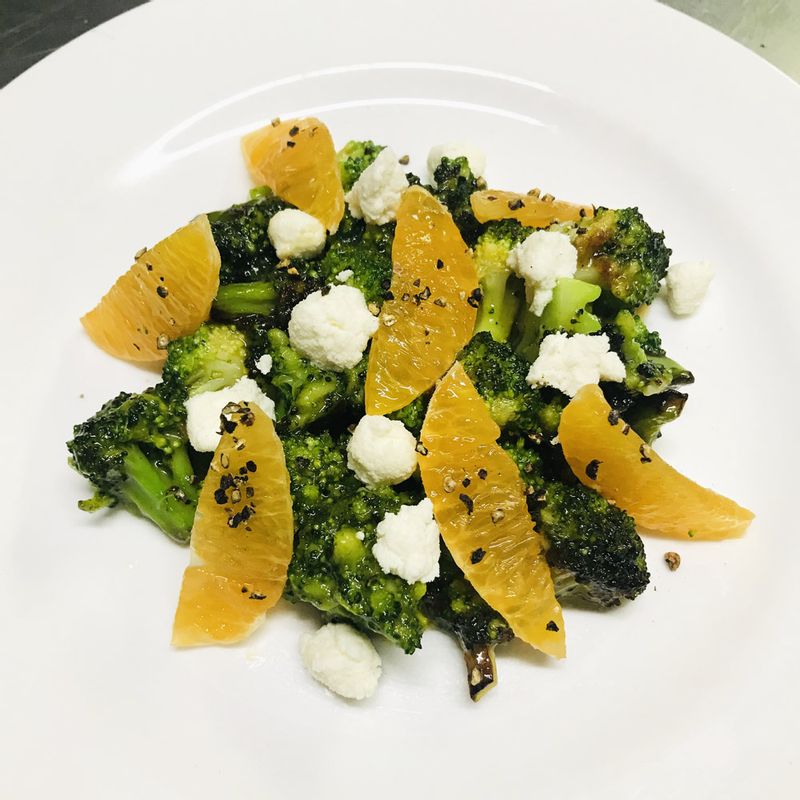 Ingredients:
For the salad
150 gm broccoli florets
30 gm orange segment, peeled
30 gm feta cheese
2 tbsp olive oil
For the dressing
100 ml orange juice
2 tbsp olive oil
2 tbsp Tabasco sauce
A pinch of salt
Method:
Blanch the broccoli florets, apply some oil on them and then chargrill over an open fire.
In a mixing bowl, add orange juice, Tabasco sauce, olive oil and salt to make a dressing.
Toss the chargrilled broccoli in the dressing in a mixing bowl.
Finally, place the tossed broccoli in a salad bowl and then place orange segments over it.
Finish it off with a topping of crumbled feta cheese and crushed peppercorn.
Lastly, drizzle some more dressing over the salad and it is ready to serve.
Pro tip: Don't forget to continuously whisk the dressing mixture while you're adding olive oil to it, or it won't emulsify properly.
4. Grilled peach, tomato, hung yoghurt and roti salad
By Sarah Todd, TV host and celebrity chef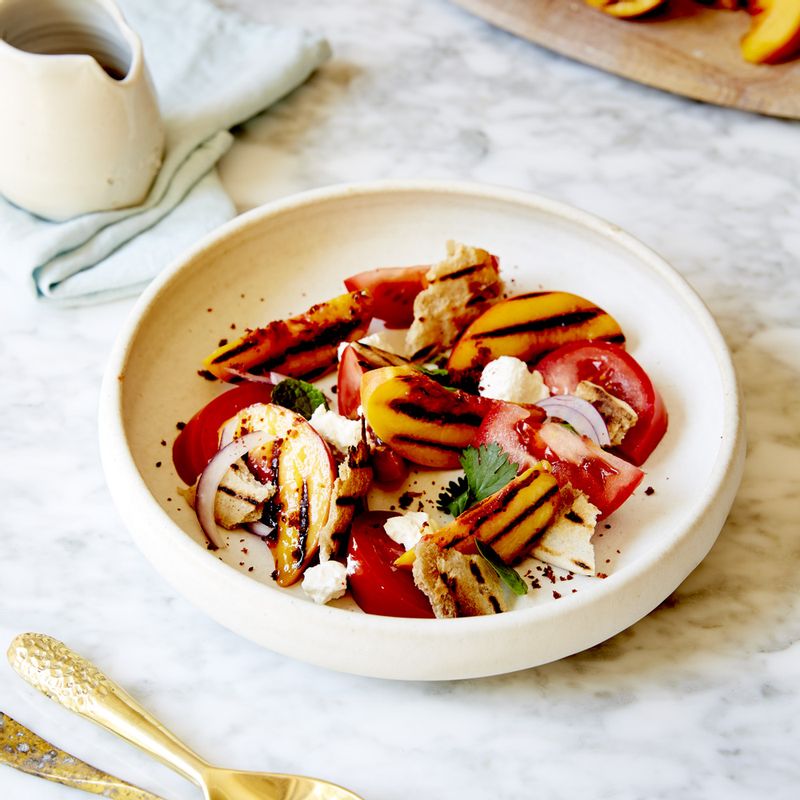 This ultimate summer salad by chef Sarah Todd with grilled peach, tomato, creamy yoghurt and crispy chargrilled roti is a sight to behold! Oh, and also one of the best ways to give that leftover roti a delicious new life. In her book, My Indian Kitchen, chef Todd says, "It is the kind of salad that will easily impress all your guests, and no one needs to know just how easy it was to put together."
Ingredients: 
For the salad:
3 peaches, halved, cut into wedges
2 tbsp olive oil
5 tomatoes, cut into wedges
½ small red onion, thinly sliced
1 tbsp lemon juice
1 tsp chaat masala, plus extra to serve
1 store-bought roti
200g hung yoghurt
Coriander and mint leaves, to serve
For the dressing:
¼ cup (60ml) extra virgin olive oil
1 tbsp lemon juice
2 tsp balsamic vinegar
1 small garlic clove, finely grated
Method:
Preheat a char-grill plate (or barbecue) over high heat. Drizzle peaches with 1 tbsp of oil, then season.
Cook, cut-side down, turning, until charred on both sides (approximately 30 seconds each side).
Place peaches in a large bowl with tomatoes, onion, lemon juice and masala; toss gently to combine. Season to taste.
Drizzle roti with remaining oil. Cook roti on a char-grill plate on both sides until crisp (1-2 minutes each side). Cool slightly; break into bite-sized pieces.
Meanwhile, to make the dressing: whisk ingredients in a small bowl; season to taste.
Arrange peach mixture on a platter with dollops of hung yoghurt. Top with roti pieces, coriander and mint. Sprinkle with extra masala.
When ready to serve, drizzle with dressing.
5. Red Cabbage, Apple and Raisin Salad with Lemon Vinaigrette
By chef Anahita Dhondy
Described as the 'perfect summer salad' by chef Anahita Dhondy, this mouth-watering vibrant salad features red cabbage, apple, tomato, cucumber and red bell peppers in a lip-smacking lemon vinaigrette.
Ingredients: 
For the salad
1 red cabbage, washed and cleaned
1 onion, thinly sliced
1 tomato, chopped
1 cucumber, sliced
1 red bell pepper, chopped (optional)
1 apple, chopped
A handful of raisins
For the vinaigrette
3 tbsp extra virgin olive oil
Juice of 2 small lemon
1 tbsp honey
Salt to taste
Pepper to taste
Method:
Slice and chop all the veggies.
Add them into a mixing bowl.
Make the vinaigrette with the ingredients mentioned. Whisk.
Pour the vinaigrette and mix only when you are ready to serve.
Add chopped apples and raisins, and serve fresh!
6. Summer Tortellini Pasta Salad
By Chef Dayashankar Sharma, Heritage Dulwich, London
Pasta totally counts as a salad in Michelin plate winner chef Dayashankar Sharma's book, especially when it is loaded with flavourful, fresh vegetables and basil. When asked to share his favourite summer salad with us, chef Sharma shared this recipe where cheese tortellini, shredded chicken, cherry tomato, bell pepper and pearl mozzarella are dressed in an aromatic, sweet-savoury combination of basil pesto and olive oil.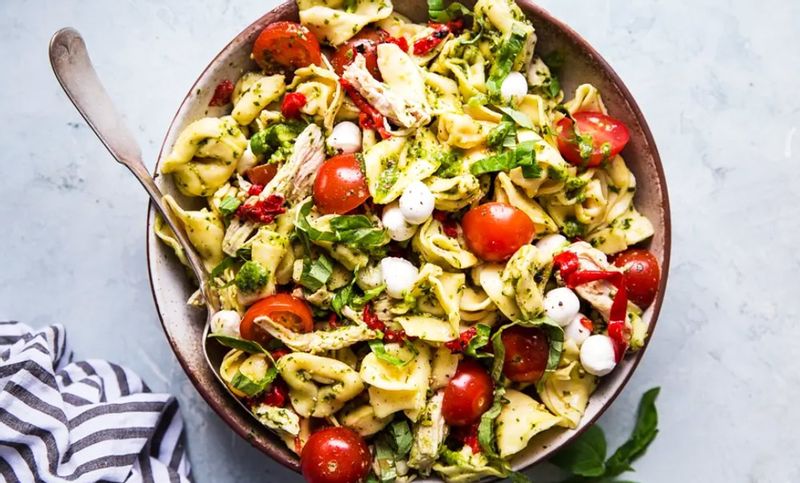 Ingredients:
1 pack cheese tortellini, boiled
1 cup chicken, cooked and shredded
1 cup cherry tomatoes, cut in halves
250 gm pearl mozzarella
1 cup roasted bell pepper, chopped into ½ inch pieces
1 cup basil pesto
1 ½ tsp olive oil
Fresh basil, chopped for garnish
Method:
In a large bowl, gently mix all ingredients.
When ready to serve, top with fresh basil.
Loved these salad recipes? Don't forget to bookmark, whip them up at home, and send us a picture at zeezest@zee.com. 
---
Photo: Shutterstock and featured chefs