Did you know that back in 2013, when you first heard Gangnam Style, was when you got nudged into what the world calls Hallyu aka the Korean wave? In simple terms, Hallyu is the spread of Korean culture through various avenues such as music, drama, food, skincare, faction, and so on. During the financial crisis of 1997, South Korea had to repay the International Monetary Funds for a loan, so they started pushing out content as one of the exports - because that simply helped the Korean culture root deeper into the global arena, in turn boosting tourism and the outreach of local businesses, brands and products on a global scale. Think K-Pop, fried chicken, instant noodles or even Korean cars! And thanks to social media, we've been engaging more and more with this K-wave. Today, even tiny tots listen to Blackpink and gush over BTS. And as far as K-dramas go, it has given binge-watching a whole new meaning, especially during Covid-induced lockdowns! 
Soul to Seoul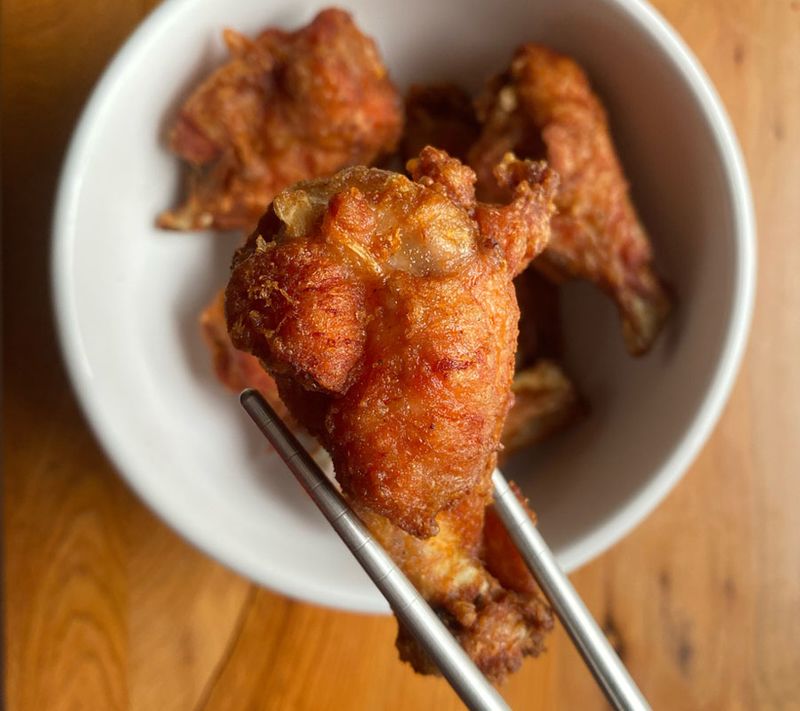 The Patel sisters, Afra, Zeba, and Qaailah, started watching K-dramas and instantly got hooked to the food that was being showcased in those shows. Afra says: "As all K-drama fans know, there are a lot of eating scenes in these shows which surely makes everyone very hungry. That's when we decided to experiment by making our own Korean food at home as due to Covid our options were very limited." The girls soon started researching more about foods from Korea and during the second Covid-19 wave, they started their own delivery kitchen—Seoul Express in Mumbai.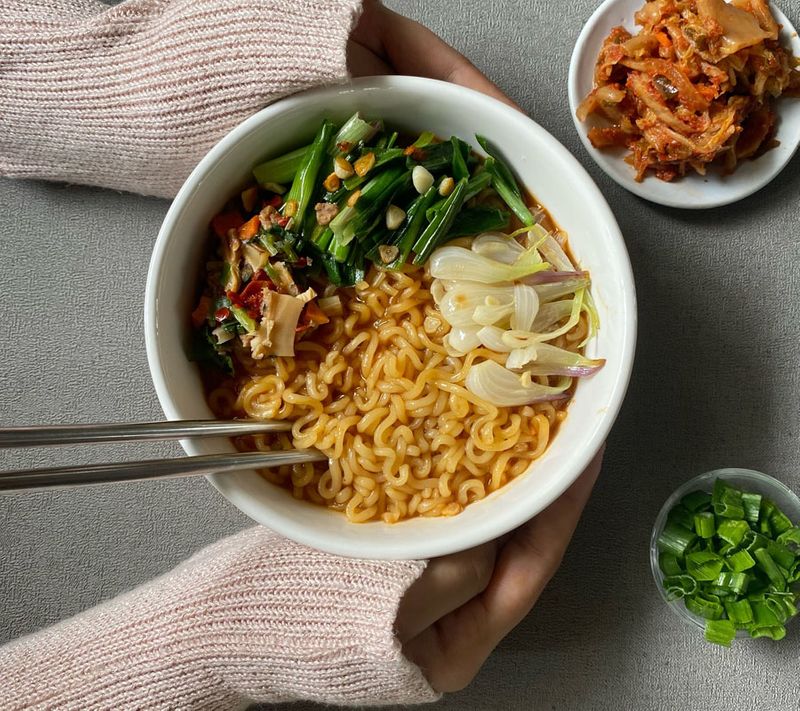 There are a few recurring dishes that often feature in K-dramas. Korean fried chicken is usually paired with soju and eaten as a celebratory meal; spicy ramyun connects the leads from the show, just before they start dating; and tteokbokki is supposed to be their version of comfort street food. Just like Indians, Koreans also prefer eating meals with family. And just the way we have a thali that feature multiple things to pair with roti and rice, they have banchan (side dishes) served with a bowl of rice. For post-work drinks, the characters always head to a grill bar followed by karaoke! 
---
Check out this recipe for Korean Dubu Jorim
---
Eating the K-Drama way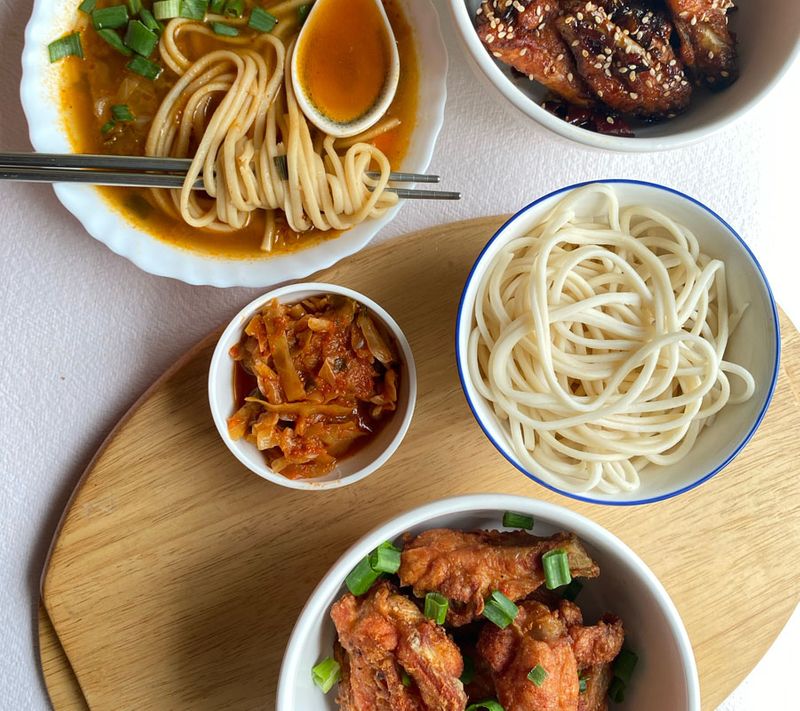 Pradnya Vignesh, a regular at Pune's K restaurant—a compact seven-table space— says: "In Pune, options for Korean food are limited. I was particularly fascinated by kimpab (seaweed rolls). I found them at K and since then, I have been visiting them weekly. I have been eating at K for over a year, and now they have had to move to a reservation-based entry system, and you also need to order in advance to ensure you get what you want!" Owing to the demand, the restaurant recently started serving Korean-special Maxim (pre-mix brand) coffee and select items that will allow their guests to cook at home! 
Similarly, stores such as Uncle's shop at Crawford market in Mumbai and Food Man at Shivaji Market in Pune are flocked by Korean food lovers. In fact, Gurgaon's KS Foods, which has been dealing with Korean foods for the past 13 years, has now started making its products available online and are delivering across the country. So if you are looking for ready-to-cook items, such as Korean sausages, topokki, seaweed soup, kimchi, gochugaru, and more—you just need to go online.
---
Learn how to make Korean Seaweed Soup
---
Making it the Indian way
Priyanka Joshi, a copywriter with one of the leading advertising agencies in the country, and her influencer sister Supriya are undoubtedly one of the most enthusiastic duos when it comes to K-world. On Instagram, the two often experiment with K Beauty, talk about must-watch shows, and even went to Bangkok to watch their beloved boy band BTS perform. Says Priyanka: "My first K-drama experience was the iconic Boys Over Flowers. Having just watched Mischievous Kiss, a Japanese show about a high school romance, I was wondering what to watch next. That's when my sister recommended we watch BOF. And the rest is history!" When it comes to Korean food, she suggests: "Sun and Moon in Worli, Mumbai is one of my favourites. Right from the ambience, menu format, and of course, the food—it makes you feel like you're in Korea. A must visit."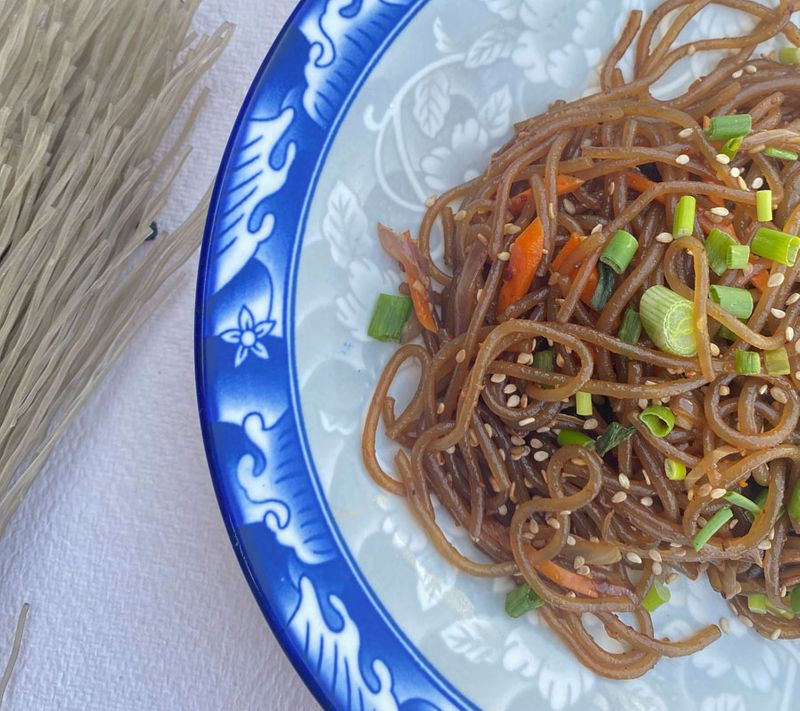 Afra from Seoul Express says: "There was an odd request we received recently. A K-drama fan asked us to make Korean fried chicken, but she was vegetarian! We made the dish for her using fried cauliflower wings tossed in our gochujang sauce, and it turned out to be delicious. Furthermore, we have had many requests to give extra kimchi which makes an appearance in countless shows as a side dish. We also get multiple requests to make Korean stew from our customers, keeping that in mind we are working on adding Korean stew to our menu."
---
Try this recipe for Korean Omelette
---
Unexpected finds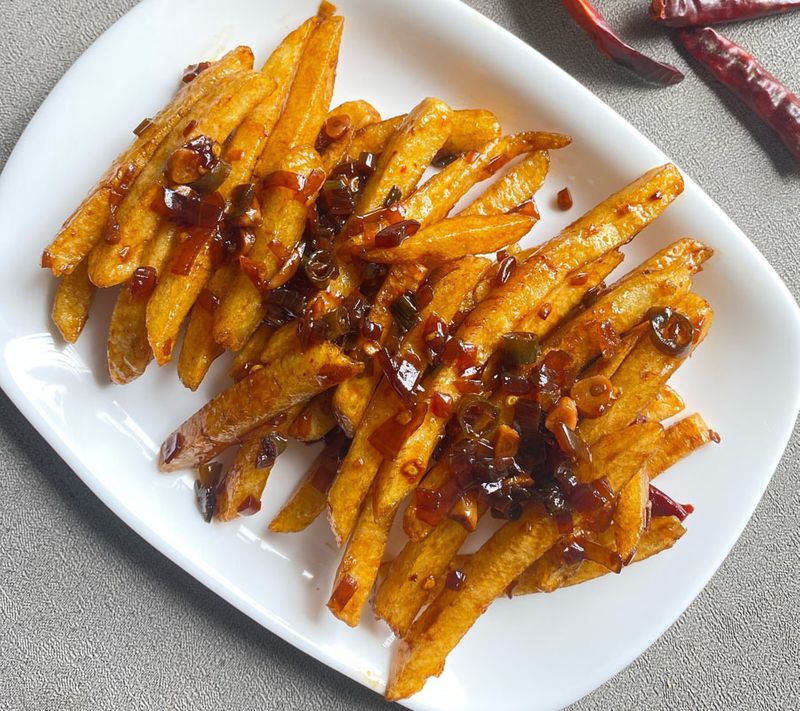 While Indian metro cities are catching on the Korean wave a little too fast, some rather unusual finds make you wonder about the reach of the internet and pop culture. An hour away from Chennai, Sriperumbudur is dotted with Korean restaurants thanks to the Korean automotive industries around. For instance, the Hokkaido Korean & Japanese Restaurant serves a traditional kimchi stew with a side of rice served in a steel bowl, just the way the Koreans eat. Maljukgeori Korean Restaurant sets up a grill on the table and you can also find the typical banchan here. When driving from Mumbai to Pune, you will find a Korean Karaoke bar called Seoul Jib that serves banchan with dried fish and multiple styles of kimchis et al!  
---
For more Korean inspiration, check Zee Zest's show, Simply Korea!
---
---
Photo: Shutterstock; Zeba Patel