Think of the banana tree and the first thing to come to mind is the fruit. But when it comes to culinary experiments, seldom do we consider the other
Cooking with banana stem is not new
Banana leaves are a traditional part of the south Indian dining experience. But did you know that the stem of the banana tree, which is actually a flower stalk, is edible too? In fact, the banana stem is a popular vegetable throughout south India and is locally known as vazhaithandu. The banana stem is used as an ingredient in cooking in some parts of West Bengal as well, where it is known as thor.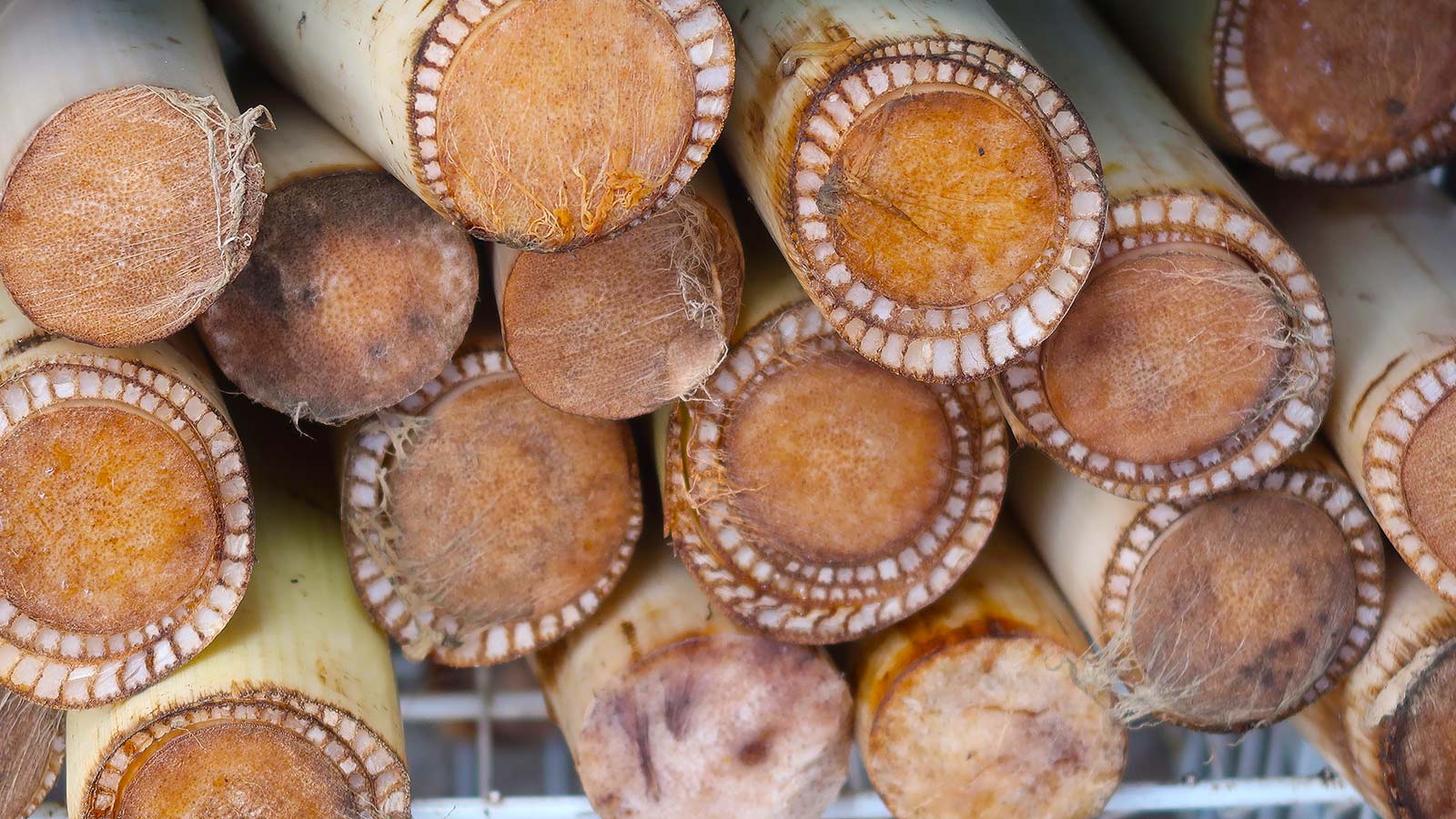 The preparations from these regions make use of the flesh found inside the stem rather than the whole stem. The outer layer of the banana stem is hard which needs to be peeled or scraped off for cooking. On the inside is a fibrous yellow-green stem that is crisp in texture and mild in flavour. It has a mostly sweet and tart flavour with a mildly bitter aftertaste.
Now that we've got you excited about having a new ingredient to experiment with, in the kitchen, here are four ways you can start cooking using the banana stem.
1. Add it to a curry
You can chop the banana stem into small or bite-sized pieces and use it in curries to serve as a side dish. Make a simple yogurt-based curry with a tempering of mustard seeds, grated coconut, cumin seeds, and curry leaves, or chef Ranveer Brar recommends cooking them in an interesting undhiyu (a Gujarati-style mixed vegetable dish). 
You could even add it to your favourite seafood curry like people in West Bengal do. Ananya Banerjee, a home chef and author, tells us about a traditional prawn and banana stem curry recipe which she inherited from her family. Called Chingri Maach Diye Thor Checki, this dish is basically chunks of prawns and banana stems cooked in mustard oil with spices such as nigella seeds, dried red chilli, turmeric powder and more. 
2. Toss it in a salad
With its mild flavour and crispy texture, the banana stem makes for a great addition to salads. In fact, it can be the hero of your salad when combined with the right sauces and veggies. Here's one such salad recipe to inspire you. 
Thai-style Banana Stem Salad Recipe
by Vicky Kumar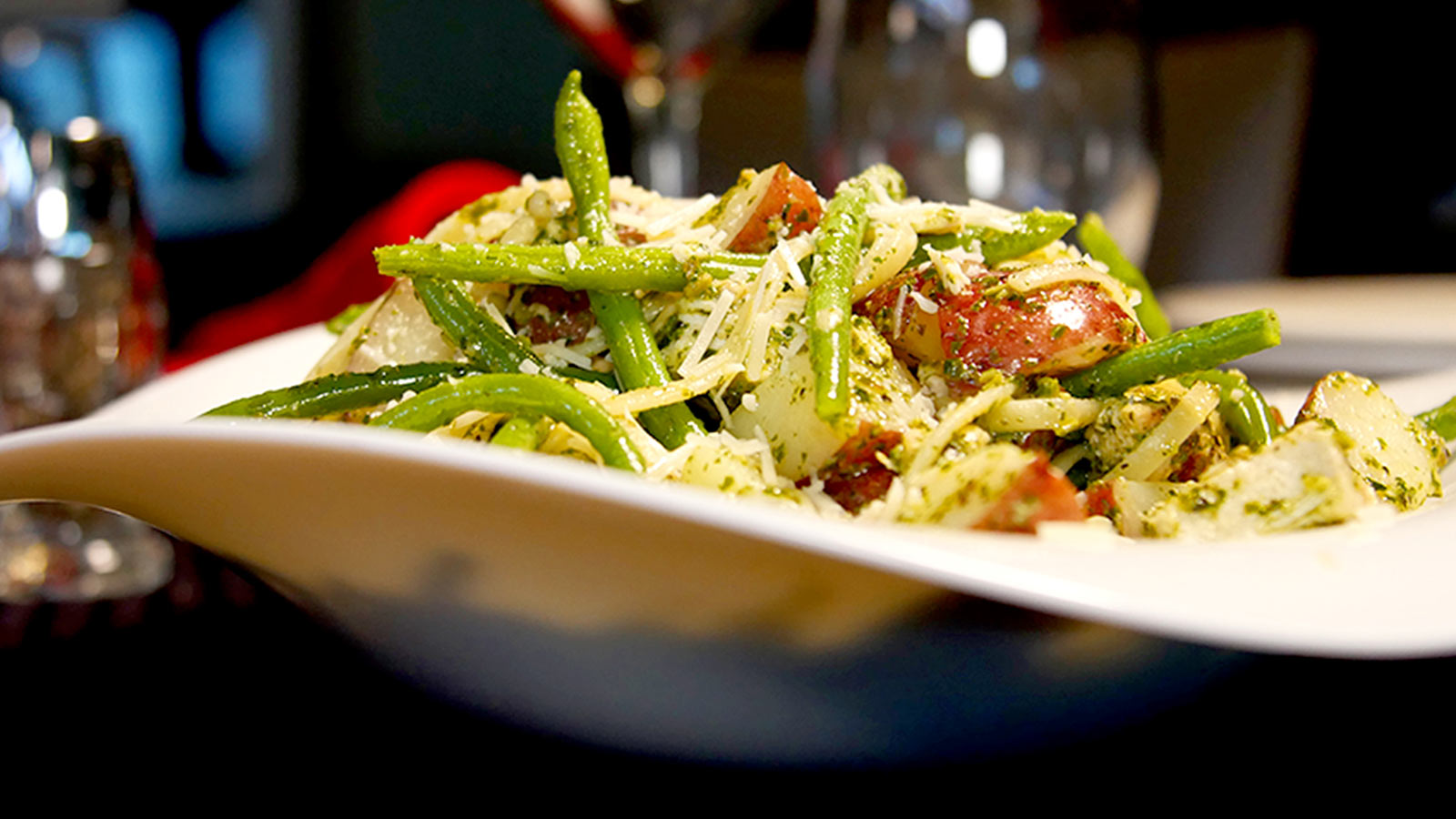 Ingredients
1. 2 cloves garlic (peeled)
2. 5 Thai chillies (as per taste)
3. 2 tablespoons shelled roasted peanuts
4. 1 tablespoon fish sauce
5. ½-1 tablespoon brown sugar
6. 1 to 2 limes (as per taste)
7. 1 tablespoon of dried shrimp (optional)
8. 4 to 5 cherry tomatoes
9. 1 big handful of banana stem (thinly-sliced and soaked in chilled acidulated water)
For the salad dressing:
1. Long-beans or green beans
2. Green cabbage
3. Thai sweet basil
4. Roasted peanuts
5. Banana stem shavings
Method
• Finely crush the garlic and chillies in a mortar.
• Add brown sugar, fish sauce and lime juice to the garlic-chilli paste. Mix well until the brown sugar is fully dissolved.
• Add the peanuts, dried shrimp and roughly sliced cherry tomatoes to the mortar. Pound the mixture for 30 seconds to lightly crush the ingredients.
• Toss in the banana stem shavings and mix carefully. Make sure the dressing coats the stem evenly. Check the seasoning before serving.
3. Cook it with rice
While making curry using the banana stem is the most common way to cook this ingredient, you can also try preparing pulao or biryani with the banana stem. Just imagine long-grain rice and banana stem flavoured with aromatic spices such as cinnamon, star anise, cumin and more.
Banana Stem Biryani Recipe
by Chef Nitish Chopra, Sous Chef, Aloft New Delhi Aerocity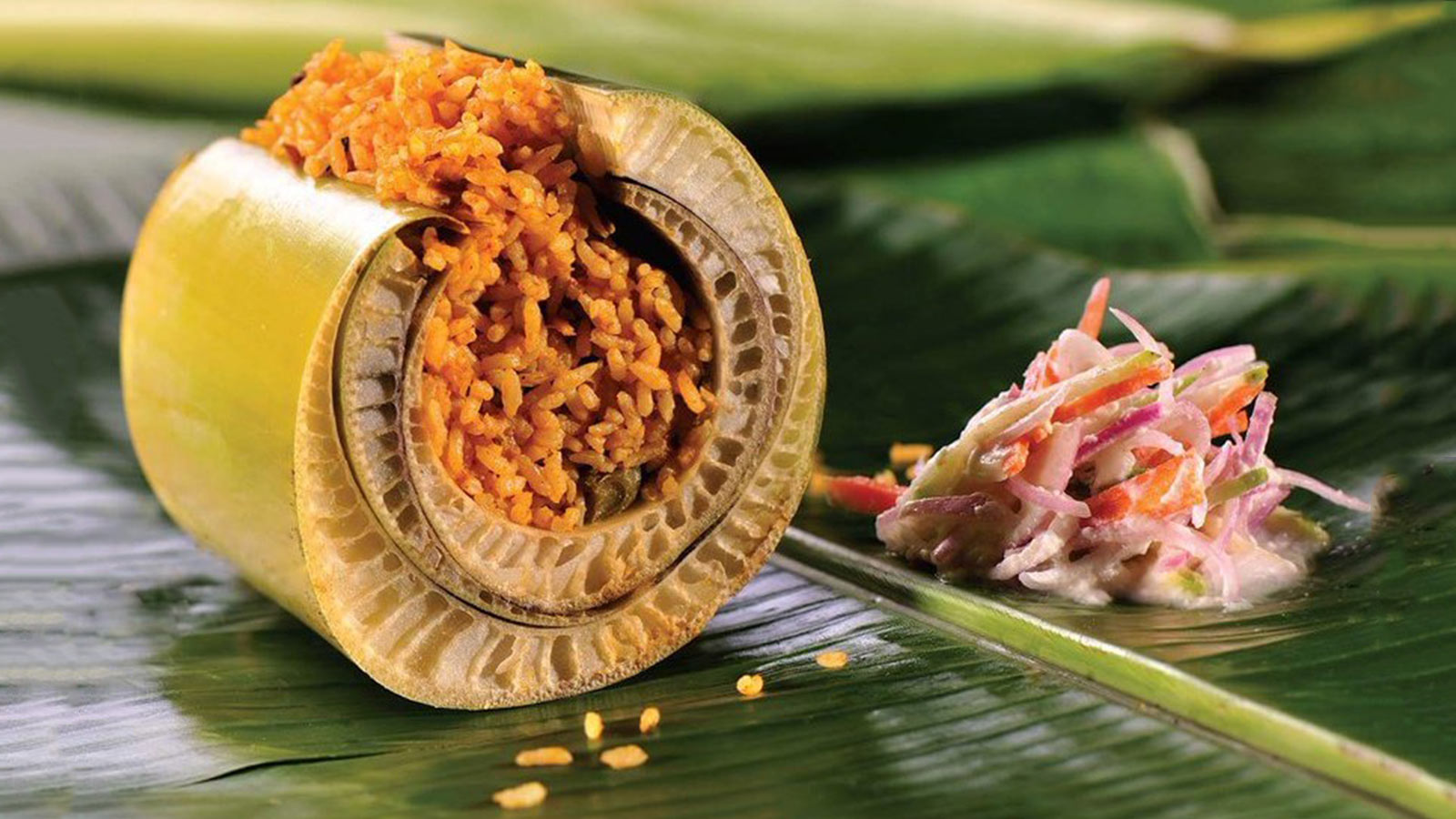 Ingredients
1. 5" to 6" long banana stems 
2. 2 to 3 cups buttermilk
3. 1 cup basmati rice, soaked in water for 30 minutes
4. 1 tbsp ghee
5. 1 tbsp oil
6. 1" cinnamon stick
7. 2 to 3 green cardamoms
8. 4 to 5 cloves
9. 2 bay leaves
10. 1 mace
11. 2 star anise
12. 1 tsp cumin seeds
13. 1 onion, sliced
14. 1 tsp ginger-garlic paste
15. Salt to taste
16. 1/2 tsp turmeric powder
17. 1 tsp red chilli powder
18. 1 tsp garam masala powder
19. 1 tbsp coriander-cumin powder
20. 1 tomato, chopped
21. 2-3 green chillies, slit
22. Few roasted cashew nuts
23. A handful of coriander and mint leaves
24. Raita and papad to serve
Method
• Before you being with the recipe, finely slice the banana stems and soak them in buttermilk.
• Pressure cook the rice. Spread it out on a plate to let it cool.
• Drain the stem from the buttermilk and pressure cook in enough water for two to three whistles.
• Drain and squeeze out all the water.
• Heat oil and ghee in a pan. Temper with bay leaves, cinnamon, cardamoms, cloves, mace, star anise and cumin seeds. Sauté for a few seconds.
• Add the sliced onions and fry until light brown. Add all the dry spices (except salt) and ginger-garlic paste with ¼ cup water. Sauté until the oil separates.
• Add the chopped tomato and cook until soft. Add the drained banana stem and salt. Fry for 2 to 3 minutes on a medium flame.
• Add the rice and green chillies. Mix well and sauté for another 2 to 3 minutes.
• Add the mint and coriander leaves and toss well.
4. Turn it into a sweet dish
Please your sweet tooth by using the banana stem to make a dessert. One of the easiest desserts to prepare with this stem is a kheer or payasam. In south India, they make a banana stem payasam which is called vazhaithandu payasam.
Banana Stem and Coconut Payasam Recipe
by Chef Gaurav Anand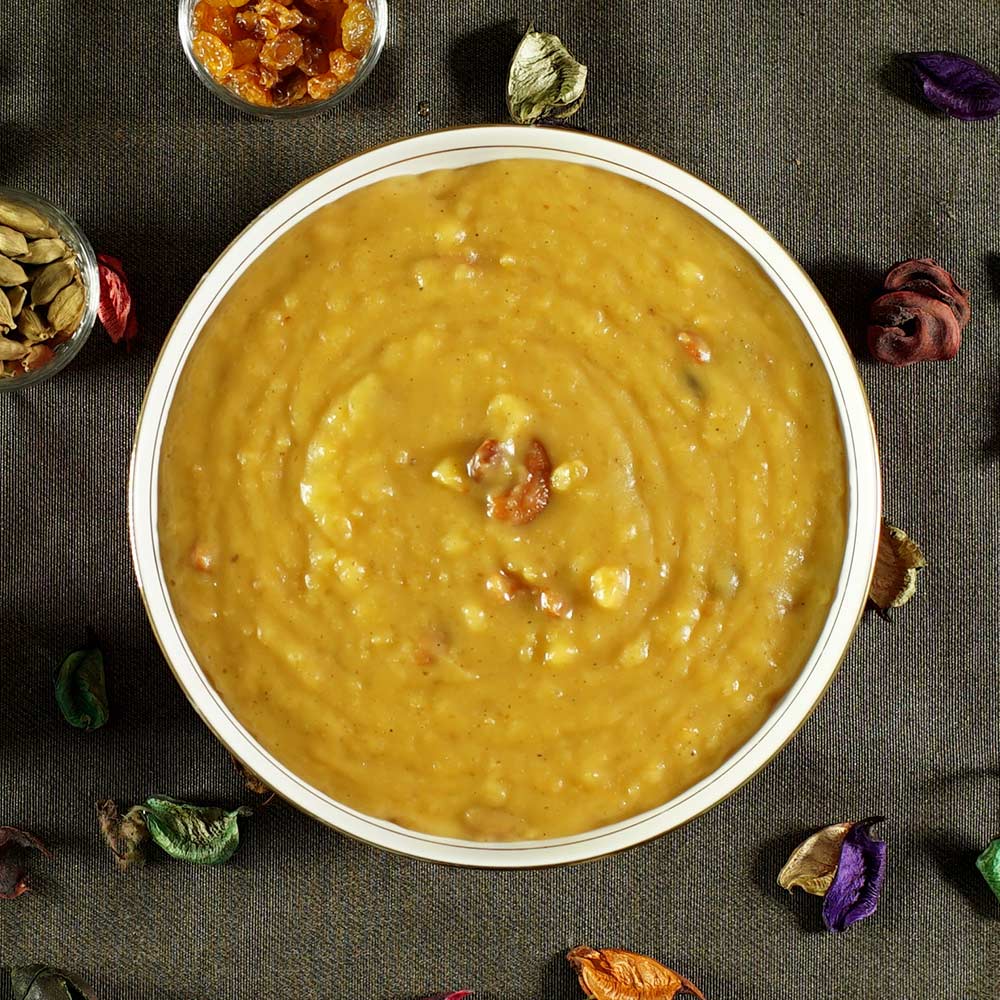 Ingredients
1. 100 gm tender coconut water
2. 100 gm tender coconut pulp
3. 80 gm banana stem (boiled and pureed)
4. 150 ml sweetened condensed milk
5. 1 cup milk
6. ¼ tsp cardamom powder
7. ½ tsp ghee
8. 3 to 5 cashew nuts
9. 3 to 5 raisins
Method
• Blend half tender coconut and coconut water together until smooth.
• Mix it with banana stem puree.
• In a separate pan, take ghee, condensed milk, milk, and sugar; and heat until it comes to a boil. Reduce the flame and cook until reduced to half.
• Take it off the stove and add the tender coconut mix, chopped tender coconut, cardamom, and nuts. Mix well and chill.
Photo: Shutterstock, Indore Marriot Hotel and Aloft New Delhi Aerocity