It is often said, 'you are what you eat'. No wonder, the natives of Kashmir are just as warm and full of stories as their cuisine. Over several decades, the land that has earned the recognition of being a 'paradise on earth' has been at the centre of controversy and conflict; but dive into the myriad flavours of its many dishes and you will be surprised how it brings down all the walls that exist in our minds.
Like any other region, Kashmiri cuisine has been heavily influenced by other cultures, including Central Asia, Persia, China, and the Indian subcontinent.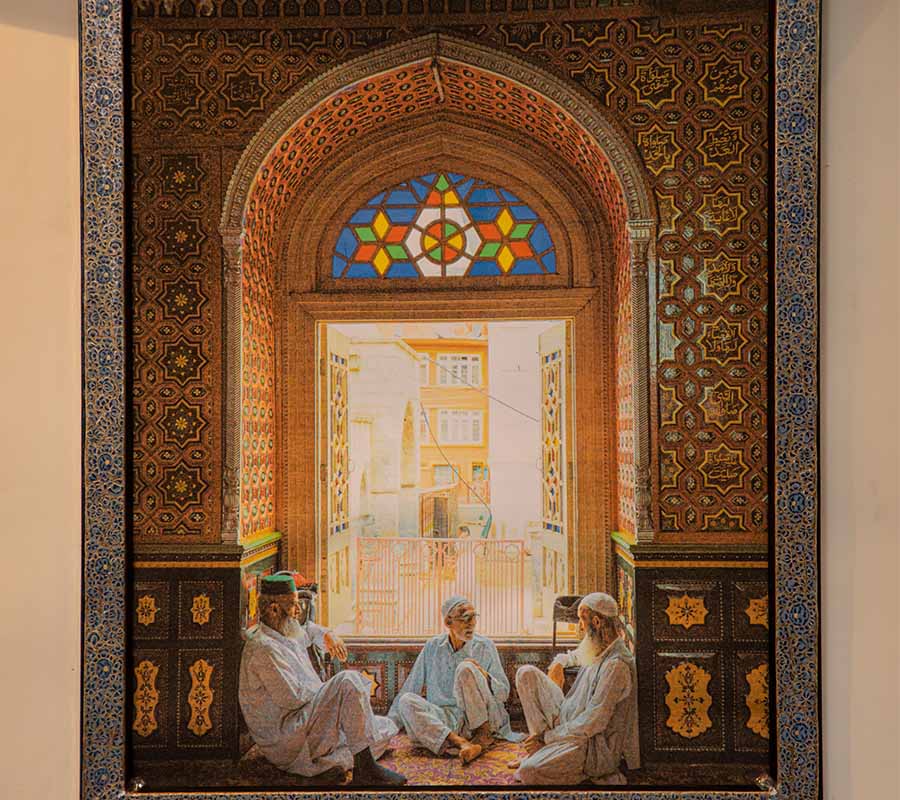 "If you look across cuisines, you don't find this food anywhere else. Kashmir has been at the junction of the Silk Route, and while most stops simply served as trade centres, our land was much more than that. It has always caught the imagination of travellers, since time immemorial. There have been several cultural influences—whether it was the Mughals coming into Kashmir and bringing certain styles, or the Central Asian influence, as well as the influence that came from as far as China, " says Azmat Ali Mir, founder of Manzar Experience Curators, adding that today the food is purely influenced by season, and what grows indigenously. "We have made our food pretty much our own, and it has a very strong identity on the culinary scale," she adds.
So, what is it about Kashmiri cuisine that sets it apart from the rest? What are the techniques adopted to prepare these delicacies? Are there any specific spices used? We have the answers to all your questions right here!
The distinction in Kashmiri cuisine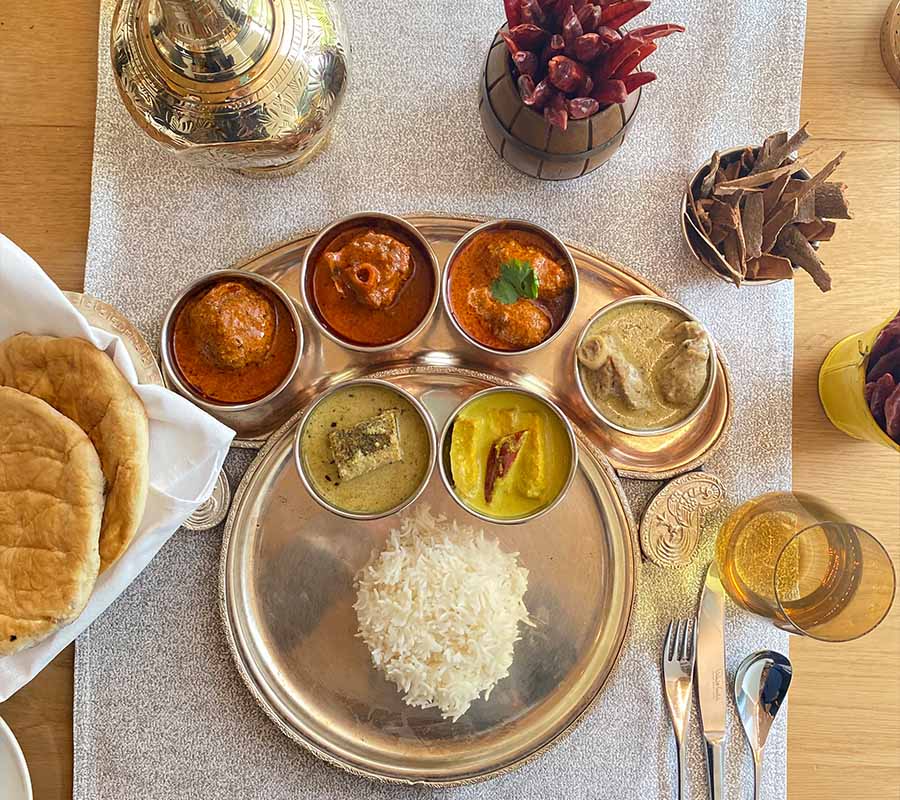 While we might have some ingrained ideas about Kashmiri food, there is so much more than meets the eye. In an exclusive chat with home chef Rajni Jinsi, who has curated an exotic spread of vegetarian and non-vegetarian dishes for the Kashmiri Food Festival (which is on till May 21, 2022) at Tamra, Shangri-La Eros New Delhi, we understand the distinction between the two primary styles of cuisine that are intrinsic to this land: Kashmiri Pandit and Wazwan cuisine.
"I cook Kashmiri Pandit cuisine, which includes a healthy balance of vegetarian and non-vegetarian dishes. Our style of cooking does not include any onion, garlic, ginger, or tomatoes in the gravy. We are also very big on using vegetables in our meals, so you will see a generous use of lotus stem, ganth gobhi, shalgam, mooli, and pumpkin," she adds.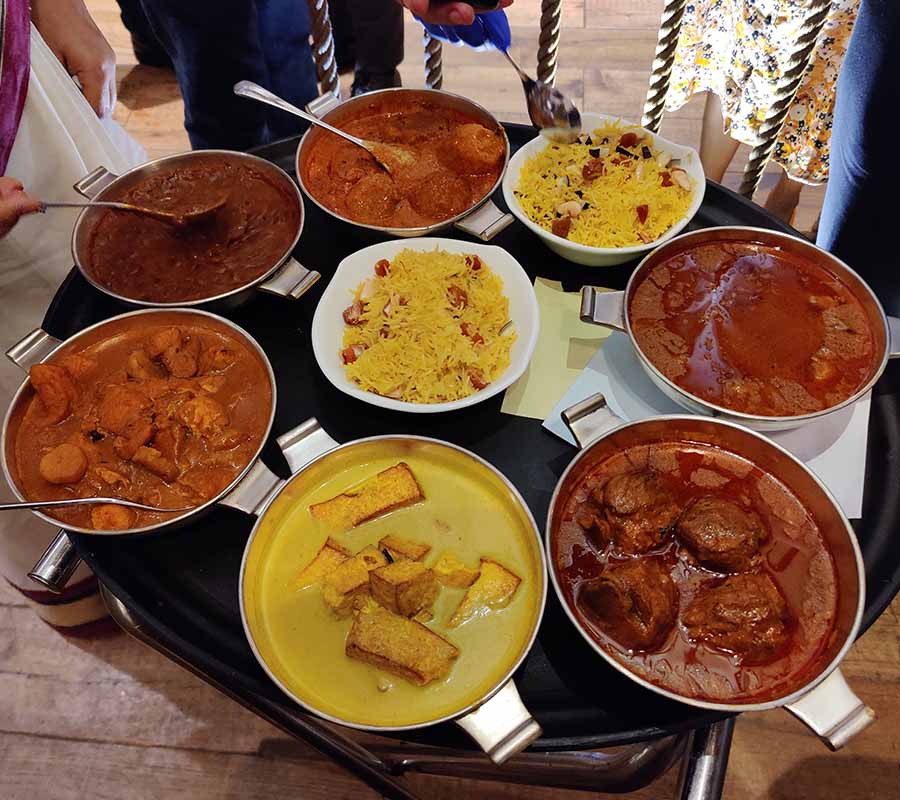 Some of the signature dishes that have found a pride of place in this Kashmiri Food Festival include vegetarian and non-vegetarian snacks like nadur monj (fried fritters of lotus stems marinated in spicy rice flour), chaman pakora (fried cottage cheese cubes marinated in special Kashmiri paste), aloo monde (grated potatoes mixed with masala, made into tikkis, and shallow fried), talit gaad (fish marinated in a special spice mix, and fried), kabarga ( special-cut mutton ribs boiled in spiced milk, and then fried), and tchok charvan (tangy and spicy mutton liver), among others.
The vegetarian main course has nadur yakhni (lotus stems cooked in yoghurt gravy and various spices), chaman kalliya (small cubed pieces of cottage cheese cooked in turmeric-based curry along with aromatic Kashmiri dry spices), dum aloo (boiled whole medium-sized potatoes, deep-fried and slow-cooked in Kashmiri red chillies, spices, and whole garam masalas), tchok wangun (Kashmiri eggplants cooked in spices and tamarind water), haak (collard greens cooked in mustard oil with asafoetida and whole red chilli), and Kashmiri Rajma (special Jammu red kidney beans cooked in Kashmiri masalas, asafoetida, and whole garam masala).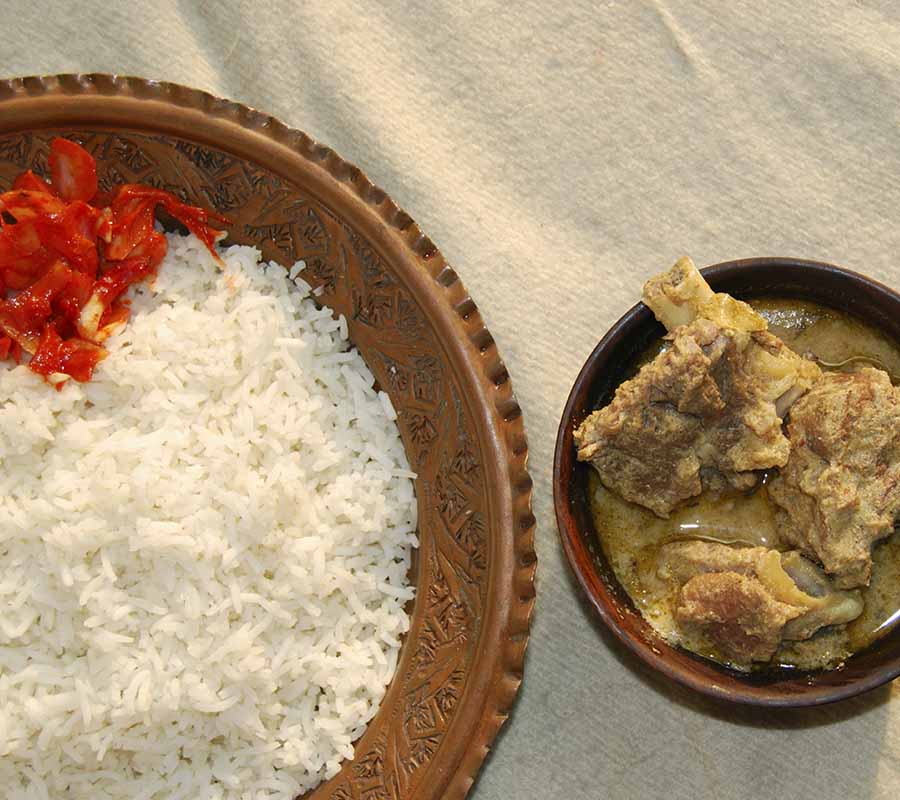 "For the non-vegetarians, there is mutton rogan josh (mutton cooked in aromatic Kashmiri dry spices, yoghurt, Kashmiri red chillies, and saffron), Masch (minced meat mixed with different types of aromatic spices, and Kashmiri red chilli powder cooked in delicious red curry), chicken shaim (minced chicken meat cooked in a yoghurt-based white sauce, with various spices), mutton yakhni (mutton cooked in a rich yoghurt gravy along with Kashmiri dry spices), and mujh gaad (fried fish in red gravy with radish)," shares Rajni.
On the other hand, the Wazwan cuisine is largely occasion food and served not only at weddings but birthdays, funerals, as well as other kinds of gatherings. Unlike Pandit cuisine, it makes extensive use of shallots and is more meat-based. In a nutshell, this type of cuisine is now finding its way into several hotels and restaurants in urban centres, and is a more gourmet affair like no other.
"I think the distinction between Kashmiri cuisine is essentially not very fair because of how syncretic the traditions and cultures of the land have always been. There are two kinds of food that are done, but I don't think the division is based on religion; instead, the differentiation is on the scale of preparation. This basically determines if the food is home-cooked or if it is Wazwan style," shares Azmat.
Wazwan cuisine
Wazwan is a complete gourmet affair and is process-driven. This also means that there is a need for a specialist cook, says Nalini Moti Sadhu, who along with her husband Surender Sadhu runs the popular Gurgaon-based Kashmiri restaurant, Matamaal.
"It is a meat feast, since it is entirely cooked with lamb. Every part of the lamb is used for a specific dish, except for the trotters and the head. The Wazwan has a minimum of seven dishes, while there are others who say it goes up to 35, 48, or even 72 dishes. But a lot of these are repetitive," says Azmat.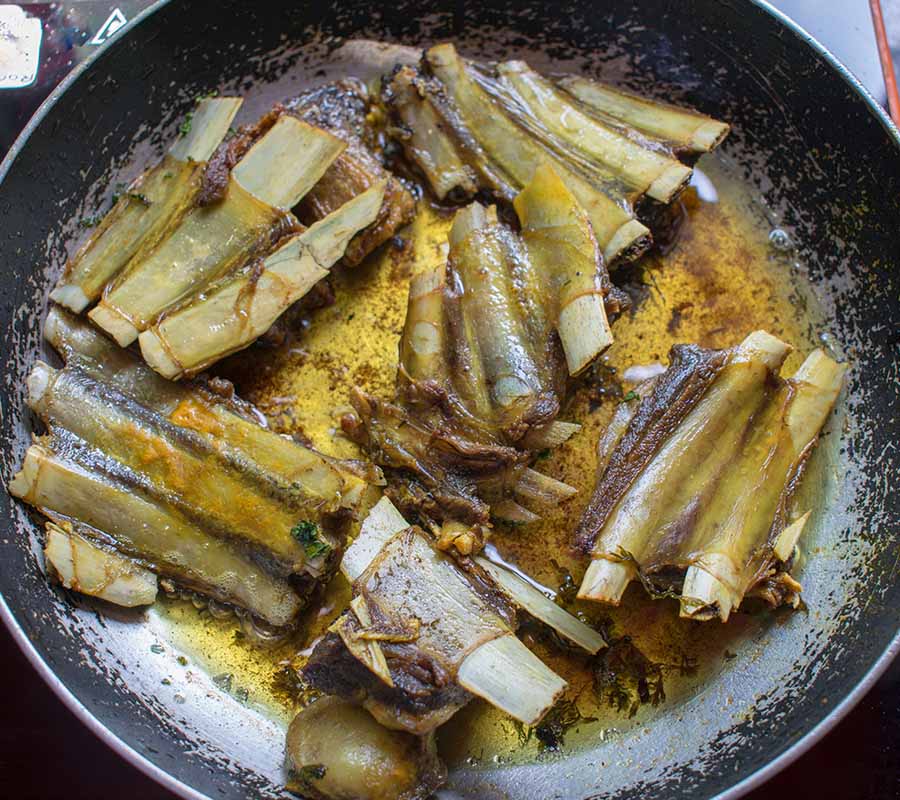 The seven dishes that are integral to Wazwan cuisine include Kashmiri methi maaz (uses the intestine), seekh kebab (uses the hind legs), tabak maaz (that is made with ribs), rista (that is made with hind legs), rogan josh (uses the back and the neck), marchwangan korma (uses the small pieces left after you carve out the ribs), and goshtaba (Kashmiri version of meatballs).
The influence of spices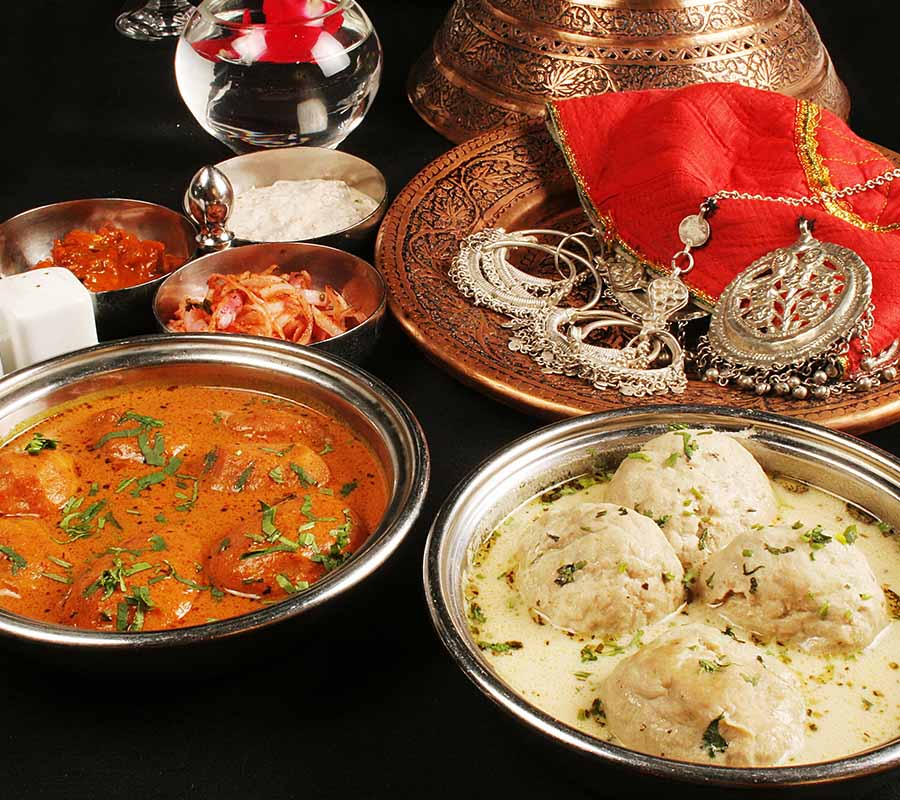 Kashmiri cuisine makes use of whole spices, but these are largely influenced by the weather, says Nalini. "Our food is healthy and we use a lot of spices. Since Kashmir has a cold climate, spices that produce heat are used. We use a lot of yoghurt, saunf powder, and ginger powder. Hing is also a part of our spices. The best part is that you will be treated to many flavours and colours—whether it's green, red, or yellow—which makes it so interesting. The perception of people toward regional cuisine has also changed over the years, and they are ready to experiment. They prefer clean flavours now, so when you see an original recipe, there is minimal use of spices but the flavours are huge," she adds.
Sharing a similar view, Azmat says that every bite of the food conveys its delicate and balanced nature. In Wazwan cuisine, there is a little pungency that comes from the shallots, but there is hardly any infusion of garam masala.
"We also use cinnamon, cardamom, black cardamom, and throw in a little bit of pepper here and there. We use a lot of caraway seeds. Our spices are more indigenous, so our Kashmiri red chillies form the base for a lot of dishes. Our red chillies have the right hit of spice and colour. In case there is a gravy made out of Kashmiri red chilli, the first morsel will never give you a hit of the spice. It builds on your palate after a few seconds," she explains.
The art of slow cooking
Kashmiri food is also flavourful because of the techniques that are adopted to prepare it. At Matamaal, Nalini makes use of the dum method and ditches the pressure cooker. They don't use anything that is artificial. Every dish is cooked with love and patience, ensuring that the authentic flavour is retained in every preparation.
Speaking about Wazwan cuisine, Azmat shares that apart from slow cooking, it is essential to ensure that rigor mortis does not set into the meat, since it must be hot and supple to touch.
"The meat has to be freshly slaughtered, deboned, and then pounded using a wooden mallet on the stone slab, so that you are able to pulverize the meat. Fat is then added and it almost becomes an emulsion. The texture then becomes that of sausages and you roll it into balls," she explains.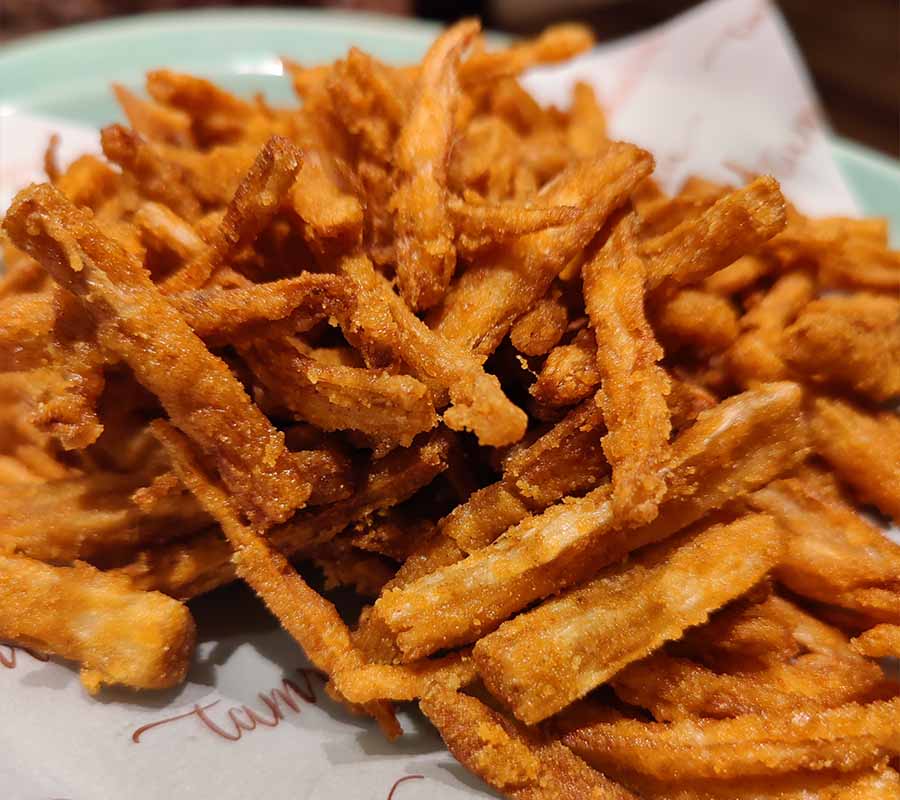 On a sweet note
While Kashmiris certainly devour Shufta and Phirni to satiate their sweet tooth, they don't really require too many desserts to end their meal. Nalini says that Kashmiri food is so heavy that you generally wind it up with an apple, because fruits have always been in abundance. It is only on occasions that special sweets are prepared.
"Kashmiris do not eat too many sweets, and we do not have any desserts of our own. We like to retain the savoury flavour after a meal. After Wazwan, you finish off with noon chai, which is our salted pink tea that is otherwise had in the morning with Kashmiri bread," concludes Azmat. 
Photo: Shutterstock