In his book Sheherwali: Regal Vegetarian Cuisine of Murshidabad, author Pradip Chopra says, in the middle of the 18th century, a group of wealthy Oswal Jain community traders, businessmen, and bankers migrated to Bengal. They came from the small towns of Rajasthan and settled around Azimganj, Jiaganj, and a few other areas near Murshidabad, the then capital of the Nawabs of Bengal and a trading hub where Europeans came to buy silk.
"The community, in no time, became one of the most influential ones in colonial India and came to be known as Sheherwalis (city dwellers). The name came from the fact that they were itinerant traders, who moved from sheher to sheher (city to city)," explains Devashis Kuthari, a Sheherwali settled in Kolkata.
With time, the Sheherwalis adapted to their new surroundings of Bengal, everything from their culture, attire and food to the way of life was heavily influenced by the locals–Nawabs and Bengalis. Their sartorial choices incorporated local sensibilities; men wore pleated dhoti with Bengali-style kurta paired with an embroidered shawl and a local variation of a turban, while the women took up sarees instead of the Rajasthani lehengas. Sheherwalis speak their own version of Hindi, which generously uses Bengali, Urdu, and Rajasthani vocabulary.
A confluence of cultures
Sheherwalis are devout Jains following the tenets of the nonviolent culture and philosophy. The food, accordingly, follows the same nonviolent Jain principles—the community's food is completely vegetarian, and it excludes root vegetables or spices since it doesn't believe in harming insects and microorganisms.
"One of the most interesting aspects of the Sheherwali cuisine is that it is a confluence of Rajasthani, Nawabi, and Bengali flavours," says Kolkata-based Chef Jayanta Banerjee. "The community came from a land of extreme climate, where food was cooked to last for a long time and reheating meals wasn't needed. Also, where the scarcity of water was compensated with dairy products such as milk and ghee. When they settled in Bengal, they were presented with a year-round abundance of vegetables and fruits and they included them in their traditional recipes. However, ensuring their religion's dietary rules were intact," he added.
The influence of Bengali cuisine is evident in Sheherwalis' generous use of the popular paanch phoron (a Bengali spice mix consisting of fenugreek seeds, cumin seeds, fennel seeds, nigella seeds, and black mustard seeds). While the liberal use of rose water, saffron, and dry fruits is proof that they raided the Nawabi larder as well.
Signature dishes
Kheere ki kachori (a puri stuffed with grated cucumber and curd), saloni mewa ki khichdi (sweet rice with dry fruits), paniphal ka samosa (a fried flaky snack stuffed with water chestnut), kheere ka khatta meetha (sweet and sour cucumber curry), and chhena bora (a sweet dish made with cottage cheese) are few of the popular dishes from the Sheherwali culinary repertoire, according to Kuthari.
In addition to this, he couldn't resist talking about his favourite dessert, Neemas, which is a variation of the North Indian daulat ki chaat. "Neemas is basically sweet and creamy milk froth. It is made using full-fat milk, and usually hand-churned. We eat it during the winters," he explains.
Love of Mangoes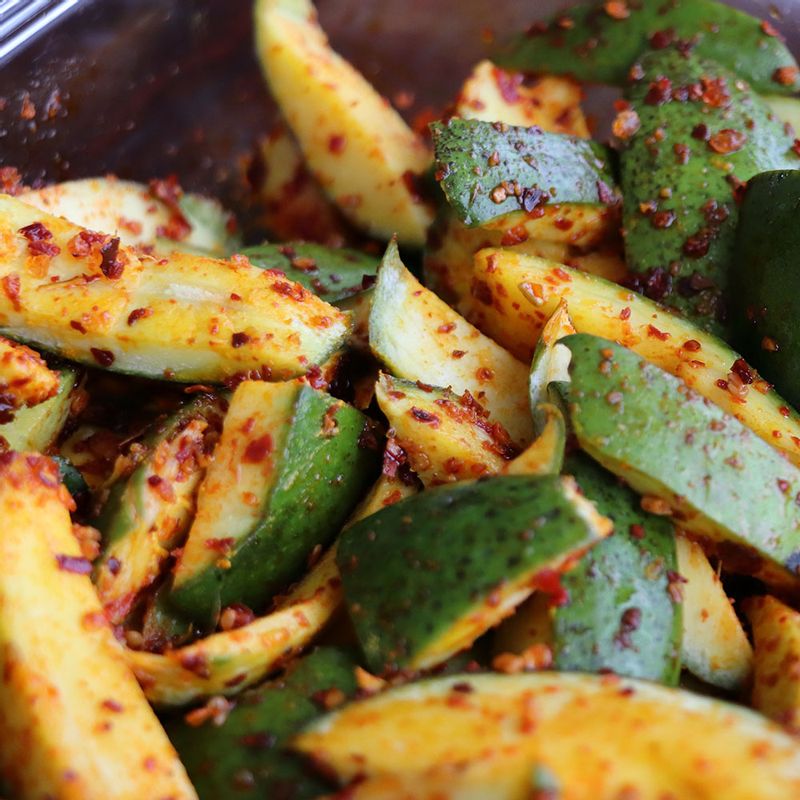 In his book, Sheherwali, Chopra also talks about how no Sheherwali summer is complete without the mangoes of Azimganj. Reportedly, there are over 100 varieties of this fruit in Murshidabad and around it. The community makes the most of the king of fruits by using it in a wide array of preparations such as pickles, chutneys, drinks, and curries.
The future
Chef Banerjee points out this is one distinctive cuisine that needs to be highlighted and shared with a wider audience. However, it is difficult to do so because Sheherwali recipes are closely guarded family heirlooms. Many of these recipes also didn't leave the precincts of the family kitchens and were lost with time.
In an effort to save and share this rare cuisine with more and more people across the country, several Sheherwali food enthusiasts have been hosting pop-ups and dinners. But more efforts are needed.
---
Photo: Shutterstock