Summer season is on in full swing and the heatwave is refusing to die down. While kicking back with a refreshing iced tea sounds like the perfect idea to beat this scorching heat, we're in for something more ambitious – like a spiked iced tea or tea-infused cocktail. Want to join the plan?
Here's an interesting curation of tea-based cocktail recipes by bar pros from across the country to begin with. Whether you favour green tea or black tea, we've got a recipe that is sure to hit the spot.
Scroll on to check out our list of eight delightful cocktails made with tea.
1. Our Inceptions 
Adding black tea infusion to a mix of vodka and fresh orange juice creates a refreshingly sweet yet tart concoction, and the beautiful deep orange drink looks like a celebration in a glass.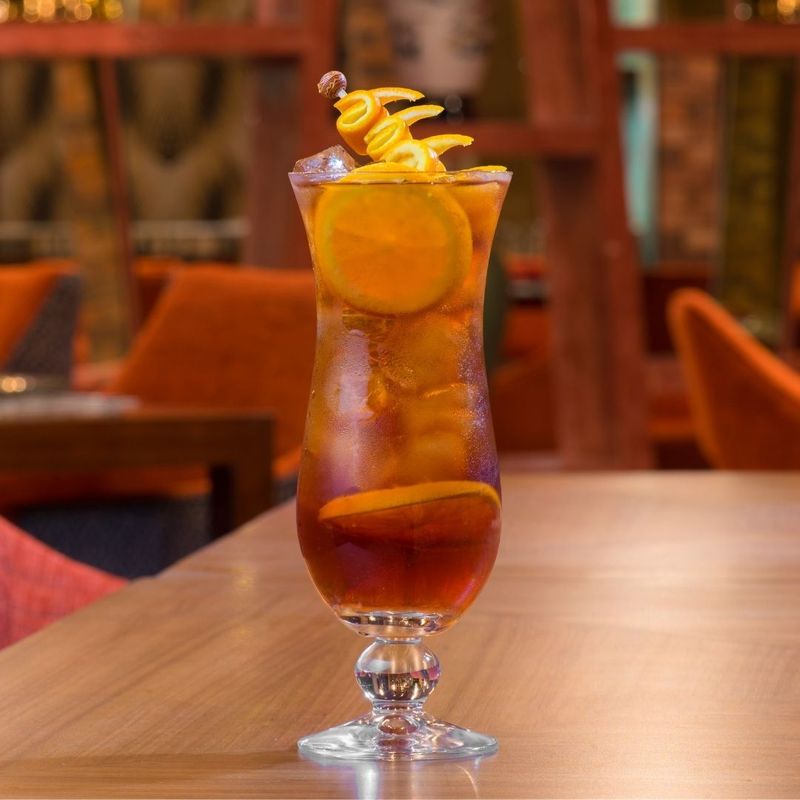 Ingredients
1. 60 ml vodka
2. 120 ml fresh orange juice
3. 60 ml black tea infusion
4. 30 ml lime juice
5. 20 ml sugar syrup
6. 1 hurricane glass
7. A slice of orange for garnish
Method
• Take a mixing glass and add fresh orange juice, lime juice and sugar syrup to it. 
• Add 60 ml vodka and shake it well.
• Add ice and serve it in a hurricane glass and garnish it with a slice of orange.
Recipe by Kailash Kamble, bar operations manager, The St. Regis Mumbai  
2. Matcha Pina Colada
Don't have the time to brew tea? No problem at all! This contemporary take on the classic pina colada uses matcha tea powder and takes no more than two steps to get ready.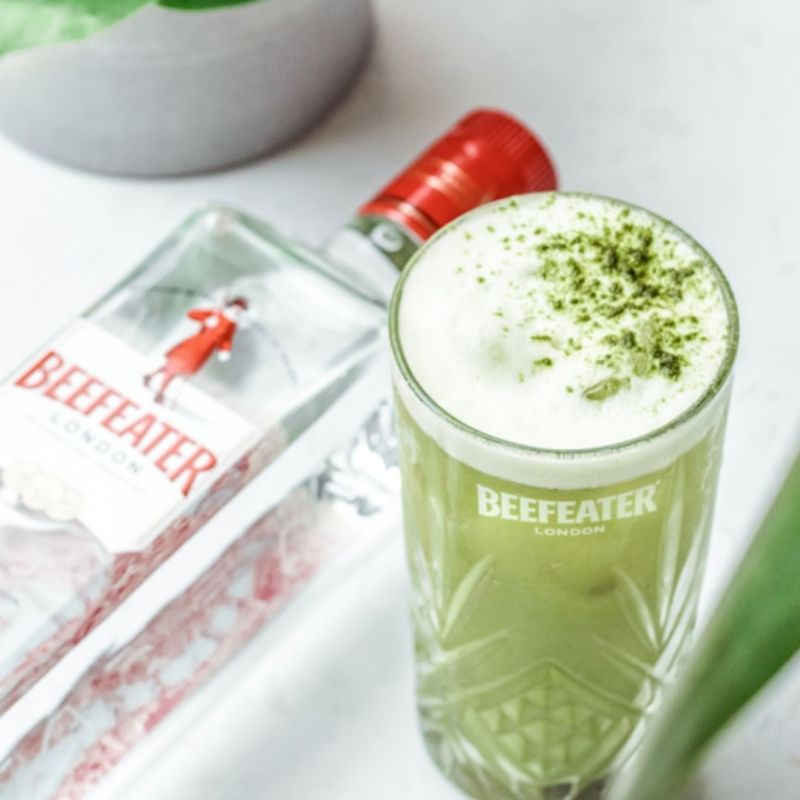 Ingredients
1. 50ml dry gin
2. 1 bar spoon matcha tea 
3. 30ml fresh pineapple juice 
4. 10ml fresh lemon juice 
5. 50ml coconut milk 
6. 40ml soda water 
7. Matcha tea powder for garnish
Method
• In a blender, blitz all ingredients except for soda water until smooth. 
• Pour soda water into a glass then add the blended mixture and dust the top with matcha.
Note: This is not a frozen drink, so take care not to add too much ice.
Recipe by Pernod Ricard India
3. Marrakesh Mojito 
This version of the classic mojito combines all the amazing flavours of a mojito with the tang of CelesTe's special Marrakesh mojito green tea blend and a dash of rum.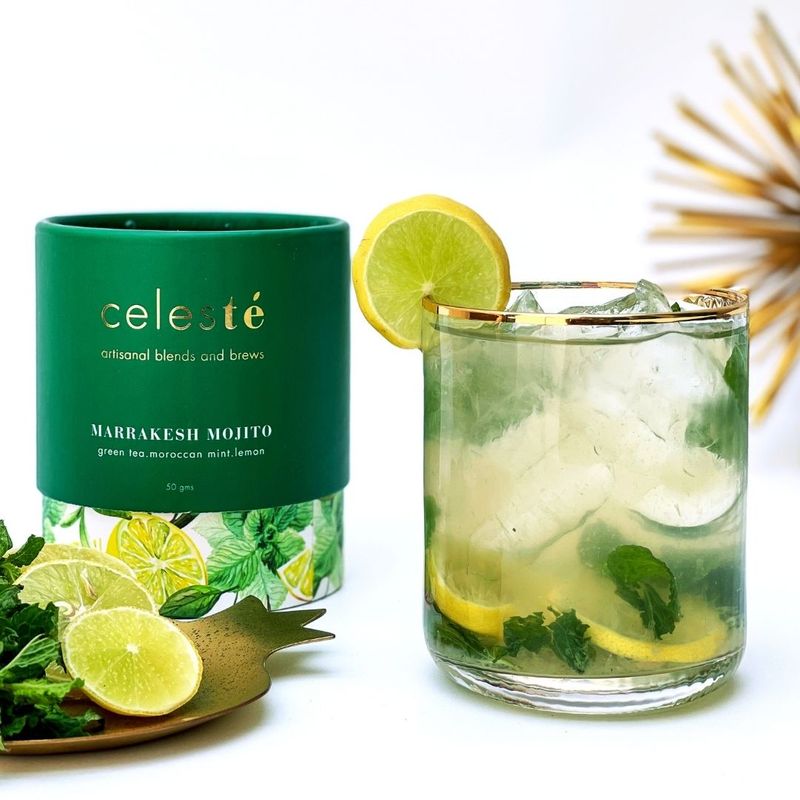 Ingredients
1. 2.5 gm or 1 brew pocket Marrakesh Mojito Green Tea
2. 150 ml water (must be around 80 degrees Celsius) 
3. 50 ml white rum
4. 4-5 slices of lemon
5. 10 mint leaves
6. 2 tsp sugar syrup or as desired
7. A bottle of soda
Method
• Brew the tea for four minutes and keep aside to cool. 
• Muddle 10 mint leaves and 2 lemon slices in a sturdy glass. 
• Add another 2 slices of lemon and sugar syrup as desired and muddle it again to release the juices. 
• Add the 150 ml tea to the glass and then fill it with ice cubes. 
• Add the white rum and top it up with soda as desired. 
• Give it a good stir. 
• Garnish with a lemon slice.
Recipe by Anubha Jhawar, Sommelier and Tea Blender and founder of CelesTe
AlsoRead0
4) Belenkaya Tea
Another cocktail that doesn't require brewing tea is this Belenkaya Tea. It promises a smoky-sweet and citrusy yet pleasantly bitter flavour.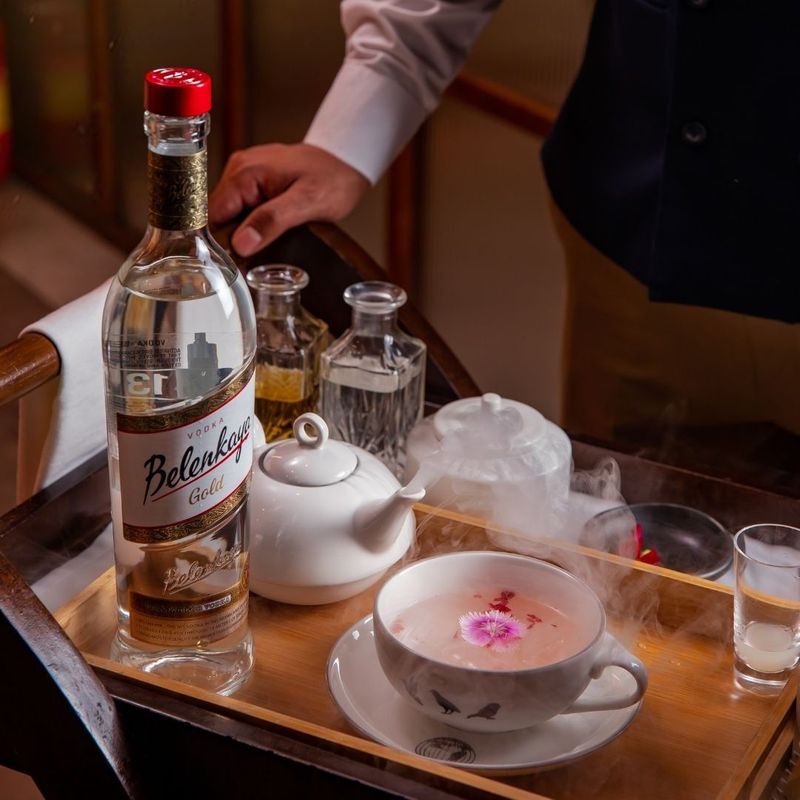 Ingredients
1. 60 ml chai infused vodka
2. 20 ml lemon juice
3. 20 ml simple syrup
4. 1 dash of orange bitters
5. 1 dash Angostura bitters
Method:
• In a shaker, combine all the ingredients over ice and shake well.
• In a cup strain the mixture, garnish and ready to serve.
Recipe by Monika Enterprises 
5. Elderflower Martini
The Assam tea and elderflower syrup take your classic martini and add notes of peach and cocoa to the tipple. The citrusy herby flavour lent by the lemongrass is an added benefit.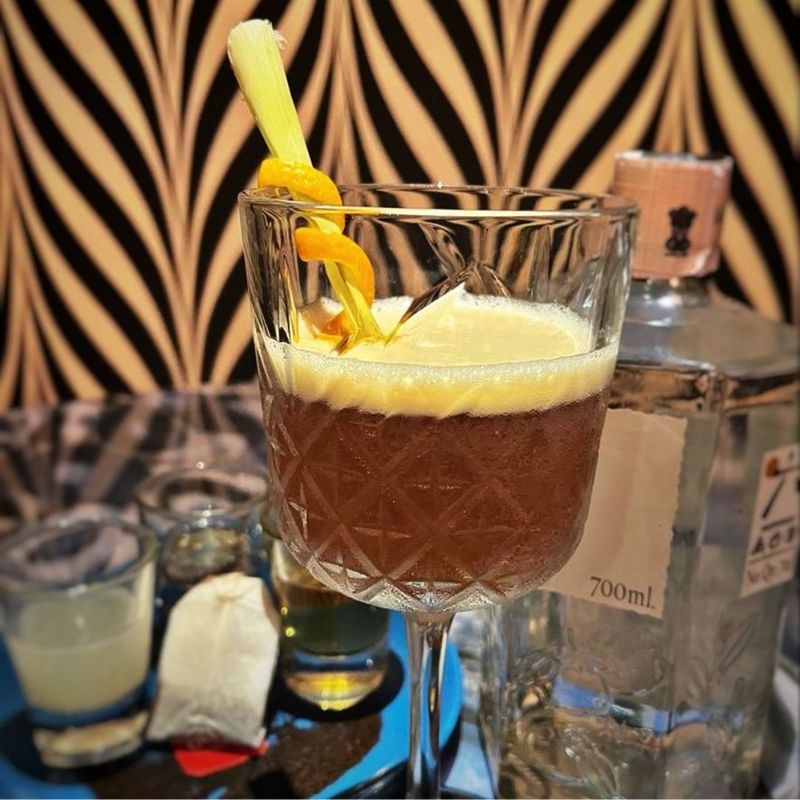 Ingredients
1. 60 ml gin
2. 60 ml Assam tea
3. 15 ml elderflower syrup
4. 15 ml lemon juice
5. 10 ml sugar syrup
6. Fresh lemongrass
Method
• In a shaker, add all the ingredients and muddle well until the ingredients are squished. 
• Add ice and shake well until combined. 
• Strain in a timeless glass and garnish it with a lemongrass stick and orange spiral.
Recipe by B Cuisines and Cocktails
6. The Last Chapter
Surprisingly balanced, The Last Chapter offers layers of fruit, matcha tea, and lime with a hint of mint.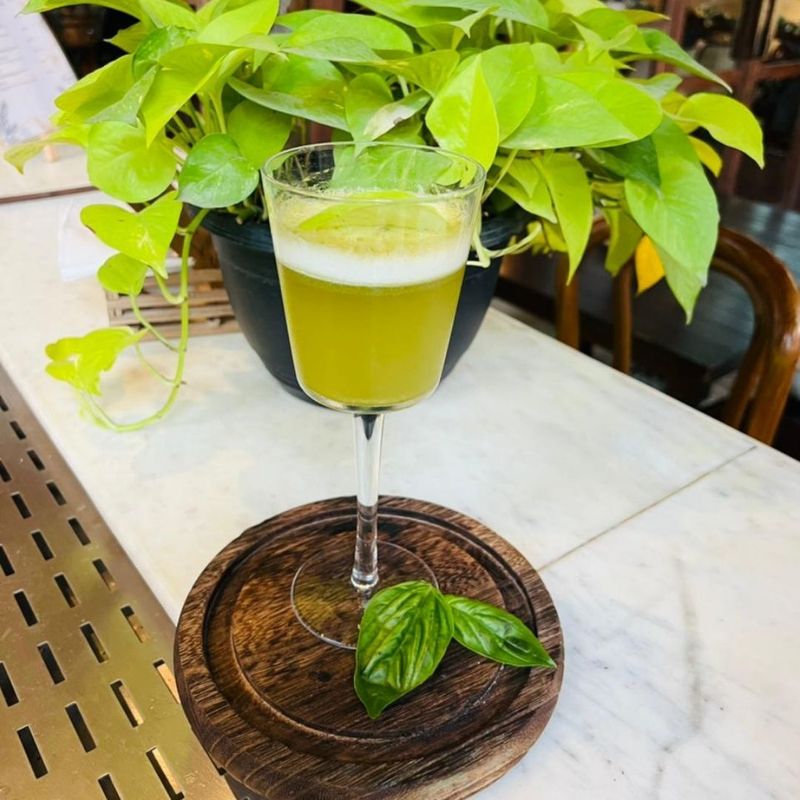 Ingredients
1. 45 ml gin
2. 15 ml orange liqueur/Cointreau 
3. 20 ml cold brew green matcha tea
4. 10 ml lime juice
5. 3-4 fresh basil leaves 
6. 10 ml egg whites
Method
• In a shaker add all the ingredients and shake well.
• In a V-shaped coupe, strain the mixture and garnish it with fresh basil.
Recipe by Silly Bombay
7. Blue Mountain Toddy
This throat-warming toddy may seem out of place on a summer tipple list but wait till you take a sip. Who knows it may even help soothe that untimely cold you're struggling with this summer?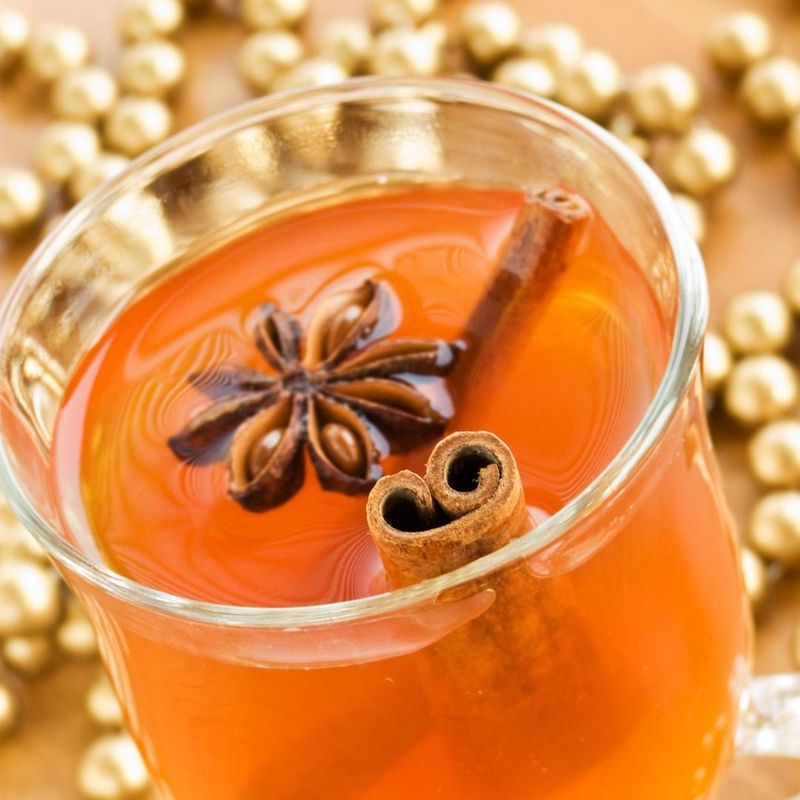 Ingredients
1. 60 ml dark rum
2. 60 ml Golden Tips (Chamraj Estate Black tea liquor, infusion time - 240 seconds)
3. 2 gm cinnamon
4. 1 gram nutmeg
5. 2 grams of cardamom powder
6. 15 ml wild multiflora honey from the Nilgiris
Method
• Warm the brandy balloon glass, mix the spices with tea, add honey, and stir for 30 seconds. 
• Double strain and top it up with dark rum.
• Garnish it with a cinnamon stick.  
Recipe by Santosh Kumar, mixologist at the Canterbury Bar, Ooty Savoy - IHCL SeleQtions 
8. Pomegranate and Peach Tea Sour
This bright and refreshing black tea-based tipple with the goodness of fresh pomegranate juice, peach syrup, and vodka is all you need on a sunny weekend afternoon.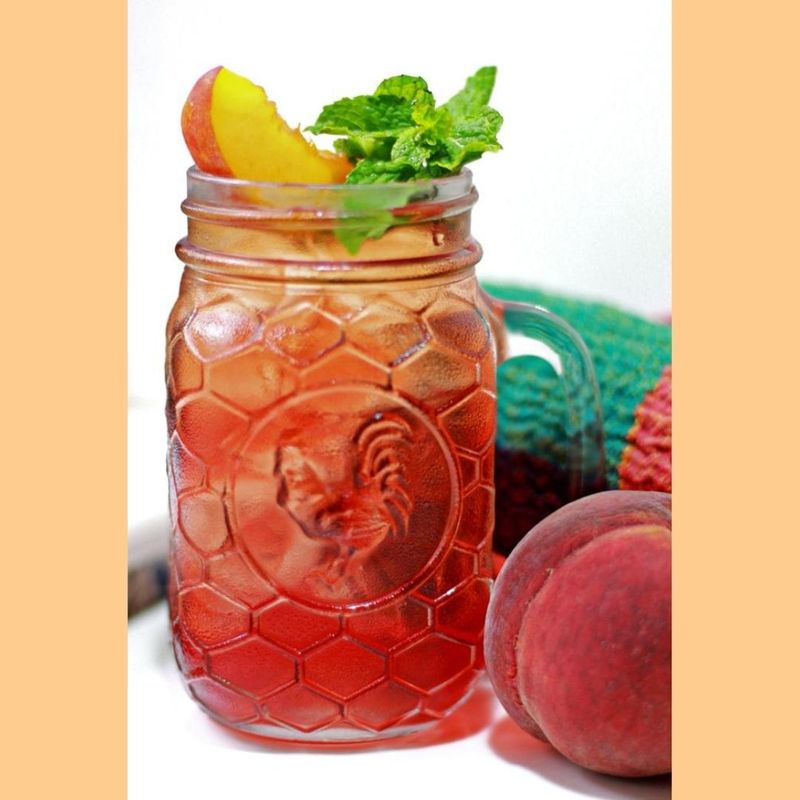 Ingredients
45ml Vodka
60ml pomegranate juice
10ml peach syrup
60ml black tea unsweetened
2 lime wedges
Method
Add ice to the shaker with all the ingredients and shake vigorously.
Pour the mixture in a glass over fresh ice and garnish with fresh peach and mint sprig.
Recipe courtesy: Wakai, Mumbai
---
Photo: Shutterstock; respective brands