Once known as Burma, Myanmar is a Southeast Asian nation with a rich culture and past. Its cuisine is no exception, fusing elements from neighbouring nations like India, China, and Thailand, the cuisine is rich with salads, noodle dishes, rice, and curries. A staple Burmese meal will include curry and white rice, but the cuisine is easily one of the most underrated Asian cuisines. It's aromatic, uses fresh ingredients, and there are many dishes that are easy to replicate at home and easier to love. If you haven't sampled traditional Myanmar food yet, you must find a chance to try them at least once. 
Traditional Myanmar food you must try
1. Mohinga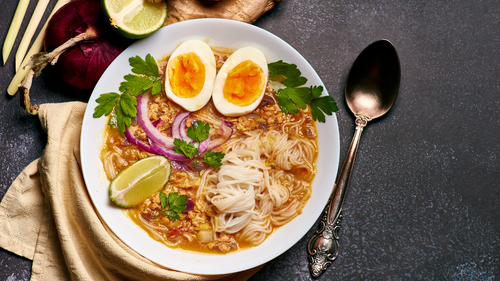 Mohinga, a typical breakfast food sold on the streets of Myanmar, is frequently referred to as the country's national cuisine. Fish broth, rice noodles, and a variety of herbs and spices, including lemongrass, ginger, and garlic, are used to make this noodle soup. The broth is served with a variety of toppings, including boiled eggs, crunchy fritters, and fried onions. The broth is thickened with chickpea flour and seasoned with fish sauce.
2. Laphet thoke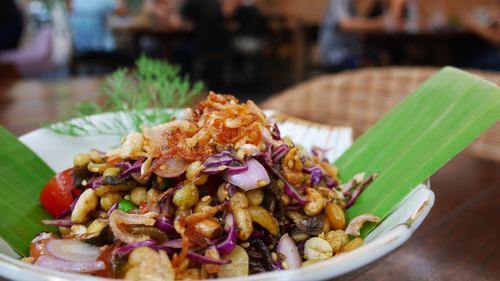 Burmese tea leaf salad, also known as laphet thoke, is a popular meal frequently given as a snack or an appetiser. Fermented tea leaves are used to make it, along with chopped tomatoes, peanuts, sesame seeds, and a variety of additional ingredients, including crunchy beans and fried garlic. Often, a tangy dressing composed of lime juice, fish sauce, and garlic is used to coat the salad.
3. Shan noodles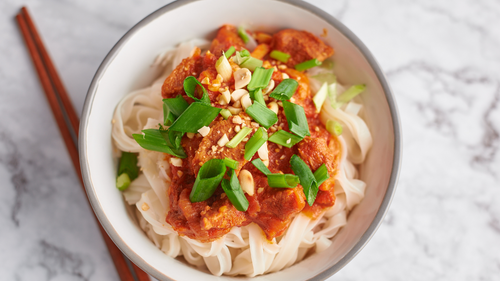 The Shan State, an area in eastern Myanmar, is known for its Shan noodles. Rice noodles are used in the dish, which is then mixed in a savoury sauce made of tomato, garlic, and chilli oil. Sliced meat, boiled eggs, and crispy fried garlic are then added to the dish. Of the many Shan noodle varieties, Khauk Swe Thoke, which has a tangy and hot sauce composed of tamarind and chilli, is one of the most popular.
4. Onno Kau Swe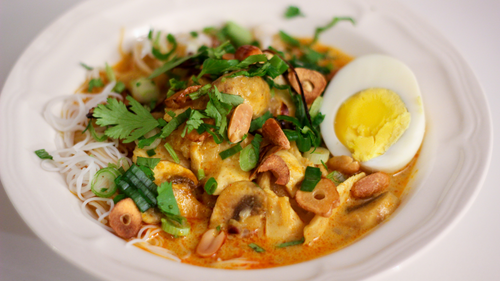 The Burmese dish onno kau swe or ohn no khauk swe, is more popularly known as khow suey. This is a creamy, spicy, and cosy coconut chicken noodle soup and you've definitely sampled it at least once. Egg noodles are used in the recipe, and they are cooked in a coconut milk broth that has been spiced with chilli powder, garlic, and turmeric. Afterwards, a variety of toppings, including lime wedges and fried onions, are added to the soup, along with tender chicken pieces, crispy noodles, and other ingredients.
5. Burmese curry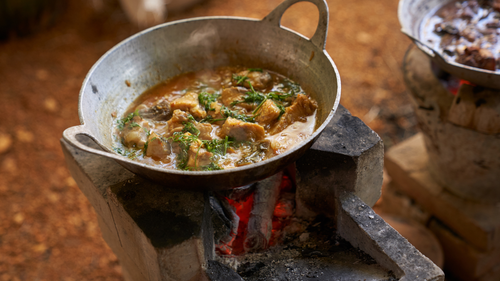 A common ingredient in Burmese curry is meat or fish, along with a variety of fragrant spices like cumin, coriander, and turmeric. The curry is prepared with a tomato, onion, and garlic sauce and frequently includes a side of steaming rice as well as a variety of toppings such pickled veggies and fried onions.
6. Htamin jin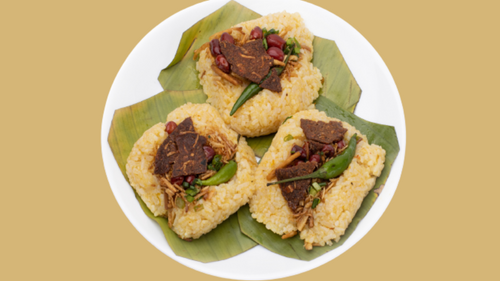 A Burmese dish of fermented rice, htamin jin is the regional specialty and signature dish of the Intha people of Inle Lake in Shan State. Fresh or fermented rice is kneaded with boiled fish, fresh tomato paste, mashed boiled potatoes and garlic garnish. This traditional Myanmar dish uses Highland Shan rice, with Shan potatoes, which are creamier and give the dish a rich texture. Garlic chives roots, garlic oil and crispy garlic garnish are added as a final touch. Htamin Jin is usually served with roasted chili flakes in oil.
7. Mee shay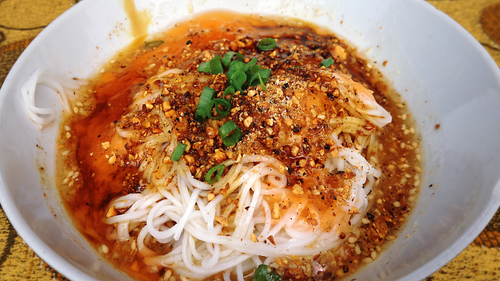 Egg noodles are the main component of the popular morning meal mee shay, which is served with a hot and flavourful beef sauce. Typically, the sauce is prepared with ground pig or beef that has been cooked in a tomato-based sauce with the flavours of garlic, ginger, and chili. The dish is typically topped with a variety of ingredients, including boiled eggs and crispy fried onions.
If you found this interesting, you'll be happy to know yet another interesting fact: Fish is an important part of cuisines in Myanmar and India. You can know more about what makes Hilsa an important part of Bengali cuisine.
---
Photo: Shutterstock