It doesn't take a lot of imagination to think of healthy fruits, like dates during the month of Ramazan. The bite-sized fruit is synonymous with the Holy Month and a regular on iftar spreads in Muslim homes across the world.
Scientifically, dates are perfect for breaking a day-long fast, considering they're nutrient-dense. Plus, they also offer small amounts of fat and protein. Dates are easily digested and help restore the sugar levels in a food-and-water-deprived body quickly.
But sans the nutritional angle, dates have a fair bit of religious and anecdotal significance for Muslims as well. When dates are the first thing one consumes to break their fast during Ramazan, it is regarded as auspicious. To be precise, it's considered a sunnat – the body of literature comprising customs and traditions enlisted by Prophet Mohammed. In other words, sunnat is like a religious brownie point – not binding, but good.
So, dates have become synonymous with Ramazan, flooding markets here in India and across the world, during this time of year. And while the prophet did prescribe breaking your fast with dates, he never asked to not get creative with it.
Here are a couple of fun and easy date recipes to begin with:
1. Dates and Jackfruit Dhonas
"When I used to visit my grandmother in Someshwar, Ratnagiri, she'd treat me to jackfruit dhonas. There was a Muslim wada (residence) nearby, and I had befriended them. During Ramazan, I remember watching them eating dates. So, one day, I told my grandmother to add dates to the jackfruit dhonas and it came out real nice and gooey. I'll never forget the first bite of that," remembers chef Ameya Mahajani, Aromas Cafe and Bistro.
Dates and Jackfruit Dhonas Recipe
Ingredients
300 grams Jackfruit

150 grams Grated coconut

200 grams Rawa/semolina

200 grams Jaggery 

8-10 grams Elaichi powder

150 grams Dates

20 grams Almonds or cashew

10 or 12 Raisin

Salt to taste
Method
Roast the semolina till it is light brown. Cool and keep aside.

Clean the jackfruit, remove seeds, grind in a mixer and make a coarse pulp.

Mix all the dry ingredients in a bowl and add the jackfruit pulp. Use the cut and fold method to mix the batter and keep it aerated.

Steam the cake for 20 to 25 minutes using the double boiler method. Or, bake it at 180 C for 30 minutes using a microwave oven. Insert a toothpick. If it comes out clean, then the cake is properly baked.

Enjoy with tea or coffee.
2. Ma'amoul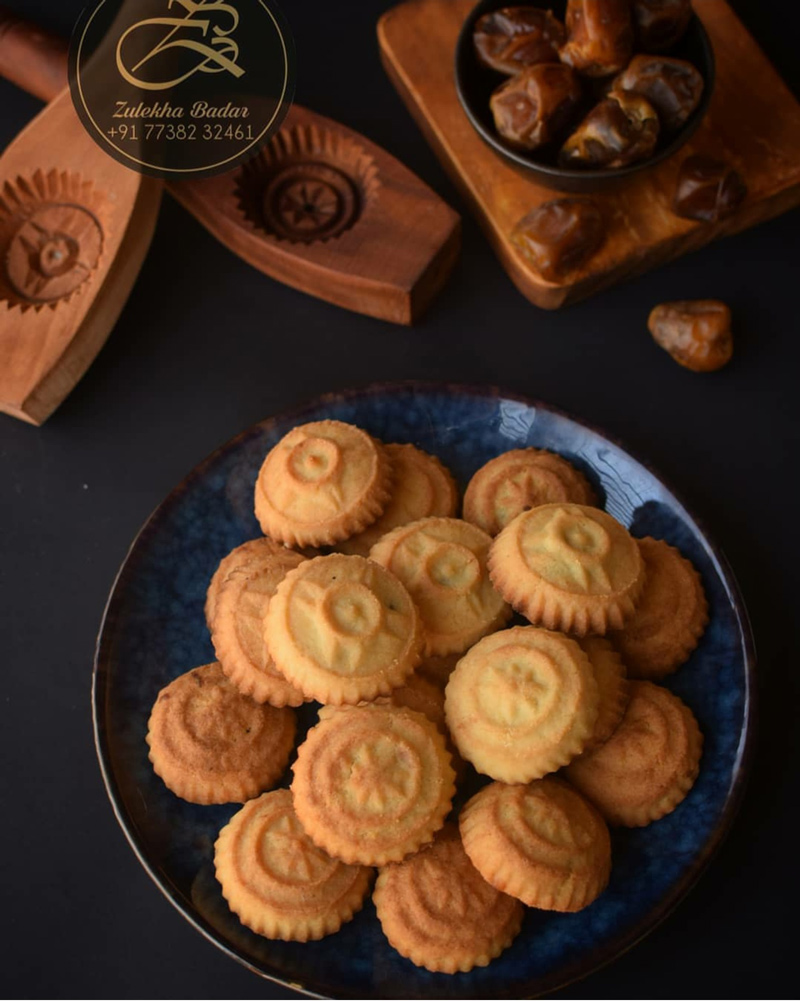 Ma'amoul is a traditional Arab cookie with an ooey-gooey filling made of dates. Sometimes, it also features nuts, like pistachio, walnut, almond or even fig. "What I love about ma'amoul is that they're not specific to any religion. You'd find them in Christian homes around Easter or Lent, where it is served dusted with powdered sugar alongside coffee or tea. Muslims have these cookies on Eid and at the end of pilgrimage months. And if you visit with Arab-Jewish friends, they'll serve ma'amoul filled with nuts for Purim," shares chef and baker, Zulekha Badar.
Ma'amoul Cookie Recipe
Ingredients
½ kg Fine semolina

150 gms Ghee, melted and hot

50 gms Melted butter

¼ cup Vegetable oil

½ cup All-purpose flour

½ cup Powdered milk

½ tsp Baking powder

½ tbsp Yeast

1 teaspoon sugar (for proofing the yeast)

1/2 cup of water

¼ cup of sugar

3 tbsp orange blossom water (can be replaced with water or milk)

3 tbsp Rosewater
For the filling
750 kg Pitted dates/date paste

2 tsp Cinnamon

¼ tsp Cardamom
Method
In a bowl place the semolina and add the butter or ghee and oil to it. Rub till the mixture resembles wet sand. Cover and leave overnight. This will allow the semolina granules to swell and soften.

On the next day, add the flour and baking powder.

Dissolve the yeast in the water with the sugar and wait for it to foam and bubble.

Add it to the semolina mix along with orange blossom and rosewater.

Mix gently, till you make a lump of the dough and then crumble it between your fingers and repeat.

Do not mix for too long as this will help develop the gluten and cause the ma'amoul to become tough. Cover and allow it to rest for one hour.

For the filling, knead the dates with some butter or olive oil. If your dates are on the dry side, soak them in hot water for 30 minutes and drain them before using.

Form a small cup using the dough, use your thumb to make a hole and pinch the sides to make them thin.

Stuff it with filling and roll it to form a smooth ball.

Now, bake the ma'amoul on the middle rack of a preheated oven at 170 degrees for 15 minutes or till the edges are golden brown.

Then place them under the broiler for 2 to 5 minutes or till the tops are golden brown.

Take the cookies out of the oven and allow them to cool on the baking sheet for 10 to 15 minutes.

Then, move them to a cooling rack because they are prone to crumbling if you move them when they are still hot.

Enjoy once cooled!
3. Skillet Date Cookies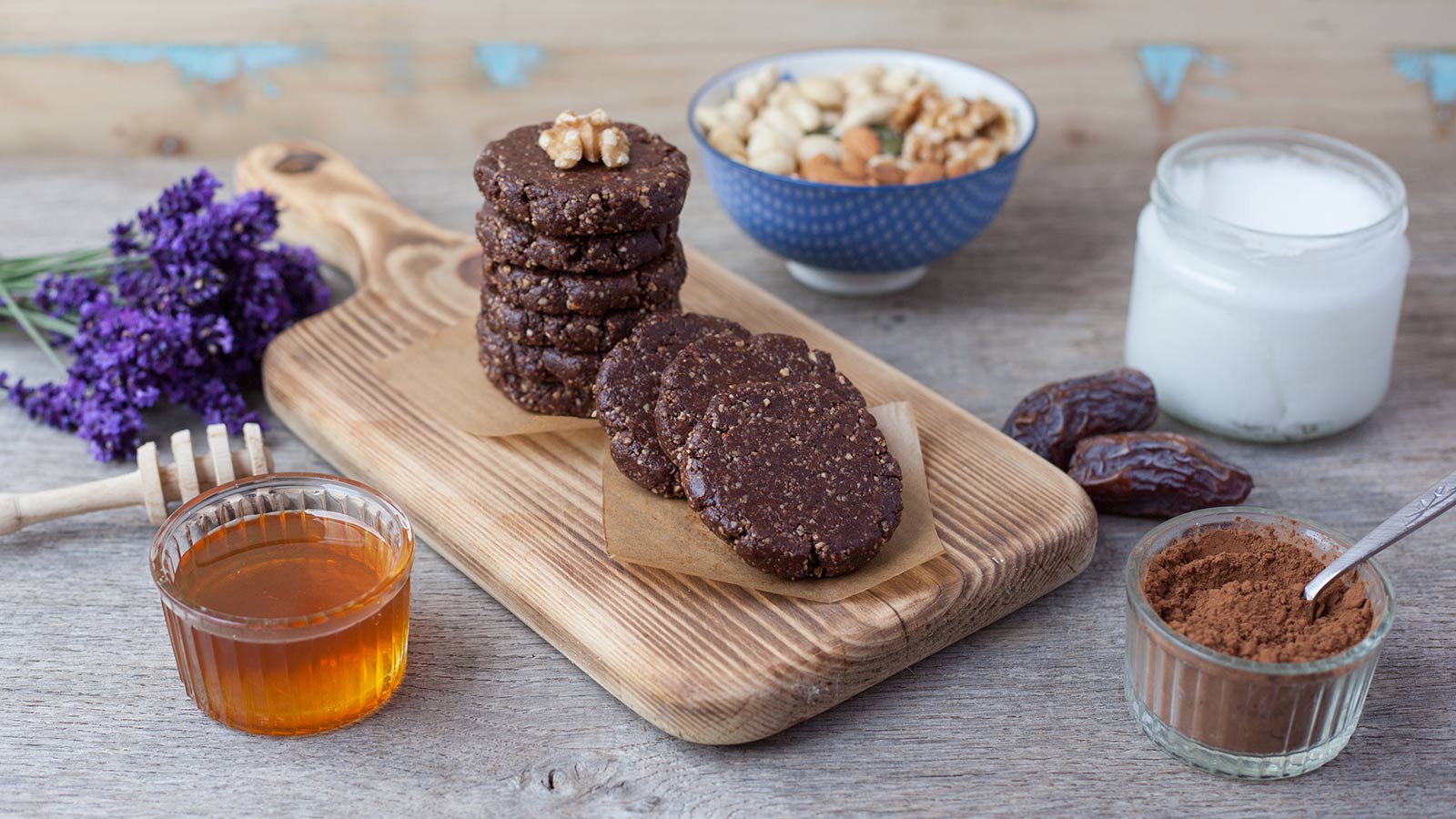 "Consuming dates during Ramazan is customary across Muslim households. It comes packed with a lot of nutritional value. This skillet date cookie recipe is perfect, because it requires less fat, and especially now, with all of us being mindful of the ingredients available. Plus, these cookies can be easily put together," suggests chef Jasjit Keer of Alfredo's in Malad, Mumbai.
Skillet Date Cookies Recipe
Ingredients
1 cup Dates, chopped

¾ cup Walnuts

1 egg, beaten

¾ cup Honey

2 cups Crispy rice cereal

3 tbsp Butter

1 cup Flaked coconut, (unsweetened preferred)

⅓ tsp Cinnamon powder, optional
Method
Combine dates, butter, honey and beaten egg in a heavy skillet over low heat. While stirring constantly, cook for 5 to 7 minutes until the mixture is bubbly.

Remove the pan from the heat. Add cinnamon, rice cereal, dates and stir thoroughly.

When the mixture is cool enough to handle and also slightly warm, roll the mixture into small balls and then roll them in the coconut. Set them on a plate or baking sheet.
4. Date Peanut Butter Smoothie
There's no better pick-me-up than a delicious smoothie that also scores high on the health card. Give Mohit Bulchandani's – founder of a healthy café in Mumbai, Seeds of Life – recipe a shot.
Date Peanut Butter Smoothie Recipe
Ingredients
1 Frozen Banana

2 Pitted dates

1 tbs Peanut buttera

2 tsp Cacao/cocoa

100 ml Milk of choice
Method
Mix all ingredients in a food processor/blender till its smooth.

Serve chilled!
5. Israeli Couscous with Dates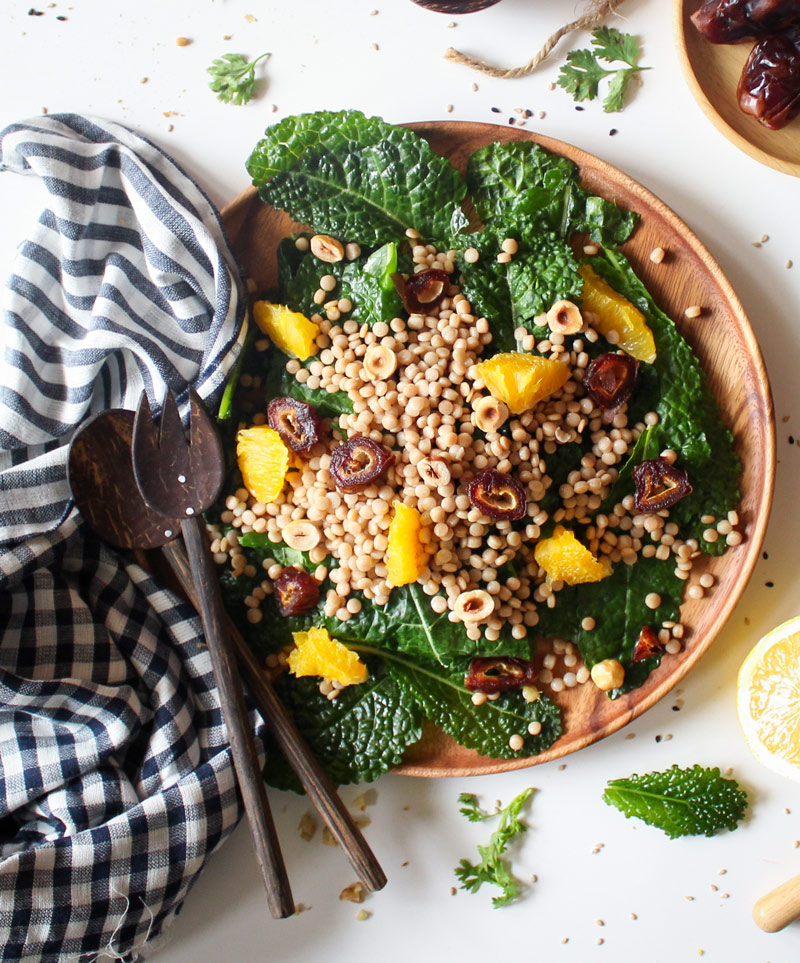 For chef and influencer, Karishma Sakhrani, eating clean doesn't necessarily have to always mean counting your calories. "I'm always looking to add nutrient-dense ingredients to my diet. And dates do just that! High on nutrition with a burst of sweetness and flavour, it livens up this Middle Eastern-inspired salad," she says.
Dates with Israeli Couscous Recipe
Ingredients
25 gms Kale leaves

1 Orange, segmented

3 Dates, chopped into small bits

2 tbsp Hazelnuts, halved and toasted

¼ cup Fresh mint, finely chopped

¼ cup Fresh parsley, chopped
For the couscous
½ cup, dry measure Israeli couscous

A large pot of boiling water

Salt
For the dressing
2 tbsp Extra virgin olive oil

1 tbsp Pomegranate molasses

1 tbsp Lemon juice

¼ tsp Crushed garlic

Salt, to taste
Method
Wash the kale thoroughly and leave in a colander to drain and dry completely.

Once dry, tear into bite-sized bits.

For the couscous, bring a large pot of water to a boil. Add the salt and couscous and cook for about 7 to 8 minutes until al-dente. Drain immediately and run through cold water.

For the dressing, combine the ingredients for the dressing thoroughly.

To assemble, massage a little oil into the kale and leave for ten minutes.

Combine the dressing with the prepared couscous, orange, dates, hazelnuts, mint, parsley and give it a light toss.

Remember to share it with someone you love.
6. Date Semiya
Semiya or sevai is a special-but-common treat in all Muslim homes, sweetening up mornings on Eid, or providing a sweet escape at the end of a long day of fasting. Chef Ishijyot Surri, executive chef, SJI Hospitality and Foods Private Limited, gives the traditional dessert a Ramazan special twist, by incorporating dates into it. Here's how!
Date Semiya Recipe
Ingredients
15 pcs Pitted dates 

2 cups Milk 

1½ cup Thin vermicelli broken and roasted

1 cup Water

1½  tsp Cardamom powder 

2 tbsp Roasted cashew and pistachio
Method
Boil water in a saucepan. Add dates and cook until the dates dissolve.

Add cardamom powder and vermicelli and cook for 1 minute.

Add milk and let it boil.

After it comes to a boil, add the roasted cashew and pistachio and let it simmer for 3

minutes.

Remove from the pan and serve. You can also enjoy it as a cold dessert.
7. Balsamic Dates and Goat Cheese Crepes Recipe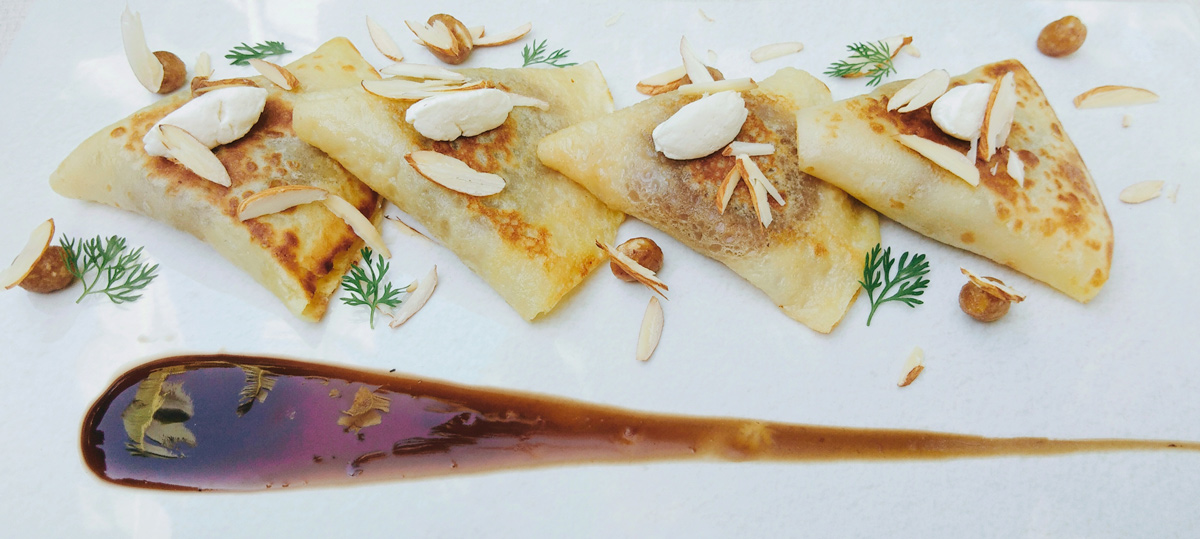 Go gourmet with this fancy crepe recipe by Chef Shrikant Jogdankar, senior sous chef, JW Marriott Mumbai Sahar.
Ingredients
125 gms Refined flour 

100 ml Milk

1 Egg yolk

5 gms Brown sugar 

Nutmeg, a pinch

10 gms Butter 
Dates Mixture   
100 gms Pitted dates 

10 gms Almonds 

10 gms Cashew nut 

10 ml Balsamic reduction 

20 gms Goat Cheese/Chevre 
Method
For the crepe, mix all the ingredients and blend together to form a thin batter.

Heat a nonstick pan, gradually pour the batter and swirl the pan evenly.

Take out the crepe once golden brown from both sides and cool down.

For the mixture, combine the dates, half the almonds and cashew nut and blend it roughly.

Lay the crepe on a board and stuff the mixture. Roll it evenly.

Heat the nonstick pan and apply butter over it. Pan sear all the stuffed crepes lightly.

Lay over quenelles of goat cheese on each crepe.

Garnish with sliced almonds and drizzle balsamic reduction on top of it.

Enjoy it warm.
Photo: Banner: Shutterstock