Over the past few years, India has seen a rise in popularity for the Japanese noodle soup dish, Ramen. The one-bowl meal has become a favourite among foodies. A bowl of ramen is made of al dente wheat noodles soaking in a flavourful broth, meat and/or veggies and numerous toppings. In the national capital of Delhi alone, Japanese cuisine has seen a boost in popularity and is one of the factors contributing to ramen's success. Delhi residents are starting to venture beyond sushi and tempura to try other Japanese cuisines as their palates become more diverse. A popular choice for individuals eager to try something new is ramen, which is a hearty and comforting dish.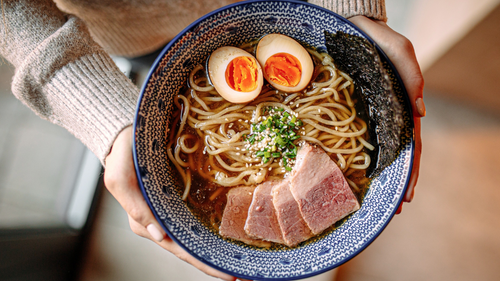 Restaurant chains such as Yum Yum Cha, Mamagoto, and Guppy are just a few of Delhi's Japanese restaurant franchises that provide traditional ramen dishes crafted with top-notch, fresh ingredients. These eateries have experimented with fusion variations of the dish such as the ramen burger, in addition to introducing Delhiites to traditional ramen recipes.
The adaptability of ramen is another factor that contributes to its appeal. Ramen can be made with a variety of ingredients and tailored to fit personal preferences, including pork belly, chicken, fish, or tofu. The growth of social media has boosted ramen's appeal in Delhi. The top ramen restaurants in the city have become well-known thanks to food bloggers and influencers who post images and reviews of their favourite spots on Instagram and other social media sites.
1. Guppy, Lodhi Colony
A well-known Japanese eatery serving some delicious ramen in the area, Guppy is situated in Lodhi Colony. Their ramen dishes come with a range of toppings and are crafted using premium ingredients including fresh noodles and slow-cooked broth. Among frequent customers, tonkatsu ramen and miso ramen are very well-liked. This is definitely one of the best ramen places in Delhi.
2. Akira Back, Aerocity
Akira Back is a contemporary Japanese eatery with a unique approach to ramen dishes that is situated in Aerocity. For those seeking a spicy kick, their spicy beef ramen, made with braised short ribs and Korean chilli paste, is a must-try. Another well-liked option is their soy-based broth and shiitake mushroom-based vegetarian ramen. This place can be a little pricey, so ensure you go here at the beginning of the month! For those looking for a fancy dining experience, this is definitely one of the best ramen places in Delhi.
3. Yum Yum Cha, multiple locations 
Yum Yum Cha is a well-known Japanese restaurant franchise with numerous locations in the city that serves a selection of ramen dishes. Their ramen is a favourite among food lovers since it is prepared with fresh ingredients and cooked to absolute perfection. Regular customers particularly enjoy their vegetable ramen and spicy pork ramen. Their speciality is the mochi ice-cream dessert that you must try after you're done devouring the yummy bowl of ramen. For those looking for an authentic Japanese experience, this is definitely one of the best ramen places in Delhi.
4. Mamagoto, multiple locations 
Although not exactly a Japanese eatery, Mamagoto has gained popularity among Delhi residents for its distinctive spin on ramen dishes. Their ramen dishes come with a range of toppings and are produced with a variety of ingredients, including udon noodles and Korean chilli paste. Among regulars, their spicy shrimp ramen and kimchi ramen are very well-liked. If a big bowl of ramen that you can share with your plus one is what your heart desires, then this is definitely one of the best ramen places in Delhi.
5. Mensho Tokyo, Greater Kailash 2
Some of Delhi's best ramen can be found at this restaurant, which is situated in South Delhi's Greater Kailash neighbourhood. The traditional Japanese-style ramen meals served at Mensho Tokyo are well-known for being created with homemade noodles and slow-cooked broths. The basic décor of the restaurant enhances the feeling of authenticity. Among regulars, its spicy miso and tonkatsu ramen are especially well-liked. For those in and around GK2, this is the best ramen place to check out.
6. Kofuku, Connaught Place
A hidden gem that offers delectable ramen, Kofuku is situated in Connaught Place in the centre of the city. The restaurant provides a welcoming and relaxing ambience that makes it the ideal place for a relaxed lunch or dinner. The ramen meals at Kofuku are prepared using premium ingredients and come in sizable servings. Some of the most well-liked items on the menu are the spicy chicken ramen and the veggie ramen.
7. YouMee, multiple locations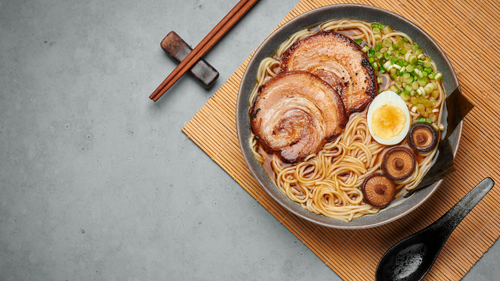 This restaurant serves a combination of Japanese and Chinese food. The first YouMee came up in Gurgaon but now the restaurant has multiple locations across Delhi NCR. Shoyu chicken ramen and kimchi ramen are just two examples of the innovative and distinctive ramen dishes that YouMee is renowned for. The restaurant is a terrific spot to hang out with friends or have a casual dinner due to its modern decor and laid-back environment. Their ramen meals are flavourful and crafted using fresh ingredients. 
If you're not in Delhi, don't fret, we've got aamchi Mumbai covered too with the best places in Mumbai for ramen.
---
Photo: Shutterstock