Synonymous to all things scrumptious, founder and head chef at Le15 Patisserie, Pooja Dhingra knows how to make the headlines. The pandemic year knocked many out, but never to rest on her laurels, Dhingra emerged stronger and better, despite the pandemic shuttering her Le15 cafe. In the past year, she expanded her passion and launched her retail line featuring DIY cake mixes, cookies, hot chocolate mix, and Le 15 merch and took it to newer cities. She even started 'Talk Pastry To Me', an Instagram TV (IGTV) series where every week she meets a new chef or expert, learns something new and shares with her followers. Cut to 2021, she launched her fifth cookbook, 'Coming Home', which is a personal journal of recipes that she has perfected over the last year.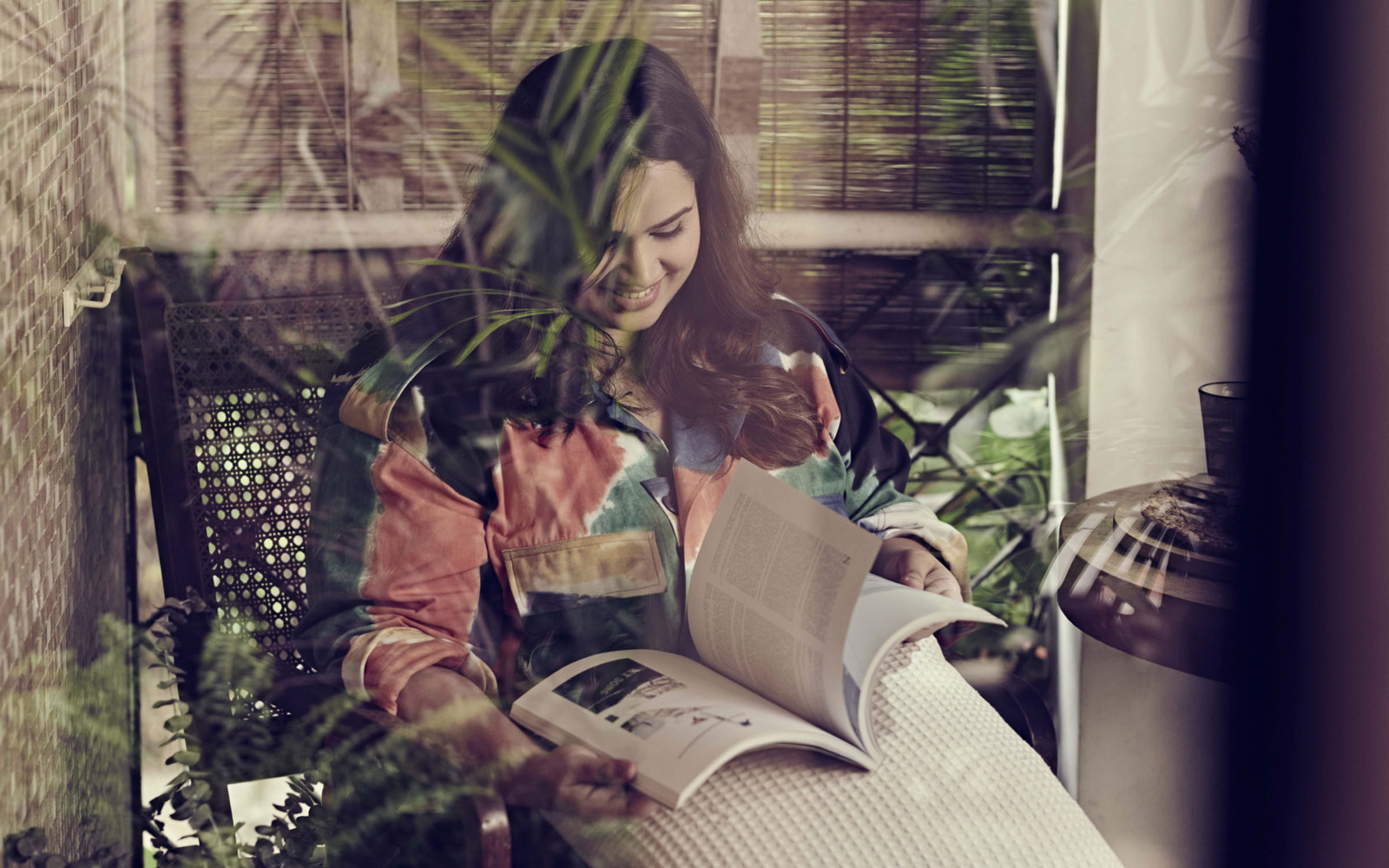 With a foreword by her icon and world-renowned French pastry chef Pierre Hermé and a huge compilation of simple yet satiating recipes, 'Coming Home' isn't just another cookbook, but her most personal and ambitious project. "In this new book, Pooja wants to bring her joie de vivre into kitchens across India during what has been a particularly painful year for the country, due to the pandemic… Pooja has chosen to showcase recipes that reflect her – always generous, made in the family kitchen with local ingredients such as ghee, semolina, and gram flour," reads the foreword by chef Hermé.
'Coming Home' comprises four sections – Nostalgia, Lazy Baking, For The Soul, and Celebrations – and each of these feature recipes, mostly eggless, that can be whipped up using pantry basics. Eggless Rose and Raspberry Tiramisu, Gourmet Chikki, Passion Fruit Truffles, Cacio Pepe Cookies, Gajar ka Halwa, Flapjacks, and Chutney Cheese Pull Apart Bread are a few examples of the recipes featured in the book. Each recipe is preceded with an anecdote, where you'll notice Pooja being her most honest self.
Here, we share with you four of our favourite recipes that are sure to be a hit on celebratory occasions among friends and fam. 
1. Lemon Chilli Cookie
Makes: 40-45 mini cookies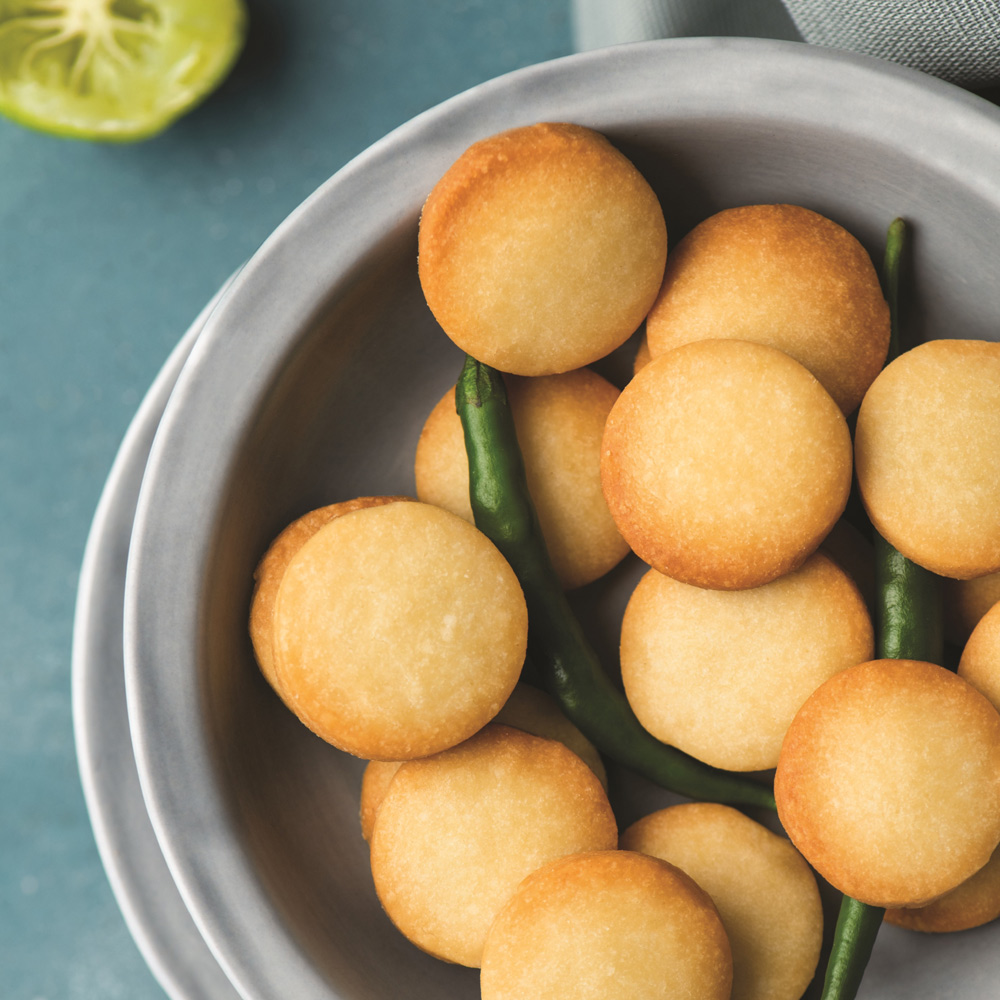 Ingredients 
1. 160 gm Flour 
2. 100 gm Cold butter, cubed 
3. 40 gm Icing sugar 
4. 2 tsp Lemon juice 
5. 1½ tsp Chilli juice
Method 
• In a bowl, mix flour and sugar. Add cold butter cubes and use your fingertips to blend everything.
• Add the lemon and chilli juice to the dough and mix well.
• Chill the dough for 20 minutes.
• Preheat the oven to 165°C and line a baking tray with parchment paper.
• Roll out the dough between sheets of parchment paper to a 5-mm thickness.
• Cut into rounds with a 3-cm cookie cutter, and place on the tray lined with parchment paper.
• Bake for 8-10 minutes or till golden brown. 
2. Pecan Brownie 
Makes: 12-16 brownies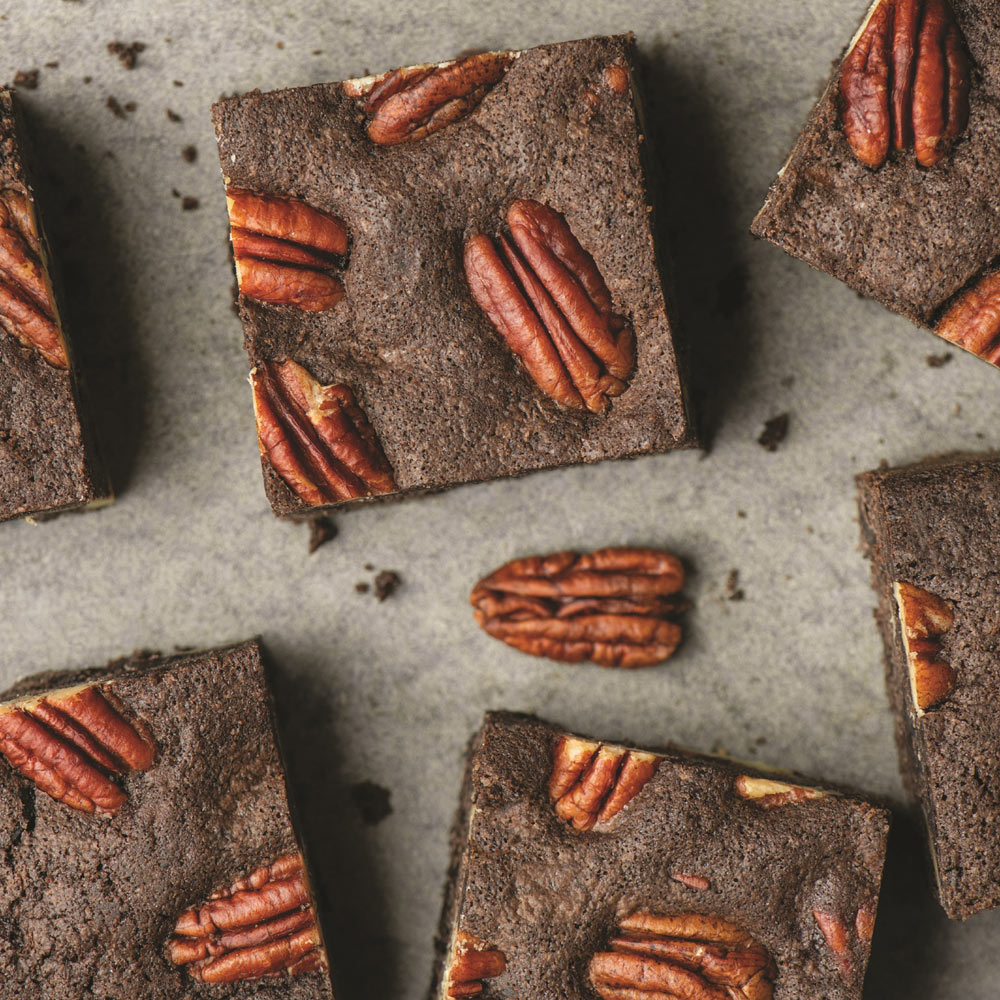 Ingredients
1. 200 gm Dark chocolate, chopped
2. 125 gm Butter
3. 100 gm Flour 
4. 70 gm Pecans 
5. 65 gm Brown sugar
6. 2 Eggs
7. ½ tsp Baking powder
8. Sea salt, a pinch
For the garnish
30 gm Pecans
Method
• Preheat the oven to 165°C.
• Line a 7-inch square baking mould with parchment paper.
• Mix dark chocolate and butter in a bowl, and either melt them over a double boiler or in the microwave.
• Add brown sugar to the melted chocolate. Add eggs, one at a time, whisking well after each addition.
• Measure flour, sea salt and baking powder into a bowl
• Fold in dry ingredients with the wet ingredients. Add the pecans.
• Pour the batter into the baking mould. Garnish with the pecans set aside for this.
• Bake for 25 to 30 minutes.
• Let it cool down completely before unmoulding the brownie.
• Once cool, cut into squares.
3. Makhana Granola
Makes: 16 bars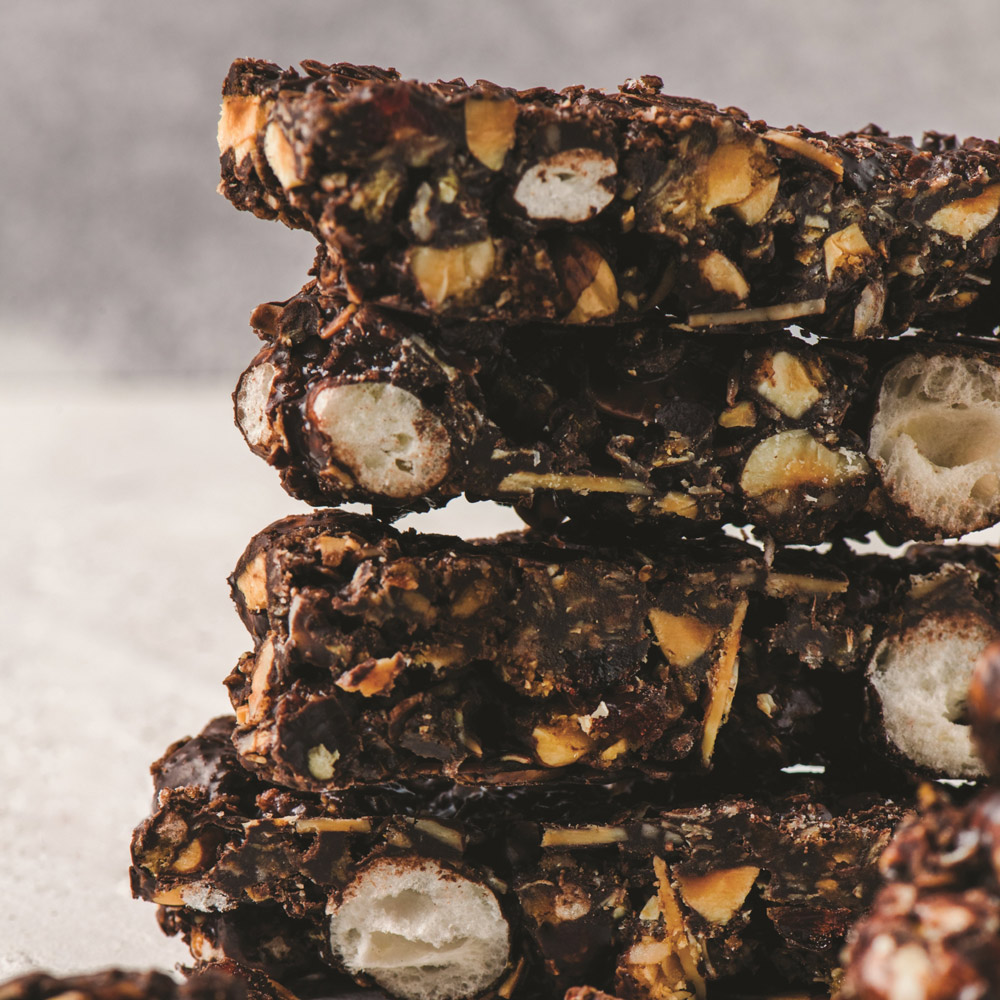 Ingredients
1. 130 gm Dark chocolate
2. 75 gm Hazelnuts, chopped 
3. 60 gm Oats 
4. 40 ml Honey 
5. 30 gm Sliced almonds
6. 25 gm Desiccated coconut
7. 25 ml Vegetable oil
8. 20 gm Dried cranberries
9. 15 gm Toasted makhana
10.  Sea salt, a pinch
Method
• Preheat the oven to 165°C and line a baking tray with parchment paper.
• Measure out all the dry ingredients into a clean bowl and mix well.
• Add honey and oil and mix again, making sure everything is incorporated.
• Transfer this mixture onto the lined baking tray. Spread evenly.
• Bake for 6 to 8 minutes and then let it cool completely.
• Melt dark chocolate in a double boiler or a microwave.
• Pour melted chocolate over baked granola and mix well.
• Spread the granola evenly in a 7-inch square tin and let it chill in the fridge for 30 minutes or till set
• Cut into square pieces and serve or store in an airtight container.
4. Chikoo Hazelnut Kulfi (Eggless)
Makes: 3-4 traditional kulfi moulds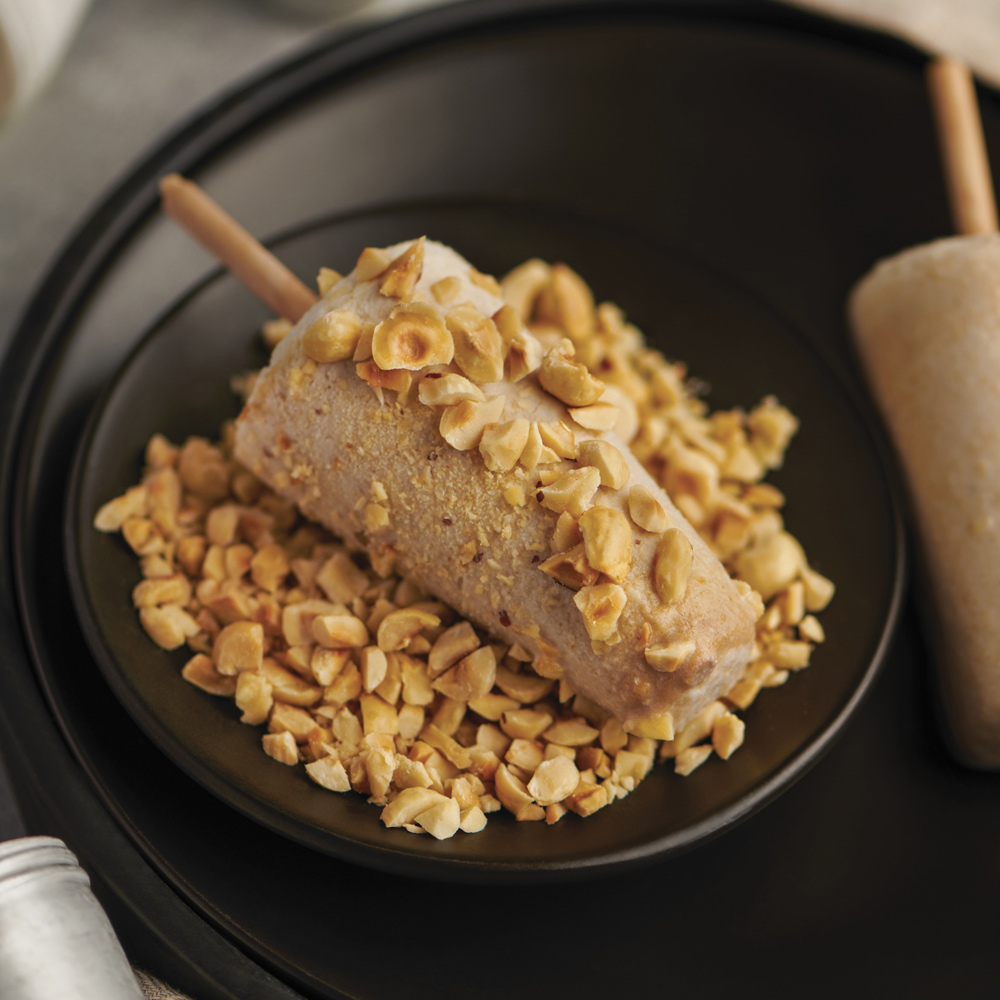 Ingredients
1. 500 ml Milk                       
2. 100 ml Chikoo pulp 
3. 50 gm Castor sugar 
4. 50 gm Hazelnuts, roasted and chopped
Method
• In a saucepan, start heating milk on a low flame. 
• Add castor sugar and continue to whisk the milk until it is reduced to half. This takes about 20 minutes. Ensure that the flame is low and you don't stop whisking! 
• Let the reduced milk cool, and then whisk in the chikoo pulp. Mix well to incorporate.
• Fill kulfi moulds with this mixture and freeze for 6 to 7 hours, or overnight.
• When you are ready to serve, spread the hazelnuts on a tray.
• Demould each kulfi carefully and immediately roll it on the tray to coat with hazelnuts.
• Serve chilled.
Photo: Pooja Dhingra