Ubiquitous in Indian kitchens, tawas have metamorphosed into non-stick, ceramic, anodised and cast-iron pans, and while most of us do have a shiny new one within our reach, we also find it difficult to part ways with the one our great great grandmother received as a wedding present some aeons ago. They're far more durable and safer than teflon-covered pans that have toxic chemicals that start being emitted as fumes when heated to high temperatures. And while anodised surfaces are a little safer than aluminium, considering it creates a layer between your food and the aluminium, there's nothing as indestructible as stainless steel or cast-iron pans like our tawas, traditionally made of first-grade iron. They are also versatile (use the concave side for a fried egg and then flip it while making rotis) and a remnant of our culinary past.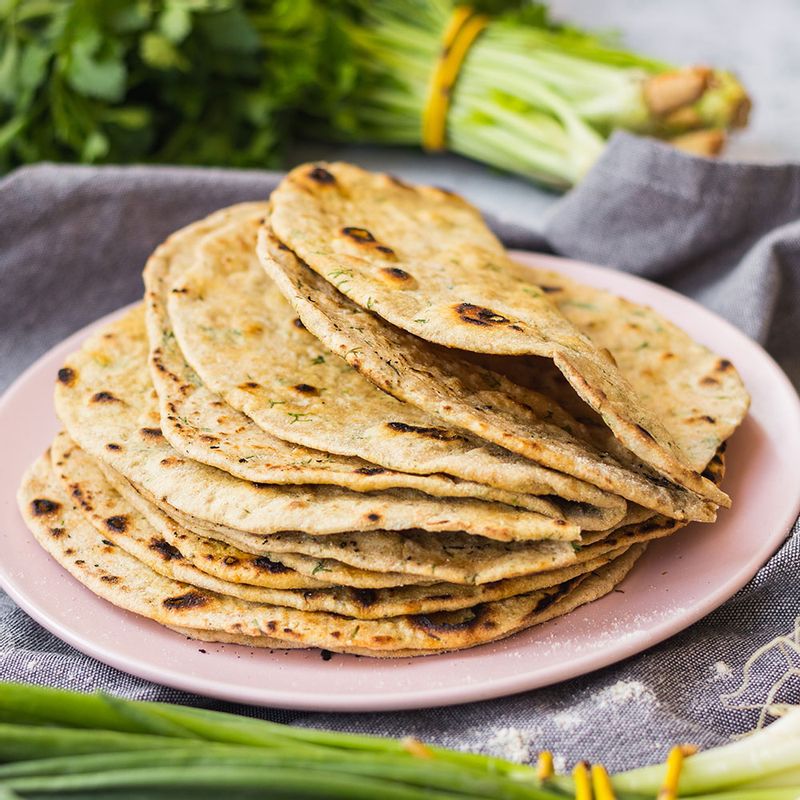 There's a high chance that in some obscure corner inside your kitchen lies an antiquated, overused but sturdy-as-hell tawa. Characteristic not only of the Indian kitchen but prevalent in the Balkans, Caucasus, Caribbean and Central and South Asia, too, the tawa, which has several spellings and names across the world, is basically a griddle. Archaeologist and food historian, Dr Kurush Dalal shares that the utensil has been around "probably since the Bronze Age and shows up in any cuisine that has flatbreads." So, for example, in Iran, it's called tāve, and sach/sache in Serbia and Bulgaria, but is interestingly also called tava (instead of the Indian tawa, or really, tawah – where the 'h' is silent) in Bosnia, Croatia, Serbia, Romania and Turkey.
Tawas made a comeback into the limelight with foodies and gastronomes looking for ingenious solutions to curb their hunger pangs during the lockdown. Be it quick-fix pitas, melt-in-your-mouth pizzas or supple naans, chefs and food lovers are turning to the humble tawa either because their ovens have gone bust, or because they didn't have one in the first place.
So, we asked a few gourmands for recipes to get you started. Time to fetch your tawa, turn the stove on and get cooking!
No yeast, no problem
Food chronicler and culinary consultant, Saee Koranne-Khandekar proves that when you put your mind to it, anything is possible. Khandekar has played a seminal role in debunking myths around Maharashtrian food with books like her latest, Pangat, a Feast: Food and Lore from Marathi Kitchens.
"People had been writing to me asking for a bread recipe that does not call for an oven or yeast. There is a recipe for pita (with yeast) in my book, Crumbs! which is quite popular, so I thought I'd see if I can develop an alternative for it. A common alternative to yeast is soda bicarb, but some people had been having trouble finding that, too. Since one of the primary components of Eno is soda bicarb, I thought I'd go with that," she tells us. What a genius hack, really, plus it's easily available at the chemist over the counter. Here's what you need to do:
Tawa Pita Recipe 
Ingredients
1 tsp powdered sugar

½ tsp salt

1.5 tbsp olive oil

1 tsp Eno (unflavoured)

½ cup dahi (curd)

2 cups maida (or, use half whole wheat and half maida)
Method
Place all the dry ingredients in a mixing bowl.

Add lightly whisked dahi and start bringing the dough together.

Using the dahi container, add a little water to the mix and knead till you get a chapati like consistency – neither too loose nor too firm.

Once it comes together, add the oil and knead so that the dough absorbs it. Roll it into a ball and leave it to rest for 5 mins, while you prep your tawa and rolling pin.

Portion the dough into 10 to 12 balls and roll them into a relatively smooth finish using lightly greased hands. Leave to rest for another 5 minutes.

Roll out the balls into circles of a 6-inch diameter (approximately) and slap it onto a hot tawa on medium flame. You'll see little bubbles form immediately.

Flip; you're not looking for the underside to be done just yet.

Once the underside has brown spots, flip it first side on direct high flame and watch it poof up.

Flip again until charred on the edges and voila!
Recipe by Saee Koranne-Khandekar
In pizza, we crust
"I hate store-bought pizza bases and always make my own at home. During the lockdown, I didn't have access to my bakery oven and the one at home didn't go over 170 degrees, whereas for perfect pizzas you need temperatures as high as 220 to 240 degrees. So, one day, when my family wanted pizza, the tawa pizza was born," shares Shriya Shetty, chef and torchbearer of Mangalorean cuisine, who's the owner of Mangalore-based, Pupkins Kitchen. For Shetty's easy-peasy tawa pizza, you need to do the following.
Tawa Pizza Recipe
Ingredients
200 gm maida

160 gm water

5 gm salt

10 gm sugar

2 gm Instant dry yeast

Toppings – veggies and/or meat of your choice

Cheese (as much as you like, and whatever type is available)
Method
Mix all ingredients and knead into a dough. It will be quite sticky and that's alright.

Allow it to proof for 1 hour. Knock back the dough and divide into equal-sized balls.

Roll them out into 6-inch thin discs and apply tomato sauce on the top; don't apply on the edges.

Add your favourite veggies/meat and set aside for 5 minutes.

Heat a non-stick tawa without adding oil. Once hot, carefully pick up the pizza and transfer it onto the tawa.

Reduce the heat to low. Cover and cook for 6 to 8 minutes.

Open the lid, add cheese and cook for another minute or until the bottom is golden brown and crisp. Tuck right in!
Recipe by Shriya Shetty
All for naan
For Mumbai-based chef, Tejashwi Muppidi, the lockdown – like all of us – has been a time for innovation and improvisation. Weighing in on the naan-pizza, which she has begun whipping up often at home, she says, "I have been craving pizza from time to time. When I ran out of yeast, I made a two-ingredient pizza using yoghurt and flour. To reduce my work, I added toppings on the naan and called it pizza-naan and everyone in the family simply mopped it up!" For Muppidi's simple-but-exquisite chorizo naan-pizza, here's what you need.
Tawa Naan Recipe 
Ingredients
1 cup maida

1/2 tsp instant yeast

1/3 cup yoghurt

2 tsp oil

1 tsp salt

1/2 tsp sugar

Water to knead

3 tbsp chorizo, chopped

1/2 a bell pepper, sliced 

1 tbsp olive oil

3 cloves garlic

3 to 4 basil leaves

Cheese, optional
Method
Knead all the ingredients to make a soft dough. Place the dough in an oiled bowl and cover with a damp cloth.

Allow the dough to double in size for about an hour.

Once the dough has doubled, cut it into two balls. Meanwhile, place your tawa on the stove.

Roll the dough to 1/8-inch thickness and brush the top with water.

Transfer the naan onto the hot tawa with the water-brushed side facing down.

Increase the heat and turn the tawa upside down exposing the naan to direct flame. Stop cooking once the naan starts to colour.

For the topping, heat olive oil in a frying pan, add garlic and sauté briefly

Add the chorizo and sauté for two mins, tip in the bell pepper and cook for another minute.

Spread the hot chorizo mixture on the naan leaving one-inch space around the edges.

Add cheese on top immediately.

Garnish with basil and serve!
Recipe by Tejashwi Muppidi
---
Photo: Shutterstock