India is a treasure trove of flavours and ingredients, which when used intelligently can result in some unique recipes. Every region has something extraordinary to offer and it's only fair that they make their way into our drinks, and not just food. 
We have three easy drinks recipes inspired by Indian flavours that are sure to be a hit with you and your family.
Masala Milk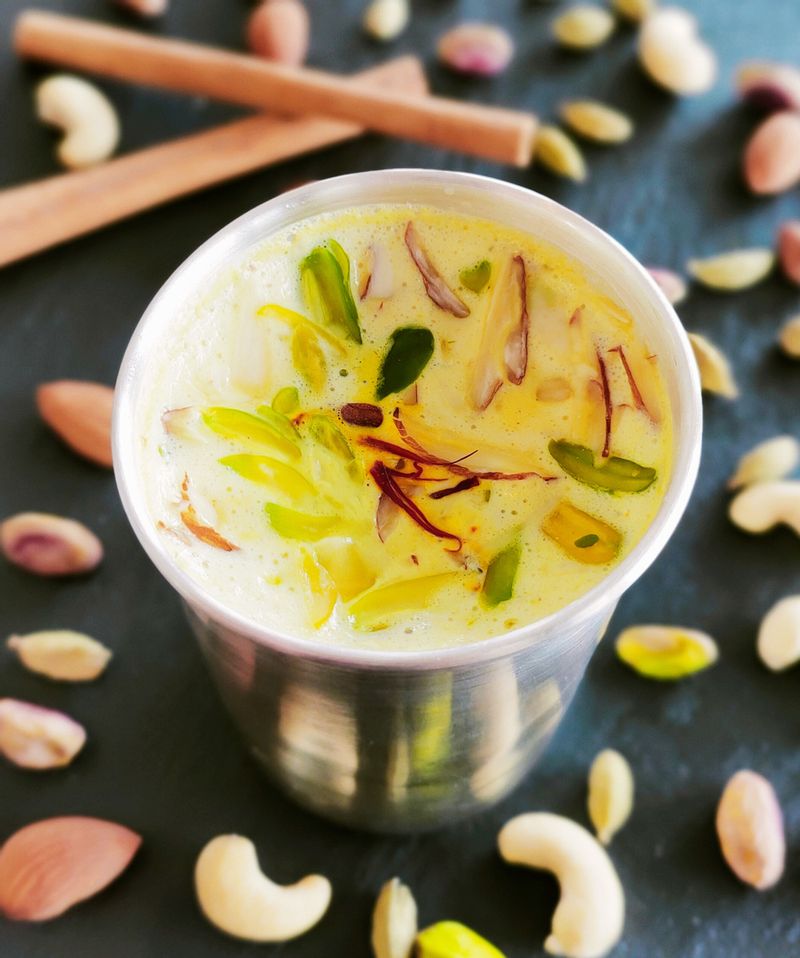 Masala milk is something our mothers and grandmothers are familiar with and is a traditional drink enjoyed across the subcontinent. "Combined with the benefits of spices, this is the perfect milk drink, full of vitamins and minerals to stay healthy," says Chef Sameer Shah, Head Chef, Saint Amand.
Masala milk recipe
Ingredients
3 cups milk
15 almonds
15 pistachio
12 Cashew
15 strands of saffron
3 green cardamom pods, crushed
2 cloves
1 small stick of cinnamon
1 pinch of nutmeg powder
2 tbsp sugar or honey
Method:
Soak almonds, pistachios and cashews in warm water for 10 minutes. After 10 minutes, peel the skin of the almonds.
Grind all the soaked nuts together with 4 tbsp of milk to make a smooth paste. Keep the paste aside.
Soak the strands of saffron in 2 tbsp of warm milk and keep aside.
Boil milk in a saucepan; once the milk comes to a boil, reduce it to a simmer and add the whole spices (cardamom, cloves and cinnamon). Continue reducing the milk on medium flame, mixing the whole time, until the milk is slightly reduced and smells fragrant, 6-8 minutes. Bring back to a simmer and remove the whole spices with a strainer.
Add sugar, nut paste, and the soaked saffron. Boil for 4-5 minutes, mixing the whole time.
To serve, pour into glasses and garnish with strands of saffron, almond slivers and crushed pistachio.
Recipe by Chef Sameer Shah, Head Chef, Saint Amand (Hospitality Arm, LODHA Group)
Rose Cardamom Cold Brew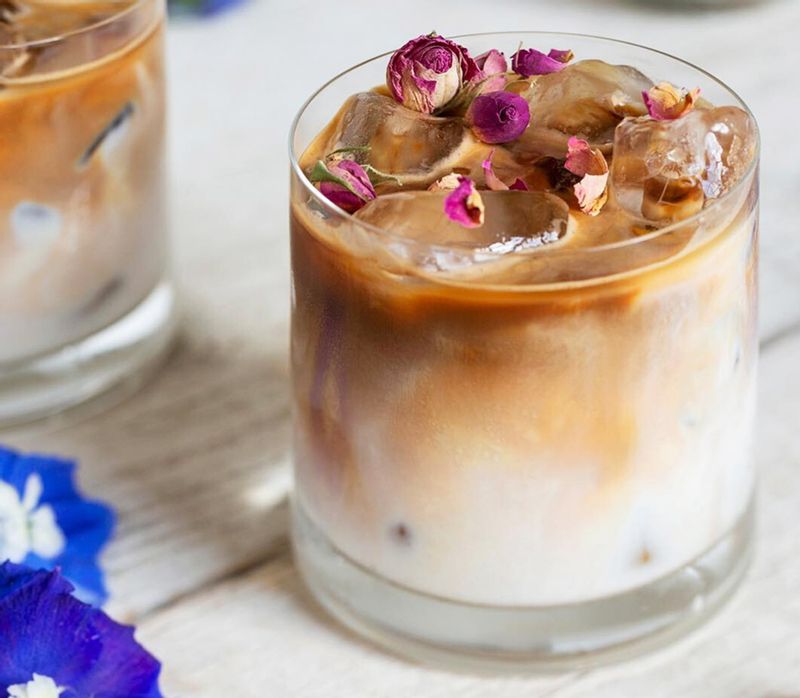 Nothing beats a tall cold glass of cold brew in the summer, better still if has some desi flavours. For an iced coffee break on a sultry day, mix together rosewater and a cardamom-infused creamer. Here's your iced coffee with a touch of saucy.
Rose cardamom cold brew recipe
Ingredients
1 cup cold brew coffee
1 teaspoon simple syrup
½  cup milk
½ cup cream
1 tablespoon rosewater
1 teaspoon cardamom
Method
Mix the milk, cream, and cardamom together. Pour it in a glass filled with ice.
Top the glass with the coldbrew coffee.
Addrosewaterand serve.
Recipe by Lavazza India
Pistachio Chai Milkshake With Cinnamon
Philadelphia-based Bassetts Ice Cream is an institution in the American city. Their ice creams are known far and wide as are their milkshakes. This decadent chai milkshake prominently features Madagascar Bourbon Vanilla Bean Ice Cream from their offerings. "Both pumpkin ice cream and butterscotch vanilla would be workin the shake," informs Alex Bassett Strange, Bassetts Ice Cream. 
Pistachio chai milkshake with cinnamon recipe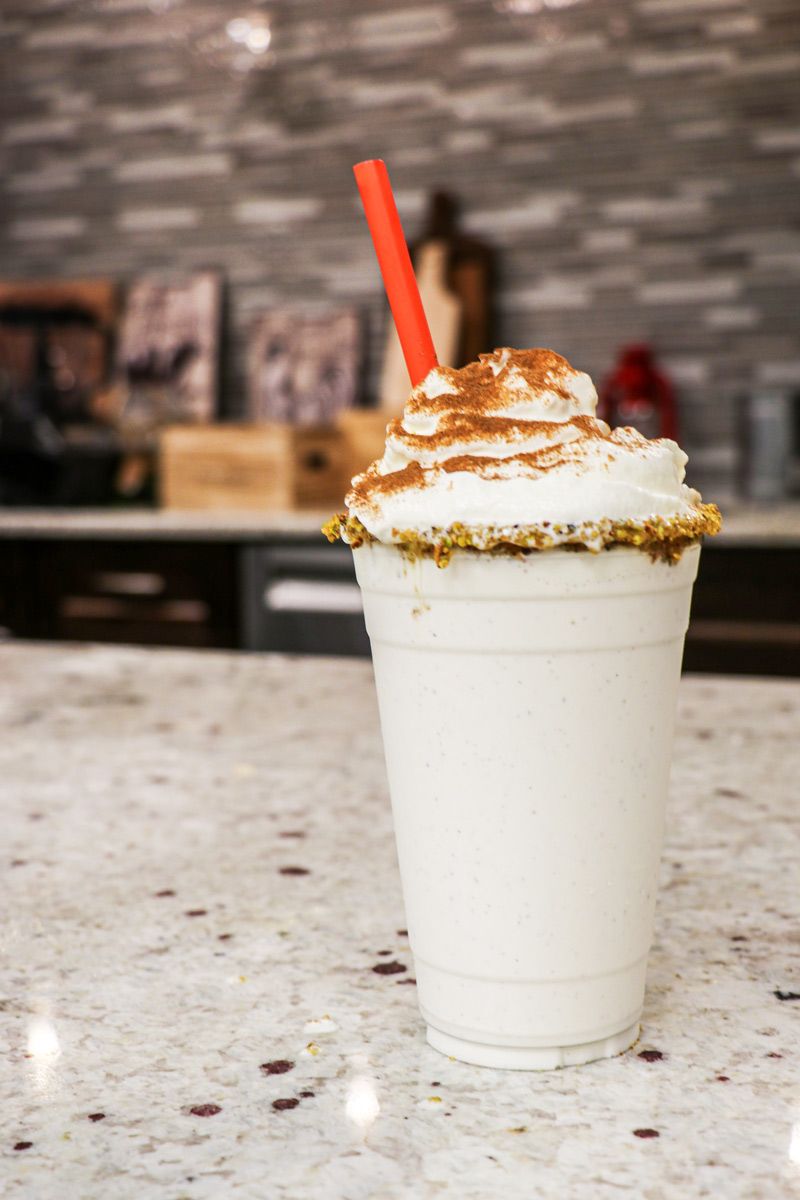 Ingredients
3 scoops of vanilla ice cream
100 ml whole milk
1 tbsp tea
Orange blossom honey
½ cup finely chopped roasted salted pistachios
Whipped cream
2 teaspoons cinnamon powder
Method
Brew your tea in the milk, in a saucepan.Set milk tea aside to cool.
Once the milk tea has cooled, scoop Bassetts Vanilla ice cream (or any other) into a blender. Three large scoops should work.
Pour cooled milk tea into the blender with the ice cream.  Blend until smooth and all ice cream chunks have been broken down.
While milkshake is in blender, pour honey onto a small plate to prepare your serving glass.Dip the rim of your serving glass in some honey.
Dip the honeyed rim of the serving glass in the finely chopped pistachios.
Pour the milkshake into the serving glass.
Top with whipped cream.
Top it with some cinnamon powder for the garnish.
Recipe by Alex Bassett, Bassetts Ice Cream, Philadelphia, USA
---
Photo: Shutterstock