It's beginning to look a lot like Christmas and if you're still looking to order Christmas special bakes at the last minute—or simply want to gift some traditional Christmas delights to your friends and family, here's a handy list of where to get the best Christmas treats in Mumbai this season from home bakers and patisseries to hotels and more.
1. House of Amel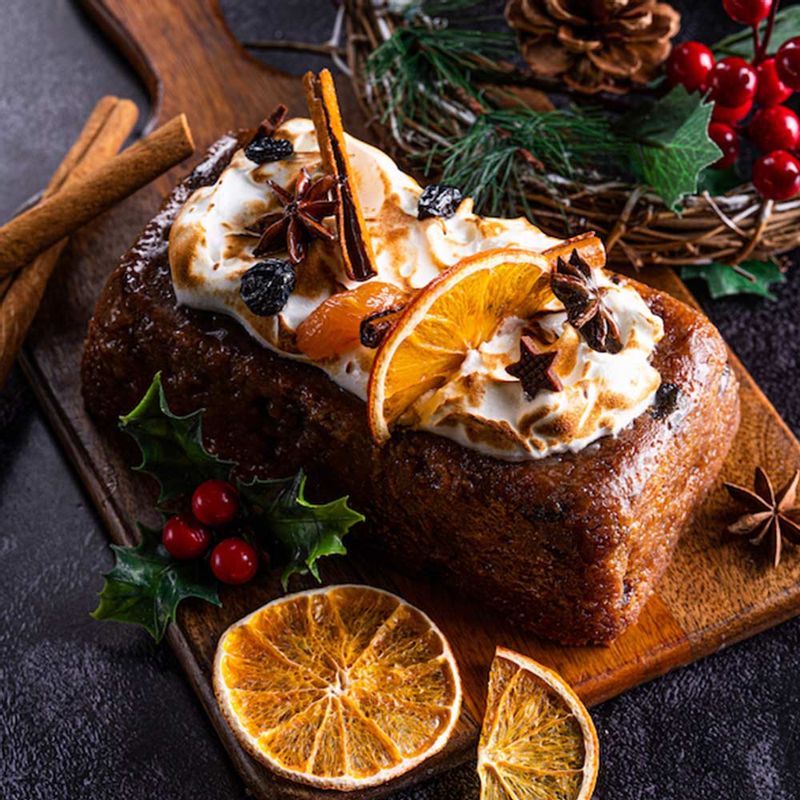 After having run a homegrown dessert brand for over a decade with her patisserie Crumbilicious, Sanah Ahuja decided to reinvent things with her recent launch, House of Amel—which offers a contemporary twist to comforting classics. This month, Ahuja is doing several Christmas bakes–from boozy Stollen (a traditional German Christmas bread), made with rum-soaked nuts, candied fruits, spices and a layer of marzipan to panettone, a sweet Italian bread speckled with candied orange, raisins and chocolate chunks and a classic X'mas cake filled with rum-soaked nuts, candied fruits and topped with a torched meringue. She is also offering her twist on the classic French dessert, the St. Honoré.
Call or WhatsApp to place orders: +91/75063-07607
2. Salt by Flavia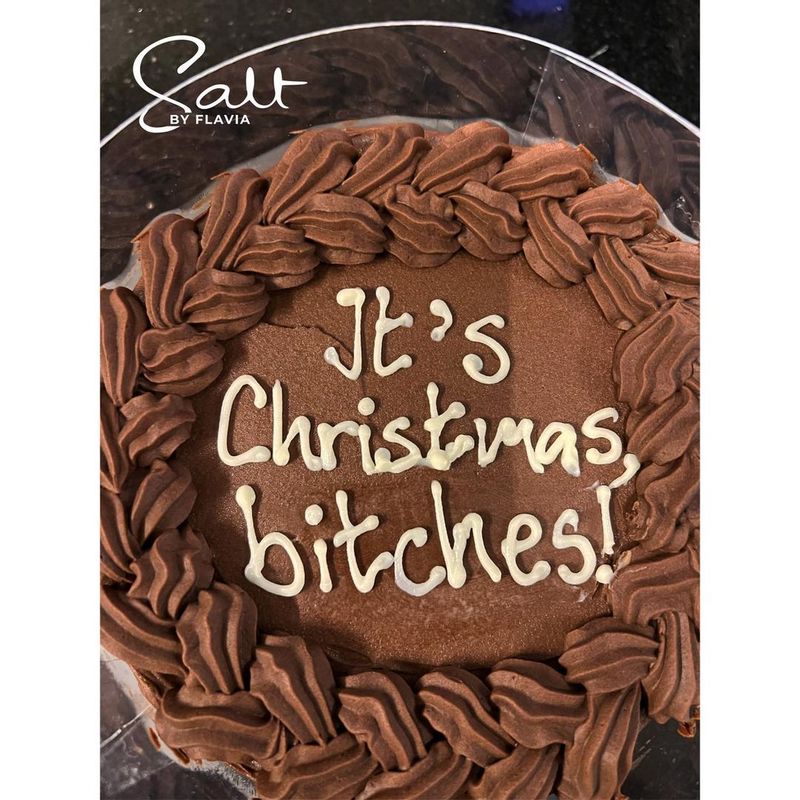 For this holiday season, chef Flavia Lewis is offering a limited menu that will feature a super boozy Christmas cake featuring plenty of rum-soaked fruits and the works. She may also add on chocolate-flavoured wreath cupcakes that are a proven hit with the kids. The menu also features a classic fudge as well as chocolate sea-salt cookies.
Orders open on Sundays for the week ahead. WhatsApp:+91/91679-37263 
3. Sweet Nothings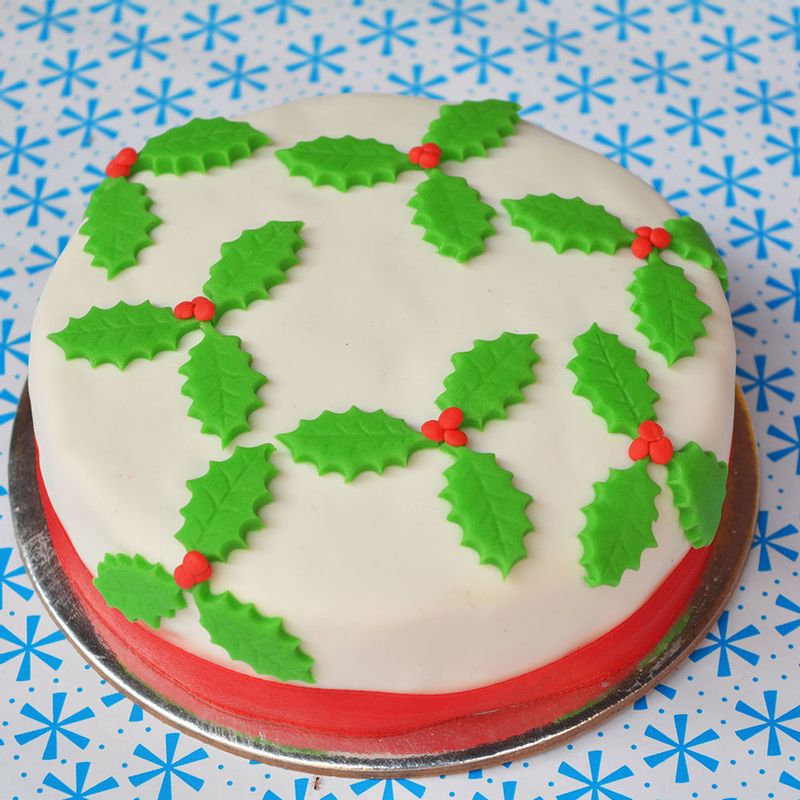 Mahim-based home baker Sharlet Mariados took to the whisk five years ago as a hobby and hasn't looked back since. If you're looking for fuss-free classics, then order in her traditional rich fruit cake infused with rum and made using a secret family recipe passed down over generations. She is also offering boxes of Christmas pudding cupcakes, topped with a brandy buttercream frosting and doused in melted chocolate, along with other traditional bakes like coconut toffee and rum and raisin fudge bites. 
Call: +91/98336-47319 to place orders
4. My Butter Half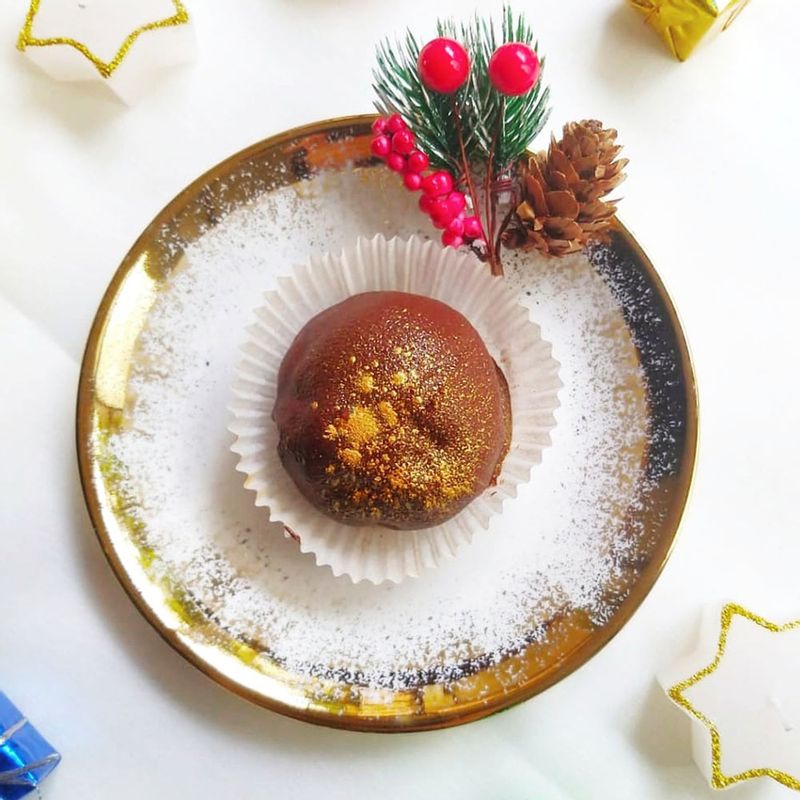 Yeshi Chaudhary believes less is more. So her desserts might seem unpretentious but are packed with flavour.  Each year, Chaudhary puts out a compact Christmas menu for about two weeks, with her much-loved traditional chocolate fudge, speckled with cranberries and hazelnuts, which she describes as one of the few cooked fudges being made in the city. Also on the menu is a juicy orange and raisin cake, made with a recipe passed down from a dear friend's grandmother using homemade candied peel and boozy Kolkata-style rum balls. This year, she is also adding speculoos cookies to her menu, a classic holiday treat from Belgium.
DM @mybutterhalf on Instagram to place orders or WhatsApp: +91/97692-99795
5. Gât'Oh
Le Cordon Bleu London-trained chef Shanaya Dastur makes delightful-looking Parisian confections and classic French desserts. For her special Christmas menu, Dastur is offering a contemporary collection of Bûches de Noël or yule logs. The bûche céleste features a bold coffee mousse with roasted pecan praline and a decadent chocolate brownie, while the bûche marjolaine has layers of almond dacquoise filled with three different rich creams and encased in a smooth vanilla mousse. We think it also makes for the perfect festive gift.  
WhatsApp: +91/86575-20055 to place orders 
6. I'm Wholesome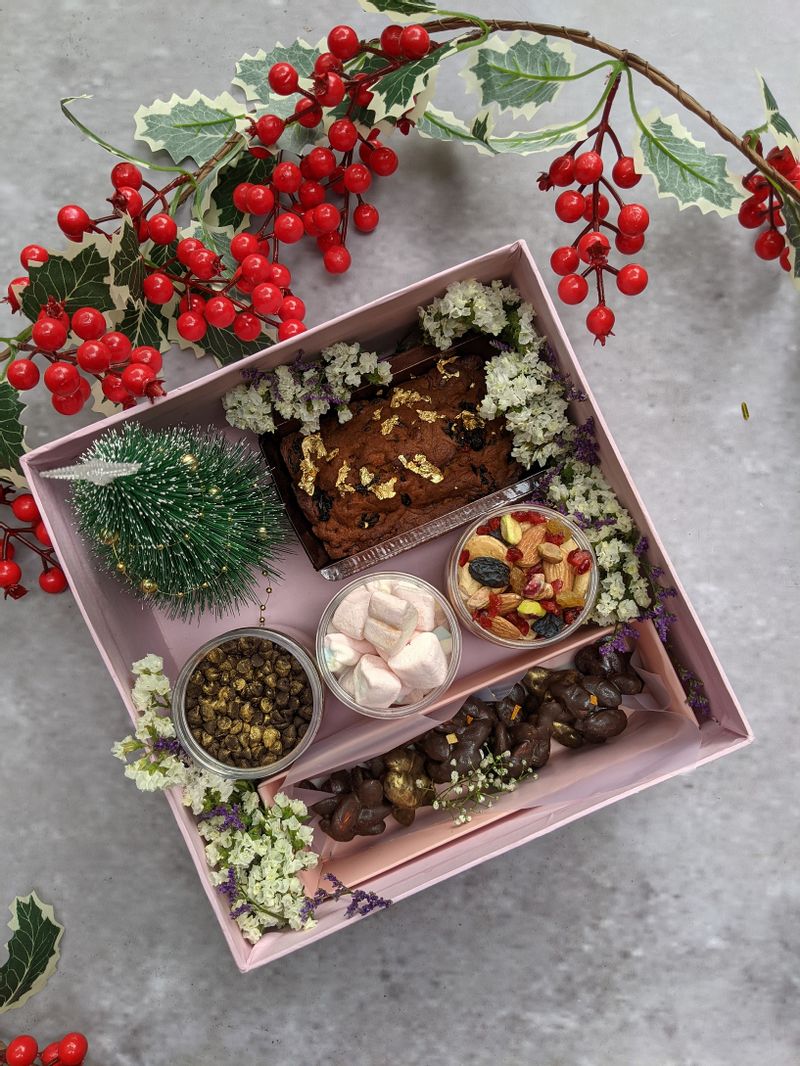 Sister duo Manpreet and Anupreet Dhody, known for their delicious platters and grazing boards, have curated a special festive menu for the holiday season. The Christmas loaf cake is a gooey, nutty confection filled with fruits and nuts, drizzled with a chocolate glaze and finished with fresh strawberries and candied oranges. The menu also features seasonal bakes such as toffee caramel cupcakes, Christmas tree cookies, and a DIY gingerbread tree kit among other goodies. 
For orders, DM on instagram @imwholesome.india or book via Thrive
7. Zealo Foods
If you're looking to gift something healthy this Christmas, then Zealo Foods—known for its handcrafted, artisanal goodies—is offering a guilt-free version of the classic pecan pie. Made with organic flour, butter, pecans, and maple syrup—it's the perfect holiday dessert. The brand also offers attractive hampers filled with gingerbread pops, choco X-mas pops, brownie chips, and more.
WhatsApp: +91/98208-21188 to place orders
8. Monèr Bistro and Dessert Bar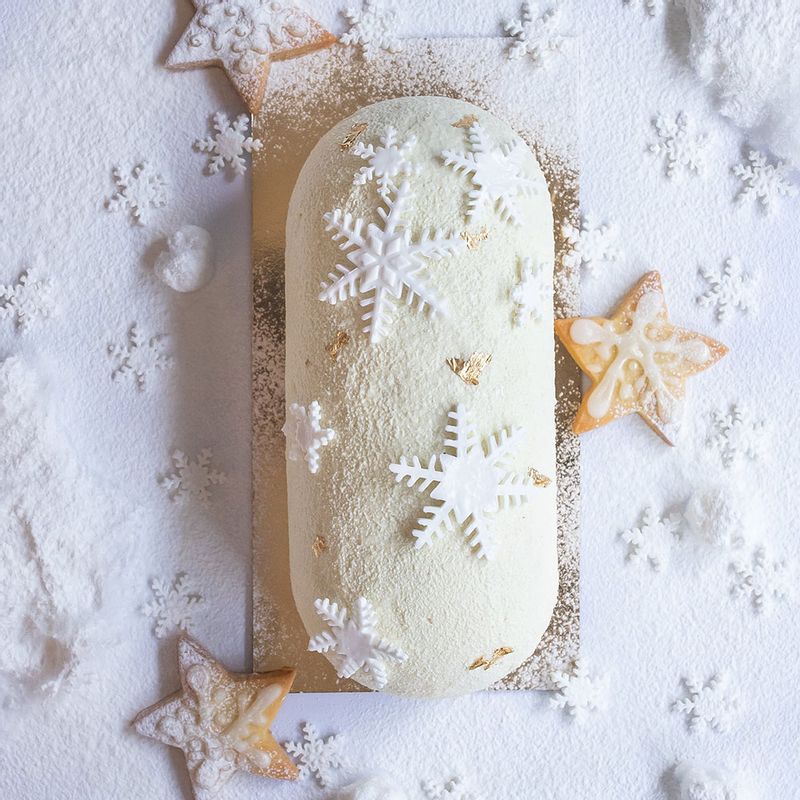 Having worked at several Michelin-starred restaurants and created desserts for clientele like Priyanka Chopra for her bridal shower, chef Freny Fernandes now whips up decadent confections at her dessert bar launched in Bandra earlier this year. For Christmas, check out her take on the traditional Bûche de Noël or yule log, available in two varieties. The Bûche de Noël Santa makes for an eye-catching dessert—filled with berry mousse, chocolate ganache, berry compote, and a joconde biscuit. For something more wintery, she is also doing a lovely all-white, frost version that's infused with mascarpone mousse, gingerbread biscuit, poached pear geleé and dulce de leche. 
Call: +91/77700-14123  to place orders 
9. Le15 Patisserie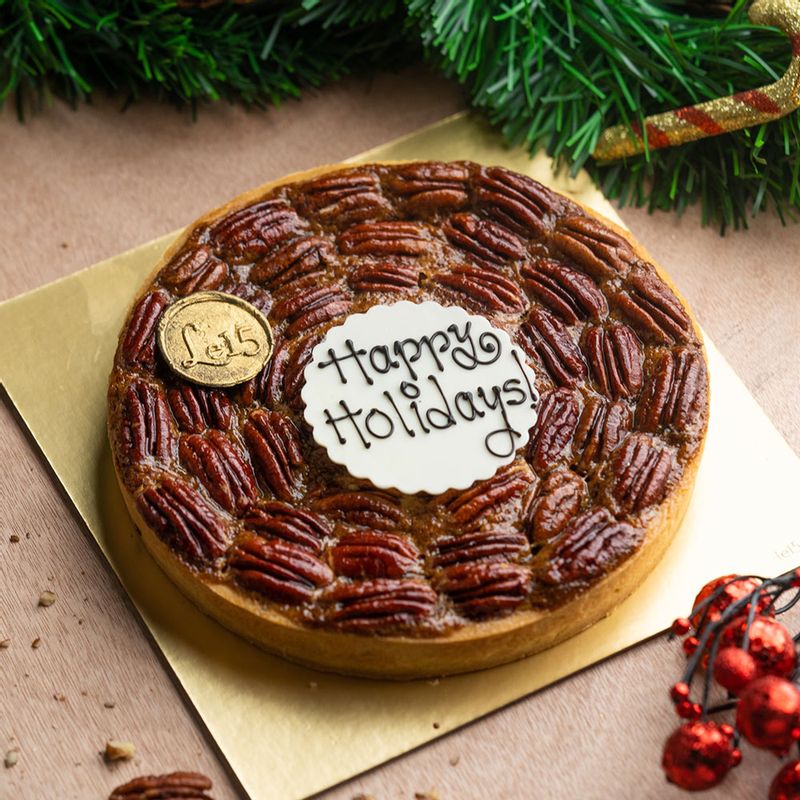 The popular patisserie chain is doing a twist on strawberries this season with Christmas special tarts—from a classic strawberry tart to a rustic chocolate-strawberry cake layered with strawberry compote, chopped strawberries, and whipped chocolate ganache. That's not all! Nothing says holiday season better than a classic pecan tart, perfect for when you're hosting a Christmas party at home. 
Order online or Call +9185916/21649
10. An Ode To Gaia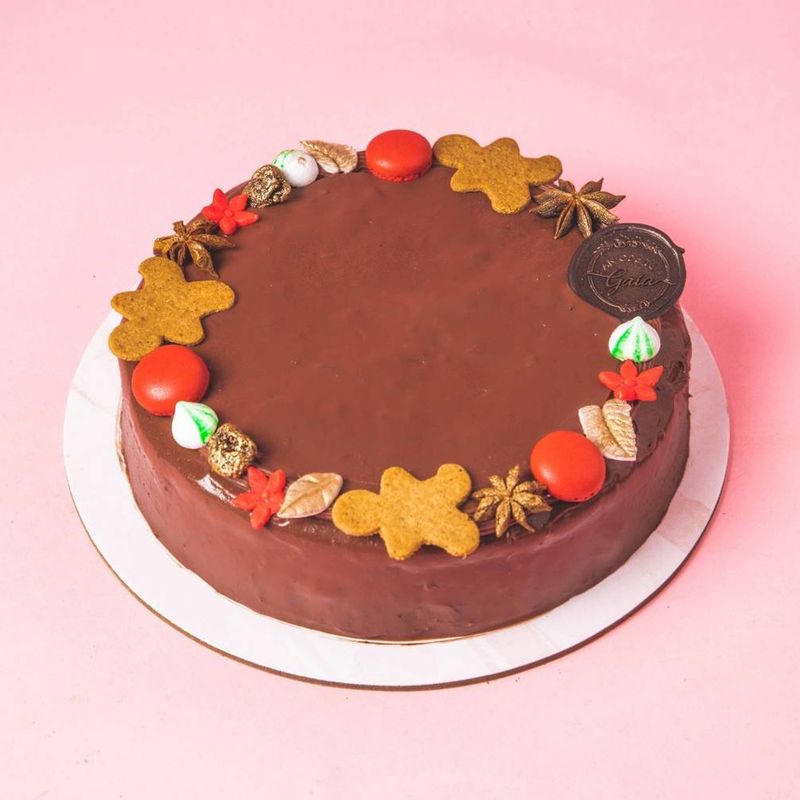 Plant-based chef Naimita Jagasia makes healthy variants of your favourite desserts that are gluten-free, refined sugar-free, and vegan as well. For this holiday season, Jagasia is making a traditional Christmas cake with a twist-–a boozy delight, soaked in rum and brandy and topped with a rich chocolate ganache. This also promises to be your guilt-free treat for this holiday season.
WhatsApp: 09321569632 to place orders
11. Hakkasan and Yauatcha Patisserie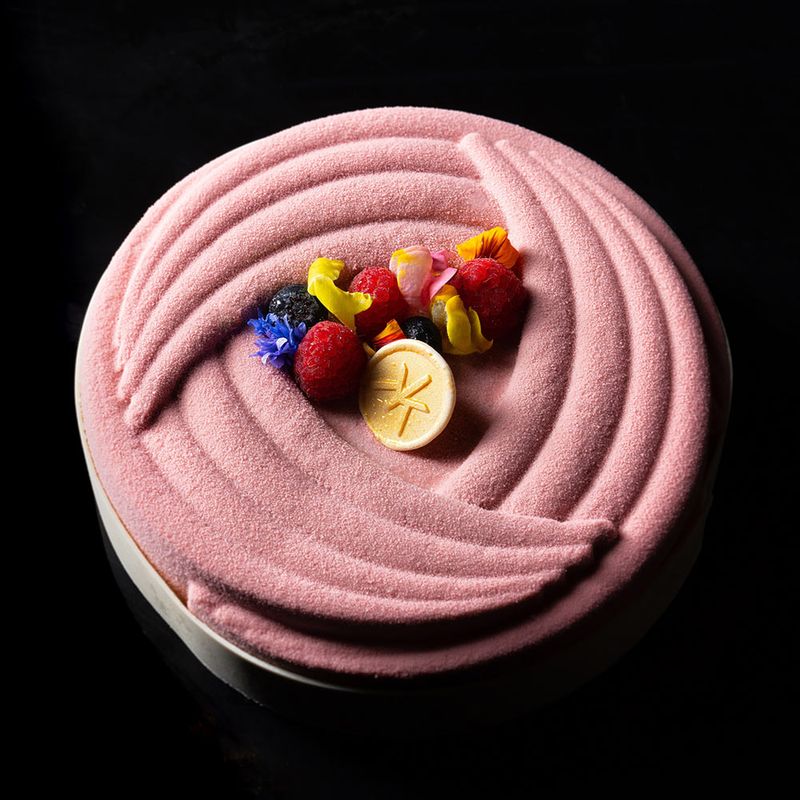 Modern Cantonese eatery, Hakkasan, has launched its first-ever collection of cakes. You can choose from the velvety yuzu and berries cake, featuring raspberry white chocolate mousse, blackberry compote and vanilla bean genoise—all topped with berries and edible flowers for that added effect—or the chocolate delice, a crunchy hazelnut delight. Yauatcha Patisserie is offering a special Christmas hamper packed with goodies such as plum pudding cake, assorted cookies, macarons, and more. There is also a spicy carrot cake, made with warm winter and Chinese spices.
Call: +91/83558-77777 for Hakkasan and +91/92222-22800 for Yauatcha Patisserie to place orders
12. Comida World by Nicole Mody
For this holiday season, home baker Nicole Mody is doing her riff on Christmas desserts. You can order from a compact menu featuring a festive-looking mistletoe margarita cheesecake with boozy berries, a luscious eggnog custard tart, Christmas fudge, and mini candy cane cheesecakes. She is also doing Christmas cookies in different flavours, all of which come attractively packaged.
Dm @comidaworld_ on Instagram to place orders or WhatsApp: 09820026271
---
Photo: Shutterstock and featured brands