When there is a slight nip in the air, there's nothing better than heading outdoors, especially when it comes to dining out. Restaurants in Mumbai have opened up their outdoor decks, expanded onto sidewalks, and transformed terraces into venues perfect for lingering over a good meal.
Here are the top 10 alfresco restaurants to make the most of an all-too-short winter in Mumbai.
1. Cecconi's, Soho House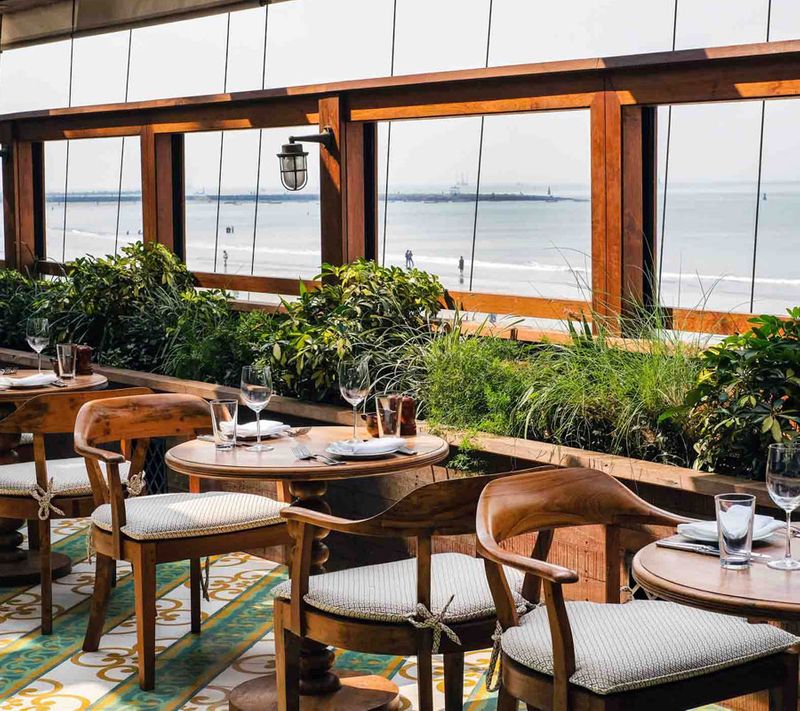 Sunset is the time to visit this stylish-but-relaxed space that uses wood, rattan panelling and handmade brass lights to create an oasis of greenery. Request a spot by the window for the best views of the undulating waves and the sun dipping below the horizon. It's the perfect backdrop for Cecconi's classic Italian fare (think crusty pizzas and moist pasta). The calamari fritti with lemon aioli comes with just the right amount of salt, crunch and chew, while the lamb chops with charred potatoes and rosemary is slow-cooked and wonderfully tender. But my favourite here is an immaculately built Aperol along with a deeply satisfying parma ham and burrata pizza.  
Address: Soho House Mumbai, 16, Juhu Tara Rd, Chandrabai Nagar, Juhu. Tel: 022 6213 3333  
2. Banyan Tree Café, Ballard Estate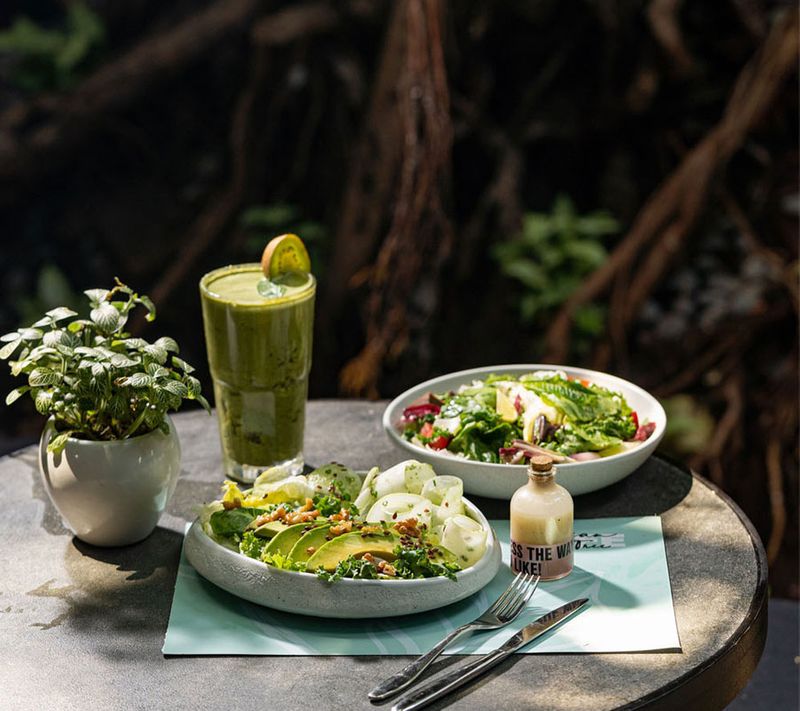 Mumbai's current obsession is housed within a 144-year-old ex-ice factory. The all-day café here is shaded by a majestic banyan tree (hence the name) and serves beautiful salads that feel like a hug in a bowl. Bestsellers include a punchy chicken salad dressed up with coriander root dressing and garnished with crushed peanuts, Mutton Kheema, Grilled Tofu with herb jus and Masala Prawns. There are sandwiches, vegan and gluten-free pasta and freshly squeezed juices too – all with a focus on clean eating. The French toast with fruit compote makes for a fitting finale. Art enthusiasts will love the opportunity to wander around and catch a show at IF.BE.
Address: Ground Floor, IF.BE, 7/9, Calicut Street, Ballard Estate Fort, Mumbai. Tel: 9619033000
3. The Bandstand Pantry, Bandra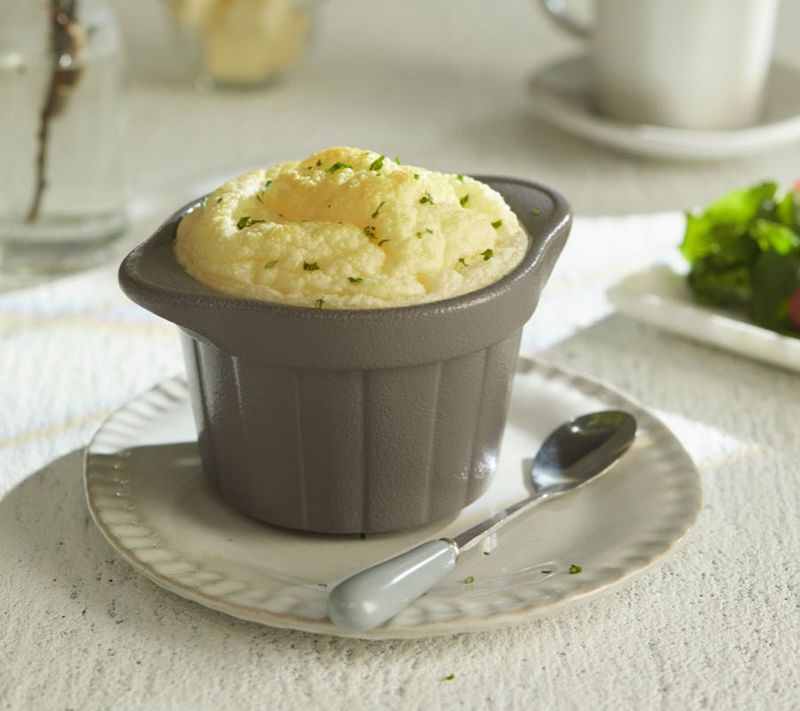 This breezy all-day café festooned with lamp posts, black and white chevron tiles and wooden furniture provides great dinner theatre in Mumbai. Located on the Bandra promenade, it's the best place to watch the sun get gobbled up by the sea while munching on some sourdough toast topped with pesto-marinated bocconcini, smoked salmon or just a frothy cappuccino. The Bandstand Pantry's all-day breakfast menu is worth waking up for. Choose from options like Tofu Masala Eggs, Truffle Smoked Salmon Scrambled Eggs served with crusty sourdough, Shakshuka Baked Eggs or keto-friendly Fluffy Egg Cups with a Parmesan cheese crust.
Address: Bandstand Apartments, Shop 1, BJ Road, next to Barista Cafe, Bandra West, Mumbai. Tel: 9920100084
4. Allamanda Terrace, Hotel Marine Plaza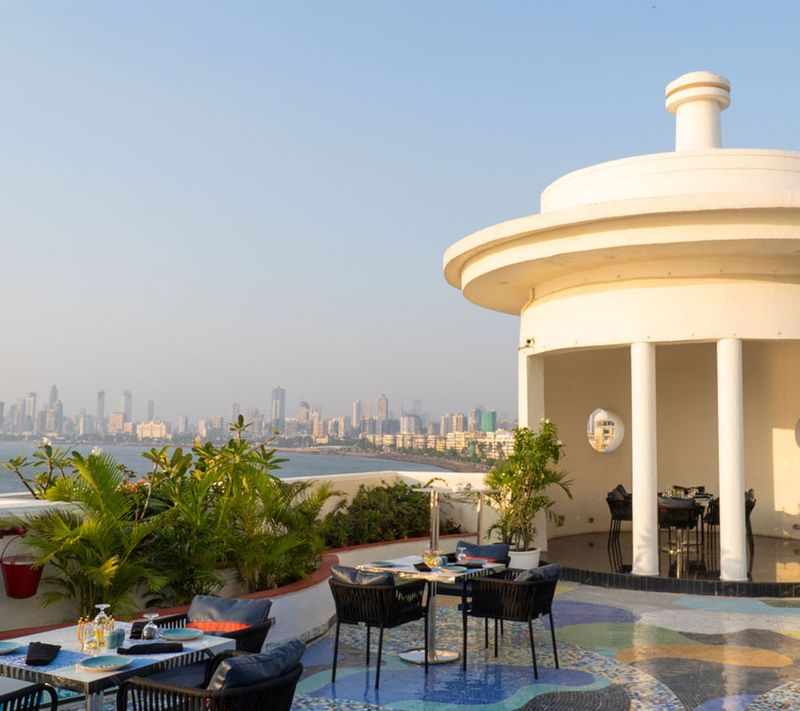 This is Mumbai's newest entrant in the alfresco space. Located on the rooftop of Hotel Marine Plaza, Allamanda Terrace offers some of the best views of the Queen's Necklace. Enjoy the glorious sunset with chef Kshitiz Shekhar's sublime Chilgoza Murgh Yakhni, Kaffir Lime Jackfruit Shami and Juniper Berry Creamy Prawns. Yes, the menu is progressive Indian. The Gosht Nalli Nihari feels perfect as also the Dates Pudding Kataifi and Rasmalai Tiramisu. They also make a robust Martini. The star-sprinkled sky and the soft sound of the sea nearby make a night out at Allamanda truly memorable.
Address: 29, Marine Dr, Opp. Cricket Club of India, Mumbai. Tel: 022-22851212, 7045945121.
5. O Pedro, BKC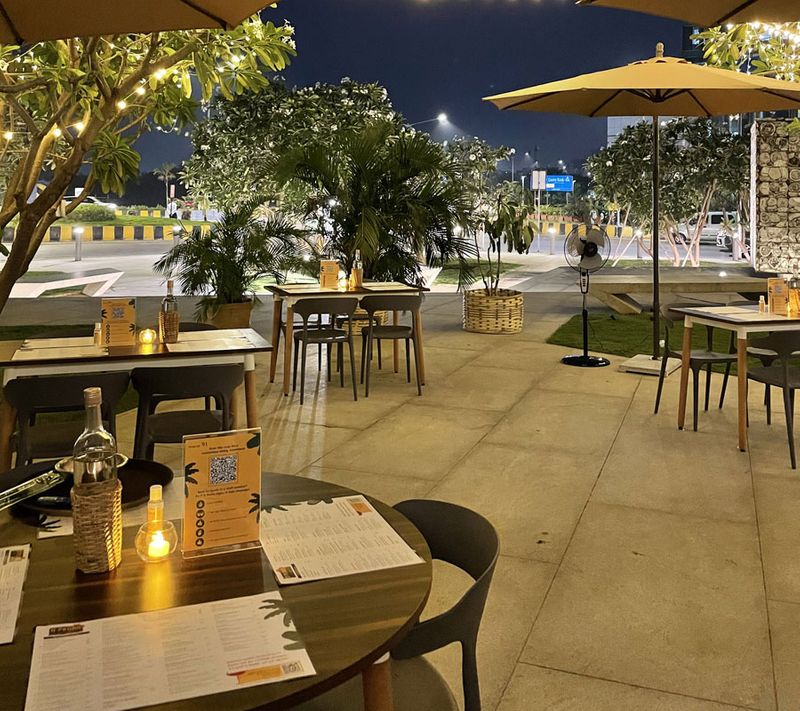 The outstanding Goan Portuguese fare is a compelling reason to visit O Pedro but the winters add another undeniable excuse: the chance to dine under frangipani trees decked up with confetti, lanterns and lights. It's always a party at O Pedro! The cooking here is ambitious with simple, homegrown ingredients elevated to new heights. The results are as delicious as they are pretty. Gems from their all-new menu include Pastel de queijo — Portuguese-style fried green beans, B**f tartare "cutless poee", grilled octopus ambotik, Pork belly stuffed peppers, B**F short rib green curry and a delicious Portuguese almond cake. Watch out for the big fat weekend brunch which starts from November 12th.
Address: Ground Floor, Jet Airways-Godrej BKC Building, Bandra Kurla Complex, Mumbai. Tel: 075065 25554
6. Gallops, Mahalaxmi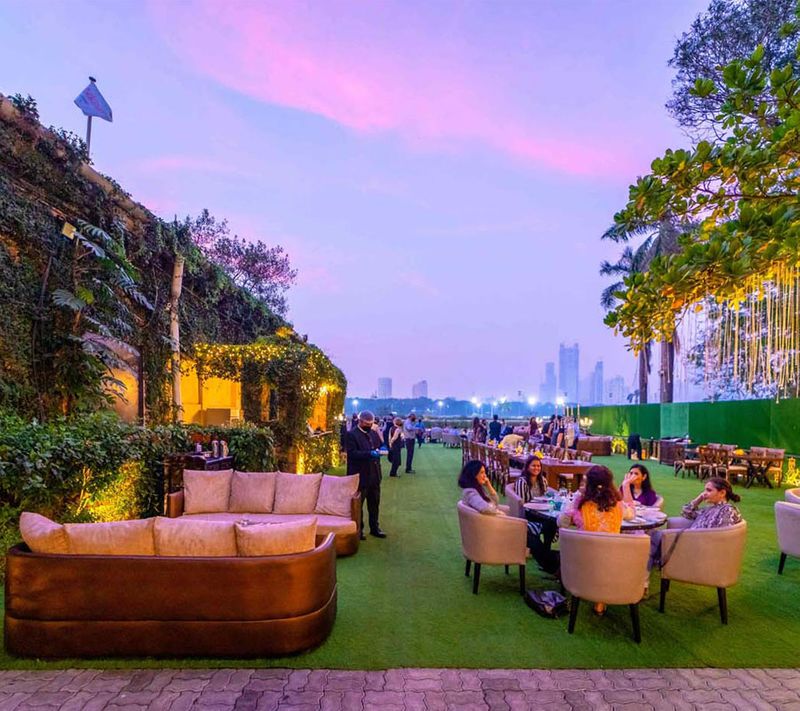 Nothing compares to a meal at this iconic restaurant with views of the racecourse, horses and vast green lawns. The interiors are elegant and old world but the alfresco is where you should be headed for dinner and drinks under the canopy of trees, fairy lights and chandeliers. The menu is a mix of classics and new favourites. While the roast chicken and chicken a la kiev are irresistible, do try the Goat Cheese & Pear Salad, Lamb Polpette (Italian meatballs), Chili Baked Brie, paneer in khada masala and a heavenly Mushroom Penne. The Mango Bellini and smoked Negroni make excellent partners.
Address: Mahalaxmi Race Course. Tel: 022-69600111 & +91 85910 93010
7. Olive Bar & Kitchen, Khar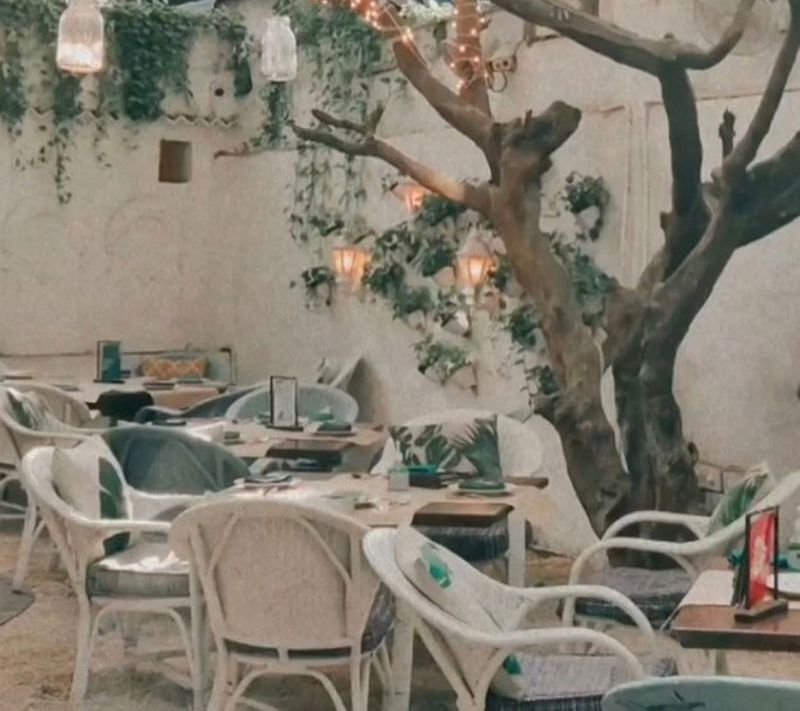 This rustic hideaway has been Mumbai's favourite ever since it opened its doors in 2000. The pebbled pathways, fairy whites and tree-lined courtyard is the perfect balm for the frazzled urbanite. Go for the sinfully delicious truffle mushroom and goat cheese pizza or the insanely delightful karaage fried chicken. Chef Chirag Makwana also makes a mean Korean fried cauliflower. Whatever you do, don't skip the panna cotta. Stop by for the iconic Bar Nights on Thursdays when the place explodes with music and spirit. But visit for Sunday Brunch if you just want to be a sloth in a sunlit courtyard.
Address: Union Park, Khar West. Tel: 072084 78228
8. Estella, Juhu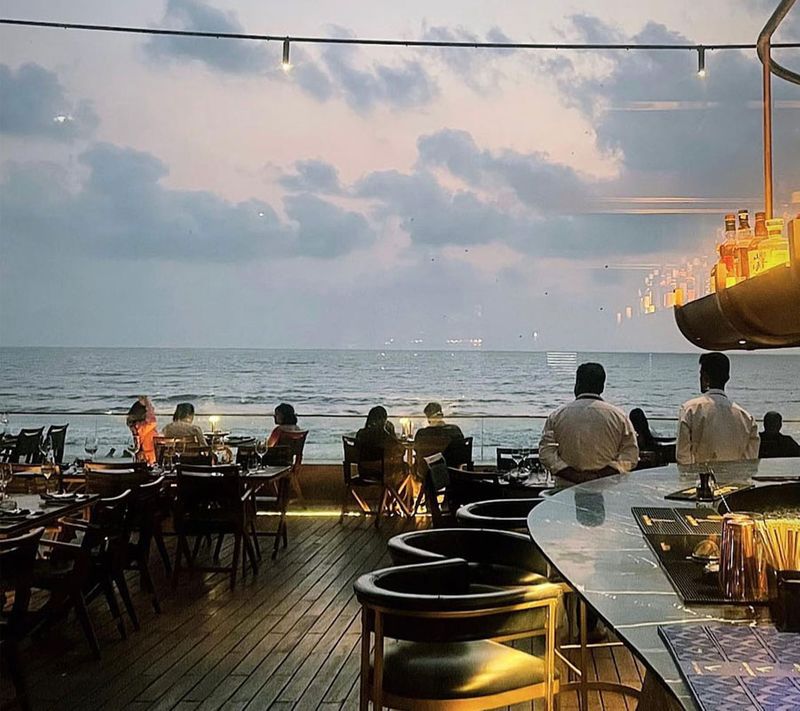 There's something uber relaxing about watching the sunset over the ocean, especially with a cocktail in hand. And there's no better place to do that than Estella, perched dramatically on the beach in Juhu. Modern Australian cuisine headlines the menu here by chef Rohan D'Souza. Start with the delicious breads — olive sun-dried focaccia, cheddar cheese roll, beetroot and pesto lavash and sweet herbed bun — all served with homemade garlic and herb butters. Highlights of the main menu include the fermented Chilly Lemon Rubbed Pan Fried Pomfret, Wild Mushroom & Spinach Tortellini in a delectable cheddar Worcestershire sauce, Mushroom & Truffle Risotto, served with goat cheese & parmesan wafers, pumpkin falafel and Estella's signature scallops. Now imagine all this with the sound of the waves for company!
Address: Nichani Kutir, Juhu. Tel: 7999998212/32
9. Lake View Café, The Westin Mumbai Powai Lake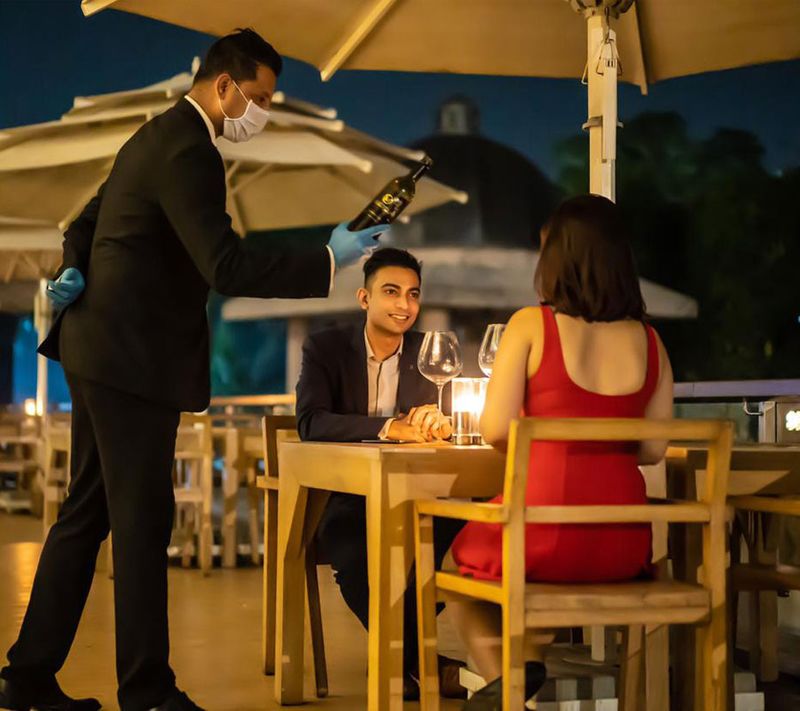 Apart from the magnificent views of Powai lake framed by the twinkling Mumbai skyline, Lake View Café is also known for its stellar North West Frontier cuisine and excellent continental staples by chef Gautam Mehrishi. The jhinga mehrunisa, Rampuri tikka and the teen mirche ke sike aloo (baby potatoes spiked with chillies) should be on your wishlist. This lakeside venue is the perfect spot for sipping a sangria or lingering with a latte. Their languid weekend brunches are legendary.
Address: Near Chinmayand Ashram, Powai. Tel: 086574 15264
10. Asilo, The St. Regis Hotel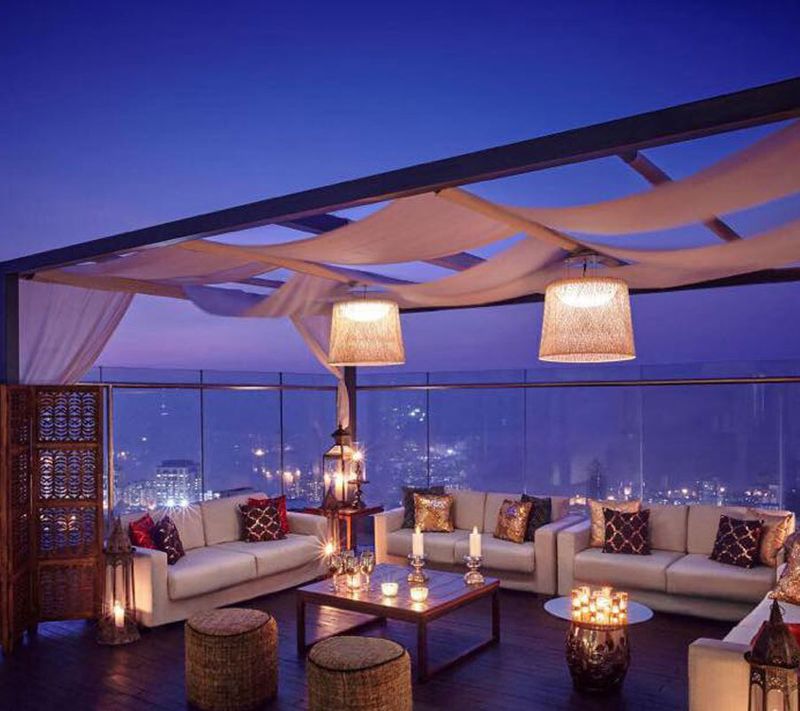 Feeling fancy? Head to Asilo, the superbly chic open-air restaurant and bar on the roof of one of Mumbai's most popular luxury hotels - the St. Regis. Be prepared for breathtaking views of the sea link, Haji Ali and the rest of South Mumbai. What to order? Anything from the robata grill — crispy pork belly, spicy tamarind prawns, teriyaki roast potatoes and so on. The cocktails here are exceptional. I recommend the Sunrise – a refreshing mix of vodka, apple and ginger, and a martini served in a Swarovski crystal-encrusted glass with gold dust — this cocktail can literally be called "Luxury In A Glass".
Address: The St. Regis Mumbai, Senapati Bapat Marg, Lower Parel, Mumbai. Tel: 098332 40930
---
Photo: Asilo Mumbai; Respective restaurants