In a constant search for that perfect breakfast, which probably does not exist, I have woken up early, fasted the previous night for the promise of a wholesome morning the next day, taken an Uber to another part of the city in the middle of a weekend morning traffic (yes, it exists), sweet-talked chefs into introducing more "morning dishes" into their menu, to name a few. And as much as I would like to call a particular breakfast the best in the city, it's the search that is more exciting. 
Here are 10 places in Bengaluru with breakfasts that ought to keep you satisfied for a while:
1. Kerbside Bistro
This cutesy café with smiling faces and delicious bombolinis also serves an English breakfast, which if the café doesn't get too busy during the day, is available even after breakfast is over. The plate includes toast and eggs, sausages (chicken though), baked beans, mashed potatoes or hash browns and sautéd butter garlic vegetables. Or you could get French toast or eggs to order. It's simple but comforting. Finish it with hot chocolate or coffee. T
Where: 3rd Main Road, Sadashivnagar 
When:  8.30am-11am
Meal for two: Rs 800 (approx)
2. Maverick & Farmer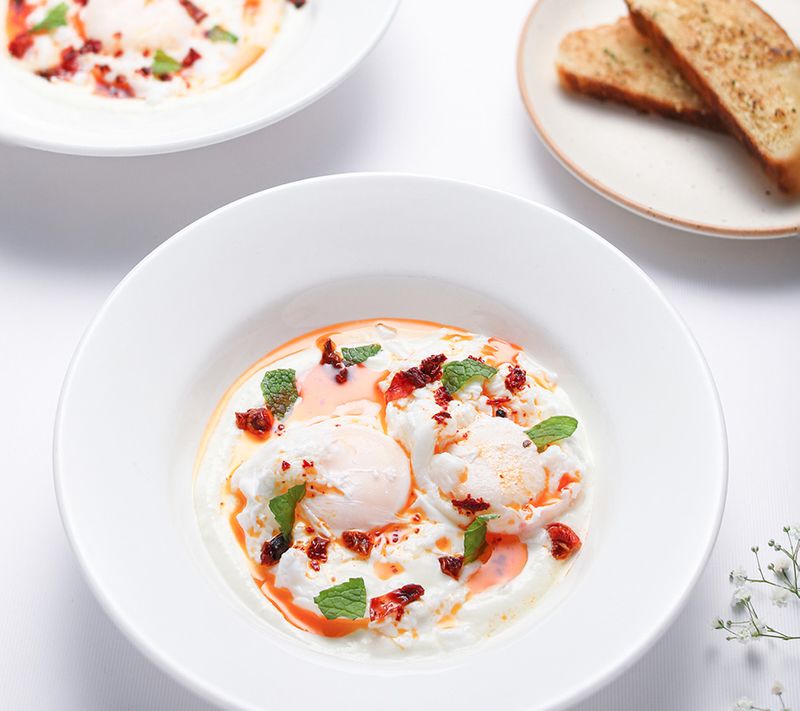 Possibly one of my newest favourites, Maverick & Farmer not only gives you multiple ways to relish coffee and breakfast but also comes with the most chill vibe I've felt in ages. Their weekend breakfast caters to vegans, vegetarians and meat eaters with almost the same kind of attention. However, I would recommend the Turkish eggs here. Served cold, the dish is a delicious serving of poached eggs in a creamy Greek yoghurt sauce drizzled with seasoned olive oil and sun-dried tomatoes. That and a slice with sourdough bread - lovely. The menu also has a range of food on a skillet. From 'All Things Bacon' to the Tex Mex Skillet (a combo of sweet potatoes, refried beans, jalapeños, cheese and eggs). You cannot be at Maverick and not go through its coffee menu. The Vietnamese - sweet and decadent adds to the weekend mood. But if you're in the mood for something cold, the Clarified Cappuccino is highly recommended, and it's not something you'd find anywhere else easily.
Where: Ulsoor
When: 9am-11am (Friday-Sunday)
Meal for two: Rs 800 (approx)
3. Hole In The Wall Café
Residents of Koramangala would have probably gone through the entire menu here during the lockdown phase of the pandemic. True that their packaging can sometimes be not so organised, but the food rarely disappoints. Rarely. And their breakfasts range from the simple baked beans on toast to breakfast fajitas and the 'Biker's Meat Platter' that comes with sausages, bacon, ham - or the even more elaborate The Porky Hole 9 Yards Hash inspired by a traditional American breakfast of diced hash browns, pork pepper sausage, chopped bacon and pork pepperoni tossed with sautéed onion, capsicum, and mushrooms. It's topped with 2 fried eggs and served with 2 slices of brown bread & butter. Yes, it's a big one. However, if you like eggs, try the green eggs and ham that comes with scrambled eggs, ham and spinach served on brown bread.
Where: 4th Block, Koramangala 
When: All day
Meal for two: Rs 750 (approx)
4. Paper & Pie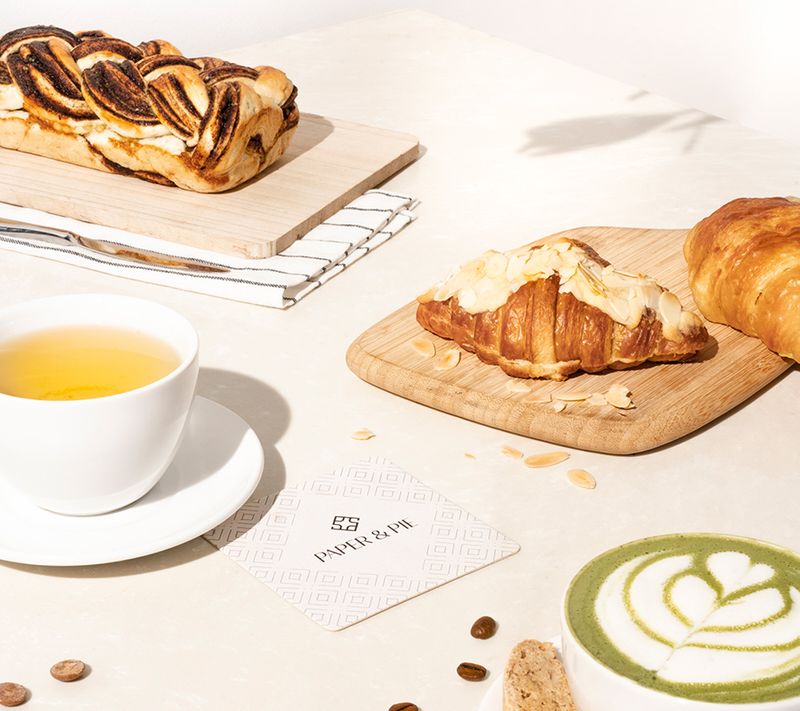 Planning a breakfast meeting or just a place to work in peace over some pancakes? Head over to this new addition to the city's cafes. From akuri on toast to classic pancakes and bagels and croissants and a variety of brews - hot or cold - you'll be decently fed here. A line on the ambience here; the decor really comfortable and sticks to natural tones, making the place really welcoming.
Where: Indiranagar 1st Stage
When: 8am-11am
Meal for two: Rs 1,000 (approx)
5. Lavonne
Lavonne addicts have probably written poems in secret declaring their love for this place. And it's believable. This upscale cafe (which is also part of the Lavonne Academy) and its breakfast menu are not to be missed. From soft scrambled egg on top of sourdough to the waffles to the Granola Power Brekkie - each is delicious. Highly recommended however is the Morning Grilled Brioche - if you like things a little sweet - that comes with caramel stewed apple and almond crumble. Get some bacon on the side if you like. The hot chocolate here is heavenly too, btw. And from the coffee menu, I'd say pick anything.
Where: Domlur; St Mark's Road; Whitefield
When: 8.30am-11am
Meal for two: Rs 1,200 (approx)
6. Brik Oven
Their pizzas have a fan following for sure. But the breakfast does deserve added mention. Be it the stacked sandwiches, made with in-house buttered and toasted sourdoughs, authentic bagels, and toasties and the decadent shakes - go here if you don't mind spending a bit of money on something indulgent. Every topping used is chosen with care - from king mushrooms and prosciutto. Oh, and check out the Caprese sandwich, with handmade mozzarella, fresh basil, and juicy heirloom tomatoes.
Where: Indiranagar; Palace Road
When: 8am-still stocks last (Indiranagar); 8am-11am (Palace Road)
Meal for two: Rs 1,300 (approx)
7. RCB Café
RCB has a cool breakfast club. And what makes it cool is that every Sunday they come up with a theme for its breakfast. And each theme celebrates a cuisine from different parts of the world. So you could be digging into poori and sabzi or puttu and beef roast and rice pathiri one Sunday and stuffing your face with loaded waffles or Eggs Benedict another.
Where: Museum Road
When: 8am onwards (every Sunday)
Meal for two: Rs 1,500 (approx)
8. The Filter Coffee
The paper masala dosa at this joint is perfect. Or any kind of dosa for that matter. Filter Coffee also serves delicious idlis and of course, fairly palatable filter coffee. It's quite easy to plough through their medu vadas, podi uttapams, kuzhi paniyaram or the mini idlis dunked in sambar. Also if I might add, this place makes one of the best coconut chutneys in town, which you can even buy separately to take home. The dosa batter and sambar is also available on the menu for sale as takeaway.
Where: HRBR Layout, Kalyan Nagar
When: 7am-10pm (all days)
Meal for two: Rs 350 (approx)
9. 154 Breakfast Club
Like your brekkie to be all about eggs and meat and toast? This is a laid-back spot to find just that. But it also serves tasty baked beans, eggs to order, breakfast rolls and pancakes. And if you're feeling a bit American, this place serves Turmeric Latte. Check it out.
Where: Koramangala 4th Block
When: 8am-9pm (all days)
Meal for two: Rs 1,000 (approx)
10. Trippy Goat Café
One of the cutest things about The Trippy Goat Café is the café itself. And they've recently started a weekend breakfast menu that changes every week. The café often partners with other chefs/home chefs to put together comfort food on the menu every Sunday morning. And once a month, they also do a pet-friendly breakfast. How cool is that!
Where: Hatworks Boulevard, Cunningham Road
When: 9.30am-12.30pm (only on Sundays)
Meal for two: Rs 700 (approx) 
---
Photo: Paper & Pie; Featured brands