Nestled in the bustling city of Mumbai, at the corner of busy traffic junctions, in the picturesque heritage buildings of south Mumbai, are some of the iconic Parsi restaurants and Irani cafes. Quaint, charming and reminiscent of an era bygone, these eateries offer some of the most authentic Parsi and Irani dishes. It's amazing to see how these places have carved a niche for themselves amid the hustle and bustle of pop culture cafes and eateries.
Here is the ultimate guide to heritage Parsi restaurants and Irani cafés in the city of dreams.
1. Jimmy Boy, Fort
Jimmy Boy is unlike the usual Parsi-Irani cafés, which are famous for their chai, bun maska, and kheema pav. If you happen to visit this place, you should try the authentic Parsi dishes on its menu such as patra ni machli, mutton dhansak and berry pulav.
Wash it all down with Pallonji's Raspberry soda. Jimmy Boy is one of the few places that serves lagan nu bhonu, which is a much-vaunted wedding spread consisting of pulav-dar, margi na farcha (fried chicken), lagan nu custard, and more. 
2. Ideal Corner, Fort
Located in the tangled lanes of Fort in south Mumbai, Ideal Corner offers the more popular Parsi fare such as dhansak, patra ni machli, and lagan nu custard. But what you should not miss is the Tuesday special kharoo gosht, a mutton stew with potatoes; and the Wednesday special, railway mutton. The Kheema Ghotala at this establishment has a very strong following as well. 
3. RTI (Ratan Tata Institute), Hughes Road
RTI is a place that is frequented daily by both Parsis and non-Parsis alike, thanks to the scrumptious Parsi food at reasonable prices. If you happen to visit this place, do try their chicken cutlets, dhansak, chicken farcha, and omelette pav. Not many know, but you can even pre-order their popular roast chicken and Christmas pudding during the season. 
4. Dadar Parsi Youth Assembly Snack Centre, Dadar East
Situated amid Dadar's heritage structures of the Dadar Parsi Colony, this snack centre's shelves are always brimming with melt-in-the-mouth mutton and chicken cutlets, dal ni poris (like the Maharashtrain puran poli), chapat (a sweet pancake), egg chutney cutlet (a potato and green chutney, and a few other sweet and savoury snacks. The food items sold at the Dadar Parsi Youth Assembly's Snack Centre are prepared at home by Parsi women and just sold at the centre.
THE IRANI CONNECTION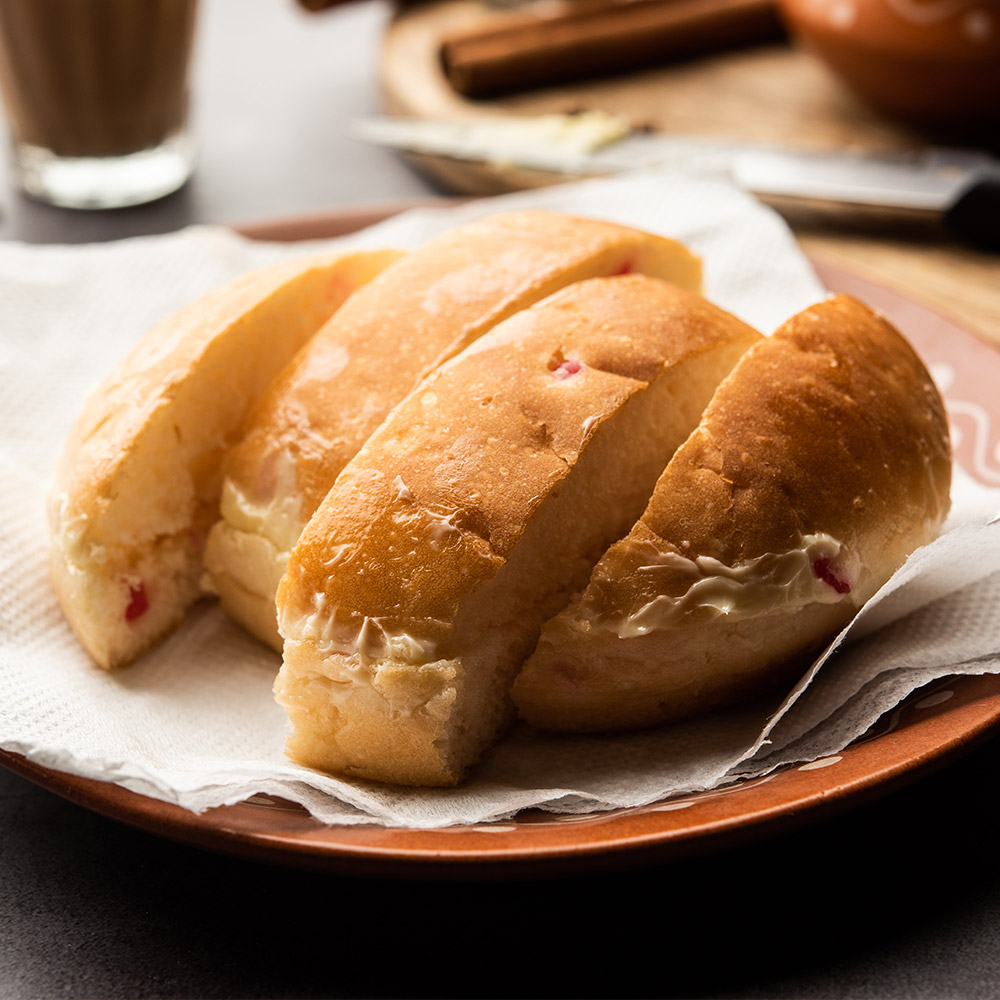 Apart from these Parsi eateries, several Irani cafés also dish out lip-smacking Parsi food. These cafes were started by Persians who migrated to India from Iran around the 19th century, which is almost 1200 years after the Parsis. From the 104-year-old Kyani & Co in Marine Lines to Britannia and Co in Ballard Estate, check out the list here.
5. Sassanian, Marine Lines
Located a few yards away from the Bombay Hospital, the Sassanian Bakery is known for its cakes and bakes for over 100 years now. It will be a crime if you visit the place and don't order a plate of their brun maska or wine biscuits—with a cup of Irani chai, of course!
And, just in case, you're not in the mood for something more filling, call for some chicken or mutton patties, kebabs, or chicken dhansak and rice. End your meal with a mawa cake. They also have an extensive menu featuring Chinese dishes, sizzlers, burgers, and more.
6. B Merwan & Co., Grant Road
B Merwan & Co. is a place frequented by office-goers and college students in the wee hours of the morning. Located right outside the east exit of the Grant Road station, this Irani café is known for delicious food at reasonable prices. It is famous for its mouth-watering mawa cake; we would suggest you visit B Merwan & Co. early in the morning since its stock gets over by 7.00-7.30 am. 
7. Kyani & Co. Marine Lines
Established in 1904, Kyani & Co. is one of the oldest Irani cafés in Mumbai. Its high wooden ceiling, and décor exude an old-world charm. The café makes mouth-watering wine cakes and confectionaries. In addition to this, they also serve gastronomic delights such as Parsi akuri on toast, keema pav, and chicken roll. Friday evenings and weekends are the busiest at Kyani & Co. so in case you're heading there on these days be ready to wait outside. 
8. Britannia and Co., Ballard Estate
Britannia and Co. has garnered global acclaim—it has been featured in international publications, television programmes and documentaries. Despite the fame, the establishment is firmly grounded with friendly staff and their prompt service that will make you want to visit the place again.
It will remind you of the Bollywood movies of the 1970s. A must-have at this place is the Mutton Berry Pulao, a rice dish made using barberries that are imported from Iran. 
9. Café Military, Fort
Delighting people since 1933, Café Military is a quaint little place located in the lane adjacent to the iconic Rhythm House at Fort. The patrons of this place are primarily office-goers and college students. If you happen to be in the area, drop by for some akuri (Parsi-style scrambled eggs), kheema ghotala, dhansak, or a generous portion of caramel custard. There aren't many vegetarian options on their menu, so think before you head. 
Photo: Shutterstock and Featured Restaurants