Sarojini Nagar is cool, but Dilli Haat comes with a personality. Also known as Delhi Haat, this vibrant melting pot of traditional Indian arts and crafts is a must-visit for everyone. The space is a mix of stalls put up by vendors from all around India. Of the many market places in Delhi, this is truly special in every way. You get to buy unique handicrafts and taste exquisite regional food. In a world hooked to malls and online shopping, Delhi Haat curates the rural market experience for you. Its contemporary aesthetics and efficient design ensure convenience and liveliness. Wondering about what to do in Delhi for a day? Head to Dilli Haat for some souvenir shopping and Indian food hopping.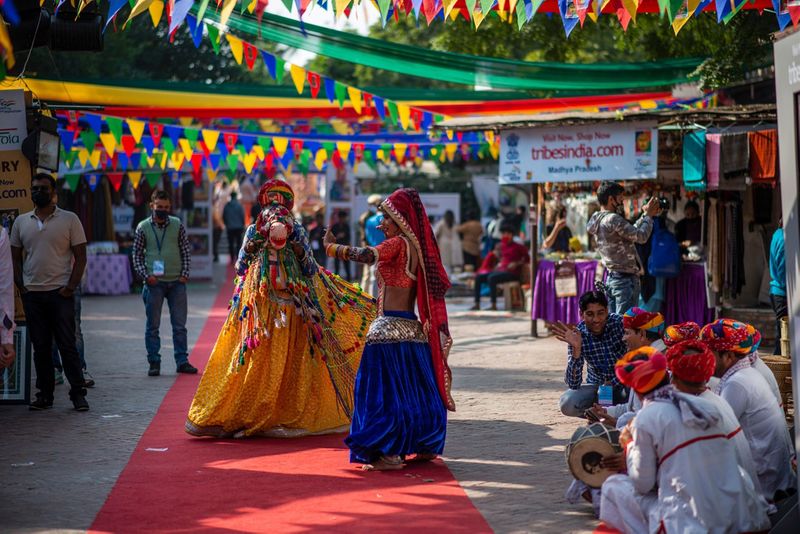 How does the Dilli Haat market work?
The Dilli Haat market is an initiative of Delhi tourism to open up the country's lesser-known food and handicrafts to a wider audience. Since Delhi is often the first destination for most international travellers as well, the market serves as a perfect introduction to India's culture. Craftsmen who want to sell at the Dilli Haat need to register with D.C. Handicrafts. What's more, they are allotted stalls for a period of 15 days to ensure authenticity and freshness. You will also notice that Dilli Haat is one place where you will find exclusive items for decent prices. This is due to Dilli Haat's system of allotment which avoids high maintenance costs for vendors. That said, there are many things to do in Dilli Haat. 
How many Dilli Haats are there?
Delhi is home to 3 Delhi Haat markets in Delhi. The first one, which was built in 1994, is located in South Delhi. It spans over an area of 6 acres. Along with that, there are two more Dilli Haat markets in Delhi - one in Pitampura (7.2 acres) and the other one on Lal Sain Mandir Marg at Janakpuri (9.8 acres).
Which Dilli Haat should I go to?
Ideally, it would be nice to head to the market closest to you. However, unless it's a Sunday, the two newer Dilli Haats are yet to tap into their full potential. They are bigger but are usually empty on most days.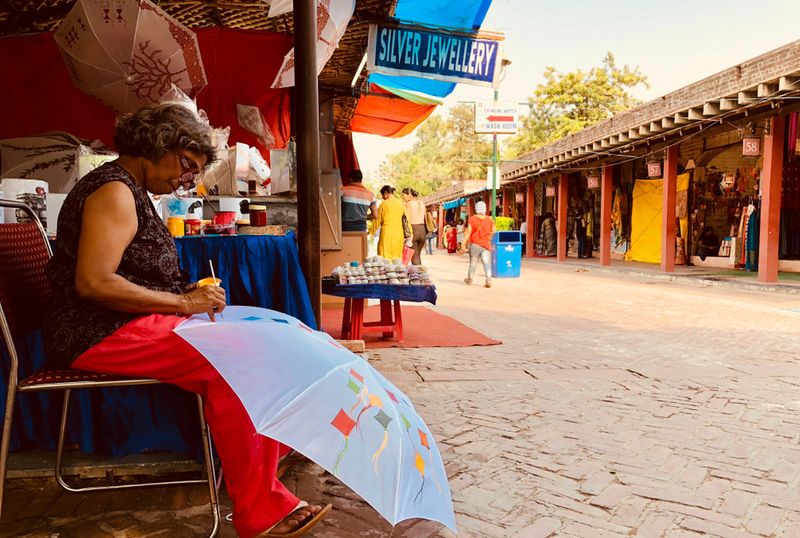 How can I reach Dilli Haat?
The first Dilli Haat is located in the heart of Delhi, close to the Hauz Khas village. The closest metro station to get there is Dilli Haat INA. The metro station is less than a 5-minute walk to this bustling market square. While you are there, you can even consider heading to Khan Market or the India Habitat Centre later. While it may take time, for now, it's best to start with the Dilli Haat INA.
To get to the Dilli Haat in Pitampura, you can take the Red Metro Line to the Netaji Subhash Place Metro Station. To visit the Dilli Haat in Janakpuri, take the Blue Line to the Tilak Nagar Metro Station.
What are the timings for Dilli Haat?
Delhi Haat is open between 11 am to 9 pm all days of the week.
Do I have to buy a ticket for Dilli Haat?
Yes, the entry fees for Dilli Haat Delhi cost ₹20 for children, ₹30 for adults and ₹100 for foreign tourists.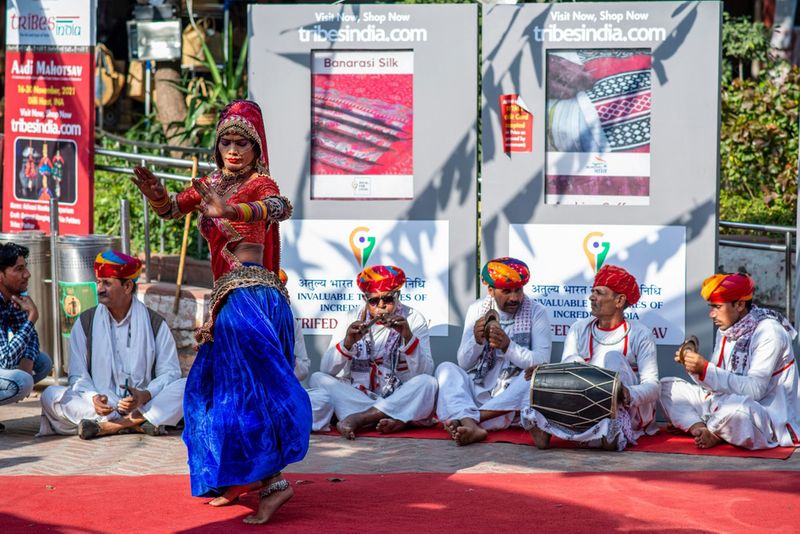 What are the things to do in Dilli Haat market?
The Dilli Haat INA is a large open-air market complex for Indian food and handicrafts. While it sounds like you would just be hopping from shop to shop, that is not the case. There is so much to shop, taste and experience that you just might end up spending your entire day here.
Buy home decor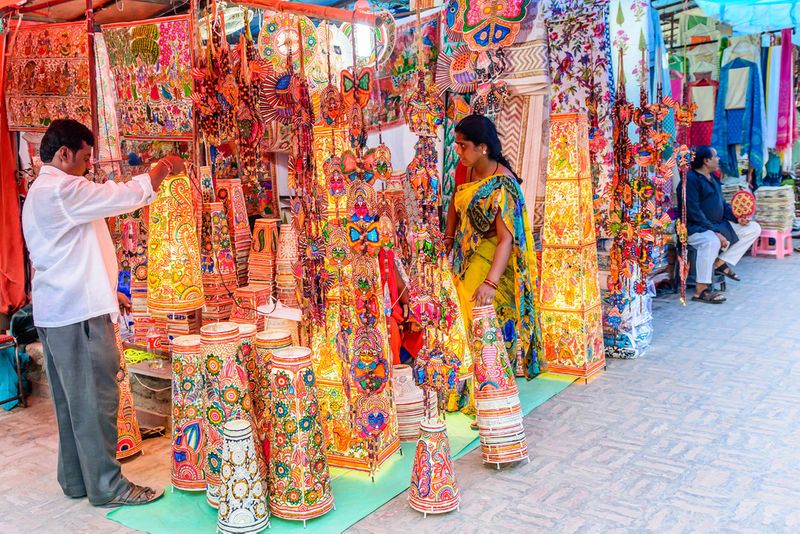 Ever wanted to amp up your modern home with some vintage pieces? You can find them at Dilli Haat. From handmade regional paintings such as Madhubani and Warli, to exclusive bamboo home decor and pottery items, you can find it all. Choose vases, intricate bowls, mugs or other cutlery sets handmade by your country's artisans. Since these home decor pieces in Dilli Haat are made by creative individuals, most of them showcase unique themes and ideas too. For instance, a collection of blue pottery recently grabbed attention for its out-of-the-box visual aesthetics. It goes without saying that at Dilli Haat each piece would always be unique, unlike anything you would find at a mall.
Food from all corners of the country
Ask any Delhiite and they know where you can find the best momos in the city. Dilli Haat food is just as unique as its vibrant display of culture and colours. A special section in the market marked 'Foods of India' is dedicated to authentic cuisines from all over the country. The prices are pocket-friendly and the portions are generous. Here are some food stalls you cannot miss in Dilli Haat market.
Bijoli Grill (Bengali food)
Bengali food is a wholesome feeling of comfort. For this reason, the Bijoli Grill comes highly recommended. They serve a wide range of Bengali dishes - both veg and non-veg. However, their fish dishes ( like the Fish Orley) and mutton delicacies (like the Kosha Mangsho) are a must-try. Apart from that, try the Niramish Alu Dom with Radhaballabhi. Don't leave without desserts!
Nagaland Kitchen
Naga cuisine is famous for its Raja Mircha and pork-based dishes. Head to this stall if you want to explore these flavours along with bamboo shoots and dry fish. It is one of the biggest highlights of Dilli Haat food.
Andhra Food Stall
While Andhra Pradesh is famous for a lot of dishes like the puttu, its biryani often stands out. If you are a biryani fan, you cannot miss this Dilli Haat food. Try all their biryanis and if you have space, discover the Bagara Baingan (Brinjal dish). Don't leave without tasting the famous Double-Ka-Meetha.
Momo Mia
The haven for momo lovers sits in the Arunachal Food stall. Momo Mia is loved for its fruit beers and for the best momos in Delhi. On a cold winter day, you can even order a bowl of thukpa to get the real feel of northeast Indian cuisine.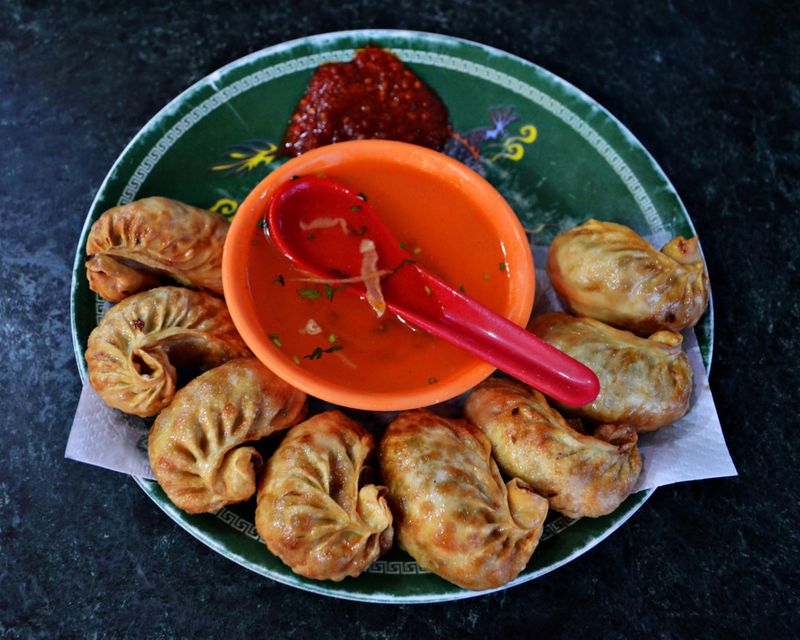 Darbar-E-Awadh
Lucknowi kebabs are irreplaceable. If you want to know why, head to this food stall set up by Uttar Pradesh. No matter what kebabs you order, they will melt in your mouth and leave you swooning over their rich flavours. You can also try their Phirni, Mutton Handi Biryani and Chicken Korma.
Apart from this, you will also find a food stall by Maharashtra whose vada pao is impeccable, Anantha - a Kerala food stall that serves lip-smacking parotta, Assam food stall's Pitha and Manipuri stall's Ngou Thon. You won't be able to get through them all in a day, but the flavours will make you want to keep coming back.
Jewellery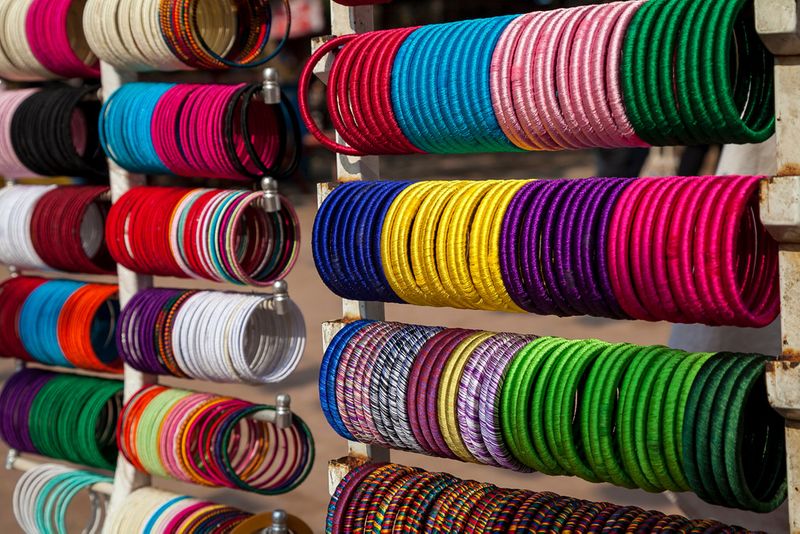 Indian accessories are perfect for sleek boho looks and traditional outfits. You can find chunky neck pieces, laad bangles and statement jhumkas. You will find something new in each stall so it would be best to scour the entire market and then come back for what you like.
Khadi outfits
Khadi is one fabric that demarcated India's independence movement. It became the symbol of nationalism for good reasons. This handwoven cotton fabric is perfect for the Indian weather. You can pick up gorgeous kurtas, Nehru jackets and more for a good price.
Lucknowi Chikankari
Apart from its food, Lucknow is home to an elegant craft - Chikankari. The intricate handwork on fabrics makes for some fine kurtas and stoles. Today it has evolved to match contemporary fashion styles. Available in multiple colours, this craft has to be a part of your wardrobe.
Delhi Haat is a treasure trove of India's best-kept secrets. It's best for shopping for souvenirs and experimenting with food from all over India. You won't ever run out of things to do in Dilli Haat, Delhi. What's more, if you want to get a glimpse into the products available and have them delivered to your home, then Delhi Haat's online shopping experience is a newly introduced concept.
---
Photo: Instagram/dillihaat.ina; Shutterstock