Gurgaon-based anonymous visual and performance artist Princess Pea recently collaborated with 500-odd women in Patna, Bihar, to co-create an art installation. This installation is a 40ft x 9ft textile-based artwork designed to resonate with the lived experiences of the women weaving together the interpretations of 'dignity in healthcare'. The campaign titled, Khud Se Pooche, aims to raise awareness about access to dignified healthcare for women through an ambassador programme, roadshows, workshops with the artist, and putting up a symbol of co-creation. Here are some excerpts from an exclusive interview with the artist.
1. How was the concept of Princess Pea born?
I ploughed the land to gather the clay that would compose the inanimate head. A combination of different kinds of clay was used in the dough, and when the prototype of the giant, hollow, quasi- female head was first sculpted and left to set, something serendipitous transpired. A fresh wild shoot sprouted from within, through the texture of the scalp. This accidental birth, the fortuitous yet unintended byproduct of the loam's fertility, animated the sculpture, transforming it from a non-living, representational structure to a corporeal entity suddenly infested with life. 
The ceremonial act of naming this new being was the final ritual in this process of creation. She came to be called a portmanteau of two central thematic concerns—the mythical category of Princess-hood and the imagining of the shoot as a specimen of the Pea family. It was at once her reverberation and emanation, which stemmed from her and was yet unique, signalling the birth of the other I, her second self. The wearing of the oversized head signals the transformation from the 'real' self to her imaginative other.
2. In 2009, at the then-India Art Summit, art enthusiasts described you as a living sculpture. Your views…
It's an absolute delight when art finds its audience. The thing changes as the viewer interpret it in their own experience and vocabulary. Over the years the work evolved when the headgear was passed on to many other protagonists. Sometimes unapologetic and vulnerable conversations filled the room. 
There are two ways to look at it—the sculpture as body, and someone as the sculpture, basically intrigued by the idea of life as sculpture. 
3. How has the journey been since then?
A lot of learning and unlearning…
4. Tell us about the recent collaboration with the women in Patna.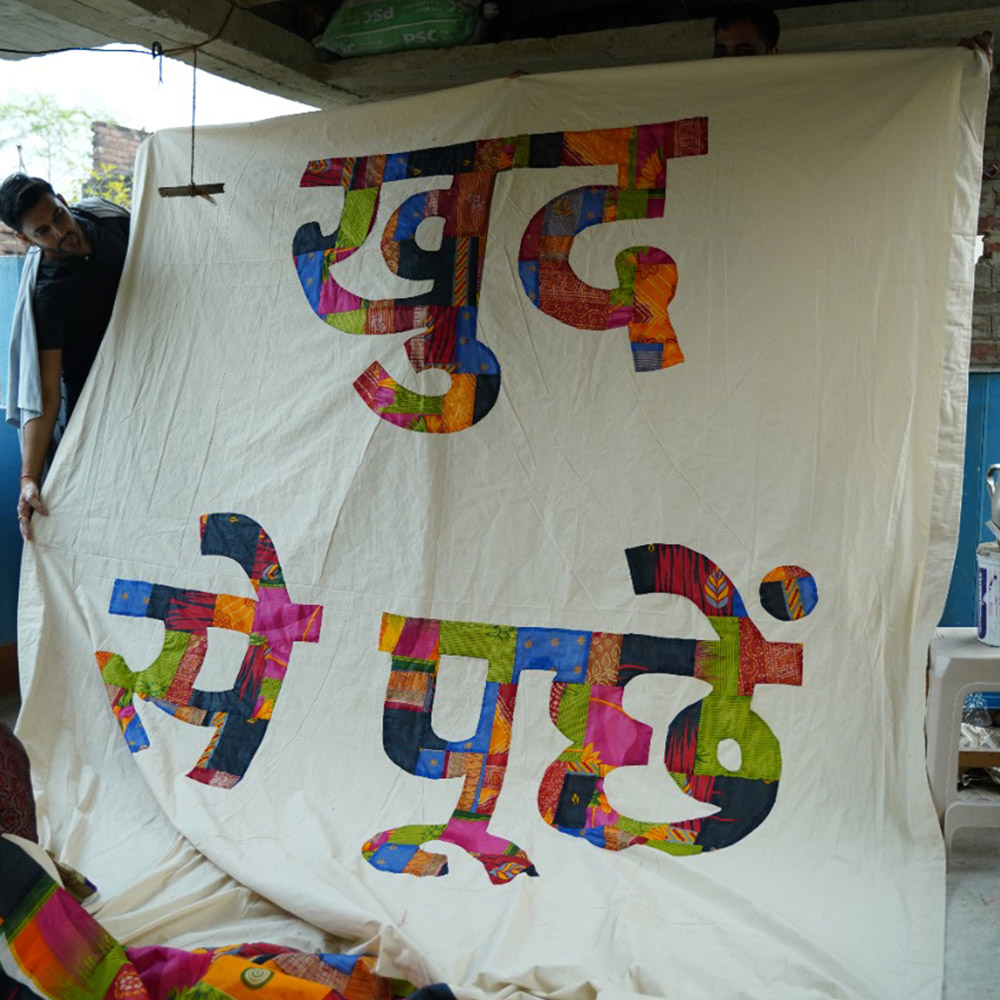 The aim of this women-led initiative is to collect a set of knowledge by sharing, accessing, and passing, daily rituals and respecting the gestures of vulnerability, making the neglected comfortable. This exercise is an attempt to bring women closer, make them see themselves differently, respect their beliefs, and install new ideas through each other's life expectancies. The plan was to build trust, engage in a dialogue of empathy, and address fragility—while being inclusive and comprehensive. Personal stories were shared by me and women questioning care and dignity and its importance. An extensive discussion was done about the meaning of self-care and role play, leaving the discussion open for women to share their experiences.
As I have been working with homemakers, small entrepreneurs, and differently-abled women along with women who have suffered abuse, suffer from body image-related violence and mental health amongst themes of visibility and systemic erasure. The project enables us to build empathy and understand the gaps in healthcare. I intended to build a workshop module very closely with the Khud Se Pooche team, to build ambassadors in the small clusters in Patna and to develop a symbol of care with dignity. 
5. What are some of your other passion projects involving and seeking the emancipation of women?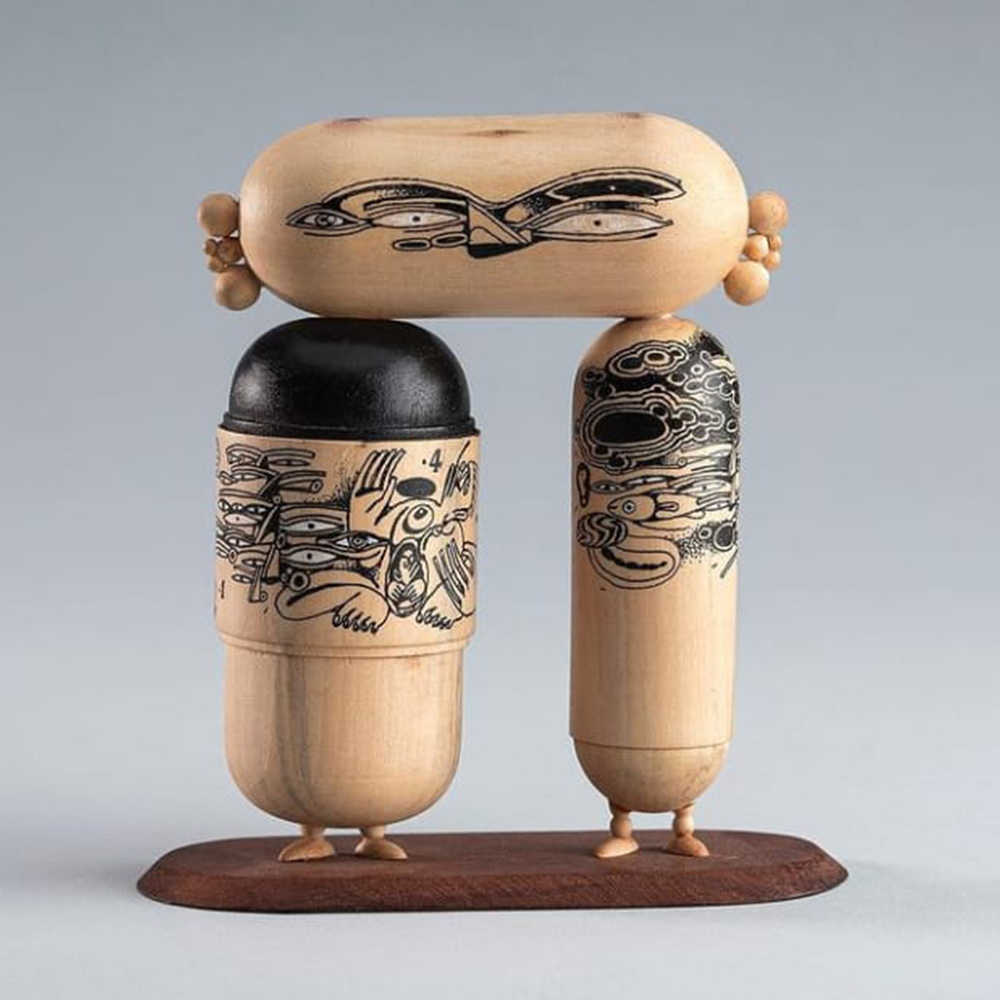 Over the past two years and more, I have continued to work with women in certain communities in Goa through a range of short-term programmes. This began with a project that enables women to document oral histories and come to terms with the lack of opportunities, dissatisfaction, abuse, and aspirations through the act of writing/image-making. Along the way, I was also introduced to the Forca Goa Foundation and its work with young girls through football training in order to develop a series of interventions over the years through workshops, football sessions, health classes, and conversations with parents and young girls.
6. You enter the homes of other women and often make them wear the head. Tell us more…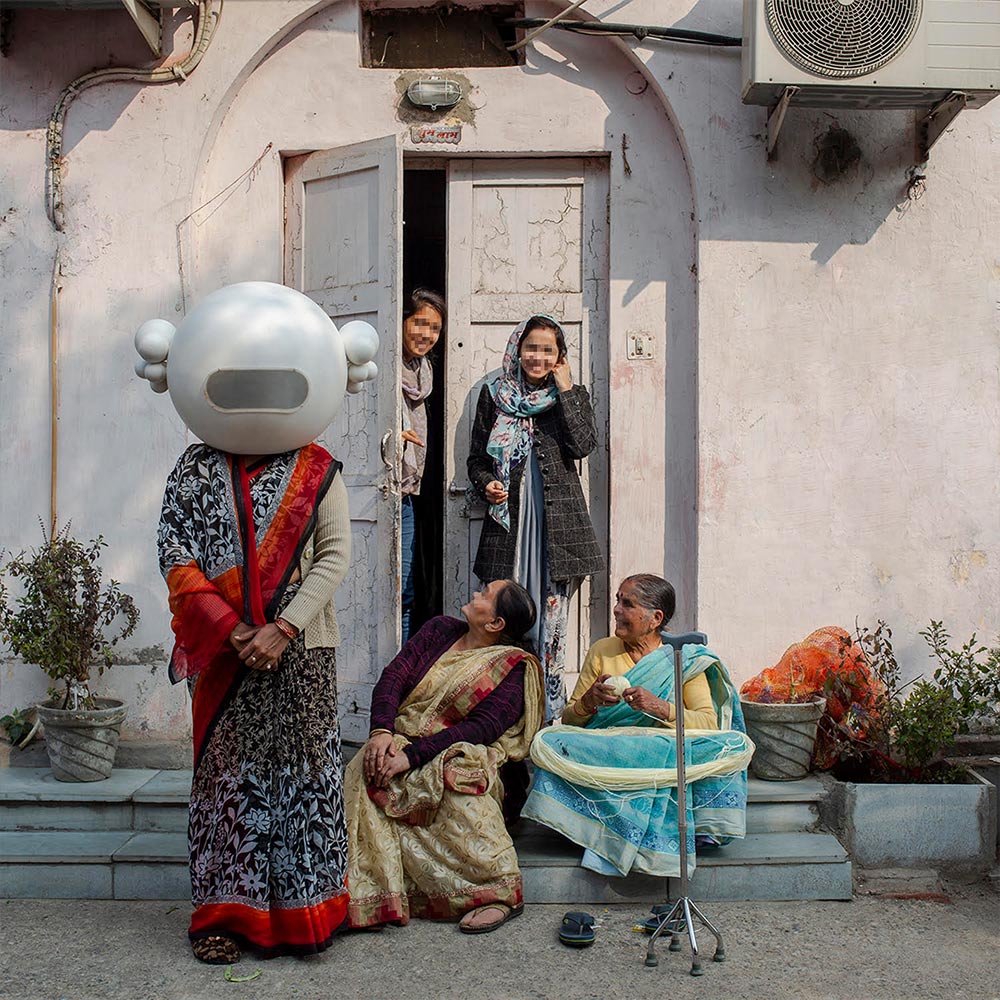 This intervention—Paracosm—is a collection of lived lives and shared histories, based on collaborations, conversations, and contributions of the multiple lives women live in a single lifetime—in public, private, secret, and the fantastical. The project brings together thousands of Princess Peas performing in their own big and small worlds, narrating their closeted aspirations, their concealed frustrations, and the guarded kingdoms of their heart—a space often left for contemplation in the twilight.
The project brings these women to perform their daily lives in a public space. They then become proxies who wear the head for a day, looking at the other world they've always ignored—the mind that desires, aspires. The project brings together, conversations, recollections, and ruminations from the relationship of these two worlds as told by the women.  
7. What has been your inspiration?
Every woman I have met in my creative journey has been an inspiration. We are unapologetic and unabashed.
8. You have earlier said that you are interested in exploring the notions of beauty and perfection. Tell us about it…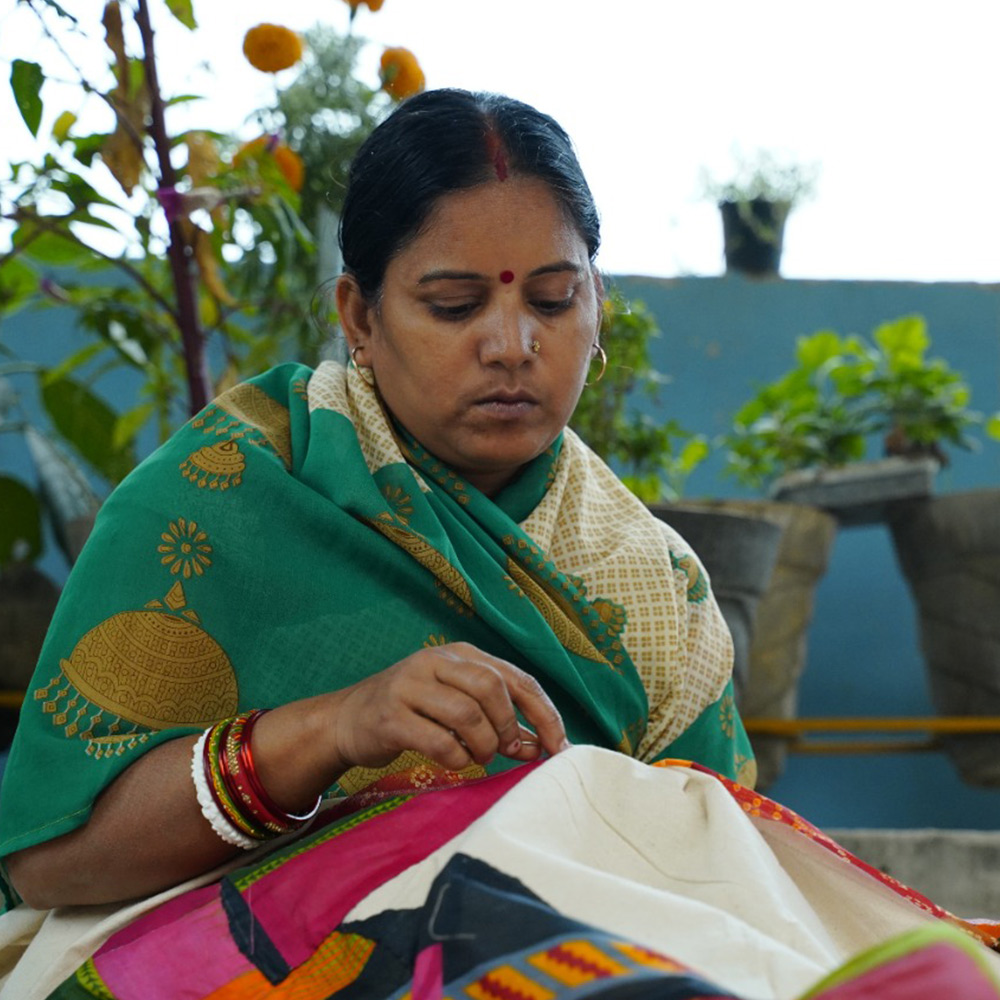 My performance revolves around the ideas of identity, notions of perfection, self-worth, and the conflict between traditional and contemporary roles of women in Indian society. Indian women, on a large scale, fear for safety and do not feel they have the liberty to be who they are. They are heavily scrutinised over who they should be according to socio-cultural ideals. 
Through the work, I question the hackneyed gender norms and ideas of womanhood set by a patriarchal tradition. The large head does not only mask my artistic identity but also represents the burden women carry on their shoulders dictated by society. We then confront this burden and revolt against the pressures of body image policing by accepting and loving her differences. As an artist, I chose to embrace these differences and celebrate them as a form of artistic iconography. It allowed me to love my differences rather than merely accept them.
9. What is your next project?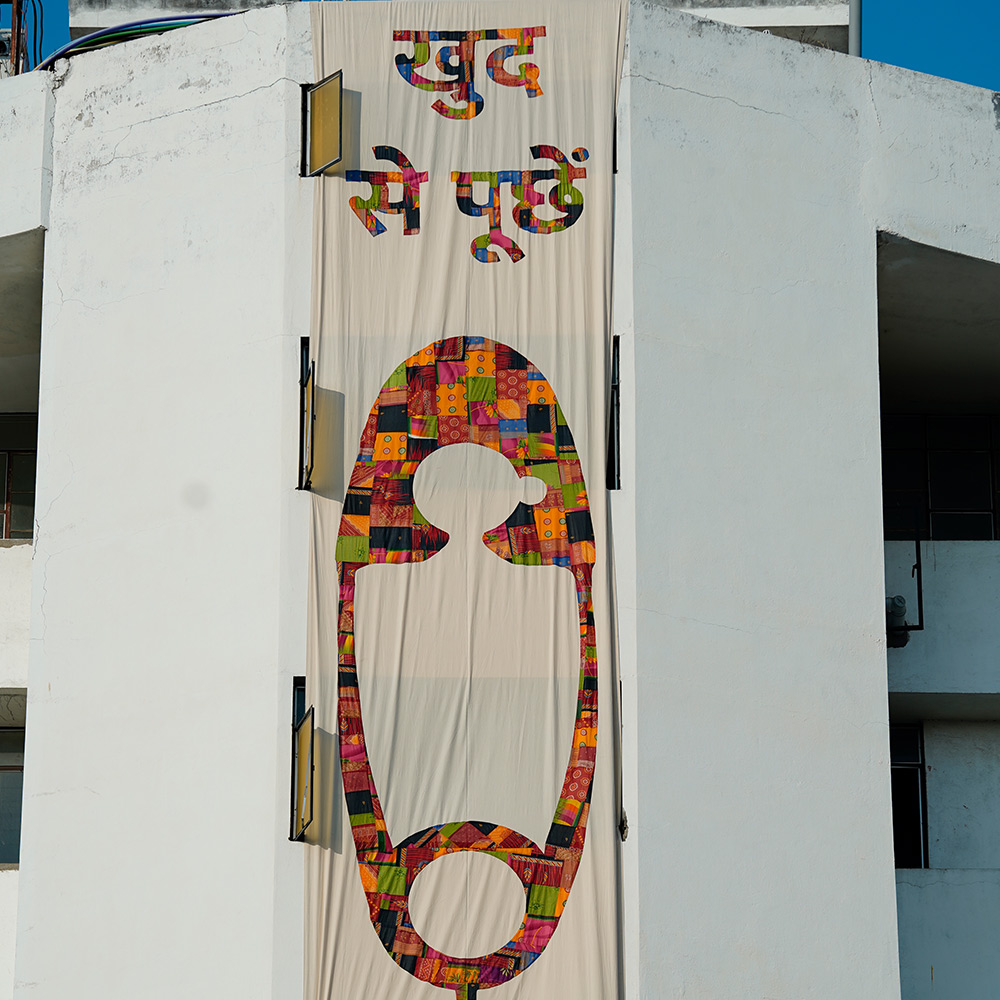 Having Princess Pea's own channel—a podcast or series of short films—which would focus on emotions and mental wellbeing of women; and conversations about life, society and relationship.
10. Lastly, does Princess Pea ever take off her head? 
Nope! 
Photo: Princess Pea