"I am turning into an insomniac, often waking up at 2 am or 3:30 am, and reaching for my phone out of sheer habit, thumbing through the messages on the mommy WhatsApp groups. Then inevitably I stumble upon something that I need to put on my to-do list and get cracking on the following day. Like ordering that special detergent for washing nappies," laughs actress Kajal A Kitchlu, glowing and looking gorgeous. 
I am still petrified of dogs, except my pet Mia," she says of the lil pup she introduced as her first baby on Insta earlier.
Baby Kitchlu arrives next month and Kajal is in full prep mode, attending Isha Thaimai sessions as part of the holistic program by Sadhguru for pregnant women, catching up on mommy movies and documentaries on Netflix, and listening to the mint-new in-house mommies: her sister Nisha, and sister-in-law Gauri, both of whom have recently delivered bonny babies. "I have a super support system in our families, and couldn't be more grateful for all the love that is flowing in from all quarters," she smiles, the excitement shining in her eyes.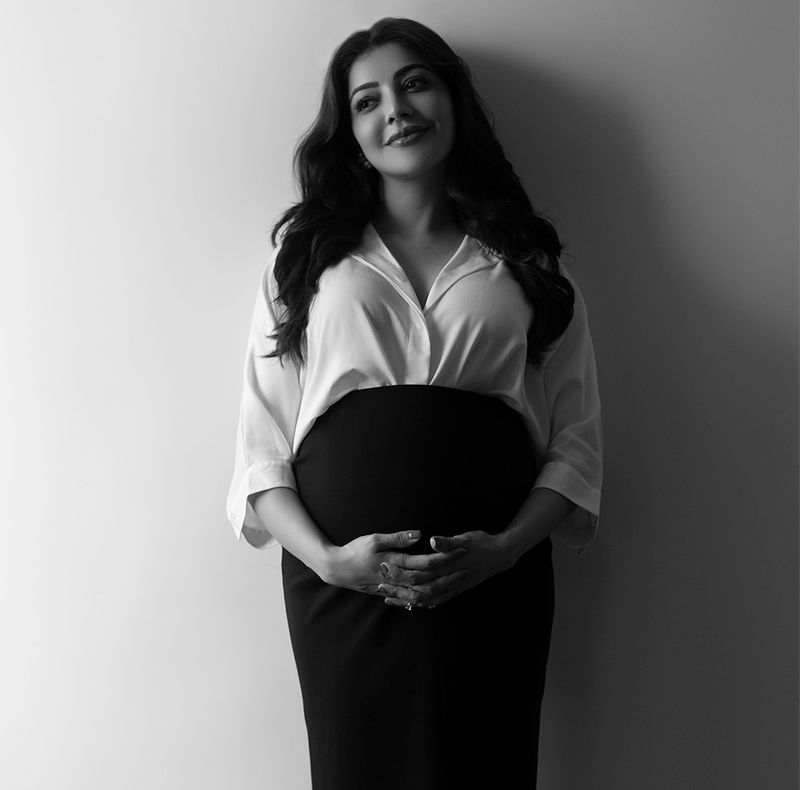 Kajal is enjoying the "hyper nesting phase". "I am busy shaping a nursery in our den, at the moment," she shares. "The full-blown nursery with the treehouse and play area will come into our new home in Worli by next year when we move from Malabar Hill." How does it feel, easing into mommy mode after the successful filmstar mode (with 21.6 million followers, and growing, on Instagram)? "I am experiencing mixed emotions right now," she confesses. "I'm excited, happy, slightly nervous, and a bit anxious." The leading actress of Tamil and Telugu cinema has her plate full, revelling in the success of her latest film Hey Sinamika, and looking forward to the release of her upcoming trio on the silver screen: Uma in Hindi, Ghosty in Tamil, and Acharya in Telugu. All this while wrapping up her commitments with brands to ensure she is only with the baby once s(he) arrives. 
Speaking of her diet, what is on her plate right now? "I have always eaten healthy, and am tucking in fresh fruits and vegetables, ensuring that my diet is balanced. But I have no nutritionist in place right now. I will get an expert once the little one arrives as I plan to resume work by the end of the year," she says, the air of determination ringing in her voice. Full marks. 
Keeping fit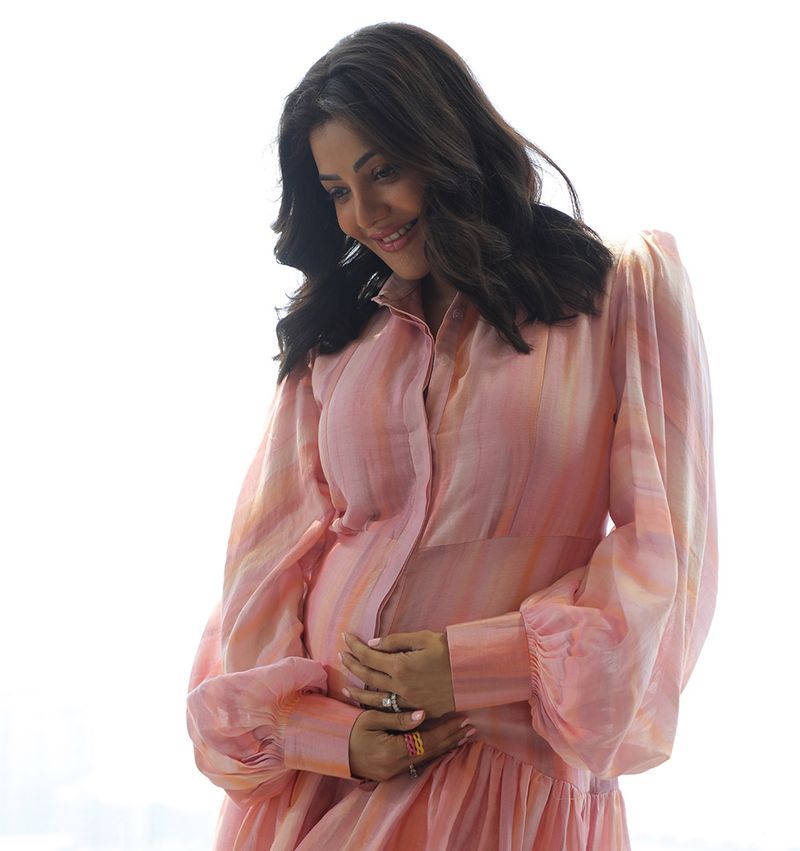 "I do yoga, regular walks, and pilates to keep my fitness levels up as I wing closer to my delivery date," she smiles. The first trimester was tough on Kajal with nausea setting in with a vengeance. "I was feeling faint and was also on the drip to prop up my energy levels. I just couldn't stand broccoli, tomatoes, and even curry leaves! The sheer sight made me want to throw up. That was so bizarre. Thankfully, everything normalized soon enough. But I have this inexplicable crazing for junk food now. From pizza and burgers, I want it all. I never touched fizzy drinks earlier but now I desperately want to glug sodas. The changes are just so baffling," she laughs. "But I make sure I stay hydrated. 
With the summer heat setting in, I have lost count of the trips I make to the loo. I am told that my eating pattern now will establish the food moods of my child. I want the baby to grow up on healthy green juices, not colas!" 
What has been her biggest learning so far? "That a nanny (jhapa maid) is a must and more important than a marriage," she laughs. "But seriously, I have tremendous respect for all the mothers out there. I have learnt to be more patient, as I was short-tempered earlier. Though I love my dad, I am emotionally welded to my mom. She is the superglue of the family and has always been so selfless, putting our dreams and priorities before hers, and loving us selflessly. We made mistakes, but always came back to love, not judgements. I have learnt the true meaning of unconditional love, and hope to imbibe the same value system in my child," shares Kajal. She counts her biggest blessing in the warm circle of love that flows in from family, friends, and her countless fans. "My sister and sister-in-law are my pillars of support," she confesses. 
"I would like to breastfeed my child as long as possible. If I can, why not?" 
"Gautam and I have bought a few essentials, like the crib, pram, swaddles, diapers, organic wear, and the car seat, but honestly, we strongly believe in recycling: a few hand-me-downs from our own nieces and nephews will take care of the furniture required for the baby. This is how we have been brought up and I want the same leveller for my child as well," she says, candidly.
The skilled multitasker that she is, Kajal has just finished script narrations (for projects she will commence by September) and a two-day course with her best friend, a child psychologist. No water birthing for her though. "Much as I love the idea, this is my first time and I would like to be in the safe hands of my medical team," she confesses. What about the second innings, later? "I believe the sibling bond is irreplaceable, as I and my sister are as thick as thieves. I would like to have another baby at some point later, but one step at a time," she says with a smile. 
---
Photo: Ankit Chawla