Gota patti is admired for its regal embellished appearance combined with a lightweight ease. This exquisite art form has made its way from ancient royal palaces to today's designer houses. Modern fashion designers have left no stone unturned to express their passion for this metallic craft. Ace designers like Anita Dongre, Manish Malhotra, Sabyasachi, Abu Jani and Sandeep Khosla have constantly introduced gota patti ensembles in new and authentic ways. They are known for amalgamating traditional gota embroidery with contemporary silhouettes to attract their modern audience.
This ivory lehenga set by Anita Dongre featuring signature gota patti work is the perfect choice for a modern bride.
It's not just fashion designers but celebrities too who love gota patti on their outfits. Whether it's Vidya Balan, Shilpa Shetty, Kareena Kapoor Khan and Karisma Kapoor or Sara Ali Khan and Janhvi Kapoor, all of them love flaunting their gorgeous gota patti ensembles.
Katrina Kaif donned an ivory lehenga by Sabyasachi for her haldi ceremony. It was delicately embellished with the dexterous craft of gota and tilla work. She paired the lehenga with an organza dupatta that featured gota work and marori embroidery, finished with trimmed kiran on the border. 
One of the finest Indian crafts
Gota patti is an exquisite embellishment that transforms the fabric's appearance, making it look lavish and magnificent for special occasions and weddings. This style of art originated in Rajasthan and spread across the country's royalty. Its origins can be traced back to the Mughal era when Emperor Humayun brought a group of Persian craftsmen to India between 1539 and 1554.
Gota patti is a royal form of surface ornamentation extensively crafted on sarees, dupattas, lehengas and turbans. This handcrafted applique embellishment was an eminent art during the Mughal era. It resembled the Kundan and Meenakari jewellery of Rajasthan. Today, Jaipur, Bikaner, Ajmer, Udaipur and Kota are the epicentre of this beautiful craft.
What is gota work?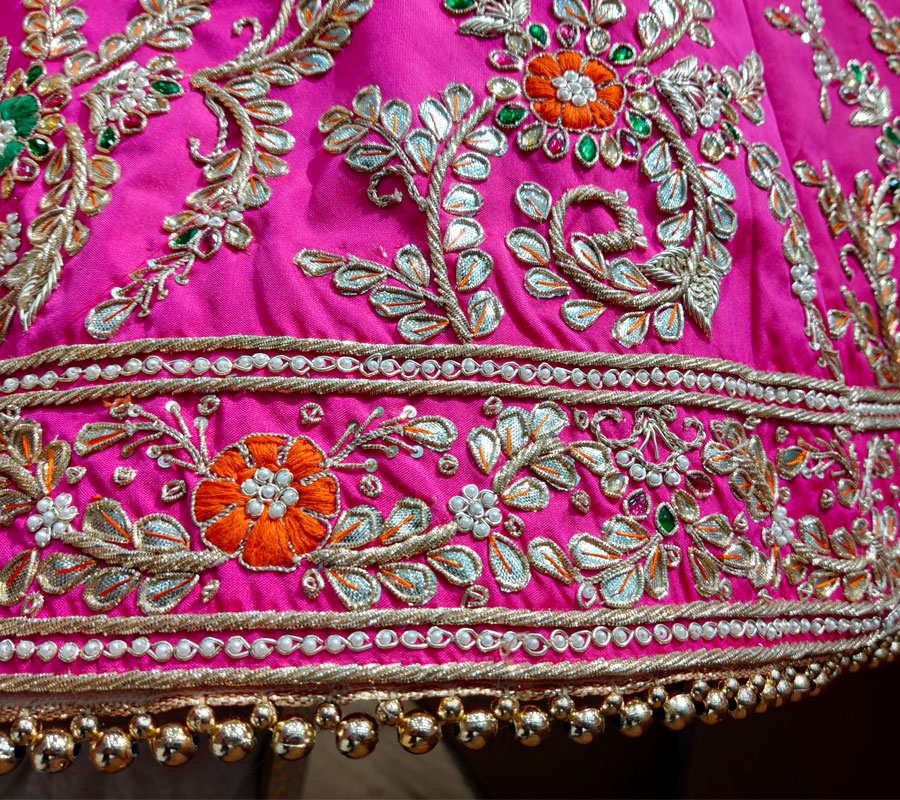 Gota or gota patti is a metallic lace made from a metal-coated yarn known as zari. Traditionally, gold and silver were the most used metals. However, due to their high cost, they have been replaced with copper and bronze. These tarnish-free metals are often gilded with gold or silver to imitate the precious metals. Gota is traditionally created by weaving two sets of yarns — weft metal yarn and warp cotton or silk yarn. These days, metal-coated polyester is also used as a weft yarn for mass production because of its high tensile strength.
How is gota work done on a fabric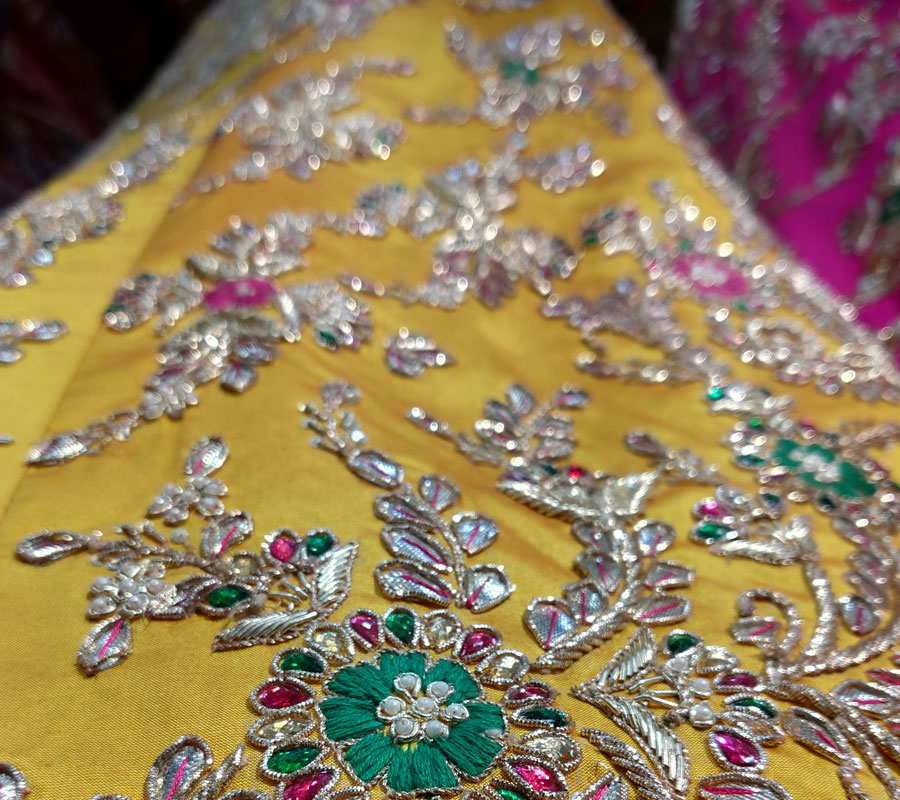 The process of doing gota work on a fabric involves the following steps:
Framing: The lightweight base cloth is stretched and tied tightly on a wooden frame called 'khaat'.

Chhapayi (Printing): The design is drawn on tracing paper and transferred onto the fabric with chalk paste. The gota ribbon or lace is folded and cut into desired shapes according to the design. These pieces are then glued and properly set over the tightened fabric.

Takaayi (Stitching): Takaayi is the process of tucking or stitching the gota pieces on the fabric base by using backstitch or hemming. Specially designed needles are used for this workmanship called lappe ka kaam (applique work).
Types of gota patti
Gota patti is mostly used on lightweight fabrics such as georgette, pastel chiffon, tussar silk, crepe and cotton. The various types of gota patti work are seekhi, phool, bijiya, mothda, bakhandi and lappa. Seekhi gota is a silver and gold ribbon of gota used as lace trim, whereas hool gota is a circular form of gota that is pleated on the base cloth to create a floral shape.
Common motifs in gota patti
Peacocks, sparrows, paisley, flowers, leaves, human figures, palanquins, elephants, horses and geometrical forms are some of the most commonly used motifs in gota patti designs. Within the gota tukdi technique, the gota is made in numerous shapes like a flower pot, mango or flower, and then appliquéd on the material, adorned with embroideries like zari and zardozi.
Colours of gota patti
The base fabrics are generally bright and vibrant hues like magenta, yellow, blue, red, green and orange. These shine against the gota applique work in gold and silver. Traditionally, gold is believed to represent the sun and Goddess Laxmi, while silver denotes the moon and its light.
Taking care of gota patti clothes
Outfits embroidered with gota patti work should be dry cleaned, or hand washed with mild detergent to maintain the applique work's beauty. It is recommended to iron the clothes at a moderate or low temperature to avoid scorching the fabric or melting the gota lace, as the majority of manufacturers use polyester-coated gota which melts or coils at high temperature.
Photo: Shutterstock and Instagram/anitadongre