The festival of Dhanteras marks the beginning of the five-day celebratory event of Diwali. Dhanteras meaning is derived from the Hindi word "Dhan" meaning wealth and 'Teras' meaning thirteen, and so Dhanteras is celebrated on the 13th lunar day of the Hindu month of Kartik. Falling two days before Diwali, Dhanteras has an intriguing story that dates back to the era when Gods reigned the earth.
As legends go, a prediction was made about King Gina's 16-year-old son who would die due to a snake bite on the fourth day after his marriage. So when the time came, his new bride laid out all her ornaments and gold coins at the door of the room blocking the entrance. She lit lamps and sang hymns to prevent her husband from falling asleep. When the god of death took the shape of a snake and came to bite the prince, he was blinded by the glittering gold and waited till morning listening to the songs sung by the new bride. Eventually sparing the life of the young prince and ever since then, Dhanteras is celebrated by welcoming Goddess Laxmi and Lord Yama, the god of death.
When is Dhanteras?
This year Dhanteras date falls on  October 23, 2022.
Significance and meaning of Dhanteras
Dhanteras, also known as Dhanvantari Trayodashi, hold a key significance in Hindu culture. Dhanteras 2022 falls on the Trayodashi Tithi (13th day) of Krishna Paksha as per the Hindu calendar in the auspicious month of Kartik. Celebrated two days before the festival of Diwali, Dhanteras 2022, commemorates the birth of the God of Ayurveda and an incarnation of Lord Vishnu, Lord Dhanvantari. Praying to this avatar of Lord Vishnu and Goddess Laxmi on this day brings prosperity and success to the family.
This festival is celebrated with small footprints in red at the entrance that imitate the footsteps of Goddess Laxmi entering the home. Diyas lit alongside the footsteps dispel negative energy away from the home.
New gold ornaments, brass and silver utensils, and precious items are bought on Dhanteras and worshipped on Diwali. Homes and offices are decorated and prayers are offered to god to come and grace the place. The reason behind buying gold on Dhanteras is deep-rooted in our Indian culture. A metal that is synonymous with purity, good fortune, and financial stability–gold bought on the day of the Dhanteras puja is believed to bring more wealth into the home. Plus gold, as an investment does have a higher resale value, making it a popular choice among many Indian families.
At night a yam as diya is lit for the god of death during the Dhanteras muhurat to signify light over darkness. The beginning of the festival of lights, Dhanteras 2022 is considered one of the most auspicious days in the year to make any new purchase. Money spent on this festive occasion is believed to come back multifold as a blessing from the divine deities of wealth and prosperity.
Rituals during Dhanteras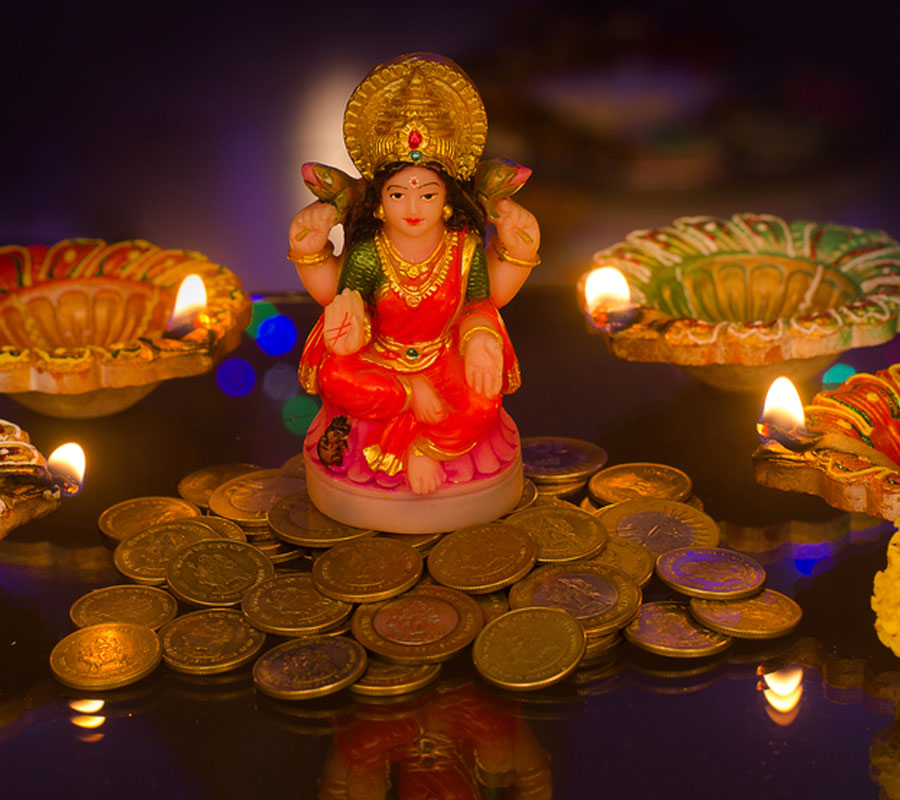 Dhanteras puja is a sacred celebration all over India. The Dhanteras puja muhurat starts from 6:17 pm to 8:11 pm this year. Families come together during this auspicious hour to perform a Laxmi puja. It is believed that praying to Goddess Laxmi during the holy Dhanteras puja time will bless one and all with an abundance of health and wealth.
People eagerly wait with great enthusiasm to celebrate the joyous occasion of Dhanteras and Diwali after. As per rituals, homes are deep-cleaned and decorated with flowers, diyas, candles, and innovative rangolis to welcome Goddess Laxmi. Small feet are made using vermillion and rice flour, believing them to be the feet of the Goddess, who will enter the home bringing good health and wealth.
New ornaments and jewellery items in gold and silver are purchased on Dhanteras. During the auspicious Dhanteras muhurat, Lord Ganesha, Goddess Laxmi, and Lord Kuber are worshipped. Offerings in the form of fruits and flowers are made to the deities while singing hymns to praise them.
Buying precious gold jewellery on the occasion of Dhanteras 2022 is not only considered auspicious, but it is also a great financial investment. If this is your first time purchasing precious ornaments, here is The Ultimate Guide You Will Ever Need For Buying Gold Jewellery This Dhanteras.
Marking the start of Diwali, families get together to celebrate, pray and eat festive special delicacies. Gifts are exchanged in the form of brass items, God idols, sweet boxes, and auspicious decorative silver items. It is believed that gifts given and received during these auspicious days bring positivity, good wishes, and prosperity to the home. As Indians, the culture of offering prayers, decorating homes, and celebrating festivals with family is deeply ingrained in our upbringing. Every family has their own traditions and rituals that are passed down generations and followed each year. What remains constant in each home across the country is the bountiful love and warmth that the festival of Dhanteras and Diwali bring along. A culmination of great food, intimate parties and trendy outfits, Indian festivals are incomplete with a touch of dramatic fashion.
Photo: Shutterstock