In all its colours and manifolds, India is a land where people from all walks of life, from various backgrounds and cultures, come together. It is the land of unity in diversity and cultural festivals have lately emerged as the best possible way to explore the various cultures that are a part of the country. Cultural festivals may mostly pertain to the culture of a particular state, but they instil a sense of unity within the people when they come together to celebrate these events. With its multi-ethnic demography, cultural festivals surely form the soul of the country.
Here are some cultural events from across India you must explore once
1. Hornbill Festival
Hornbill is an annual festival celebrated in Kohima, Nagaland from December 1 to 10. Representing the various ethnic groups of Nagaland, Hornbill is a festival of great prominence. Celebrating the culture of all the Naga tribes, there are a number of competitions, folk dance, musical performances and sports events that take place in the week-long festival. It is the most awaited cultural festival in India every year, and people from all across the world come here to witness the various colours of North East India.
Location: Kisama Heritage Village, Kohima, Nagaland
Dates: December 01 - 10, 2023
Ticket prices: Rs 20 - 30 per day
2. Rann Utsav/Kutch Mahotsav
Welcoming about 8000 tourists every year in the Great Rann of Kutch, for a three-day long festival, the Rann Utsav or the Kutch Mahotsav is a vibrant and exotic festival celebrated annually. Visitors are able to experience the rich culture and tradition of Gujarat through this festival. There are various folk dances, music performances, and artworks at display by the skilled craftsmen of the village cooperatives. The event takes place in winter, and visitors can experience the various colours of the festival in the cool breeze below a beautiful full moon. Various high-profile dignitaries also attend this festival and make it all the way more special.
Location: Village Dhordo, Kutch
Dates: November 01 -  25, 2023
Ticket prices: Rs 50 (for children from age 5-12 years), Rs 100 per person (for ages above 12 years)
3. Sawai Gandharva Bhimsen Mahotsav
The Sawai Gandharva Bhimsen Mahotsav is an annual music festival held in Pune since 1953. If you are someone interested in classical music, you must be aware of the importance that this festival holds. Hosted by Arya Sangeet Prasarak Mandal and initiated by Bhimsen Joshi, this music festival is about commemorating the work and life of Sawai Gandharva. This is a three-day long festival that takes place in winter. For all lovers of classical Indian music, this festival is sure to make you mesmerised.
Location: Pune, Maharashtra
Dates: December 14 - 18, 2023
Ticket price: starting at Rs 500
4. Jaisalmer Desert Festival
The Jaisalmer Desert Festival is a unique festival which is a way to learn about the traditional folk culture of Rajasthan. Taking place amidst the sandy dunes, this festival is held in the Hindu month of Magh, which is in February every year. Various singers, puppeteers, acrobats, dancers and other traditional artists form an important part of the festival, showcasing their talents and skills.
Location: Pokaran Village, Jaisalmer, Rajasthan
Dates: February 13 - 14, 2024
Ticket prices: Packages start at Rs 7500 for two days/1 night
5. Poush Mela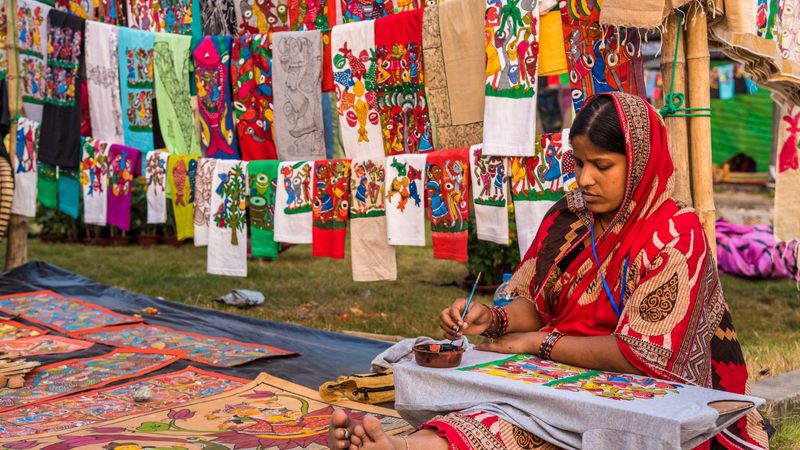 Poush Mela is an annual fair that takes place in Shantiniketan, almost like a colourful rural carnival. It is one of the important events that take place in the Birbhum district of West Bengal, bringing about the essence of the Bengali culture. This mela is perfect for witnessing the coming together of various cultures. There are tribal dancers, local village artists and traditional Baul musicians who are a part of the mela. Attracting many tourists from all over the country, as well as globally, the Shantiniketan Poush Mela was started on a rather small scale by the Tagore family with a few members from the Brahma Samaj.
Location: Shantiniketan Mela Grounds, Birbhum, West Bengal
Dates: December 24 - 26, 2023
Ticket price: Free entry
6. Losar Festival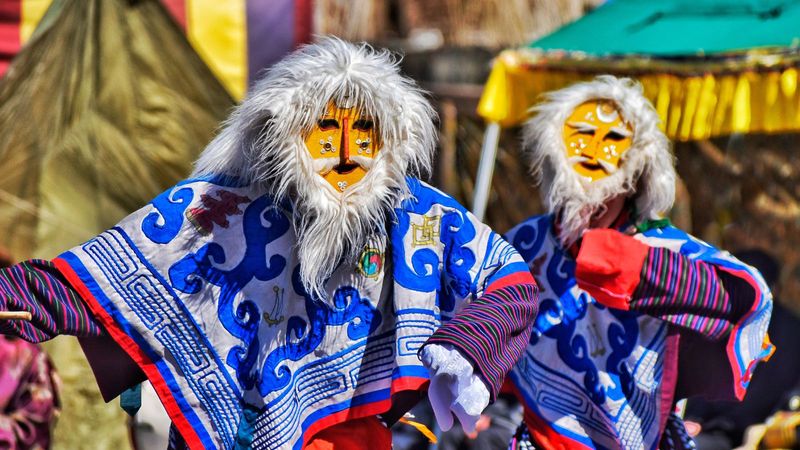 Losar festival is the biggest Indo-Tibetan festival that begins on the first day of the lunisolar Tibetan calendar. It is a 15-day long festival and the main celebrations go on for three days. People wear new clothes, clean their houses and offer freshly cooked food to their God during the Losar festival. the locals together sing, pray, dance and enjoy this time.
Location: Ladakh
Dates: December 10 - 13, 2023
---
Photo: Shutterstock