If you are reeling under cabin fever due to 'stay at home' regulations, glamping may just be the answer for an outdoorsy getaway to get back into the world. Keeping the social distancing travel rules in mind, glamping is the all-new travel trend that promises to bring in a much-needed change of scenery and some crisp fresh air.
For those wondering what can be better than the thrill of camping, the answer is glamorous camping! The joy of setting up a cosy tent amidst the mountains or in the forest and tucking in your comfy bed gets a dreamy and adventurous update without compromising on luxury. Think private bathrooms, open air bathtub, swimming pool, WiFi, a soft bed and finger-licking food—all inside your tent.  
Keeping the current lockdown rules in mind, if you are looking for a long weekend getaway, hear it from glampers why you must embrace this travel trend for a relaxing holiday this year.
Reviving childhood memories
Delhi based businessman Sachin Mittal, who has visited several glamping sites including Himachal Pradesh and Rajasthan says, "The concept of glamping is amazing as it allows a luxurious experience of sleeping beneath the stars or in the lap of nature. At each campsite, you enjoy the access to a natural habitat, and it's this rustic feeling, which makes it better than a hotel, resort or a homestay. It even allows you to recreate your childhood memories of sleeping on the terrace under the stars. What adds to the experience is the musical chirruping of cicadas and other birds early in the morning which is a soothing treat as opposed to the traffic noise for our ears. However, a word of caution must be mentioned: Glamping sites require high level of maintenance due to its natural surroundings that can give easy access to insects and rodents. Those with a weak heart, beware! At some places, one might experience lack of hygiene and water supply as well. And, in winters the tents tend to get too cold."  But that makes a perfect setting for a bonfire and some barbeque to keep you warm, all provided on site.
Nonetheless, having a brilliant experience with glamping so far, Mittal now plans to visit Ladakh or Wayanad next, and recommends Dhora Desert Resort & Spa in Jodhpur, Rajasthan; which offers luxurious tents comprising of a king size bed, air conditioning and room service. Not only are they big enough to accommodate a family of two adults and a kid, but also offer experiences such as, jeep and camel safari, horseback riding, dune boarding, and a visit to the village and the temple. While their dining services include facilities such as, poolside lunch and dune diners; you can even explore spa options ranging from Abhyanga, Swedish to Balinese massage.
So, while you wait for your wildlife safari bookings to come in, head to the nearest glamping site and enjoy a serene experience in the midst of nature.
Best of both worlds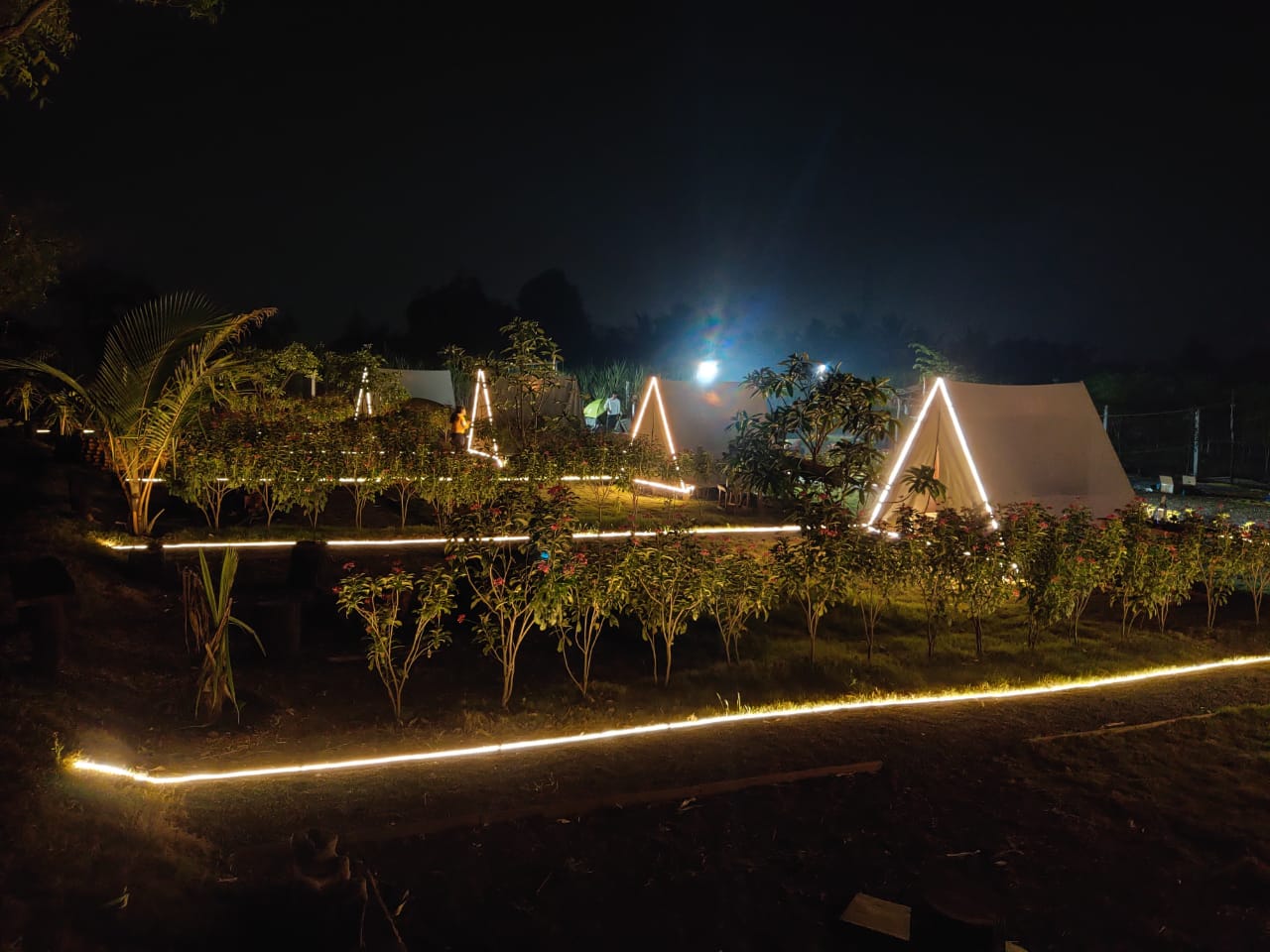 Speaking about the rising demand for glamping, Akshay Kusmade of The Triangle Glamping, located near Pune says, "Glamping was a preferred option for many post lockdown, as most people now prefer visiting peaceful places that are closer to nature over crowded touristy cities. What works for glamping is the ambience that attracts travellers the most and, secondly, it's the best of both worlds. You can enjoy nature and the thrill of staying in the wild accompanied by all the luxuries of a resort. Food provided is also of premium quality and the distance between the tents ensures privacy for co-travellers. Moreover, the vast expanse of space and comfortable bedding allow travellers a relaxing time. The added advantage is the number of services and activities conducted at glamping sites that make it worth the stay." However, speaking about some of the challenges of glamping, he mentions that the limited number of tents is a growing concern to keep up with the demands of the travellers along with turning it into a pet-friendly zone.
Located at an approximate distance of half an hour from Pune, apart from the luxurious tents, the Triangle Glamping site also offers facilities such as music, private bonfire, star gazing lawn, lip-smacking food and also a chulah for personal cooking, river side view, private parking space, and also a mini trek, just two kilometres from the site.
Adventure Activities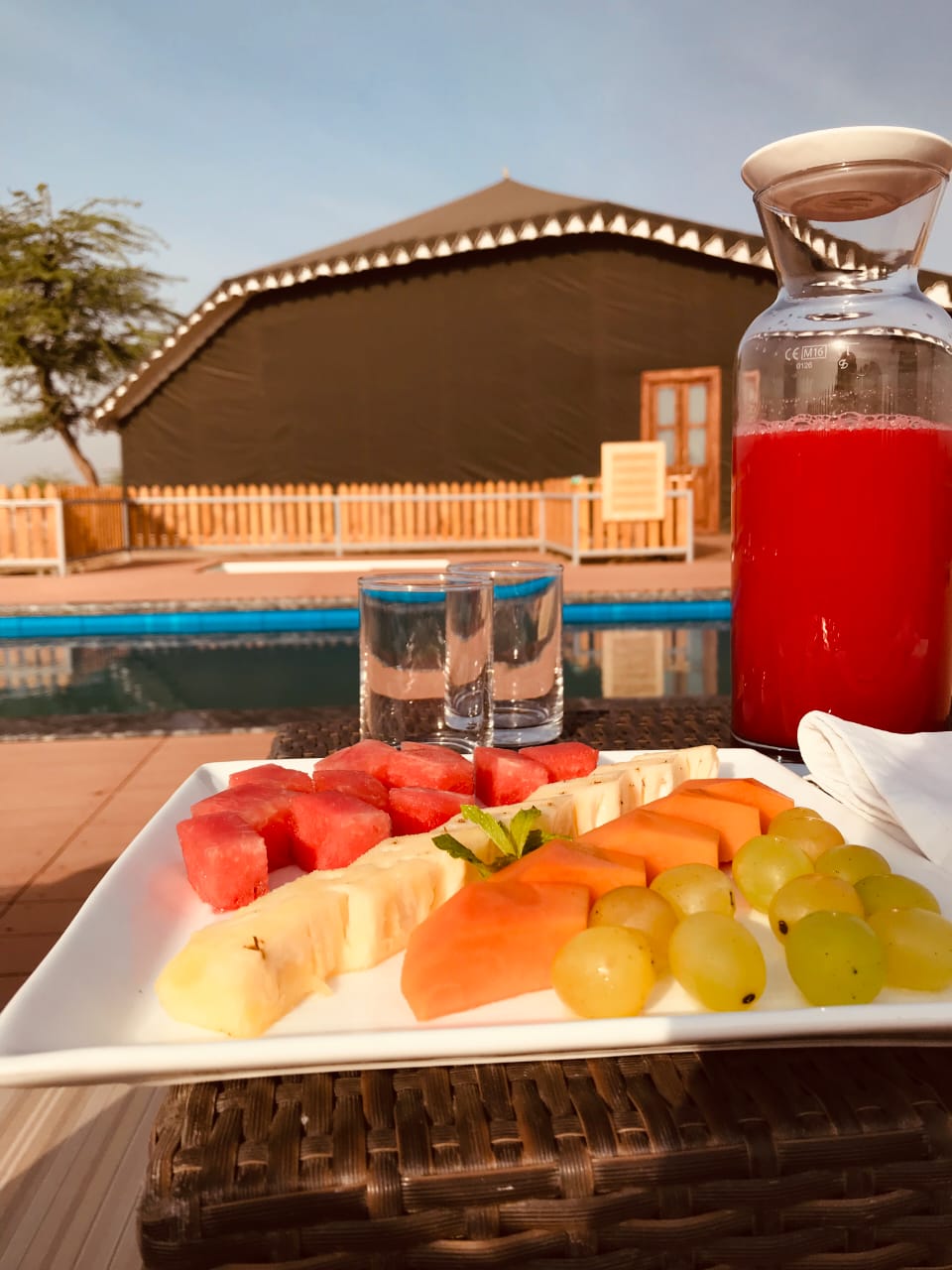 Glamping doesn't require serious trekking gear or even skills like how to set up camp or start a fire. While most glamping sites offer standard tailored activities like nature walks, organic farm or a plantation tour, pottery and hikes, there are several activities for adventure lovers that make the experience worth trying. 
 
Sushmita Srivastava, a freelance journalist, who has lived this experience thrice, says that a rare experience of staying close to nature in the middle of nowhere without any hassle or discomfort, and simultaneously enjoying the luxury is what makes glamping worth a shot.  
Her memorable glamping experiences include a stay at Araku Valley in Andhra Pradesh during the hot air balloon festival – a three-day festival held in January every year, where apart from the hot air balloon ride which allows tourists a breathtaking view of the green valley, a visit to the Tadimada and Katiki waterfalls, and also to tribal villages, coffee plantation, etc; followed by delicious barbeque dinner at the camp site. Srivastava's next favourite experience was at Sambhar Heritage Resort in Rajasthan – located amidst the Sambhar Salt Lake which is home to Perwa Leopard Den and flamingoes– the 18th century circuit house comprises of 20 tents overlooking the lake with luxurious bed and bath facilities--, and at Chandrabhaga Beach in Odisha during Marine Drive Eco Retreat that goes on for 49 days where visitors get a chance to stay in luxurious cottage tents, and enjoy a bunch of cultural activities, sand art, yoga workshops, guided tours and more. 
"I personally love glamping. If done right, you can take back a bag full of memories with you. I suggest you add a few adventurous activities to your itinerary in order to keep the balance," she says, adding that, "However, too much comfort kind of spoils the fun of camping in the wildlife, as you don't get to live the simple joys like pitching your own tent or starting a fire to cook your own meal." Probe her if she will choose glamping over a hotel or a resort? And she replies, "Oh yes, EcoCamp Patagonia in Chile is next on my mind." The place offers visitors a chance to stay in sustainable domes decorated with locally made stuff, and comprising of state of the art washrooms and low emission wooden stove. While here, one can also go for adventure activities such as the famous Paine Circuit Trek, Pantagonia Puma tracking and more.
A perfect experience to reconnect with nature and appreciate sustainable living, several glamping sites offer a varied range of accommodation to suit different budgets. While some offer basic rustic tents, the range evolves from concrete to wooden to tree and glass houses and even spacious container homes that are self-contained units designed in contemporary style meets local aesthetics. What better way to discover India than visiting these local and offbeat gems that lead us into forests and open spaces.
No compromise on comfort
Mohammad Saeed, owner, Toss Glamping, which is located at the hills of Sathram village near Thekkady in Kerala's Idukki district, and offers both glass as well as tower cabins with Wifi and electricity, along with huge lawn, bonfire and barbeque activities, says, "Glamping as a trend has picked up only post Covid as people are willing to explore new ways of travelling in their own country instead of flying international. Moreover, this trend is allowing them to choose more experiential holidays where they can let children explore nature, which is often not possible in metro cities. Glamping offers the adventure of camping along with the comfort of all the basic amenities, so travellers can get close to nature without compromising on hygiene."
What better way to salvage your wanderlust, we ask? But before you book you next glamping vacay, don't forget to check if they are following all health and safety protocols.  
Photo: Shutterstock