Photographing neat streets with yellow and white walls in the morning, beating the relentless summer sun by seeking shelter in cute cafes while eating elegantly plated food, and enjoying the cool breeze by the promenade in the evening, was all part of the first draft of our Pondicherry or Puducherry plan. 
While we did that, I'm glad we found so much more in this beautiful place than we had planned for initially. Though I think the words wholesome and nourishing are used rather loosely these days, it's these adjectives precisely that I would associate with some of the experiences Pondicherry has to offer.
The local experience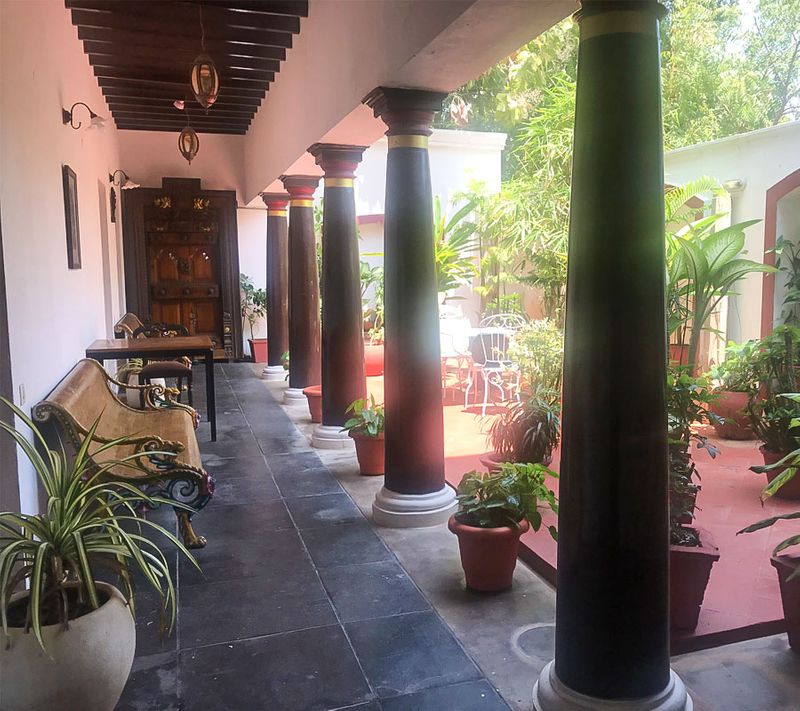 We had chosen to travel in the last week of February without knowing that it was the very week in which Auroville celebrates its birthday. Most hotels in the popular French Quarters (or White Town) and around the promenade seemed full and that's how we chanced upon the beautiful Anantha Heritage tucked away in a tiny lane in what is called the Heritage Town (or the Tamil Quarter). The traditional house—complete with wooden doorways, tall pillars, high ceilings, terracotta tiles, and open courtyards—made the hustle-bustle of the streets disappear immediately. The large rooms featured wooden hangers for coats and tall four-poster beds. The back of the house faced a temple with a large pond and in the evening we were lured out of our rooms with the beautiful sounds of temple bells and the Nadaswaram.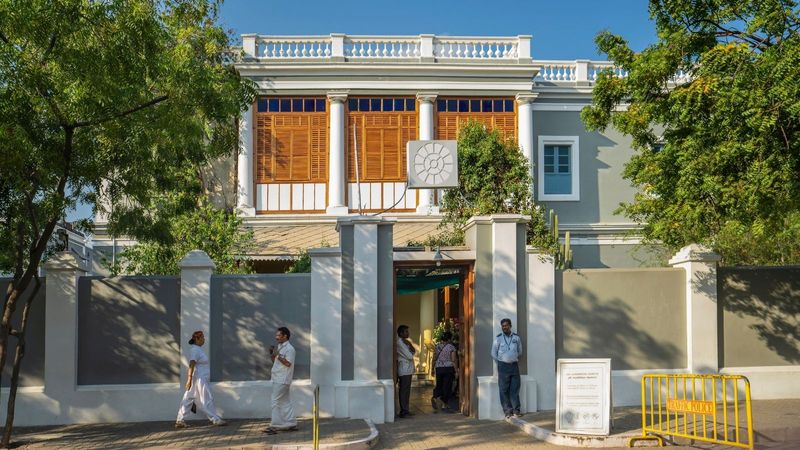 We spent the day visiting the peaceful Aurobindo Ashram (founded in 1926 by Sri Aurobindo and a French-born woman, Mirra Alfassa, fondly called 'the Mother'). The Ashram houses the samadhi of Aurobindo and the Mother in a tranquil, floral garden and a library where one can buy books. We also walked around to see the various design departments of the ashram such as ones for batik work, hand-printing on saris, marble printing, stitching, making of handmade paper, and perfumery to name a few. 
Insider tip: Please make sure you check for the timings of each department and for which day in the week they are shut before you plan to visit. The Auroshikha shop has some lovely gift options—especially the locally-made incense sticks and perfumes, sold below the market price.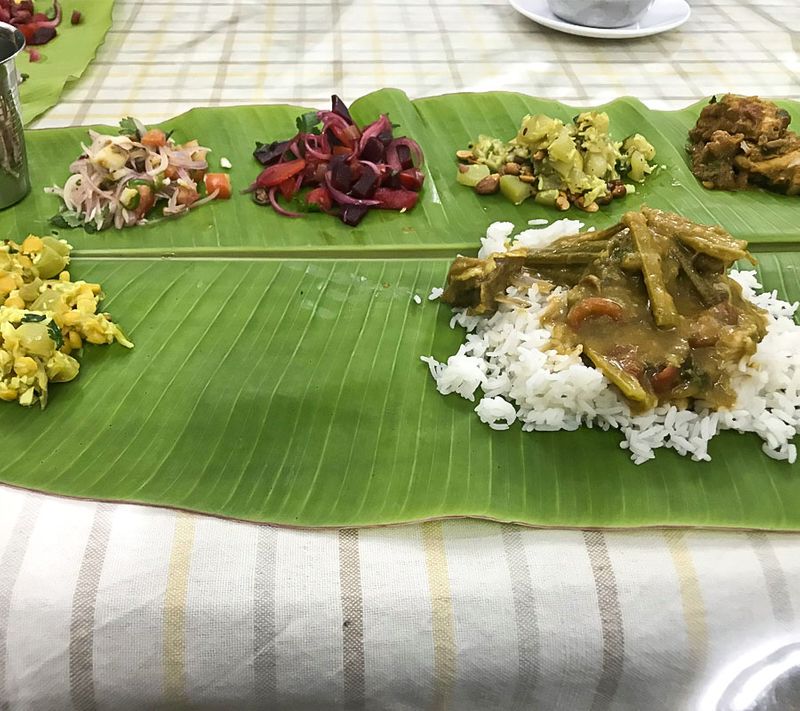 On our first night in Pondicherry, we had pre-booked (we booked a week ahead) ourselves a home-cooked Creole meal at Chez Pushpa where our host Anita De Canaga along with her 70-year-old chef mom, Pushpa, allowed us into their home to sample a traditional meal served on a banana leaf. While the meal was delicious, this meeting turned out to be special for more reasons than just that. Just as the mutton sambar and a terrific fish salad disappeared quickly from our plate (leaf) Anita chatted with us about things that locals do in Pondicherry. Where to buy the best coffee, good cheese, where to eat local, what to do, and most importantly, a handy list of all the Instagram-friendly but overrated touristy places that were okay to skip. We carefully took notes and must admit that in the course of the next few days, we found each recommendation that we took, to be stellar.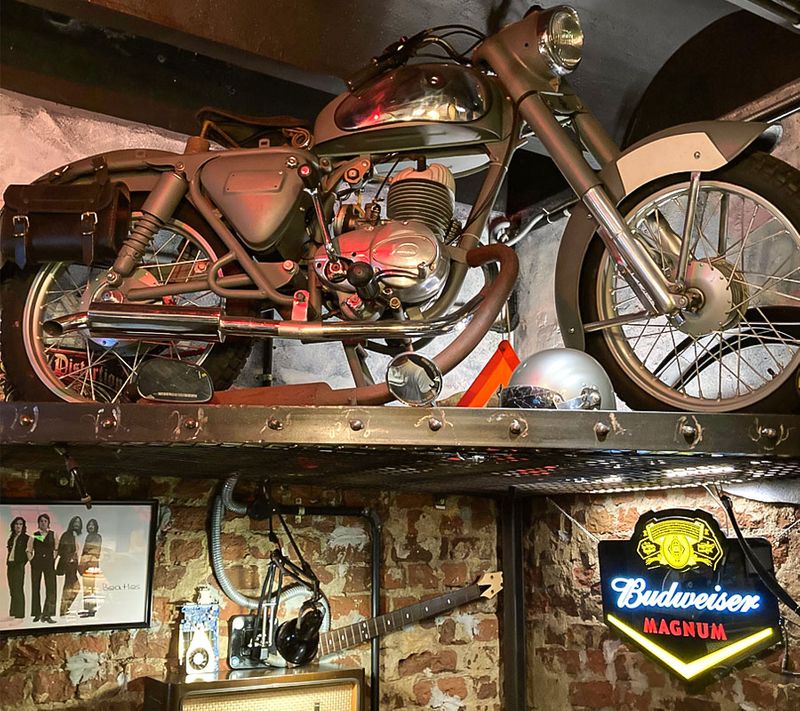 Not wasting any time, that night after the meal at Chez Pushpa's, on Anita's recommendation, we walked into Greasy Tin (at around 10 pm—the place is open till midnight.) in the Heritage Quarter, not too far from our hotel. With interiors that pay homage to the traditions of motorcycles and rock 'n' roll, the pub, owned by a father and son duo, is a place where locals hang out to meet friends and grab a beer. The place is also known for its burgers. We were lucky to stop by on a Saturday night so we could catch a jazz gig with musicians jamming. The crowd seemed familiar with each other—like a community hanging out. The place has a great vibe but is not usually on a tourist's list yet, probably since it's not located in the commercial French Quarter/Promenade area.
Visiting Auroville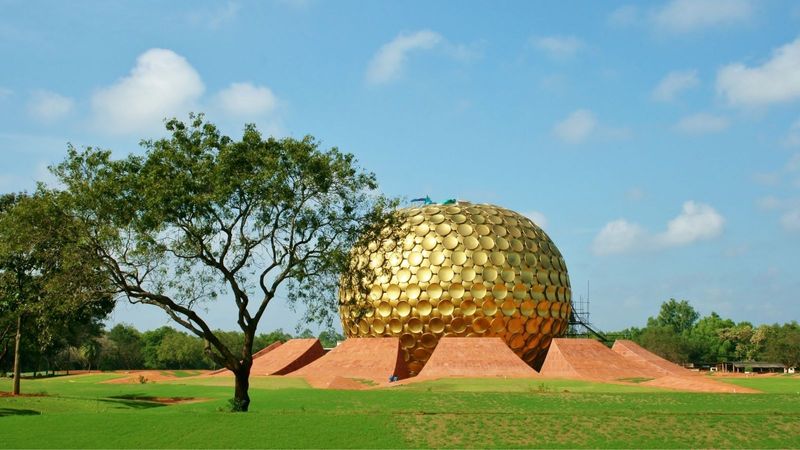 We spent the next morning exploring Auroville, starting at the visitors centre and then enjoying the walk to the architecturally brilliant Matri Mandir (post-Covid visitors are not allowed inside the Matri Mandir but are allowed to see it from a viewing point outside). While Pondicherry is a Union Territory, Auroville mainly falls under the state of Tamil Nadu with some parts remaining in Pondicherry.
Insider tip: To understand and experience the true philosophy and spirit of Auroville, it is important to stay in one of the many guest houses here and to experience the place first hand.
Lagoon sailing in Pondicherry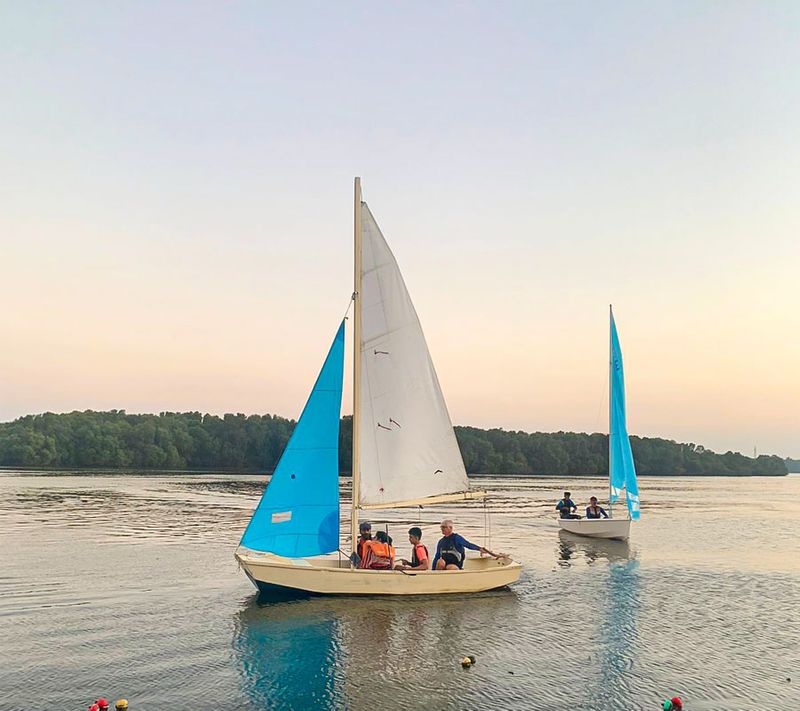 That evening after we returned to Pondicherry, we engaged in another pre-booked experience—sailing in the lagoon organised by the Pondicherry Sailing Association. At 4 pm, we assembled at the Thengathittu Estuary near the Old Harbour. While we sought a leisure sailing experience, the PSA conducts regular courses like a basic introduction to sailing too.
Apart from the fact that the 30-minute sailing was a therapeutic experience, Anjali Schiavina and Aurofilo who run the association are the warmest people you'll meet. Aurofilo, who took us sailing, explained the basics and encouraged us to try our hand at sailing. My 13-year-old nephew who accompanied us promptly became his assistant and is now interested in sailing. On our return post our sail, Anjali welcomed us back with refreshing slices of watermelon. 
Insider tip: Around 5 pm is a great time to go to be able to experience a spectacular sunset.
Exploring the Muslim Quarters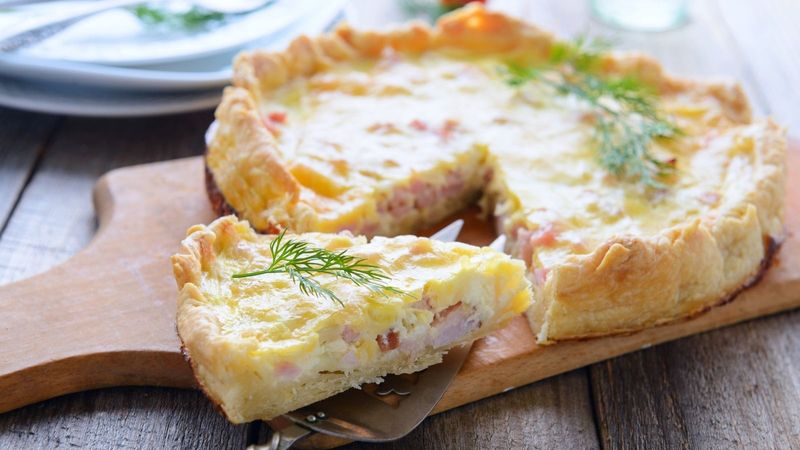 That evening we had dinner at New Banana Cafe, located on the rooftop in the beautiful Muslim quarter of Pondicherry.The quiet lanes of the Muslim quarter are not too far away from the French quarter but are more residential than touristy. There are some beautiful houses in this stretch. The restaurant's decor is basic and the crowd is mainly local. The chef, Senthil, makes home-style home French cuisine. He cooks and waits at the tables himself. He speaks less but his food does all the talking. The generous serving of the mustard roast chicken we had with a side of fries and a large salad, just hit the right spot. The ham and cheese quiche and the chicken pot pie were excellent as was the delicately flavoured lemon crepe. In short, it was the best meal we had in Pondicherry. 
Insider tip: When the chef tells you that you have over-ordered, believe him!
Sound healing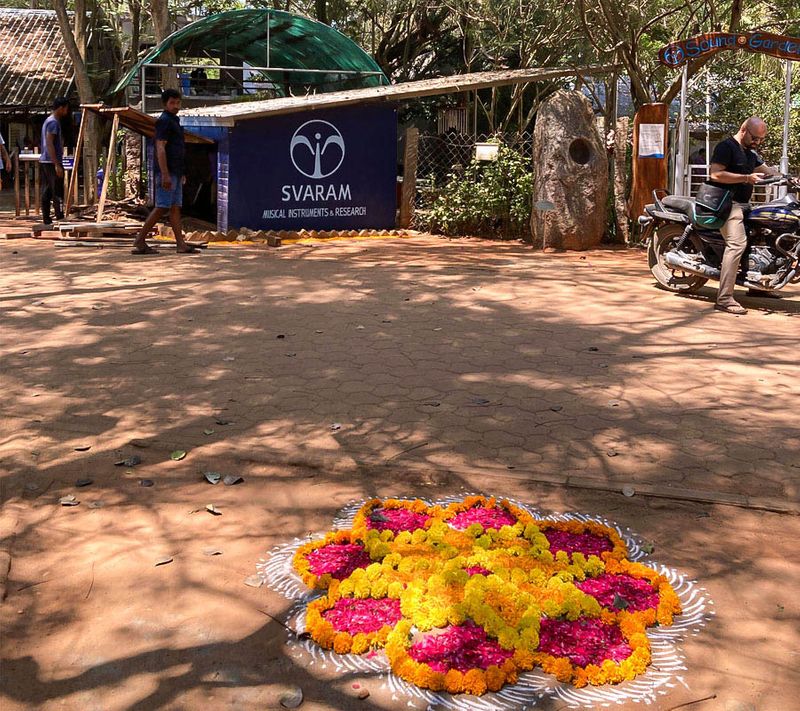 On our last morning in Pondicherry, we were headed back to Auroville, to visit Svaram. Founded by Aurelio C. Hammer—a musician, educator, ethnomusicologist, sound designer, and sound healer—Svaram is a music research centre. They also develop and manufacture innovative musical instruments. My partner who is a sound professional was fully taken by the refined quality of these instruments and the overall value of this experience. Svaram is also home to a sound garden where every interactive installation represents a unique source of sound and musical expression. We had signed up for a 45-minute session of sound healing. The healing room has all kinds of instruments that create different vibrations and sounds. While resting on a wooden bed, under which there are strings, one experiences a deep harmony of selected and coherent sound vibrations. Our facilitator Niva also sang beautifully and it felt like a surreal and exclusive concert. This has been one of the most relaxing therapies my partner and I have ever experienced.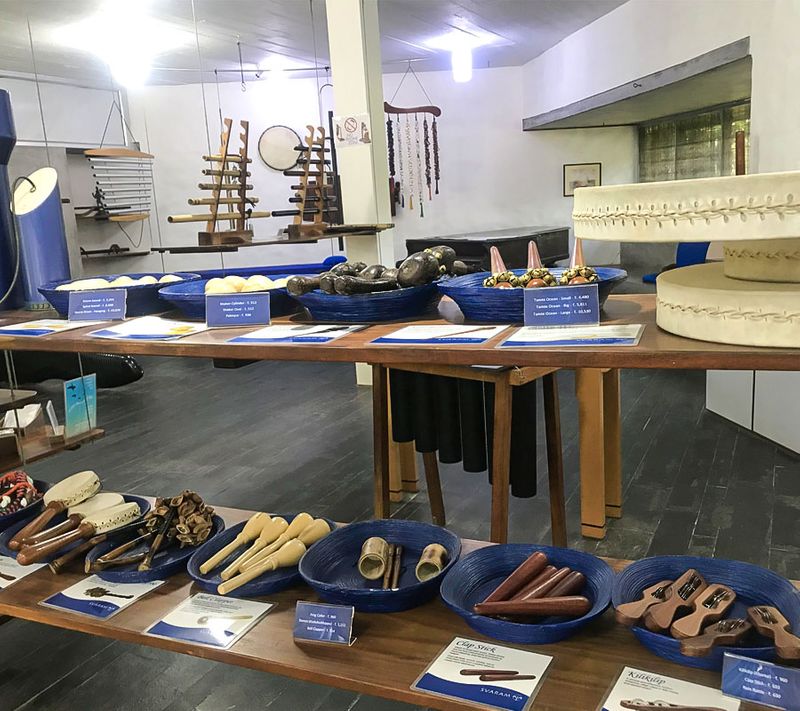 Insider's tip: Try and stay around Auroville after the session so your mind and body continue to experience the silence and calmness of the space for some time even after your session is complete.
Another therapy that is becoming increasingly popular in Auroville is Watsu. Unfortunately, we didn't have enough time to try this water therapy, which is a form of aquatic bodywork used for deep relaxation, at the Quiet Healing Center. In one-on-one sessions, a practitioner or therapist gently cradles, moves, stretches, and massages the receiver in chest-deep warm water. It is also called hydrotherapy and involves acupressure in water. The best way to plan your time in Auroville is to subscribe to their newsletter for updates on workshops, courses, and events.
It's strange that inside Pondicherry we were hardly able to find many places that serve good Tamil cuisine—Maison Perumal and Palais de Mahi are popular for their Kerala fare. On the way back from Pondicherry, we solved this problem.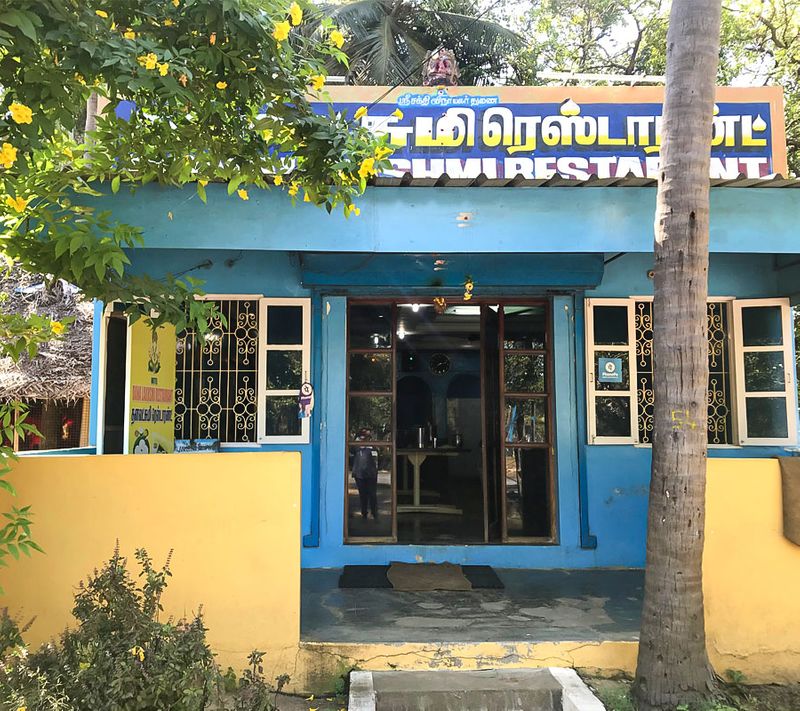 If you are headed to Chennai, please do your taste buds a favour and stop by in the ECR area to have lunch at the 25-year-old Dana Lakshmi Restaurant. (They are only open for breakfast and lunch). The space was basic, clean and neat. The customers were mainly men but it felt perfectly safe and hospitable. They have an excellent selection of seafood (prawns, fish, squid, and crabs) and mutton thalis. They also do a mean Chicken 65. Each curry base is absolutely different from the other. Ask Pravin, the owner for his recommendation of the specials of the day. A meal for six people cost us under Rs 1,500. Pravin invited us to come back for Sunday lunch when the eatery does a biryani special.
Some of our other reccomendations to keep the post-holiday blues away are: Buy Shree Laxmi filter coffee from any general store; parmesan from La Ferme Cheese; apple butter jam from Naturellement; and chocolate granola from Bread and Chocolate.
---
Photo: Shutterstock; Suprita Mitter