Orissa, now known as Odisha, is a state in the east of India with a 480-kilometre-long coastline. Some of India's most exquisite beaches can be found in this state, and they are renowned for their pristine natural beauty, tranquil surroundings, and breathtaking sceneries.  
Here's a list of the 7 best beaches in Odisha 
1. Puri Beach 
One of Odisha's most well-known beaches is Puri Beach, which is situated in the holy town of Puri. The beach is well-known for its pristine seas and golden sands. Beach lovers and spiritual searchers alike consider this one of the top beaches to visit in Odisha. Additionally, one must not miss out on the stunning sunrises and sunsets seen from the beach. And most definitely visit the nearby Jagannath Temple, which only adds to the beach's allure.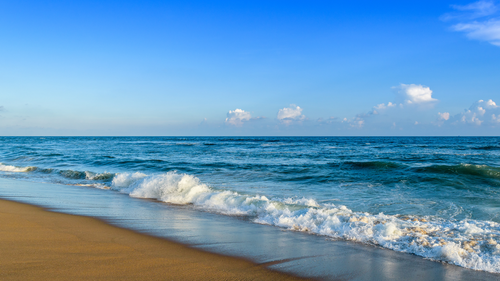 For the uninitiated, the Jagannath Temple, one of the Char Dhams of Hinduism, is the main attraction in Puri, a city in the eastern region of Odisha.  Pilgrims who want to swim in the ocean before going to the temple can visit the Puri beach. As for the tourists that want to unwind and take in the tranquil atmosphere of the holy city frequently, this is among the best beaches in Odisha to come to.
2. Gopalpur Beach
Gopalpur Beach, which is in the southern section of Odisha, is renowned for its unspoiled surroundings, calm, and natural beauty. The beach has a long stretch of white sand, and the coconut trees that line its perimeter give it a tropical feel. Gopalpur Beach is one of the best beaches to visit in Odisha, especially if you like swimming on the beach because of how quaint and secluded it is. Visitors can see the neighbourhood fisherman at work or even fish themselves at the beach. For that reason alone, this is one of the best beaches in Odisha.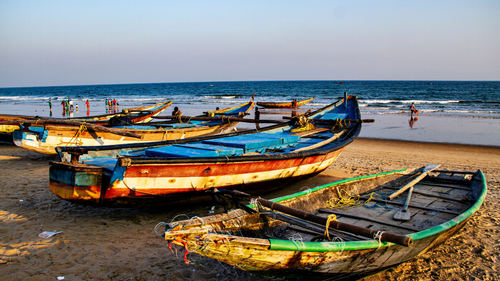 The little town in southern Odisha called Gopalpur is well-known for its port, which previously served as a significant commerce hub. Tourists who wish to get away from the bustle of the city and unwind in a tranquil setting can consider Gopalpur Beach a top beach to visit in Odisha. And it is only 16 kilometres from the main city. A treat for nature lovers, the beach is also renowned for its breathtaking sunrises and sunsets, and its Instagram-worthy views.
3. Chandipur Beach
One of Odisha's most unusual beaches is Chandipur Beach. At low tide, the seawater recedes up to 5 kilometres, revealing the seafloor, and at high tide, it returns. In addition, the beach is well recognised for its monazite and titanium-rich black sand. Surrounded by casuarina trees, this beach is one of the most amazing beaches to visit in Odisha, particularly for those who like day picnics and bird watching.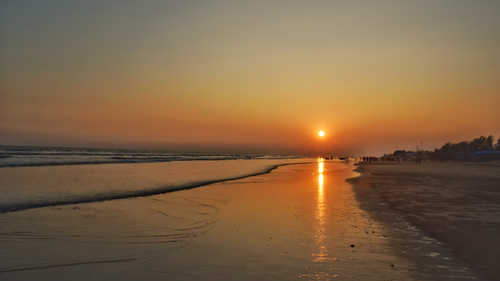 Tourists who wish to see the unusual phenomena of the sea water receding during low tide frequently consider this to be one of the best beaches in Odisha. If you want to see nature at its best, plan that trip now.
4. Balighai Beach, Puri
Balighai Beach, which is close to the city of Puri, is renowned for its pristine surroundings and natural beauty. Among the most famous beaches in Odisha, this beach is known for its long stretch of golden sand and clear blue waters, which make it a perfect spot for swimming and sunbathing. It is also surrounded by lush green forests and offers breathtaking views of the Bay of Bengal. Did you know? Guests can also take camel and horse rides along the shore. Additionally, there are several little shacks on the beach that sell fresh seafood and regional cuisines. This should definitely be on your list of beaches to visit in Odisha.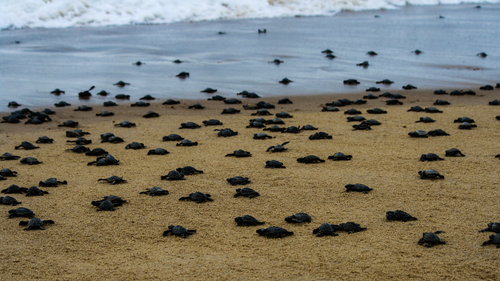 Visitors can also see the Olive Ridley turtles, which are critically endangered, lay their eggs and hatch on this beach during specific months of the year.
5. Ramchandi Beach, Konark
Ramchandi Beach, which is close to the town of Konark, is renowned for its picturesque beauty and serene atmosphere. Apart from the scenic beauty it offers, the beach is also known for its spiritual significance. Ramchandi Beach becomes one of the easiest beaches to visit in Odisha because it is adjacent to the Konark Sun Temple.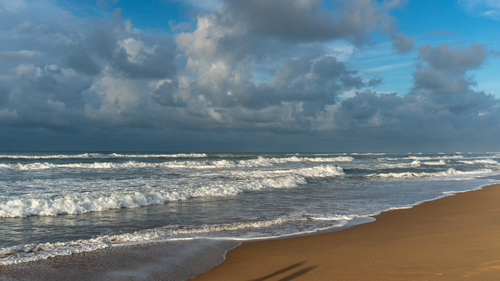 Konark, Odisha is hugely popular for the Konark Sun Temple, which is also a UNESCO World Heritage Site. Ramchandi Beach is a mere 7 kilometres from Konark and visitors can go there and enjoy a variety of activities such as swimming, sunbathing, and boating. The beach is also a popular spot for fishing and picnicking.
6. Astaranga Beach, Puri
Astaranga Beach, another beach close to the city of Puri, is renowned for its untainted scenery and natural beauty. Largely surrounded all around by fishing communities,  the chaotic sea at Astaranga Beach makes it a great place for boating and fishing.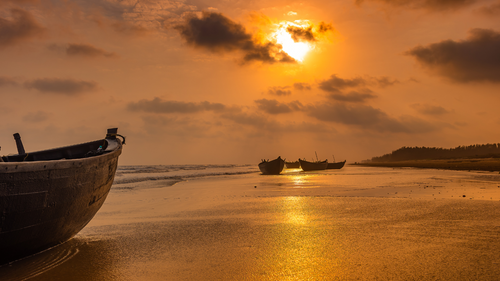 One of the best beaches in Odisha for travellers looking to escape the Puri Beach frenzy and enjoy the Odishan countryside, bookmark this one for your next travel to the state. The beach is a well-liked location for bird watching, and during specific months of the year, tourists can see a variety of migratory bird species there.
Some FAQs about beaches in Odisha
Q.1 Which is the cleanest beach in Odisha?
Odisha's Puri Beach is frequently cited as the state's cleanest beach. The local government has implemented a number of initiatives to maintain the beach's cleanliness and discourage littering. The municipal government also frequently cleans the beach, making it one of the cleanest beaches to visit in Odisha.
Q.2 Which is the most popular beach in Odisha?
Puri Beach, Gopalpur Beach, and Chandrabhaga Beach are three of Odisha's most well-known beaches.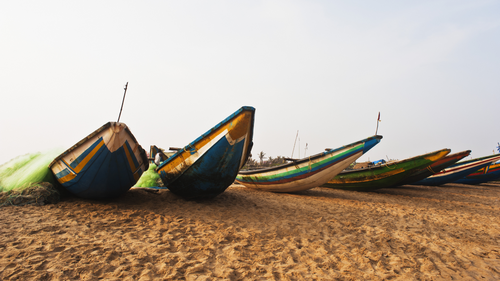 Q.3 Reaching Odisha and travelling within the state?
The state of Odisha is situated in the east of India and is easily accessible by road, rail, or air. Here are several options for getting to and moving around Odisha:
By Air
The main airport in Odisha is the Biju Patnaik International Airport in Bhubaneswar, which is well-connected to Delhi, Mumbai, Kolkata, Chennai, and Bangalore. In addition to this, domestic airports may be found in cities such as Rourkela, Jeypore, and Jharsuguda.
By Rail
Cities like Bhubaneswar, Cuttack, Puri, and Sambalpur all have significant railway stations, and Odisha has a well-developed rail network overall. Numerous long-distance trains connect the state with important Indian cities, and various local and passenger trains connect smaller towns and cities within Odisha.
By Road
Through a network of state and national highways, Odisha is well-connected to other states like West Bengal, Jharkhand, and Andhra Pradesh. There are numerous public and private buses that ply between the various cities in Odisha and the neighbouring states.
Travelling within Odisha
After arriving in the state, there are many options for getting around:
Buses
The Odisha State Road Transport Corporation (OSRTC) runs a number of buses that connect the state's many cities and towns. Numerous private bus companies also offer services to well-known locations inside the state.
Taxis
In Odisha's major cities and towns, taxis and cabs are easily accessible. For both short and long routes, they are available for hire.
In Odisha's smaller towns and cities, auto-rickshaws are a common form of transportation, too. They are often utilised within municipal limits for short trips.
Trains
In addition to the state's main railway stations, Odisha also has a number of minor stations that connect the state's smaller towns and cities.
Car rentals
Major cities like Bhubaneswar and Puri provide a variety of car rental services. To travel within Odisha, cars can be rented on a daily or weekly basis. Rent a car and take some amazing road trips from Bhubaneshwar
And as an additional gift for all the beach babies, here is a list of some of the best blue flag beaches in India!
---
Photo: Shutterstock