Most people are under the impression that Maldives, a nation of 1,192 islands in the Indian Ocean, is mainly for couple getaways, and tourists flood the destination for its Instagram-worthy azure waters, majestic coral reefs, glistening white sand beaches, and luxury resorts. While that's partially true, we'd like to make an important correction — this archipelagic state is just as perfect for every kind of trip (think friends, family, and even solo), as it is for couples. Plus, for Indians, it's easily accessible, offers free visa, and is home to accommodation options across budgets (don't let anyone tell you otherwise).  
From our recent trip to Maldives, Zee Zest picks the top unique and fun activities to experience while at this mesmerising destination. Think aqua exploration, conservation activities, island hopping tours, picnic at a sandbank, and thrilling water sports.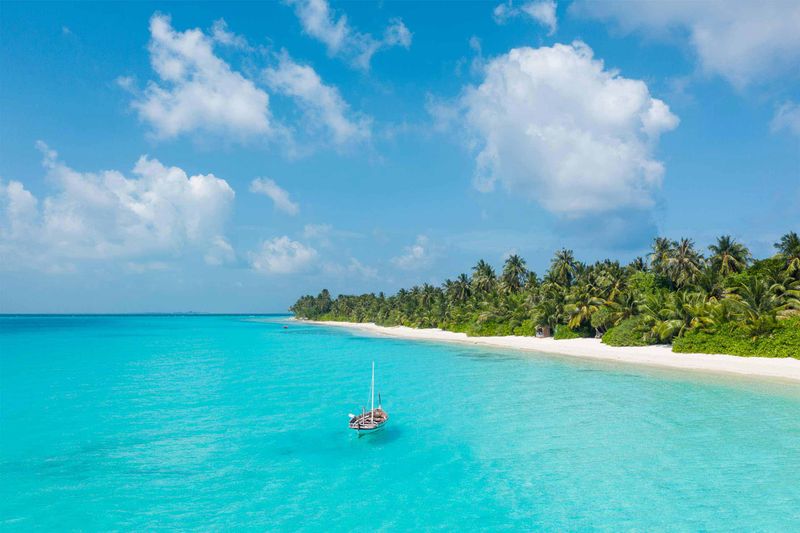 1. Local island tours 
If not the Maldives, then where will you find hundreds of small and big islands waiting to be explored? Here's a fun fact — of the 1,192 islands that make up the nation of Maldives, only about 200 are inhabited. Out of the remaining, a few are private islands allotted to resorts and industrial and agricultural purposes. The destination may not have many cultural experiences to boast of, but if you wish to get a real taste of its people and everyday life, you can opt for a local island tour.  
Away from the lavish villas and luxurious amenities, the local islands introduce you to the simple village-style life of local Maldivians. You also see natural resources at their best and get a peek into the traditional sources of their livelihood including wooden boat making (dhow boat) and fishing.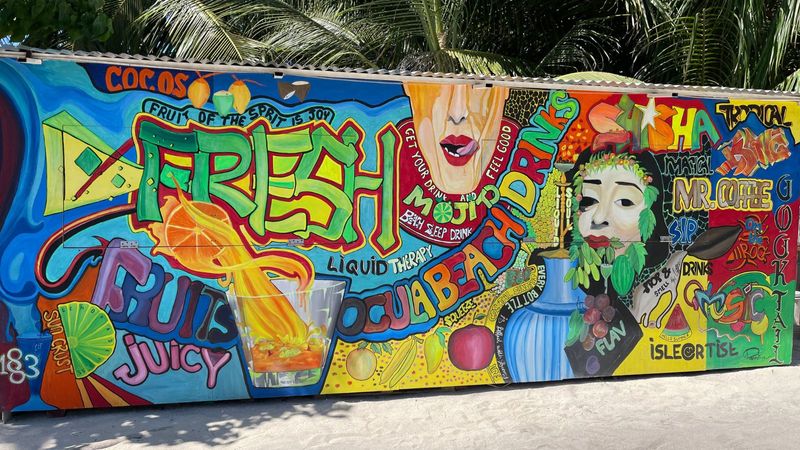 This writer visited the Ukulhas, located in the North Ari Atoll, for a couple of days. It involved experiencing guesthouse tourism, strolling through the island's tranquil streets, tasting local and European cuisines at beachside cafés, a peek into the cultural and economic aspects of the place courtesy the friendly village council members, expansion plans, and chasing the sunrise and sunset at the beach. Ukulhas also surprised me with a host of graffiti and street art at several nooks and corners across the island. 
Look for whale sharks, dolphins, and manta rays 
Treat the thrill seeker in you by getting out on and under the water to spot whale sharks, manta rays, dolphins, colourful corals, and get a unique perspective of the Indian Ocean – with instructors, of course. All you have to do is research and pick the correct time and local island/resort for your trip.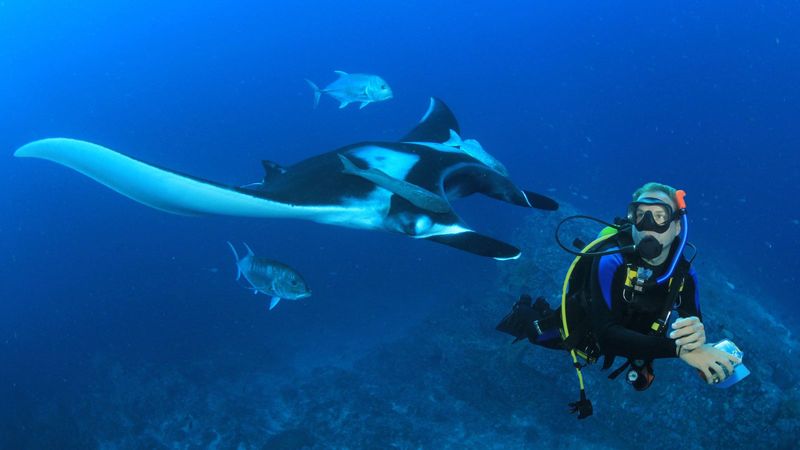 The South Ari Atoll is ideal for spotting whale sharks throughout the year, while the North Male Atoll offers divers more than enough opportunities to admire manta rays between May and November every year. Non-swimmers and beginners can get a chance to swim with whale sharks and manta rays at the Hanifaru Bay, a UNESCO world biosphere reserve, in Baa Atoll during May and November. You could also head to the Rasfari North, a shallow reef, between December and April for the best sightings.  
Most resorts and local islands, such as Ukulhas, offer whale shark, dolphin and manta ray spotting excursions. The dolphin spotting trip is best taken during sunset hours, and the experience involves free-flowing champagne and jaw-dropping skyscapes. 
Picnic at a private sandbank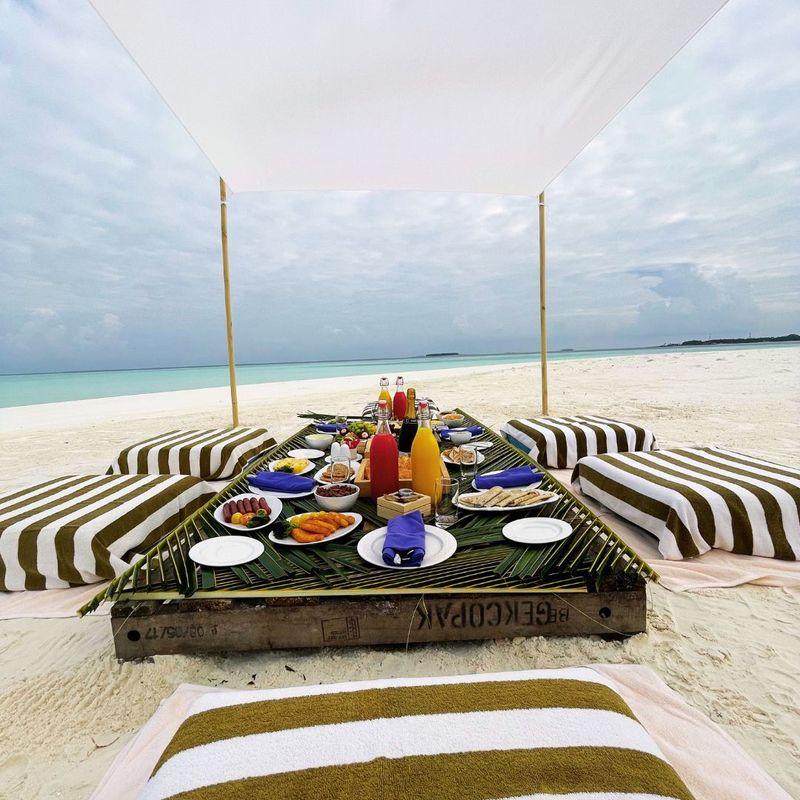 Imagine this: an intimate breakfast or barbeque dinner under the beautiful Maldivian sky, on a private sandbank in the middle of the Indian Ocean. Just you and your loved ones, the sound of the waves as your background score, ample good quality delicacies and beverages, some games, and probably live music or DJ playing your favourite track. Oh, and the knowledge that you'll surely be rescued (taken to the resort/hotel) soon, most importantly. Sounds like the ultimate getaway, right? You can live this dream-like experience in the Maldives.  
Most resorts in the archipelagic nation, like Sun Siyam Resorts and Outrigger Maldives Maafushivaru Resort, offer these experiences on a pre-booking basis.
Bioluminescent plankton sightings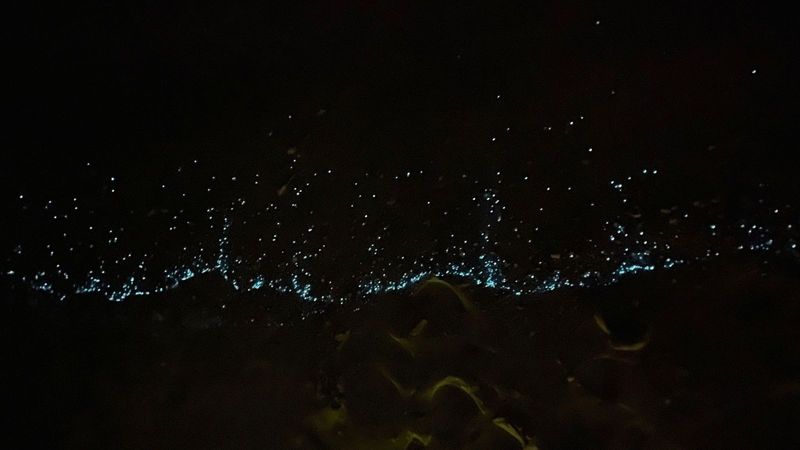 Just like in dolphin and whale shark spotting tours, good timing is essential when it comes to witnessing bioluminescent planktons in all their glory on a Maldivian beach.  
Have you come across the video of a glowing beach on Instagram or YouTube? Hundreds of fascinating neon blue creatures glowing at the shore during nighttime being referred to as glowing stars of the sea? Those glowing creatures are nothing but bioluminescent planktons getting triggered by the movement of the waves — or what we'd like to describe as nature's very own light and sound show, with a backdrop of dark skies and a background score of waves.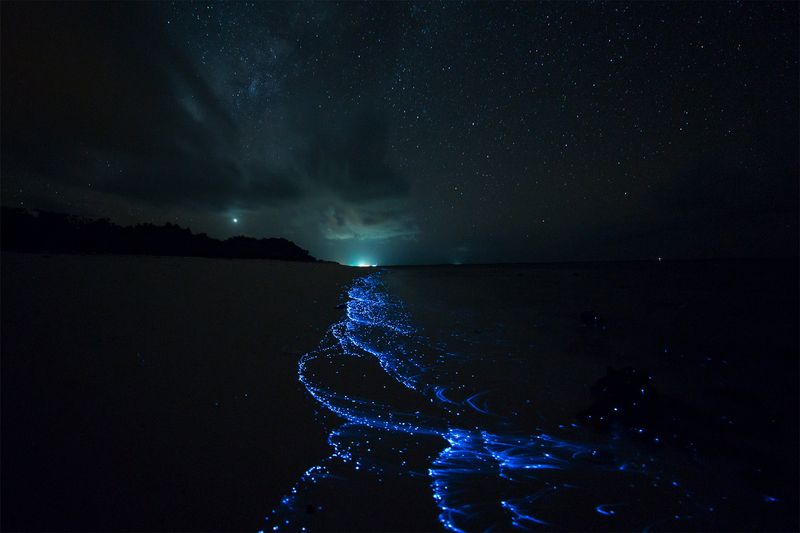 I witnessed bioluminescence for the first time at the Outrigger Maldives Maafushivaru Resort's beach. Locally, according to the official website of Visit Maldives, this phenomenon is called 'redhan lun' and legends suggest it is a sign of the sea's power and majesty.  
In addition to these amazing activities, Maldives also offers thrilling experiences such as kitesurfing, fishing expedition, farm tours, skydiving, water sports, riding a clear-bottomed canoe, movie night by the beach, and indulgent wellness activities. To know more about things to do in Maldives, check this out. 
---
Photo: Visit Maldives, Shutterstock and Shraddha Varma