When we think of beaches in India, two places stand out: Goa and Kerala. However, there are so many coastal areas in India with unexplored beaches that are pristine, clean and low in population because not too many people know about them. If you are looking for options on the East coast, the beaches of the Bay of Bengal are unparalleled with crystal clear waters and scenic sunset views. 
Here's a list of 5 beaches to visit while on your next holiday in West Bengal
Digha Beach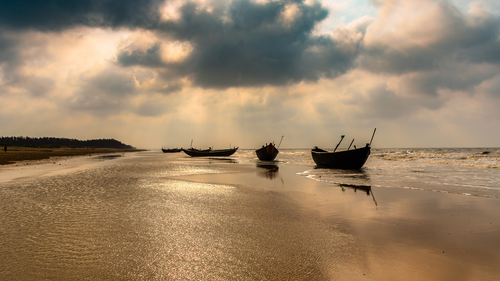 Digha is West Bengal's most popular beach and tourist spot. It is 187 km from Kolkata and described as the 'Brighton of the East'. Digha is a shallow sand beach with gentle waves that extend to 7 km in length. The scenic beauty of this place is absolutely charming and luring. The beach is girdled with casuarinas plantations along the coast enhancing the beauty of this place. These trees apart from beautifying the sands also aid in reducing the erosion on the dunes. You can view both sunrise and sunset at Digha sea beach. Digha was discovered in the late 18th century by British officials. The sea at Digha is calm and shallow for about a mile from the beach making it quite safe for swimming.
Mandarmani Beach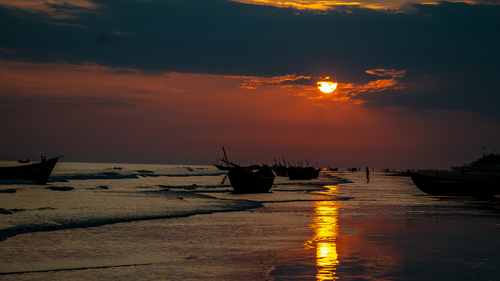 Mandarmani Beach is located near Shankarpur town and is counted as among the prime travel destinations and sea beaches in West Bengal and India. It is almost 180 km from Kolkata Airport on the Kolkata - Digha route. This beach is famous for various entertainment options, from fishing, to beach volleyball and boat cruises. This beach is known to be one of the longest beaches in the entire country. It is steadily becoming a second Digha for West Bengal with the only difference being that the sea beach at Mandarmani is natural and not man-made with foaming breaking waves and golden sands all around. The dwindling boats on the horizon against the background of the blue sea and red crabs running to the beach, make Mandarmani a must-visit.
Tajpur Beach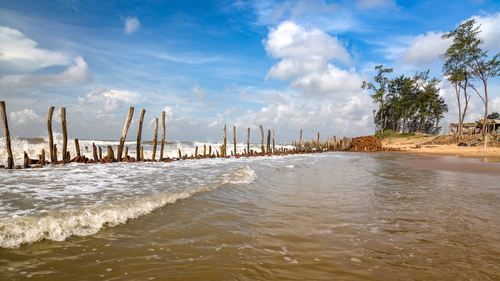 Tajpur Beach stands between Shankarpur and Mandarmani and falls mostly in the area of Purba Medinipur. As compared to other beach destinations in West Bengal, Tajpur is relatively less inhabited. Red crabs are one of the major attractions in Tajpur Beach. The red crabs scattered on the beach give you a visual appearance of a red carpet. Apart from spending time at the beach, you can take a stroll to the nearby fishermen's villages. Tajpur Beach is popularly called 'Serene Beach', and 'Red Crab Beach' and apart from the monsoon, this place is open to all tourists around the year, making it a perfect getaway spot for family and friends.
Bankiput Beach
Bankiput is a great beach for a single-day outing with friends and families. Visitors mainly occupy the place from November to February, which is also referred to as the 'picnic season' in West Bengal. The long beach, scenic sunset views and unobstructed nature make this the right choice to spend a chill day at. It is relatively less crowded and not as commercialised as its counterparts in Puri and Konark and you won't find many people taking a bath or swimming on this beach which makes it quite offbeat. This unexplored beach is bordered by a dense forest of Casuarina trees, and thousands of red crabs peeping through their burrows in the sand with not a soul in sight. No speeding cars, two-wheelers, horses, or camels on the beach and no picnicking crowds that spoil the serenity of a beach.
Bakkhali Beach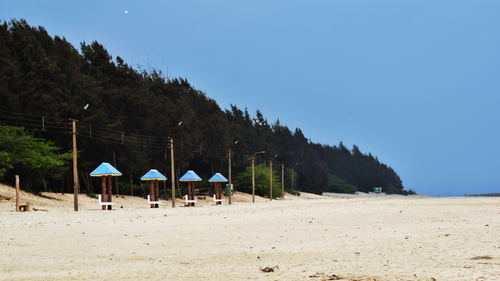 Located around 140 km from Kolkata, Bakkhali is a small beach town on the West Bengal coast. If you wish to have the perfect beach getaway that doesn't include ear-ripping music or just alcohol-laden evenings, Bakkhali is the place to be. Henry's Island is a serene island near the village of Bakkhali in the Indian state of West Bengal. The place is famous for its tranquillity, its virgin beach and the crabs that thrive on it attracting not just the locals, but also tourists from all over the world. You will surely be mesmerised by the fresh air, the unexploited beach and the panoramic view.
---
Photo: Shutterstock