Welcome to the thrilling world of bungee jumping, where thrill-seekers and adventurers find themselves suspended in mid-air, defying gravity and invigorating like never before. This article takes you on a visual tour of eleven exhilarating locations in India where you may experience adventurous bungee jumping. These places, which range from towering cliffs to spectacular bridges, are meticulously chosen to offer the ideal fusion of breathtaking views and adrenaline-fueled exhilaration. Join us as we identify the top ten bungee jumping locations in India, whether you're a seasoned jumper or a novice looking for an unforgettable experience. 
Prepare to take the risk and let your inner daredevil out in these breathtaking places that guarantee an unrivalled adrenaline rush.
1. Rishikesh, Uttarakhand
Rishikesh is known for its spiritual significance and exhilarating adventure sports. It is situated in the magnificent Himalayan foothills. To experience the tallest fixed-platform bungee jump in India, go to the famous Jumpin Heights.
How to get there: Major cities in Uttarakhand and Delhi may be reached by road from Rishikesh. Jolly Grant Airport in Dehradun is the closest airport
Best time to visit: Best months to go are September through June
2. Lonavala, Maharashtra
Located in the Sahyadri mountain range, Lonavala, Maharashtra, provides a picturesque bungee jumping experience amidst lush vegetation. The first permanent bungee jumping platform in India is located in Della Adventure Park, where you may experience the rush. 
How to reach: Lonavala is easily accessible by both road and rail. Pune International Airport is the closest airport. 
Best time to visit: October through March is the ideal time to travel.
3. Goa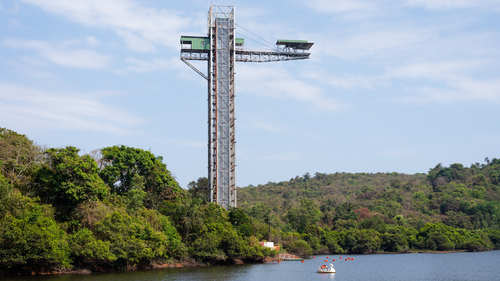 In addition to having exciting beaches and a hopping nightlife, Goa is where you can go bungee jumping. The jump, which is at Mayem Lake, provides sweeping views of the surrounding landscape. 
How to reach: Goa is easily accessible by road and rail and has an international airport, Dabolim Airport
Best time to visit: Best months to go are November through March
4. Bengaluru, Karnataka
Get your adrenaline dose at Ozone Adventures, which is close to Bangalore, in the state of Karnataka. Experience the rush of jumping from a 25-meter tower while surrounded by stunning natural scenery. 
How to reach: Bangalore is easily accessible by air, rail, and road. The closest airport is Kempegowda International Airport
Best time to visit: The best months to go are October through February
5. Jagdalpur, Chattisgarh
In Jagdalpur, Chhattisgarh, where the Chitrakoot Falls provide a stunning backdrop for bungee jumping, venture off the main road. Plunge into the Indravati River's raging waves from a height of 30 metres. 
How to reach: Major Chhattisgarh cities may be reached by road from Jagdalpur. In Raipur, there is an airport
Best time to visit: October through March is the ideal time to travel
6. Ladakh
One of the highest bungee jumping spots in the world, Ladakh bungee jumping is for the bravehearts. At an altitude of 10,500 feet, you jump right into the Zanskar River valley. 
How to reach: Leh Airport is the closest airport
Best time to visit: Best months to go are April to September
7. Delhi
Experience the rush of bungee jumping in the centre of Delhi/National Capital Region, India. The Adventure Island in Rohini, Delhi, is where you should go if you want to test your limits against a 30-meter tower. 
How to reach: Delhi is easily accessible by air, rail, and road. The primary airport is Indira Gandhi International Airport
Best time to visit:  October through March is the ideal time to travel
8. Hyderabad, Telangana 
At Runway 9 Adventure Park in Hyderabad, Telangana, you may enjoy the exhilaration of bungee jumping in the 'City of Pearls'.The bungee platform at this well-known adventure park allows you to let your adventurous side run wild.
How to reach: Hyderabad is easily accessible by air, rail, and road. The closest airport is Rajiv Gandhi International Airport
Best time to visit:  November through February are the best months to visit
Many exhilarating bungee jumping opportunities are available in India, catering to adventure seekers from all around the nation. Every place offers its own distinct combination of adrenaline and natural beauty, from the towering heights of Rishikesh to the lush meadows of Lonavala. Before starting your bungee jumping journey, don't forget to review the safety guidelines and standards. These ten spectacular sites guarantee a memorable burst of excitement, regardless of whether you're an experienced jumper or a beginner. So muster up the confidence to jump and experience the thrill of bungee jumping in India.
Safety precautions 
Prioritising safety and taking the required precautions is essential before partaking in the exhilarating activity of bungee jumping to ensure a safe and happy experience. Here are some important safety measures to remember:
Select a reliable operator: Go with a bungee jumping company that is reputable, maintains stringent safety guidelines, and has qualified instructors. To verify dependability, read customer reviews and look for certificates.
Your health should be checked: It can be physically taxing to bungee jump. Make sure your health is fine and let the operator know if you have any injuries or medical concerns. Consult a doctor if you have any concerns.
Observe age and weight constraints: Comply with the bungee jumping operator's established age and weight requirements. While age constraints guarantee eligibility for the activity, exceeding weight requirements can threaten safety.
Put on appropriate clothing: Dress comfortably and move freely by donning clothing that is snug-fitting. Avoid wearing jewellery or loose accessories that could tangle when you are jumping. Securely tie back long hair.
Pay attention to directions: Pay close attention to the instructor-provided safety briefing. Recognise and carefully adhere to their directions regarding body positioning, jumping technique, and landing techniques.
Maintenance of equipment: Make sure all of the bungee jumping equipment, including the harnesses, cords, and hooks, are in perfect condition before you jump. Ensure that your equipment is well-maintained and frequently inspected.
Hydrate: Maintaining proper hydration while eating less is important before the jump. It is advised to eat a small snack or light supper to maintain energy levels.
Bungee jumping may be a frightening and stressful experience. Remain composed, pay attention to your breathing, and have faith in the instructors' knowledge. To get the most fun out of the journey, have an optimistic outlook. Keep in mind that bungee jumping carries inherent hazards, therefore it's critical to adhere to all the safety recommendations and measures given by the experts. These safety measures can help you have a thrilling and safe bungee jumping experience that will leave you with priceless memories.
---
Photo: Shutterstock