Surat, which is located in the dynamic state of Gujarat, is a city with a tremendous amount of diversity and magical experiences. Surat, known as the 'Diamond City of India', has developed into a flourishing metropolis that embraces both modernity and its rich heritage. Surat has developed into a popular destination for tourists looking for a one-of-a-kind and unforgettable experience because of its intriguing cultural heritage, excellent culinary scene, and recent infrastructure improvements.
The international renown of Surat has given it a prominent position on the map. The city was once a prominent trading centre that drew traders and explorers from far-off places during the Mughal era. Surat's prosperous textile industry and strategic location on the banks of the Tapti River both facilitated trade and cultural interchange.
Surat's infrastructure has seen amazing changes recently, transforming it into a contemporary metropolitan hub. With well-connected roadways, a productive public transport system, and a developing airport that accommodates both local and international flights, the city's transport network has experienced substantial improvements. These developments have not only made it simple to reach Surat, but they have also made travel easier.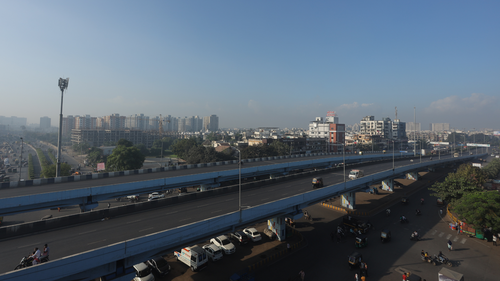 Surat has experienced a striking change in its urban landscape in addition to its increased connections. The city today has contemporary skyscrapers, business hubs, and shopping centres that offer a global feel while upholding its cultural heritage. In addition to improving Surat's standing as a commercial and industrial centre, recent infrastructure improvements have also given visitors a variety of comforts and amenities, enhancing their comfort and enjoyment throughout their stay.
Surat has managed to keep its own charm and cultural history despite receiving a modern makeover. Historical landmarks, antiquated temples, and architectural marvels are among some of the famous places in Surat, serving as relics of its illustrious history. Surat is full of architectural wonders that captivate and inspire visitors, from beautiful Mughal tombs to delicately carved Jain temples, these wonders are definitely places to visit in Surat!
Speaking of Surat would be incomplete without discussing its culinary delicacies. The area is renowned for its gastronomic prowess, serving up a mouthwatering selection of Gujarati and Jain cuisines! Particularly well-known is Surat's street food culture for the Gujarati snacks, where delicious treats like Undhiyu, Locho, and Surti Ghari leave diners hankering for more. Without enjoying the culinary treats of the city, which represent the rich cultural diversity and the friendliness of its residents, a trip to Surat would be incomplete.
The recent infrastructural improvements and advancements in Surat have improved the quality of life for its citizens while also establishing the city as a desirable travel destination. The city is the perfect location to discover, experience, and enjoy the fusion of tradition and progress due to its ability to perfectly integrate its historical legacy with modern advancements.
We've compiled a list of the five places you must visit in Surat:
1. Dutch Garden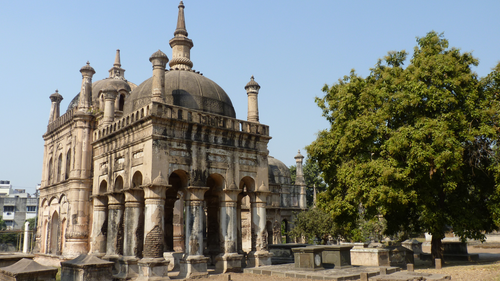 The Dutch Garden, one of the famous places in Gujarat, is a tranquil and lovely park that honours the city's historic association with the Dutch East India Company and is situated in Surat's Chowk Bazaar district. This beautifully kept garden is the perfect setting for a leisurely stroll or a picnic with family and friends because it has lush green lawns, lovely flower beds, and peaceful ponds. The garden also has historical significance due to the presence of old tombs and cenotaphs, making it one of the top places to visit in Surat for those who like history.
Best time to visit: When the weather is nice in the winter, from November to February, is ideal
Timings: 6 am – 12 pm, 3 pm – 10 pm
Entry fee: The Dutch Garden is open to everyone because there is no admission charge
What makes it special: The Dutch Garden serves as a reminder of Surat's long-standing ties to the Dutch East India Company. It is a special attraction that is liked by both locals and visitors due to its tranquil surroundings and historical significance
2. ISKCON Temple
Undoubtedly, one of the most famous places in Surat, the ISKCON (International Society for Krishna Consciousness) Temple is a place of worship for Lord Krishna. Known for its stunning architecture, deft sculptures, and wonderfully maintained gardens, this spectacular temple complex is a wonder to behold. The temple often holds religious rituals, bhajans (spiritual music), 
Best time to visit: The ISKCON Temple is best visited during festive occasions and festivities, such as Janmashtami (the anniversary of Lord Krishna's birth) or during the Navratri when it is decorated with colourful decorations and hosts special religious rituals
Timings: 7:30 am to 1 pm, 4 pm to 8.30 pm
Entry fee: No entry fee
What makes it special: The ISKCON Temple in Surat provides a serene and enlightening experience, making it one of the more popular places to visit in Surat. It is an important site of worship and a recognised landmark in the city due to its stunning architecture, peaceful atmosphere, and frequent devotional events
3. Surat Castle (Old Fort)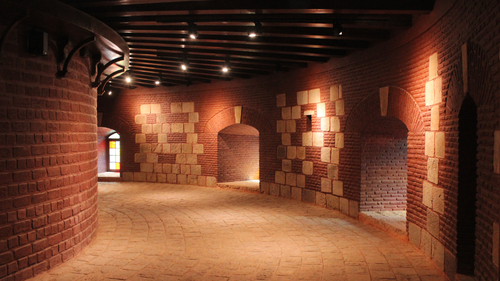 Another one of the famous places in Surat, the Surat Castle, is a spectacular fortification that is situated in the centre of the city and serves as a display of the architectural splendour and rich history of Surat. This enormous building, which was constructed during the Mughal Empire, features towering walls, bastions, and entrances. Visitors can learn about Surat's illustrious past by exploring the fort, which also offers amazing views of the entire region. This is definitely among the places to visit in Surat if you're looking to get pictures of some amazing views while learning about Surat's rich culture.
Best time to visit: The milder months of October to March are the ideal time to visit Surat Castle because the weather is ideal for outdoor exploration
Timings: 10 am to 6 pm
Entry fee: No entry fee
What makes it special: Surat Castle is a working example of the city's Mughal-era defences and fortifications. For lovers of history and architecture, it is a must-visit location due to its stunning architecture and historical significance
4. Gopi Talav
Gopi Talav is a historic water reservoir in the centre of Surat also referred to as Gopi Lake. The lake, which is surrounded by lavish vegetation and elaborate buildings, has religious significance since it is connected to stories about Lord Krishna and his beloved Gopis (cowherd maidens). Gopi Talav is a well-known location among the places to visit In Surat, for leisurely walks, and picnics, because of the peaceful environment and beautiful surroundings. 
Best time to visit: The best time of year to visit Gopi Talav is from October to March because the temperature is milder and more conducive to outdoor activities during those months
Timings: 10 am – 10 pm, closed on Mondays
Entry fee: No entry fee
What makes it special: Gopi Talav is a mythologically significant location that offers a tranquil retreat from the busy metropolis. It's the perfect place for peace and reflection because of its history, spirituality, and natural beauty
5. Jagdish Chandra Bose Aquarium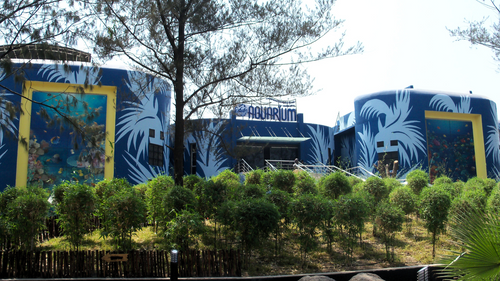 Located in Adajan, Jagdish Chandra Bose Aquarium is a magnificent aquarium that is home to a variety of aquatic species. The aquarium, which is one of the many famous places in Surat, provides visitors with the opportunity to view and learn about many species of fish, turtles, and other aquatic animals through its well-maintained tanks and educational exhibits. For both children and adults, it is a fun and educational experience thanks to the interactive displays and informative signs.
Best time to visit: The aquarium is open all year round, making it the perfect indoor attraction throughout the sweltering summer or wet season
Timings: March to October – 10 am – 6.30 pm. November to February – 10 am – 5.45 pm
Entry fee: Rs 100 for adults, Rs 40 for children
What makes it special: The Jagdish Chandra Bose Aquarium provides an enthralling look into the intriguing world that exists beneath the ocean's surface. It is a well-liked destination for families and nature enthusiasts looking for an immersive aquatic experience due to its educational displays and well-kept tanks
---
Photo: Shutterstock