You like to stay still for 90 minutes, wrapped in herbs and oil that will help you to find a new meaning to life. And while you do that, your partner wants to sit quietly and enjoy their morning tea and question life. And somewhere in the middle you also share meals together, get your feet soaked in all sorts of delicious concoctions and explore the quietness of your surroundings. And, if the two of you have decided to adopt the path to good health as a common goal, a spa retreat can definitely inspire you. Zee Zest has curated a list of stunning getaways to make your Valentine's Day or week, more than just roses and presents. Check it out.
1. Six Senses, Vana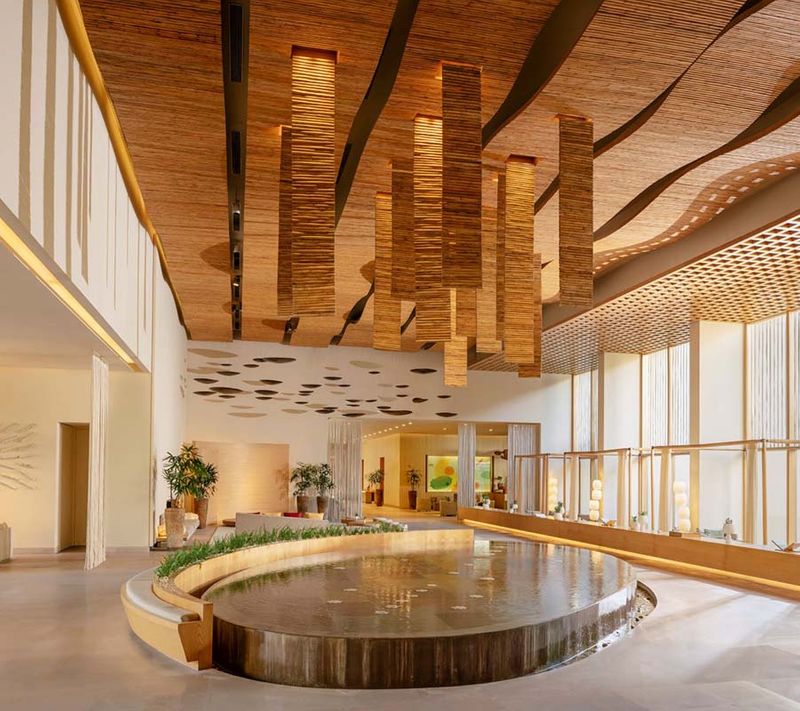 Named after the sal forest it sits in, spread over 21 acres of land, Six Senses Vana is the parent company's first dedicated wellness retreat. The property aims to protect and nurture, providing space to discover and flourish. Here, Ayurveda, Yoga, Tibetan Medicine, and natural healing therapies come together with a rich daily activity schedule and personalised support. Nourishing food, including an Ayurvedic specialty restaurant; therapies, including acupuncture, reflexology, and natural alignment, and Six Senses' signature hospitality complete the retreat.
Where: Mussoorie Road, Dehradun, Uttarakhand
Reservations: 01353511111
2. Ekaanta Retreat, Haridwar  
This boutique luxury retreat in Haridwar takes your health seriously. The space, even the rooms have been curated to rejuvenate the mind, body and spirit. Built around an old structure, the retreat has done its best to preserve the antiquity of the architecture and yet modernised it to suit the modern day travellers' needs. Located in the middle of Haridwar city, Ekaanta lets you discover some of the most ancient healing treatments in India, breathe in the serenity of the river Ganges, sign up for classes that introduce you to good health and much more.
Where: Devpura, Haridwar, Uttarakhand
Reservations: 099111 78181 
3. Amal Tamara, Kodaikanal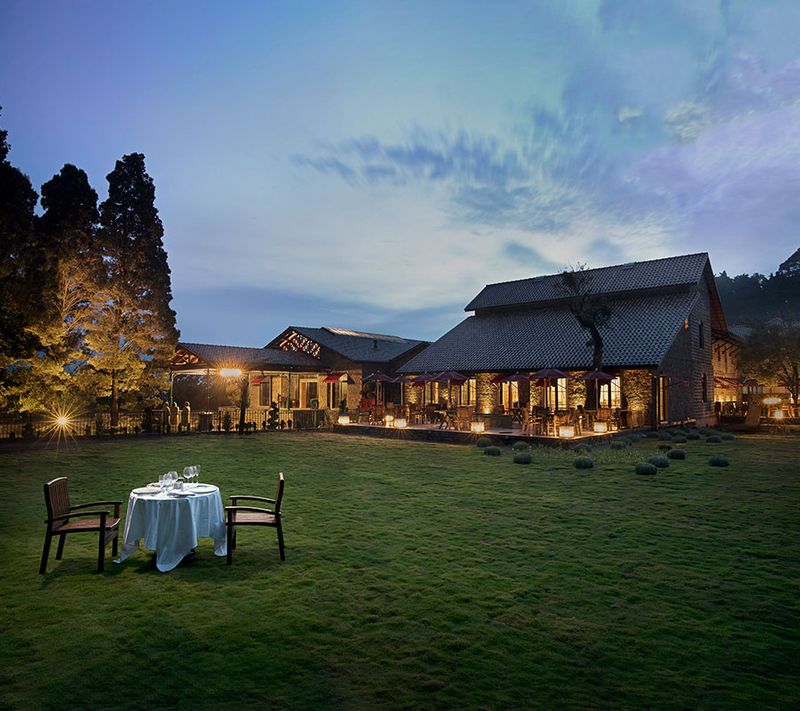 Your relationship might be immune to toxic influences, but your body is not, or at least that's what you can tell the world and book a weekend to celebrate good health and love of course at Amal Tamara in Kodaikanal. Their Immunity Booster programme is a definite thing to check out, plus it's located in stunning Kodaikanal. This particular programme aims to improve the body's natural immune response by improving the digestive system and detoxifying the body of pollutants. From therapeutic yoga sessions, a carefully crafted Ayurvedic meal plan, to synchronised Ayurvedic body treatments with the administration of herbal medications, and health and lifestyle-altering activities, it's a different kind of fun here.
Where: St Mary's Road, Kodaikanal, Tamil Nadu
Reservations: 08071 077 701
4. Taj Bekal Resort and Spa, Bekal
People go to Kerala for seafood and backwaters and of course everything Ayurveda. Now imagine all of this rolled in luxury. The Taj Bekal Resort and Spa offers delightful villas that are designed to give you privacy, peace and indulgence (ideal for Valentine's Day, isn't it?). Their Jiva spa offers a wide range of signature treatments for you and your partner and the space in itself will transport you to a different world as soon as you walk in. And when you're done being rejuvenated, walk around the properties, hold hands and shed some calories or just soak in the breathtaking nature around.
Where: Kappil Beach, Thekkekara, Bekal, Kerala
Reservations: 04672302000 
5. Raffles, Udaipur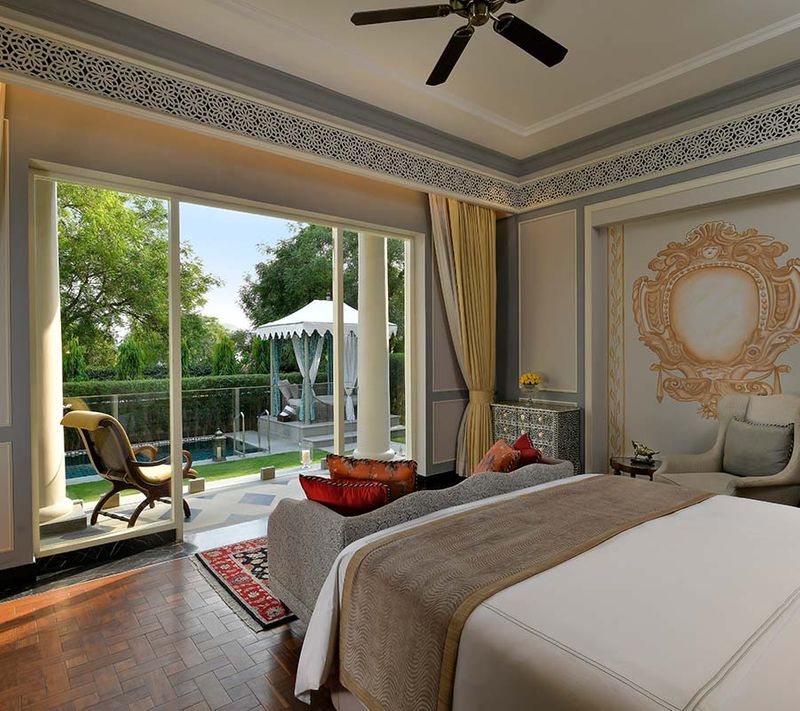 At Raffles, celebrate Valentine's Day in a cocoon of love, surrounded by the majestic Aravallis and the Udai Sagar Lake. Soak in the divine essence of the island laden with experiences unlike any other and bask in bliss and love with your partner. The Raffles Spa offers a private escape, opening doors to emotional well-being through authentic treatments and personalised programmes. In the midst of getaway of a lifetime, enter a state of peace and relaxation with a therapeutic wellbeing treatment at the spa.
Where: Lakeshore Arrival, Udaipur, Rajasthan
Reservations: 02942779000
6. Dharana Wellness, Shillim
If you can't leave tech behind, let tech come to you. This spa is known for its advanced high-tech diagnostics that we might not even be able to pronounce. But it will help you to fix sleep partners and evaluate your biomarkers. The spa retreat offers all sorts of nature-based Ayurvedic treatments and some alternate therapies as well - from music therapy and meals based on your doshas to energy cleansing to gut health. The property has adopted best health practices from India and even Tibet to give you what your body needs. Well, mostly.
Where: Village Shillimb, Maval, Pune
Reservations: 02114712464 
7. Raas Devigarh, Delwara
We have a strong suspicious that your soul will feel at peace the moment you walk into this 18th century palace tucked away in the Aravalli hills. Converted into a luxurious hotel, the spa here is all about traditional and holistic treatments, offering yoga, medication, menu based on Ayurvedic rules to a balance diet and more. From detoxing to relaxing - there's something here for you and your partner.
Where: Delawara, Udaipur, Rajasthan
Reservations: 09928972211 
8. Fazlani Natures Nest, Vadgaon 
Overlooking the azure waters of Andra Lake and surrounded by dense green lands with a plethora of flora and fauna, Fazlani Natures Nest is a luxurious haven that's built on 68 acres of lush green land and designed specifically to help you rejuvenate and rebalance your mind. The resort offers bespoke wellness retreats which use a combination of alternative medicine approaches be it the age-old science of traditional Ayurveda, naturopathy, acupuncture, acupressure, physiotherapy, or unique wellness offerings like 'Equine' therapy. 
You can choose from a menu of detox and revitalising retreats, lifestyle disorder management retreats, immune resilience retreats, natural relaxation retreats, and optimal weight management retreats. Guests can also experience forest bathing at the resort. The wellness cuisine at the luxury wellness resort plays an important role in helping guests achieve their desired wellness goals, drawing raw material from its large organic farms and fruit orchards for a farm to fork approach to ensure that only the freshest, healthiest, and fully balanced meals are brought to the guest's table. 
Where: Health and Wellness Retreat Soex Flora Farm Village, Takwe Taluka, Vadgaon, Maharashtra 
Reservations: 02266300000
9. Moksha Himalaya Spa, Himachal
Located in the picturesque Shivalik range, Moksha Himalaya Spa is all about celebrations and beauty. Plus the hotel offers excellent spa services with customised treatments, not to mention the infinity pool and outdoor jacuzzi that become great places to unwind and bond. This majestic Himalayan Spa Resort is five hours from New Delhi and you can make the experience quite unforgettable as you celebrate Valentine's Day with your partner.
Where: Parwanoo, Himachal Pradesh
Reservations: 0179223234043
10. Viveda, Nashik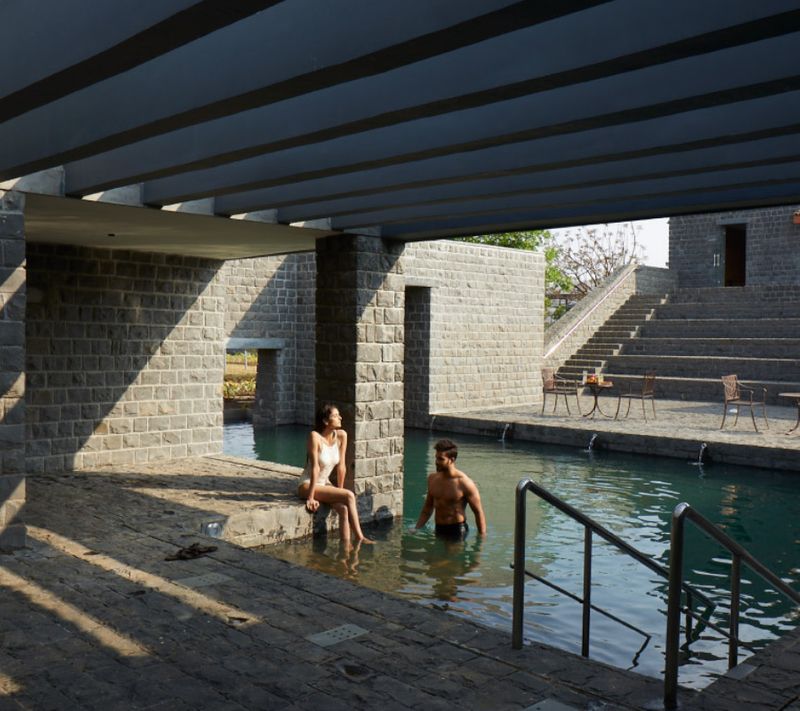 Viveda is an integrated wellness village in Trimbakeshwar, Nashik, Maharashtra, that will guide you down a unique road of rejuvenation. So if you're looking at figuring out ways to make your Valentine's Day a little different, get a room here and sign up for their natural fitness programmes, stress management, quick fit programmes, and yoga. Of course, let's not forget the gorgeousness of the property itself. The property is situated between the gigantic Sahyadri mountain range, the mesmerising waters of the Gautami Godavri dam, and a mosaic of multi-toned farmlands, sporadic trees, cattle, and so on. Apart from all of this, you can soak yourself in pure relaxation at the swimming pool, shelter yourself in the comforts of the Nakshatra Gardens, park yourself at the flower gardens, or recollect and relax at their well-equipped library. Romantic, isn't it?
Where: Beze Village, Trimbak Road, Shivar, Nashik, Maharashtra
Reservation: 07887805800
---
Photo: Featured hotels