"Find a spot, close your eyes, and let's have a mindful moment," says my guide Kate Gibson, owner and founder of the Hike Collective. Contrary to what you'd expect, I'm not at a yoga retreat but on a secret beach on Rottnest Island, a tiny low-lying island just off the coast of Perth, Western Australia. I do as told and listen to the waves crashing and the wind whistling. The weather has been unpredictable on this autumn day in late April. Perth was mildly sunny but when the seaplane landed on the island, a sudden burst of rain greeted me. Then a rainbow peeked through, followed by blue skies and sunshine—the perfect Rotto day, as the locals say.
What's in the name?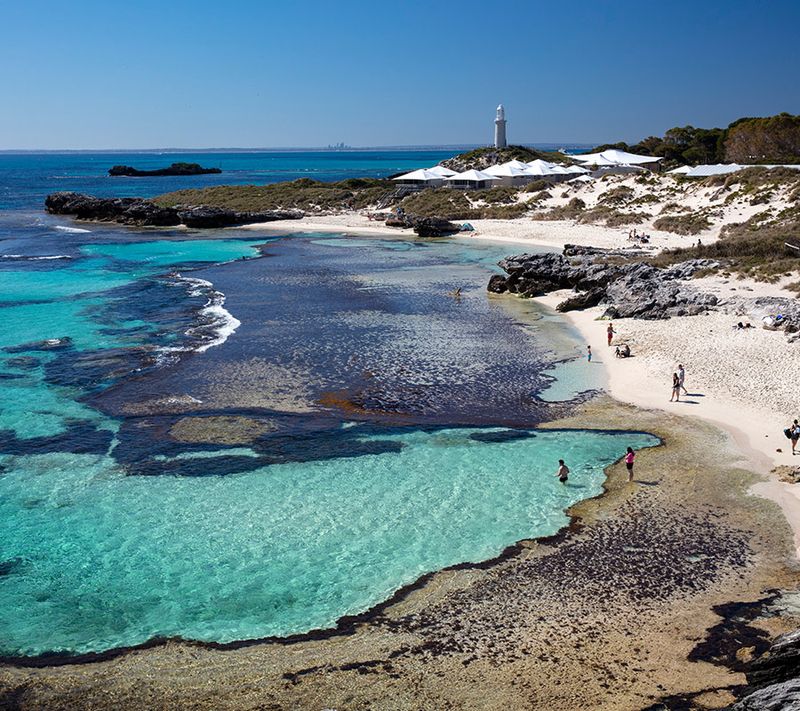 Surrounded by the aquamarine waters of the Indian Ocean, Rottnest Island is an A-Class Reserve, the highest level of protection afforded to public land in Australia. The traditional Noongar (Aboriginal) peoples of the land called the island Wadjemup, which means "place across the water where the spirits are". However, its name Rottnest came about because of its other residents—the quokkas, pint-sized marsupials that can only be found on this island and a couple of others nearby. Incidentally, quokkas are dubbed the world's happiest animal since their headshots make them seem like they're smiling (they're not!). When the Dutch sea captain Willem de Vlamingh, who first documented the island in 1696, saw the quokkas hopping about, he mistook them for large rats and named the island "Rats' Nest Island", which later evolved into Rottnest.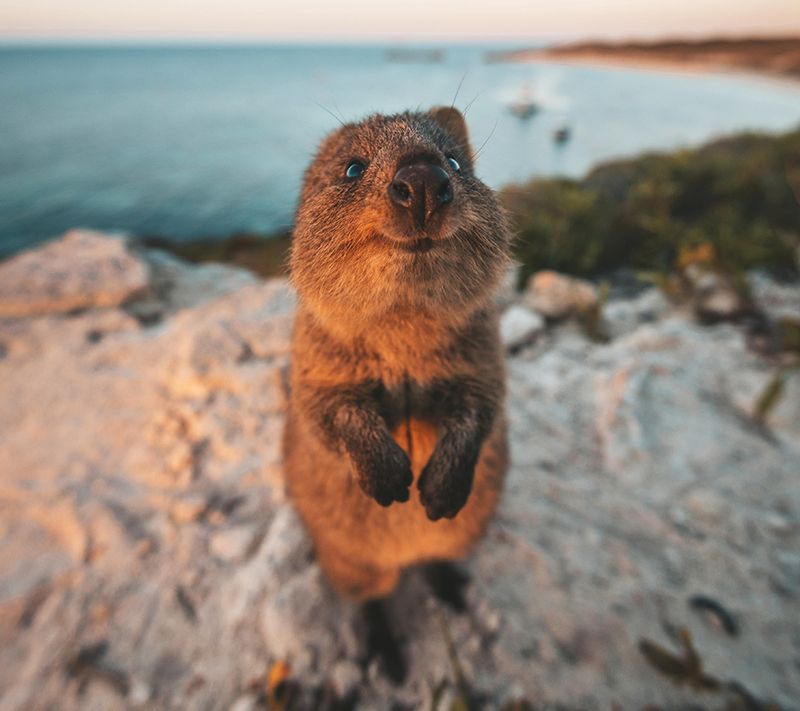 I, however, prefer Wadjemup and its more poetic meaning—particularly as I listen to Walter McGuire, a Noongar man who along with his wife Meg, co-owns and operates Go Cultural Aboriginal Tours and Experiences. I join him in a traditional sand ceremony on the beach, a ritual that's meant to cleanse the spirit and honour the land, sea, and everything it contains. Walter proceeds to perform traditional songs in the Noongar language and tells me Aboriginal Dreamtime stories that go back tens of thousands of years before the island was separated from the mainland by rising seas. While these are ancient, often mythical stories, Walter also tells me a more recent one—the colonial history of Wadjemup. The island's yellow-walled Quod was a prison where almost 4,000 Aboriginal men and boys from across Western Australia were imprisoned between 1838 and 1931. Many died and were buried in unmarked graves, a site that is now said to be the largest known burial ground of Aboriginal people. It's a sombre tale but it's heartening to see that modern Australians have begun talking about these painful subjects and acknowledging the original inhabitants of the land.
A walk in the park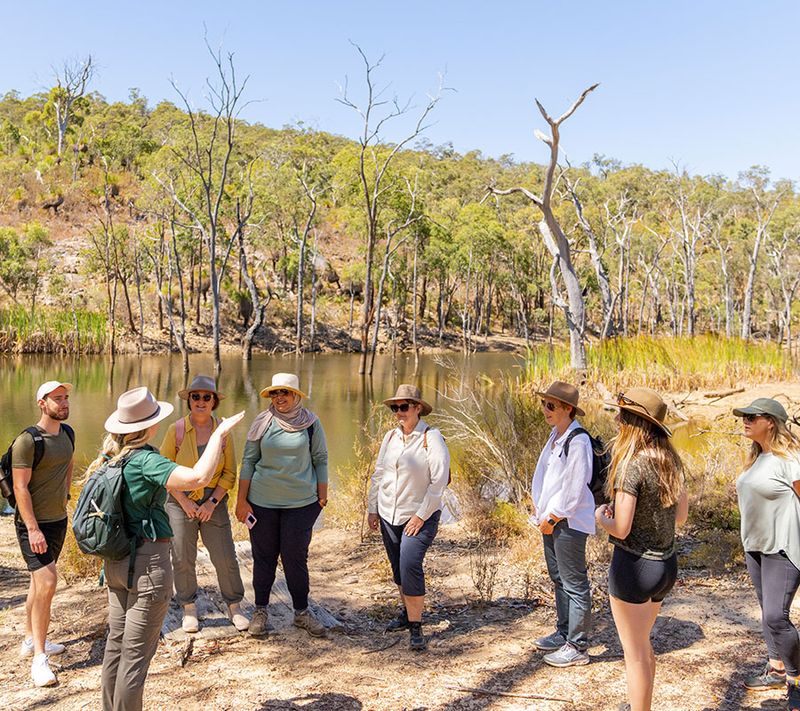 Rottnest Island, all 19 sq. km. of it, is as varied as it's stunning—a veritable marine paradise with more than 60 beaches, 20 bays, and innumerable coral reefs and wrecks. I explore a slice of it with Kate on the Fortress of The Southern Edge guided hike. We begin at Henrietta Rocks where Kate points out the only visitable shipwreck off Rottnest Island, then proceed inland via marked trails, bushland, and beaches. The hike is gentle and invigorating and not too strenuous, allowing me to immerse myself in nature without huffing and puffing all the way! "Here they are", Kate shows me half-buried bunkers—turns out that during both WWI and WWII Rottnest Island was a critical military base for the Australian army to defend its naval port across the water at Fremantle. We hike up to the highest point of the Bickley Bay area where I find a WWII-era gun station and get a 360° view of the island and surrounding waters. From here, we proceed back down to the so-called Settlement and walk on the beach for the last few metres before arriving at our lunch spot.
Taste of paradise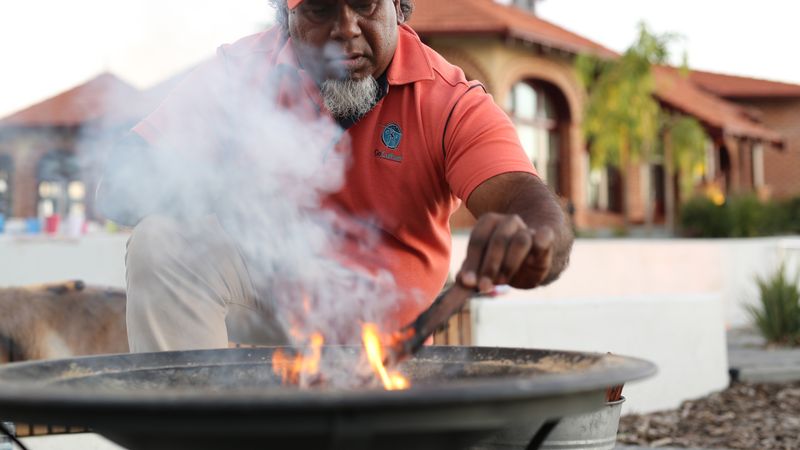 Despite its troubled history, Rottnest Island has been a popular holiday destination for Perth residents and other West Australians. However, accommodation on the island is sparse, ranging from camping grounds and family cabins, many of which are snapped up by locals. A couple of hotels have come up, of which Samphire Rottnest is your best bet for luxe beachfront accommodation in the heart of Thomson Bay. Rooms are spacious and well-appointed and look out over the beach or the pool. The on-site restaurant Lontara is a great place to sample inventive Southeast Asian fusion food in a relaxed, open-air space. Of course, the island's OG residents are all over the place and you'll often find your meal interrupted by a quokka scratching for food under your table. My favourite meal on the island was at Lontara's sister restaurant, the buzzy beachside Isola Bar e Cibo which serves simple and delicious Italian fare paired with Aussie wines.
As sunset nears, I head to Thompson's Bay fuel jetty for another quintessential Rotto experience—a sunset sail around the island aboard Charter 1's bright yellow catamaran. With a comfortable indoor lounge and outdoor seating (not to mention the cargo net where you can get a nice spray from the Indian Ocean), the catamaran is a great way of experiencing the island. Did I mention the complimentary glass of bubbly and antipasti platter that comes with it?
Getting there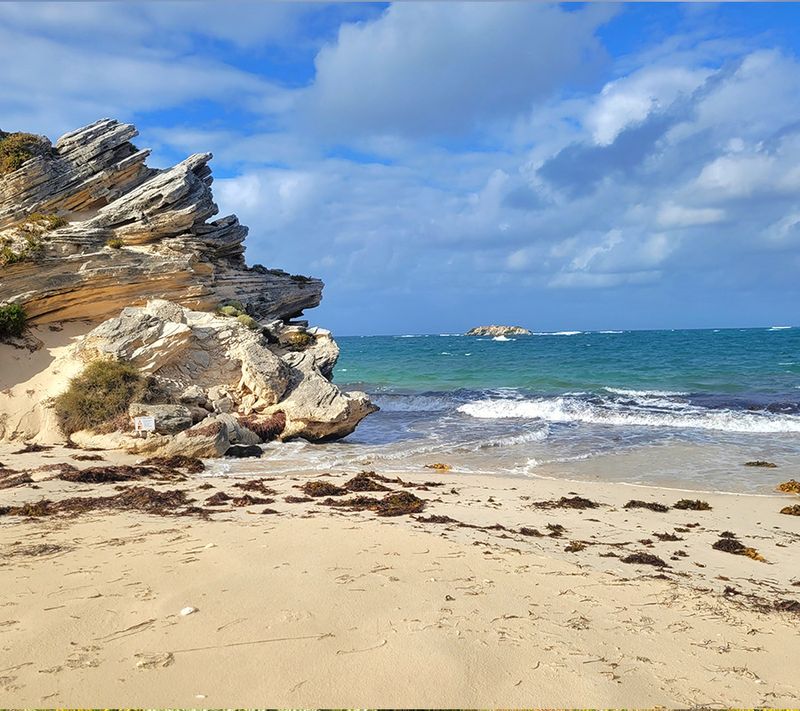 Rottnest Island is easily accessible by a 25-minute ferry ride from Fremantle. But a more scenic (and stylish) way to arrive is to take a 20-minute seaplane ride. Swan River Seaplanes offer morning and afternoon departures in a state-of-the-art amphibious Cessna aircraft, which gives spectacular views over the Swan River, Perth CBD, and the coastline before touching down at Rottnest Island.
---
Photo: Tourism Australia, Prachi Joshi