There is no vacation quite like a beach getaway in Goa. Alongside palm-fringed shorelines and lively bars, Goa also boasts numerous hidden homestays and resorts that are both beautiful and unique. So, go on, take your pick from these 10 luxurious hotels and villas for a truly relaxing and rejuvenating stay.
1. Wildflower Villas, Candolim
Eight acres of natural forest offer a lot of room to create a memorable guest experience and that's exactly what the Navelkar family has been doing at this eco-friendly hideaway in north Goa. Thanks to the property's size — just seven villas — no detail is overlooked. Each guest is treated to expansive indoor-outdoor spaces with unobstructed views of the backwaters and access to secret little gardens to laze with a book or simply dream away. Large French doors and warm wooden interiors add to the charm. All of this, is just 15 minutes from the bustle of North Goa! While you settle into your home away from home, a team of chefs is busy preparing fresh meals carved from vegetables and fruit picked from their own garden. The charming bar here makes some refreshing cocktails. Expect next-level dedication to service and a secluded, intimate vibe.
Where: Saipem, Candolim Tel: +91 9168839229
Tariff: INR 50,000 onwards for two nights
2. Mansion Haus, Anjuna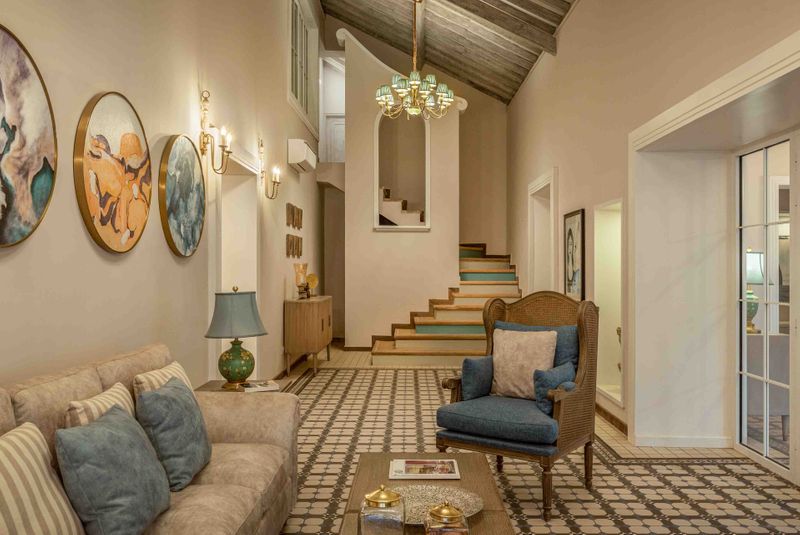 Set in a 19th-century private residence, this luxurious retreat has just nine suites — each with its own distinct look and feel. Expect weathered wood, porcelain floors, polished marble and lots of eclectic art. Sure, there's an old-world charm at every turn, but modern additions such as a private pool or a Jacuzzi make Mansion Haus a multisensory experience. There are three separate venues for meals with wildly creative menus prepared by travelling chefs. Expect attention to the little things — from high-end linens to curated experiences like guided meditations and private excursions in vintage cars to hidden gems of North Goa and even a day at the beach.
Note: This is an adult's only property
Where: Gaunvaddi, Anjuna Tel: +917887886802  
Tariff: From INR 12,000 to 40,000 per night
3. Larisa Resort, Morjim
A 45-minute drive from the airport gets you to this laid-back resort on Morjim beach. The eight rooms have everything a traveller could want out of a Goan vacation — postcard-perfect ocean views, rooms with four-poster beds, a private deck for glorious sunsets, sumptuous breakfast and good wifi. The most daunting task at Larisa Resort is having to pick between a dip in the cold water Jacuzzi overlooking the sea or a stroll down the beach. As if the resort itself wasn't charming enough, the food is to die for. TRIP, the in-house restaurant, does some of the best seafood pizzas with generous toppings of fresh prawns.    
Where: Vithaldas Vaddo, Morjim Tel: 080 4876 6766
Tariff: INR 15,000 onwards
4. Baale Resort, Arpora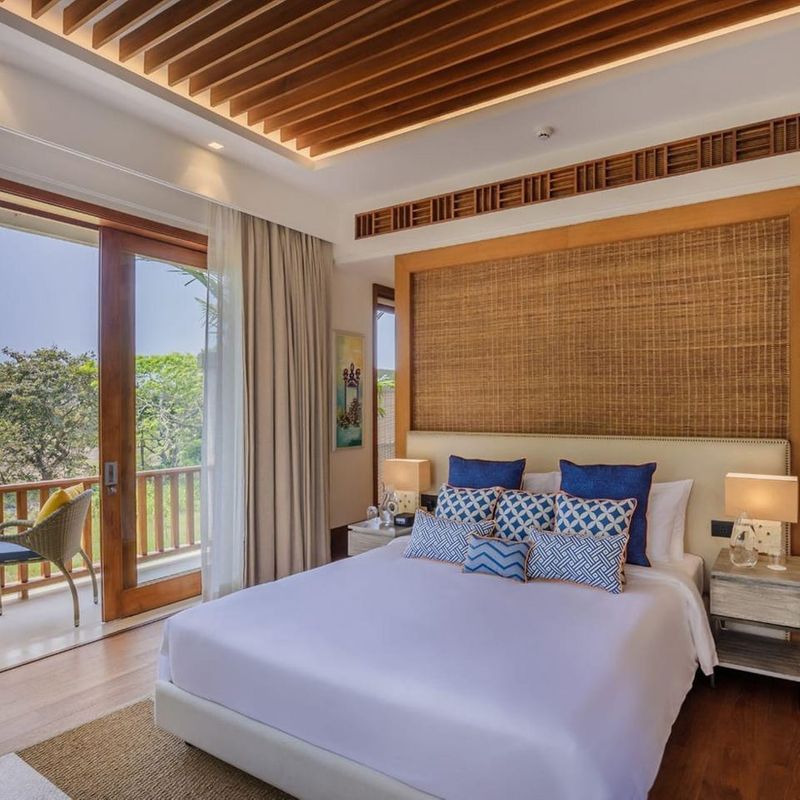 This bespoke Bali-inspired resort in the charming village of Arpora is enchantingly different. Each of the luxury villas features a private swimming pool with a whirlpool, an in-villa chef's kitchen, a bar and a staff room. A lush landscaped garden, a lily pond and endless views of paddy fields contribute to a decidedly romantic atmosphere. Their Gong Bar is where you will be spending most of your time exploring the curated wines, cigars and craft cocktails. There's also a spa to revive tired legs from a day spent chasing the sun and surf. No need to draw the curtains here as you'll want to wake up to breathtaking views of the lush gardens.
Where: Diwan Bhatty, Arpora, Bardez Tel: 91 804 697 1234
Tariff: Price on request
5. Ahilya by the Sea, Nerul
Tucked away in a quiet corner of Dolphin Bay, Ahilya by the Sea is all about opulence and tranquillity. There are three independent villas and two beautiful swimming pools — one designed for the sunrise, the other for the sunset. Dining is al fresco at a new spot every night and is a mix of Goan, Italian and French cuisines. At Ahilya, it's worth carving out time to explore the rich collection of art and sculpture handpicked by the owner herself on her many travels around the world. The beaches of Morjim, Mandrem and Ashvem are a 50-minute drive from the hotel. Come back to a relaxing and indulging spa.  
Where: Nerul Tel: 011 4155 1575
Tariff: INR 34,000 onwards
6. Sur La Mer, Morjim
Everything at Sur La Mer encourages you to live the susegad life. Take the location for instance — far away from Goa's bustling crowd in Morjim village but just a seven-minute walk to the beach. The sprawling rooms — kitted out with spacious balconies, artisan furniture and luxurious linens — are among the most stylish accommodations you'll find in Goa. There is also a tree house. The courtyard garden by the pool is the setting for meals and tea-time snacks. Further enhancing the experience is the easy, intuitive service by the staff and personalised food choices. It gets bonus points for being pet friendly.
Where: Morjim-Ashwem Road, Pernem Taluka, Morjim Tel: +919850056742
Tariff: INR 14,000 onwards
7. Hotel Amrapali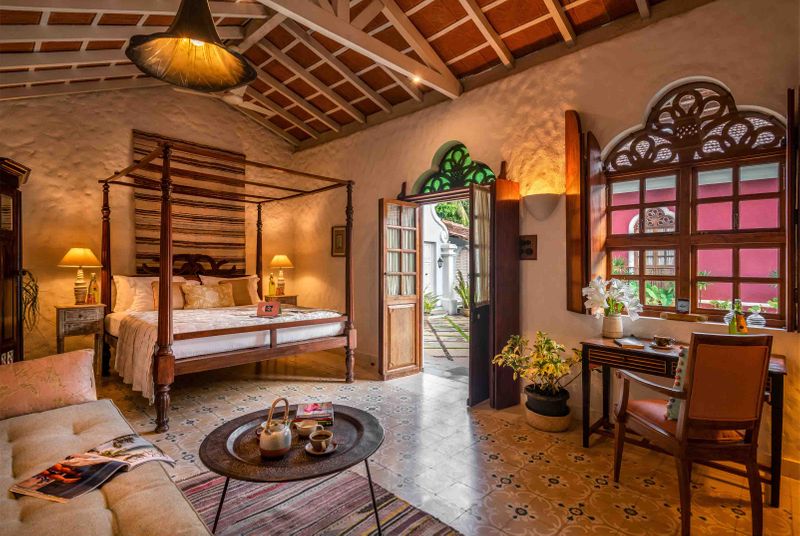 Staying at this lovingly restored 100-year-old Portuguese home on the banks of the Zuari river is a lesson in slow living. Everything here feels incredibly discreet, from the handsome rooms amped up with Goan wall art, lake views and free-standing copper bathtubs to its sexy cocktail bar. There's plenty to do no matter your interests — private picnics at Siridao beach, fishing and crab catching off the veranda of the house, board games and books for borrowing. Bambolim beach is five minutes away and Candolim is about 30 minutes by car. Having said that, the best thing to do at Amrapali is to spend hours at the breezy, waterfront café nibbling on the freshly-made treats with a great cup of mocha or sublime teas from Assam.
Where: 1105 Morgado Vaddo, Goa Velha Tel: 093227 53726
Tariff: INR 23,000 onwards
8. The Postcard, Moira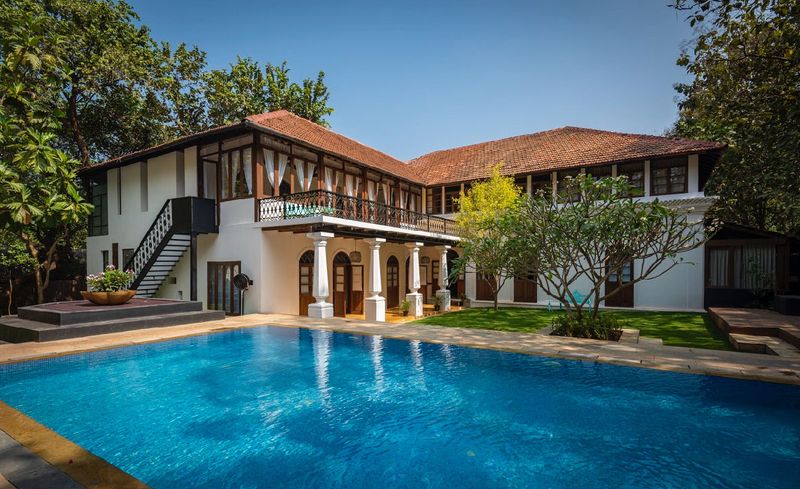 Those who appreciate soulful, immersive vacations will love it at this quaint retreat tucked away in the village of Moira. The nine rooms of this carefully restored 214-year-old ancestral home are accented with four-poster beds, an intimate sit-out terrace, brass fittings and statement lamps. Exposed laterite walls add to the old-world charm. The lush outdoors are perfect to soak in the early morning rays or tune in to bird songs. Meals include flavourful dishes such as rava fried banana snack, solachi kadi and fish uddamethi prepared with fresh mackerels all washed down with some stellar chilli feni margarita. The Postcard is well known for curating memorable experiences. At Moira, it includes access to ancestral homes and wonderful people, heritage walks, freshly-baked poee with chorizo sausages in a charming traditional home, surf lessons and dolphin safaris.
Where: Calizor, Moira Tel: +91 7999555222
Tariff: INR 24,000 to 27,000 plus taxes for a room for two people
9. Storii By ITC Hotels, Shanti Morada, Saligao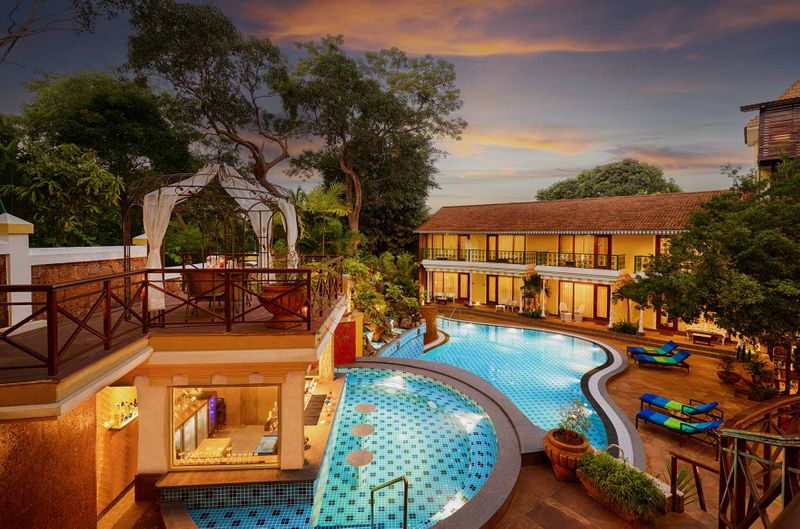 Originally built in 1897 and called 'Casa de Morada' or 'home of happiness', this charming property was lovingly restored, and is now eagerly waiting to tell its 'Storii'. Intricately carved wood fixtures and arched pathways take you back in time, but the thoughtful VIP service is in keeping with today's luxury standards. Rooms are not only spacious, but they're also beautifully eye-catching, thanks to a mix of colours, patterns and textures. There's a winding pool, games lounge and a quaint bar for refreshing cocktails and finger foods. Relish a delicious private picnic in the Mandala gardens or visit the local vegetable and fish market with the chef. Learn how to select the best produce and come back to prepare a scrumptious feast with the chef and his team.
Where: Bairo Alto Vaddo, Saligao Tel: +91 8322485048
Tariff: INR 9,000 onwards
10. Novotel Goa Resort & Spa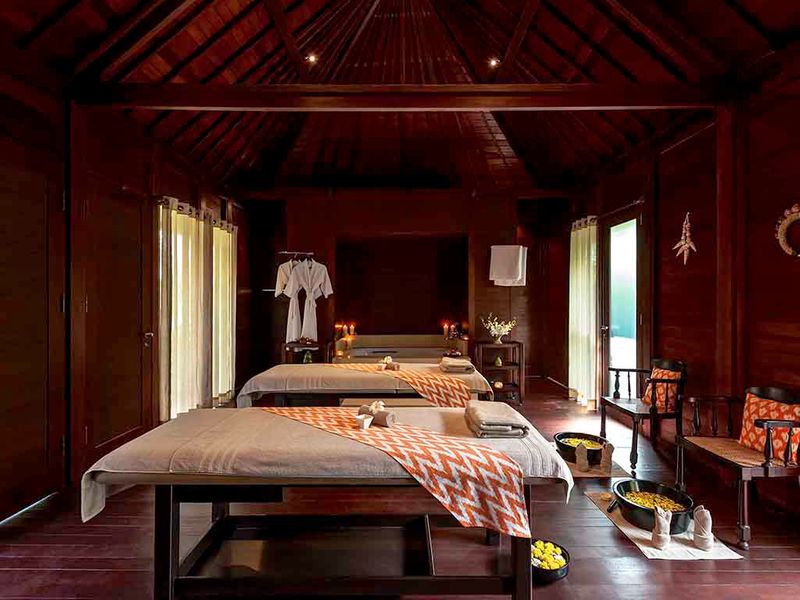 Shrouded in lush greenery and paddy fields, this Bali-style resort somehow manages to be both chic and wild. The lily ponds and private cabanas amp up the allure. Rooms have a sleek, modern aesthetic, while restaurant and bars are trendy destinations for local and international fare. The resort also features a sumptuous spa and Forno Tinto, a casual Italian dining restaurant overlooking lush green paddy fields. But the aspect that might convince you to stay an extra few days? The vitality pool with an outdoor jacuzzi. This family-friendly property also has a large, supervised kids' club and a gym. Candolim Beach, with a host of water sports activities, is a 4-minute drive away.
Where: Pinto Waddo, Off Candolim Road, Candolim Tel: 0832 711 2424
Tariff: INR 11,500 onwards
---
Photo: Baale Resort; Respective hotels