The delightful town of Ooty, which is located in southern India's Nilgiri Hills, entices visitors with its tranquil atmosphere and picturesque views. Ooty, known as a haven for nature lovers, also has a lovely selection of lodging options that satisfy the interests and needs of every traveller. Ooty's hotels offer a welcoming entryway to build cherished memories of an amazing vacation, whether you're looking for lavish luxury, cosy getaways, or affordable lodgings.
The hospitality industry in Ooty is proof of how well-liked and popular it is as a travel destination. The town offers a wide variety of options that suit the discerning demands of travellers, from world-class resorts to vintage hotels, quaint guesthouses to boutique accommodations. These hotels offer a cosy and friendly retreat, allowing guests to take in the ethereal beauty of the surroundings while appreciating warm and attentive service. They are tucked away among nature's richness.
Ooty has a wide selection of luxurious resorts that redefine splendour for those looking for the height of luxury. These opulent buildings provide an elegant sanctuary amidst the splendour of nature by fusing contemporary conveniences, gorgeous architecture, and breathtaking views. Experience the height of luxury as you unwind in roomy suites, revitalise in top-notch spas, and indulge in scrumptious food cooked by talented chefs. The resorts in Ooty promise a vacation that goes above and beyond the ordinary and spare no effort in providing an extraordinary experience.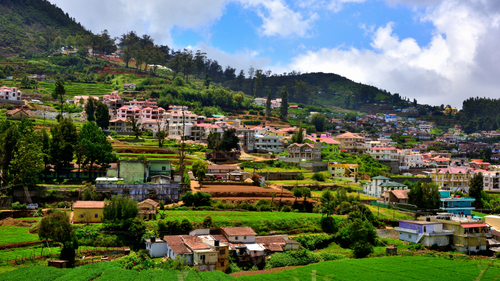 The town's guesthouses and boutique hotels have a distinctive charm that reflects the local heritage and culture for tourists wanting a more private and intimate setting. These inviting places frequently have elegantly constructed rooms with a mix of modern conveniences and classic features. In Ooty, staying at a guesthouse guarantees a cosy experience that enables you to develop a closer relationship with the town and its residents. This is thanks to the kind and attentive hosts as well as the personalised services.
Ooty offers a variety of affordable lodging options in addition to five-star resorts and guesthouses to suit the needs of frugal tourists. These places put an emphasis on convenience, affordability, and cleanliness, providing a comfortable stay without sacrificing quality. These cost-effective solutions provide comfort for budget-conscious backpackers, lone travellers, and families, enabling them to get the most out of their vacation without going overboard.
Whatever type of lodging you select, Ooty's hotels provide the ideal setting for enjoying the town's numerous attractions. Take leisurely strolls through lush tea estates, challenging hikes to views that will wow you, or just relax in the tranquilly of the town's botanical gardens. Your stay will be filled with amazement and delight since Ooty's hotels offer easy access to these beauties.
Consider Ooty as a location for your upcoming vacation if you want a place that offers both unmatched natural beauty and hospitality. Ooty's hotels provide a wide range of choices to meet your needs, whether you desire luxury, want a cosy getaway, or are on a budget. As you enjoy a pleasant sojourn amidst the tranquil embrace of the Nilgiri Hills, let the town's charming atmosphere and friendly welcome help you make lifelong memories.
1. Zostel (budget-friendly)
In the midst of nature, Zostel Ooty is a backpacker hostel where you can socialise with other visitors over walks and bonfires. This basic hostel, which is surrounded by rolling hills and offers views of Doddabetta Mountain, is only 2.8 km from Ooty's Government Rose Garden and 5 minutes on foot from the city's major bus/railway station. In addition to the pleasant common areas, Zostel provides a range of dorms where visitors can socialise. Mixed-gender dorms and female dorm rooms come with six, ten, or twelve bunk beds, a locker for each bed, Wi-Fi, communal bathrooms, home-cooked cuisine (on request), and en-suite amenities. The charming, picturesque backpacker hostel located above the Nilgiri range also offers pleasant private rooms. An ideal location for travellers to experience and discover the beauty of Ooty and the surrounding areas.
2. Kurumba Village Resort (mid-high range)
The resort is named after the Kurumbas, a long-forgotten tribe, as a tribute to the ancient group who coexisted peacefully with nature in this area rich in biodiversity. The resort offers a variety of indoor and outdoor recreational activities for both adults and children, guaranteeing a wonderful vacation for the whole family. Prepare to get lost in this resort's enchantment away from the noise, among the shimmering tea trees, and the foggy Nilgiris!
3. Taj Savoy (mid-high range) 
The Taj Savoy is a great place to relax because it's close to the city. The hotel's colonial building lends grandeur to your stay, while the area oozes calmness and tranquillity in the heart of the lush Nilgiris. Some of the most delectable meals in Ooty are served in the dining hall! Taj Savoy is ideal for business travellers or a fun family vacation because it offers warm service in addition to all other contemporary business conveniences.
4. Sherlock Hotel (mid range)
As you arrange your stay at this Holmes-inspired home, watch 'The Adventures of Sherlock Holmes' come to life! This charming hill cottage will transport you to the late 1800s Victorian era. On the misty mornings of Ooty, it offers magnificent views to sip a hot cup of coffee while looking out at the blue mountains and lush tea fields! Oh, and did we mention that the cottage's rooms are named after the cases that Sherlock Holmes solved?
5. Sinclair's Retreat (mid to high range) 
It's billed as being the highest resort in South India and is situated at a height of roughly 8,000 feet! The resort offers a beautiful view of the Ooty Valley with the blue mountains on one side and the pure woodlands scattered with eucalyptus trees on the other, being located exactly where the 'Queen Of Nilgiris' was discovered. The location is ideal for anyone seeking peace and quiet thanks to its opulent amenities!
6. I-India (affordable)
I-India Ooty is not your typical hotel; it has a European appearance with a thatched roof and is surrounded by a well-kept garden with blossoming springtime plants. You can observe the magnificent Nilgiri Mountain Railways, a UNESCO World Heritage Site, as it passes through the valley for a fair price. Backpackers will find it most handy because it is only two hours from the Coimbatore airport.
7. La Flora Amberley Resort (affordable)
The infrastructure and design of the resort are stunning. La Flora Amberley Resort, located in the picturesque Ooty Hills, offers top-notch service at a fair price. Given the proximity of attractions like the Ooty Botanical Garden, it is the ideal place to stay. Only a few kilometres separate you from the train station as well.
8. Fortune Resort (mid-high range)
A contemporary homage to John Sullivan, who established the picturesque town in 1821, Fortune Resort Sullivan Court is surrounded by beautiful green lawns and a colourfully designed garden. This lovely family resort has 67 well-furnished rooms, the majority of which have lovely views of the slopes. It's the perfect hideaway for a jam-packed break with friends and family!
---
Photo: Shutterstock