Ajmer, which is located in the centre of Rajasthan, is a city that draws visitors in with its fascinating past, energetic culture, and spiritual aura. This magical city, filled with architectural wonders and stories, offers a wealth of adventures just waiting to be discovered. As soon as you enter Ajmer, legends of bravery, dedication, and cultural assimilation come to life and take you to a bygone period.
Ajmer's appeal stems from its ability to seamlessly meld the old and the new. As you stroll through its bustling bazaars and winding streets, you'll see how seamlessly old customs and contemporary aspirations coexist. The city's architectural marvels serve as a testament to its illustrious past and display a tasteful synthesis of Rajput and Mughal influences. Every structure and monument has a unique narrative that immerses visitors in the grandeur and legacies of the past.
Speaking of Ajmer would be incomplete without highlighting its profound spiritual significance. The famed Ajmer Sharif Dargah, the ultimate resting place of the Sufi saint Khwaja Moinuddin Chishti, is located in the city. Regardless of their religious affiliation, devotees from all walks of life throng to this revered shrine to be blessed and find comfort in the heavenly presence. All who visit the Dargah will have a potent spiritual experience due to the reverent and peaceful environment that surrounds it.
Ajmer is a treasure mine of architectural marvels in addition to its spiritual charm. The city is home to imposing forts, palaces, and mosques that display the deft craftsmanship and brilliant architectural design of their era.
The cultural tapestry of Ajmer is equally fascinating. The brilliant colours, tantalising aromas, and traditional handicrafts on exhibit in its bustling markets are a sensory delight. Discovering Ajmer's bazaars is a journey into the heart of Rajasthani culture, where you may see accomplished craftspeople making complex fabrics, jewellery, and artwork. The markets provide a sample of the delicious cuisine of the area, with street food vendors tempting your taste buds with a variety of flavours.
Nature enthusiasts can find comfort in Ajmer's serene surroundings. The city is blessed with calm lakes, luxuriant gardens, and scenic surroundings that provide a tranquil escape from the bustle of the metropolis. The natural beauty of Ajmer will undoubtedly revive the weary soul, whether it be through a leisurely stroll around Ana Sagar Lake or a peaceful picnic in the great outdoors.
1. Ajmer Sharif Dargah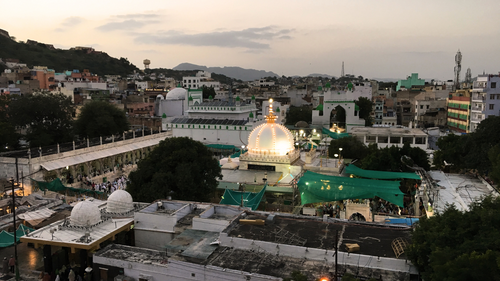 Khwaja Moinuddin Chishti was laid to rest at the famed Sufi shrine Ajmer Sharif Dargah, a location of great spiritual significance. Explore the peaceful atmosphere and take in the pious displays of devotion as followers offer prayers and seek blessings at this revered shrine.
Entry fee: Free 
What's special: Its spiritual significance attracts devotees from all walks of life, and the tranquil ambience creates an aura of peace and devotion. The qawwalis (Sufi devotional music) and the grand Urs festival held annually are not to be missed.
2. Taragarh Fort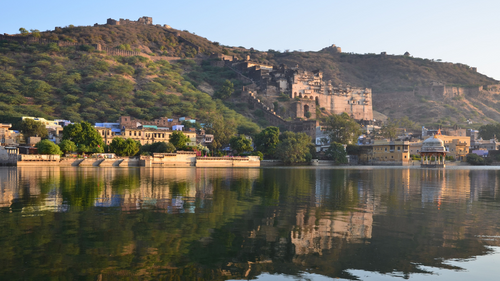 Perched atop a hill, Taragarh Fort provides sweeping views of the surroundings of Ajmer. Explore the enormous walls, elaborate gateways, and antiquated cannons that stand as silent witnesses to its illustrious history to fully experience the magnificence of the past.
Entry fee: INR 50 per person (approx.)
What's special: Explore the ruins, step into history, and soak in the awe-inspiring views from this architectural marvel.
3. Adhai Din Ka Jhonpra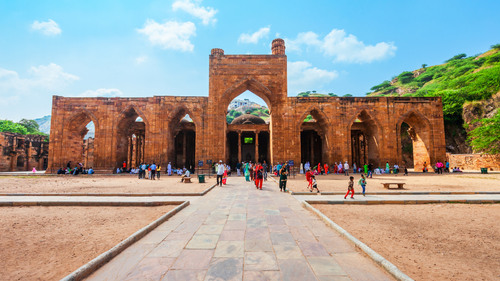 This architectural wonder features exquisite Indo-Islamic design and invites visitors to step into history. Admire the ornate pillars, delicate arches, and superb craftsmanship that spellbind tourists with tales of a bygone past.
Entry fee: INR 25 per person (approx.)
What's special: Adhai Din Ka Jhonpra is a striking mosque that showcases stunning Indo-Islamic architecture. Its intricate pillars, delicate arches, and ornate details leave visitors spellbound. Legend has it that it was built in just two-and-a-half days, giving it its unique name.
4. Ana Sagar Lake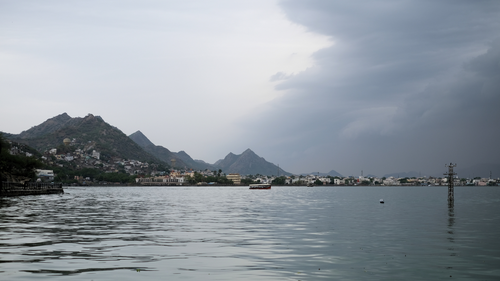 Ana Sagar Lake is a sparkling refuge in the middle of a busy city where you can find peace. Enjoy a leisurely boat trip, relax in the calm atmosphere, and take in the beauty of the well-kept gardens. 
Entry fee: Free
What's special: This is a perfect spot for a picnic, if the weather allows it.
5. Akbari Fort and Museum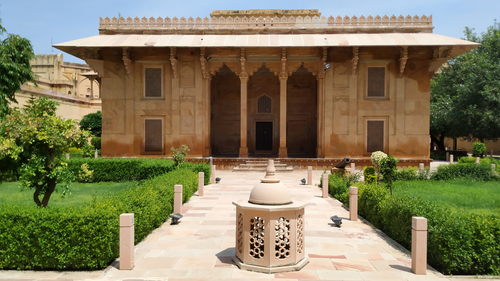 At the magnificent Akbari Fort, which also houses a fascinating museum, you may experience the splendour of the Mughal era. The fort, which also houses a museum, is open on all days except Fridays.
Entry fee: INR 15 per person (approx.)
What's special: Akbari Fort, built by Emperor Akbar, houses a fascinating museum that displays a remarkable collection of artefacts, weapons, and historical relics. Explore the architectural marvels of the fort, immerse yourself in history, and gain insights into the glorious Mughal era.
6. Nareli Jain Temple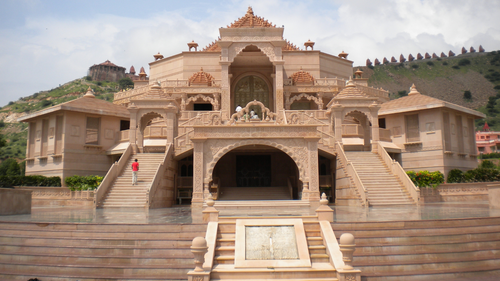 This architectural wonder is home to beautiful carvings that provide comfort and a sense of spirituality. This quiet temple offers spectacular vistas and a peaceful atmosphere for believers and art enthusiasts alike because it is surrounded by beautiful scenery.
Entry fee: Free
What's special: The temple's architecture is so popular that it's visited by devotees and non-devotees all through the year.
7. Soniji Ki Nasiyan (Ajmer Jain Temple)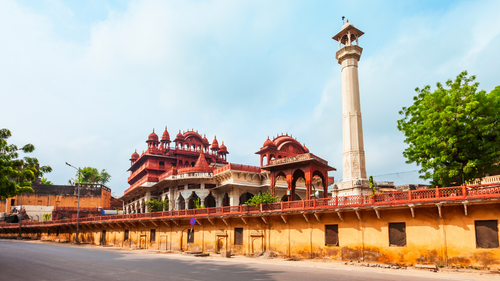 A Jain temple famed for its exquisite architecture and gilded representations of Jain mythology, to embark on a journey of breathtaking beauty. Admire the magnificent craftsmanship, colourful frescoes, and peaceful atmosphere that make this temple a must-see.
Entry fee: INR 25 per person (approx.)
What's special: Soniji Ki Nasiyan is a beautifully crafted Jain temple renowned for its intricate architecture and stunning gold-plated display depicting Jain mythology. Explore the ornate halls, marvel at the intricately carved pillars, and immerse yourself in the spiritual ambience of this exquisite temple.
---
Photo: Shutterstock