Khamma Ghani, let's take you to one of the earliest planned cities of modern India. Jaipur also known as 'The Pink City' was founded in 1727 by Kachhwaha Rajput ruler Jai Singh II, after whom the city is named.
In 1876, Maharaja Ram Singh had most of the building painted pink –the colour of hospitality– for a visit by the  British Queen Victoria, which is still evident in the interior areas of the city. Surrounded by bazaars, forts, temples, grand palaces, and wildlife sanctuaries, Jaipur has something for every kind of traveller. At a  6 hours drive from New Delhi, Jaipur is also a top choice for weekend getaways.
Awarded UNESCO World Heritage Site status in July 2019, Jaipur is full of historical gems.   From fortresses around the city to well-planned markets, here are the historical navratnas in Jaipur you must visit once.
Nine of the best historical places to visit in Jaipur
1. Nahargarh Fort
Starting your day with the most glorious sunrise at Nahargarh Fort located on the mighty Aravalli Range. Built in 1734 the fort was once a part of the city's three-point defense strategy, which now offers a spectacular view of the city and is the best sunrise point.
A popular belief is that Nahar here stands for Nahar Singh Bhomia, whose spirit haunted the place and prevented the fort's construction. Nahar's spirit was pacified by building a temple in his honour within the fort, which thus became known by his name.
Timing: 10 am to 4 pm
Entry Fee: Rs 10 for Indian citizens & Rs 50 for foreigners
2. Jal Mahal
At a driving distance of 11 km from the Nahargarh Fort, you can visit Jal Mahal which is built right in the middle of the Man Sagar Lake. Not only it is a beautiful sight in the day, but it is also one of our historic gems that shines bright at night as well. The Jal Mahal Palace is 5 storeys high and is completely made of red stones. Four floors of the palace stay underwater and only one is visible. You won't be able to visit the actual palace because the government forbids admission to Jal Mahal. However, visitors can observe the Jal Mahal from a trail around Man Sagar Lake.
Timing: 6 am to 6 pm
Entry fee: None
3. Gaitor Ki Chhatriyan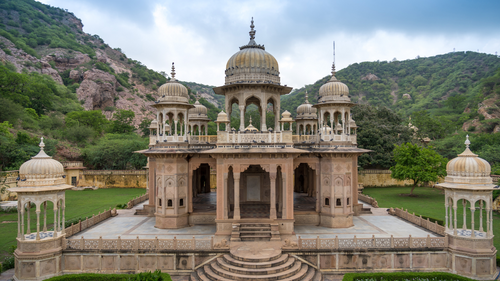 Close to the Jal Mahal is this majestic intricately carved stone monument that is the highlight of this royal crematory, Gaitor Ki Chhatriyan (meaning, the last abode of departed souls). Gaitor Ki Chhatriyan is a hidden treasure built with utmost precision and care. Take your time soaking in the peaceful aura, but be polite and keep the site's burial history in mind. Their architecture is admirable for each cenotaph is topped off by an umbrella-shaped dome or a chhatri and it is interesting to note that some are made of sandstone while others are of marble.
Timing: 9:30 am and 5 pm
Entry fee: Rs 30 
4. Hawa Mahal
In the middle of Jaipur city lies our next recommendation, Hawa Mahal. Built in 1799, by Maharaja Sawai Pratap Singh, it is the most recognizable monument of Jaipur. It has a total of 5 storeys astonishing semi-octagonal monument which has 152 windows with overhanging grid work balconies is a fine piece of Rajput architecture. Originally it was designed for the royal ladies to watch and enjoy the processions and other activities, on the street below. However, now it houses a well-laid museum.
Timing: 9 am - 4:30 pm
Entry fee: Rs 10
5. The City Palace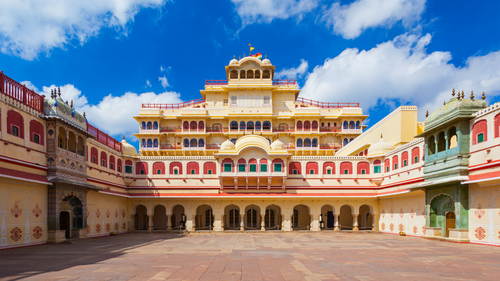 A short distance of 700 m from Hawa Mahal is a beautiful fusion of Mughal and Rajput architecture, the palace is still home to the last ruling royal family which resides in a private section of the palace. It is situated at the heart of the city and occupies about one-seventh of the old city area. Diwan-E-Am (Hall of public audience) has intricate decorations and a collection of manuscripts. Diwan-E-Khas (Hall of Private Audience) has a marble-paved gallery.  
Timing: 9:30 am - 5 pm
Entry fee: For Indians Rs 75 and for foreigners Rs 300 (inclusive of entry to Jaigarh Fort)
6. Bapu Bazar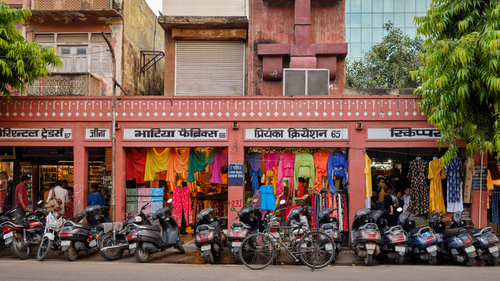 Close to The City Palace, is the shopper's paradise, Bapu Bazar. Mojri shoes, exclusive handicrafts, fragrances, attar, lehengas, colourful sarees and unique sandstone artefacts, you name it and Bapu Bazar has it. Although the market stays open throughout the week, a part of it remains closed on Sundays and Tuesdays. Shops of embroidered footwear called 'Mojri' remain closed on Sundays. Bapu Bazar is a perfect challenge for street shopping lovers as the market opens at 11 AM and closes at 10 PM, so better gear up. You get shops on both sides of the road crowded with tourists and you might end up paying more for an item so don't forget to bargain.
7. Albert Hall Museum
If you're visiting Jaipur, you must visit Government Central Museum, which is also known as Albert Hall Museum. It is situated at a distance of 1.2 km from Bapu Bazar. History-intrigued people will absolutely love the rich collection of artefacts this museum offers including paintings, carpets, jewellery, ivory, stone, metal sculptures and works in crystal. It is the oldest museum in Rajasthan and was completed in 1887 by architect Samuel Swinton Jacob. The domes or Chatri on each side and the centre of the building are influenced by Rajput architecture and Pillars. Albert Hall also happens to be one of the only few museums to host an Egyptian mummy.
Timing: 9 am to 5 pm, and 7 pm to 10 pm
Entry fee: Rs 40 for Indian nationals, and Rs 300 for foreign nationals
8. Jantar Mantar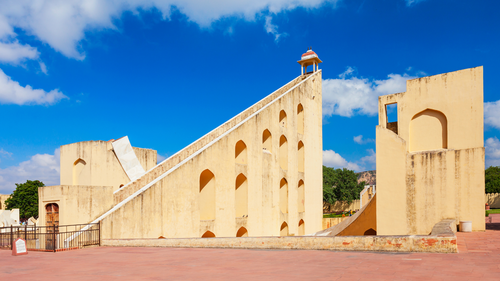 Located at a distance of 2.7 km from Albert Hall Museum is a UNESCO World Heritage Site and a solar observatory dating to the early 18th century. It is one of a kind with fully functional instruments to date with accuracy and precision. The Jantar Mantar (meaning "instruments for measuring the harmony of the heavens" is a collection of 19 astronomical instruments built by the Rajput King Sawai Jai Singh. 
Timing: 9 am to 4:30 pm
Entry fee: For Indians, the ticket is Rs 50 and for foreigners for Rs 200
9. Amer Fort
Magnificent Amer Fort is a jewel of Jaipur with its beautiful architecture and rich history. The entire structure took over 100 years to build and it gets its name from the goddess of earth and fertility, Amba Mata. Amer Fort has several remarkable attractions, but the Sheesh Mahal stays on top. Thousands of mirror tiles and coloured glasses adorn its walls and ceiling. The hall of mirrors in this palace, another incredible place to observe, could be illuminated entirely with just one candle. 
You can also get an audio guide for this massive fortress. It also hosts a sunset lights and sound show that you must not miss. 
Timing: 8 am to 7 pm
Entry fee: Rs 100 for Indian nationals, and Rs 550 for foreign nationals
---
Photo: Shutterstock