While Murudeshwar is a popular religious destination for Shaivites, there is a lot more to explore in this coastal town of Karnataka. From the Murudeshwar Shiva Temple, which is the town's main attraction, to the pristine beaches, ancient architectural forts, water sports and trekking — prepare for an unforgettable holiday in Murudeshwar.
Murudeshwar is easily accessible by bus or train from Mumbai, Goa, Bangalore and Mangalore. You will find several budget-friendly hotels at affordable rates and enjoy a comfortable stay in this spiritual city.
So, apart from the Murudeshwar Temple, here are the other must-do activities for your Murudeshwar itinerary:
1. Experience Divinity at the Statue of Lord Shiva
Murudeshwar is famous for its majestic statue of Lord Shiva. Sitting at the height of 123 feet on Kanduka Hill, it is the second tallest statue of Lord Shiva in the world. Enjoy breathtaking panoramic views of this magnificent statue with the massive Arabian Sea in the backdrop.  
2. Marvel at the Murudeshwar Temple's Gopuram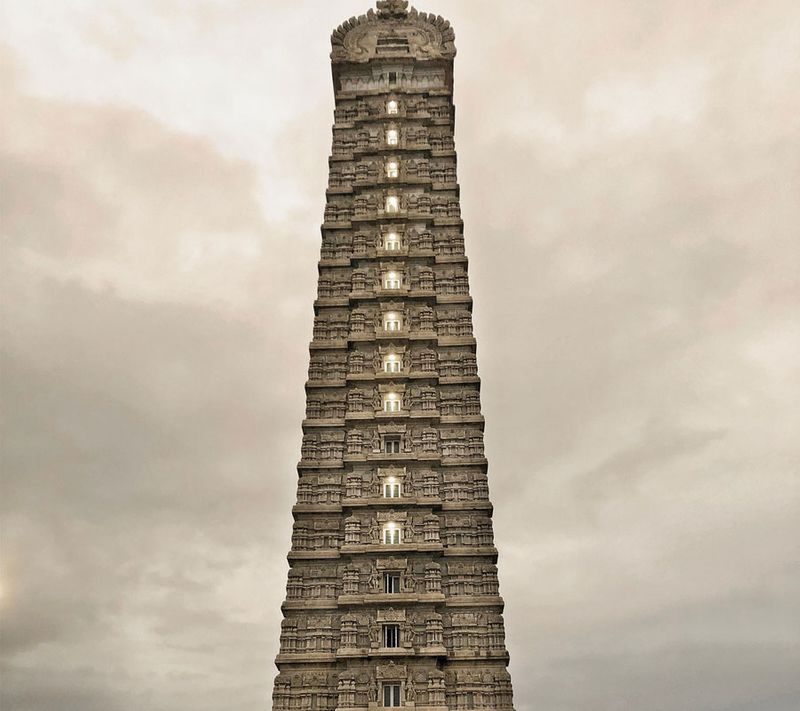 Surrounded by the Arabian Sea, the Murudeshwar Temple in Karnataka is undoubtedly one of its kind. It is known to be one of the sites of the divine Atma Lingam. Sri Mridesa Linga, the main temple God, is believed to be a part of the original Atma Lingam. The temple's gopuram is 20 storeys high and features intricate Dravidian-style carvings, while two life-sized elephants welcome visitors to the temple.
3. Enjoy Panoramic Sunset Views from Statue Park
The Statue Park is located behind the Murudeshwar Shiva Temple. Several stone sculptures adorn the site, which also features lush green lawns and vibrant flowers. It depicts scenes and figures from the Hindu epics of Mahabharata and Ramayana, such as Ravana, Ganesha and Lord Rama. The delightful coastal view of the sunset from Statue Park is unmissable, making it worth a visit. 
4. Take a Dip at Murudeshwar Beach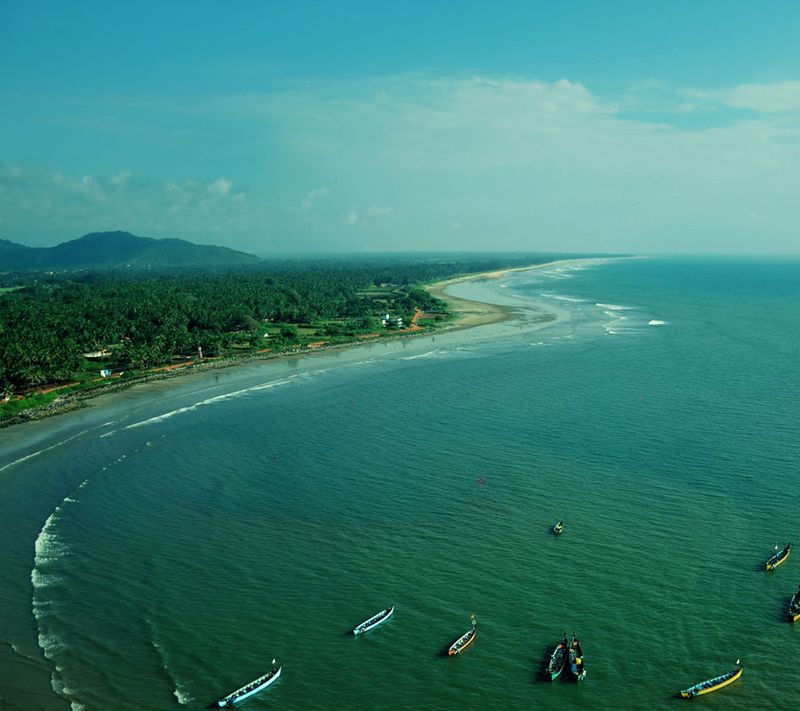 Murudeshwar Beach is among the lesser-known beaches in India. It is a clean and beautiful beach located close to the Murudeshwar Shiva Temple. It is 2-3 kilometres long and offers thrilling beach activities such as banana rides, water scooter rides, water skiing, speed boat rides and fishing. Since the waters here are shallow, you can also take a quick dip and enjoy the company of the crashing waves.
5. Glimpse into Ancient India at Mirjan Fort
Mirjan Fort is an hour's drive away from Murudeshwar. It's a glorious site that gives visitors a peek into ancient India. The ancient monument is known for its exquisite architecture, which features high ceilings, bastions and four entrances. Several different versions claim the origins of this fort. According to the most popular, it was constructed in the 16th century by Queen Chennabhairadevi of Gersoppa, fondly known as Pepper Queen'. 
6. Meet Marine Life at Netrani Island
Netrani Island, also known as Pigeon Island, is a 90-minute boat ride from Murudeshwar. This heart-shaped island is a hidden gem and one of the best snorkelling sites in India. Surrounded by crystal-clear water, it is home to incredible marine biodiversity. Expect to spot corals, butterflyfish, parrotfish, starfish, eels and triggerfish. Netrani Island certainly promises a remarkable experience. 
7. Get Adventurous at Yana Caves
An hour and a half by road from Murudeshwar, Yana Caves are a popular spot for trekking. Adventure seekers enjoy trekking through the dense forests that lead up to the massive rocks. The refreshing water of Vibhuti Falls is a welcome respite after the trek. Devotees also visit Yana to pay homage to the Shiva lingam situated at the base of the Bhairaveshwara shikhara.
The best time to visit Murudeshwar is between October to February, that is, during the winter season. December is considered the busiest season in Murudeshwar as most devotees visit the temple during this time. Expect hotels to be at full occupancy, so keep this in mind while planning your holiday.
---
Photo: Shutterstock