On a scorching afternoon, we are sprinting towards the check-in counter at the Jeddah airport terminal with our suitcases. Perhaps, we have realised that we are about to miss our flight to AlUla, an ancient city in the Medina region of north-western Saudi Arabia. Red-faced and panicked, we plead our case for immediate baggage drop. However, we are sternly told that the gate is closed and we can only board the next available flight to AlUla. Having never missed a flight, I am disheartened, almost in tears. We speak to some locals and find alternative ways to get to AlUla at the earliest. After much discussion and pondering, we decide to take the flight to the historic city of Tabuk, which is located at a distance of around 297 km from Alula, followed by a road trip to AlUla. 
Discovering AlUla
Soon, we are driving on roads as smooth as butter, surrounded, on both sides, by an endless expanse of beige desert dotted with bare hillocks, herds of camels and sparsely scattered shrubbery. Immaculate roads stretch for hundreds of kilometres, sometimes without a single petrol station in sight. Saudi Arabia is made for cars. 
As we start approaching AlUla, we witness slight changes in the terrain. Unique outcrops and rock formations emerge out of a sea of sand deposits and clusters of emerald-green date palms and citrus groves add a dash of vibrance to the otherwise muted topography dominated by vast sandstone Hijaz Mountains. What we see in terms of the colour and shape of the rocks is incredible!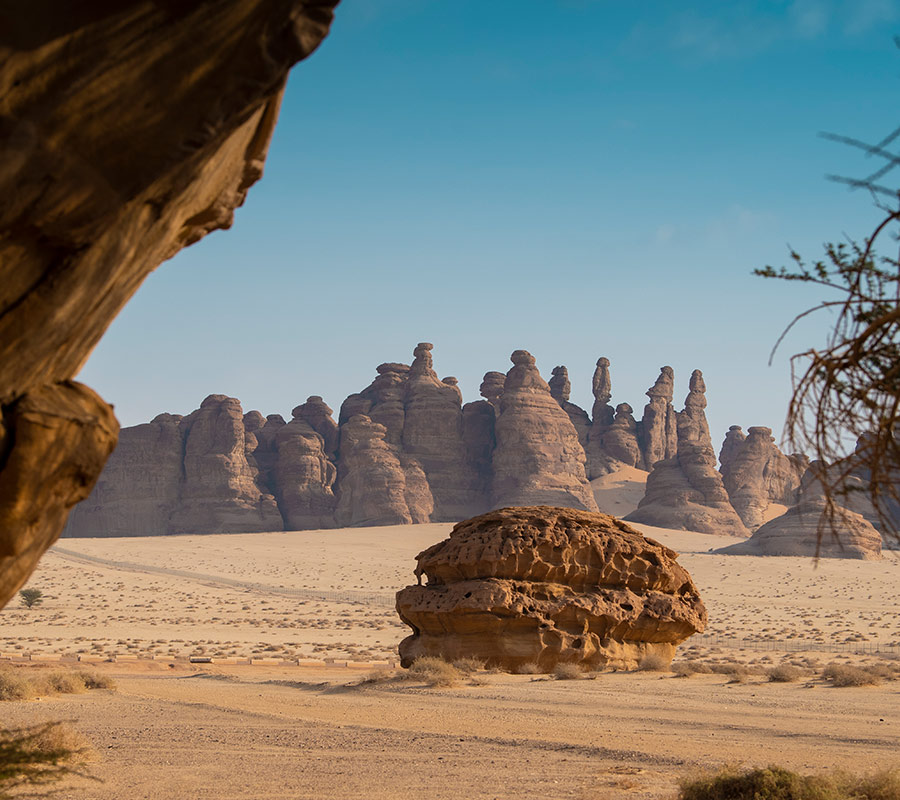 I check into my cosy cabin at Shaden Resort, a charming property nestled against massive, magnificent rocks. From the privacy of my outdoor patio, I am gazing at the surrounding wilderness in astonishment, trying to slowly absorb what seems quite unreal.  
After freshening up, we make our way to AlUla's Old Town which was a key stop along the pilgrimage route from Damascus to Makkah around the 12th century. This is where pilgrims, travellers and permanent settlers congregated through the ages. With nearly 900 houses, 400 shops and 5 town squares, the Old Town is located in the narrowest part of the AlUla Valley. With our rawi (guide) Hadeel, we walk through a small maze of lanes packed with remnants of the original stone and mudbrick buildings with locked wooden doors. I am instantly transported back in time.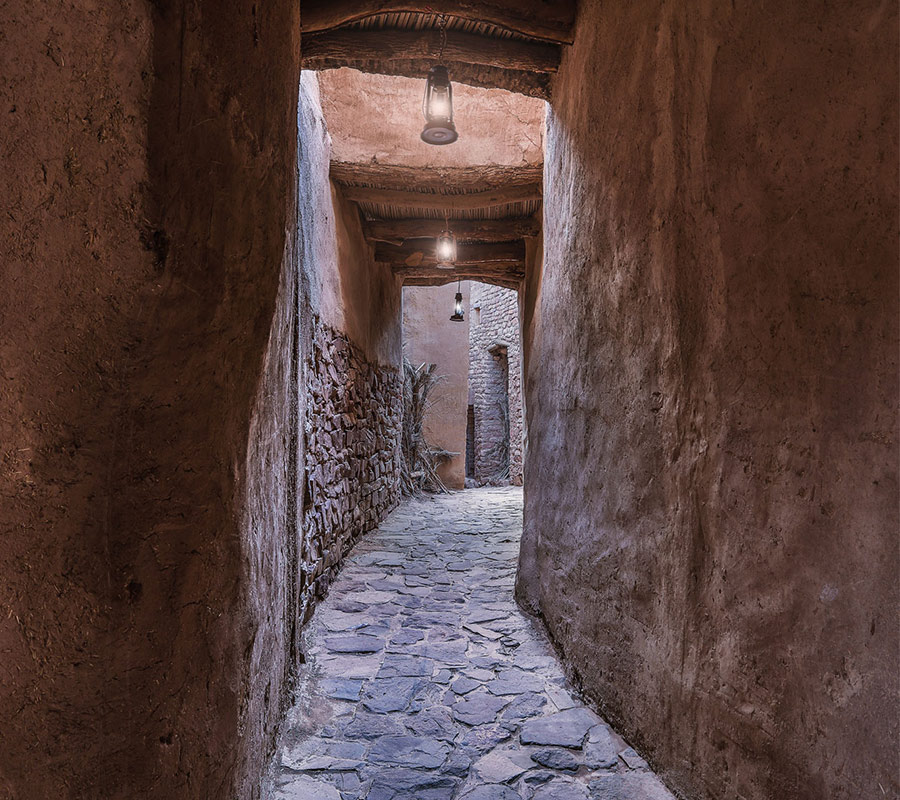 The Old Town
The Old Town of AlUla was inhabited from before the 12th century up until the early 1980s when its last residents left the village for more modern locales. The fact that it was inhabited not very far in the past is fascinating and thought-provoking. "While the houses seem to be randomly clustered together, they were actually architectural gems which had been cleverly designed to ensure a smooth flow of air in and around them," adds Hadeel. I peek into one of the houses through a small gap in the door, trying to paint a picture of what life would have been like inside its walls. Hadeel explains that the lives of people living in the Old Town were intertwined and they lived together as a close-knit community. "The town AlUla, which has been continuously inhabited for 200,000 years and today has a population of around 46,000, has some open spaces, also called ArRahabat, where people would socialise, enjoy the sun, share news and trade goods," adds Hadeel.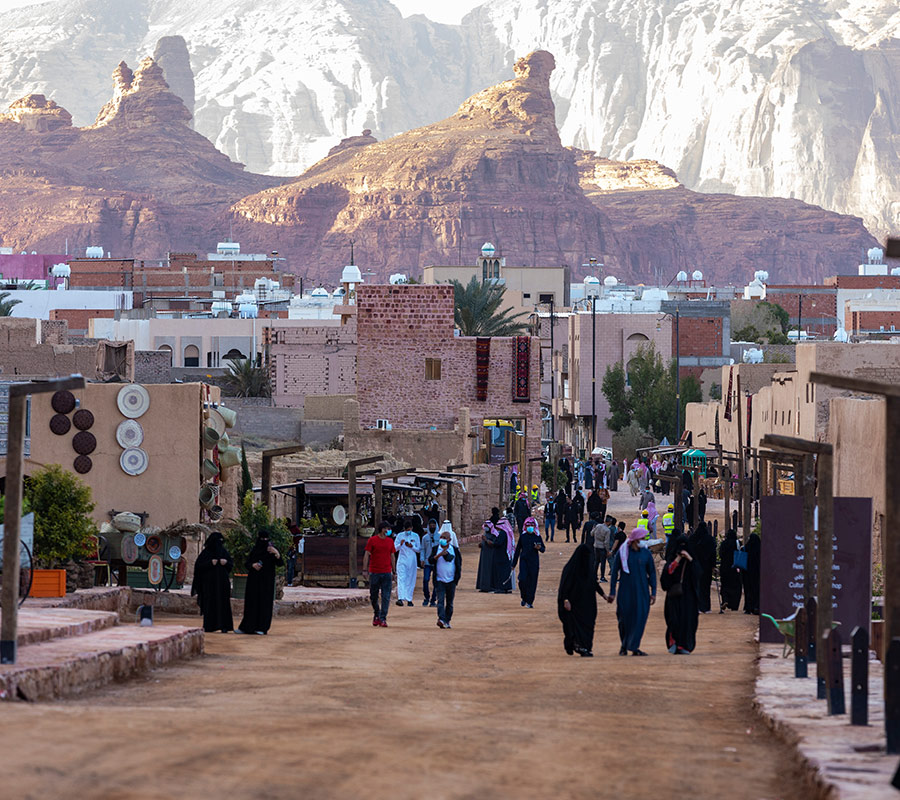 We explore one of the squares which is now a souq that comprises eateries for dining with views of the ancient site as well as shops selling traditional arts and crafts from the region, trinkets, perfumes, fruits and produce. The handicraft pavilion is where live demonstrations of traditional arts and crafts happen. The souq is worth a visit in the evening when it is rather lively.   
Soaking in the environment 
One notable feature of AlUla Old Town is the Tantora sundial in the form of a pyramid. It played an essential role in the lives of the city's residents. The shadow that it cast was not only used to tell time but also marked the start of the winter planting season in AlUla, known as Al-Marba'aniya. 
For a panoramic view of the town's labyrinthine streets and an understanding of its comprehensive layout, we ascend the 190 stairs to the Musa Bin Nusayr Castle, a red sandstone fort located on the mountain Jabal Um Nasser. Built to monitor and protect the residents from invaders and natural hazards, the citadel dates back to the 6th century BC. and is the oldest building in the Old Town AlUla. Due to its historical significance, the castle has gone through various preservation attempts over the years.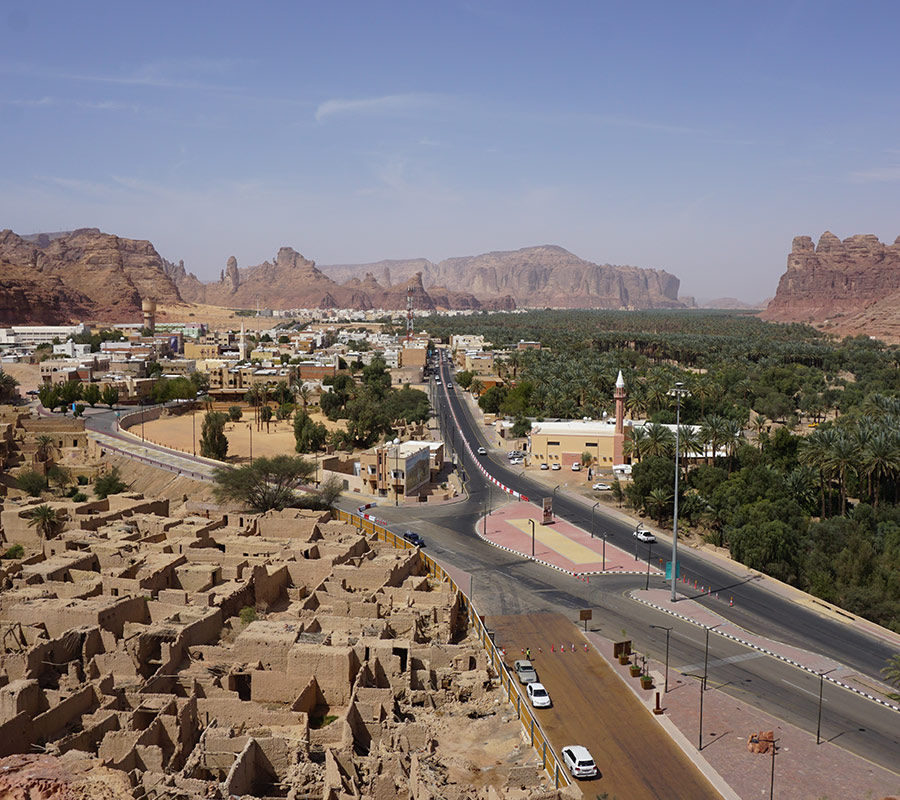 Spending half a day under the blazing Arabian sun is enough for me to know why Saudi men and women are always seen sporting a head covering. I pull out a scarf from my bag and quickly wrap it around my face. 
Our next stop is Dadan where we are greeted with steaming, aromatic qahwa (Arabic coffee) and dates. The capital of the Dadanite and Lihyanite kingdoms, Dadan was of the most developed cities in the Arabian Peninsula in the 1st millennium BCE. Much of its prosperity and sophistication can be credited to its strategic position on the major north-south caravan route through Arabia. The kingdom played a major role in the transportation of commodities like frankincense, myrrh and spices from Southern Arabia to Egypt, the Levant, the Mediterranean and beyond. Built meticulously from stone and astride the valley's oasis, Dadan was blessed with plentiful availability of food and water. No wonder it was a key stopping point for travellers, including merchants.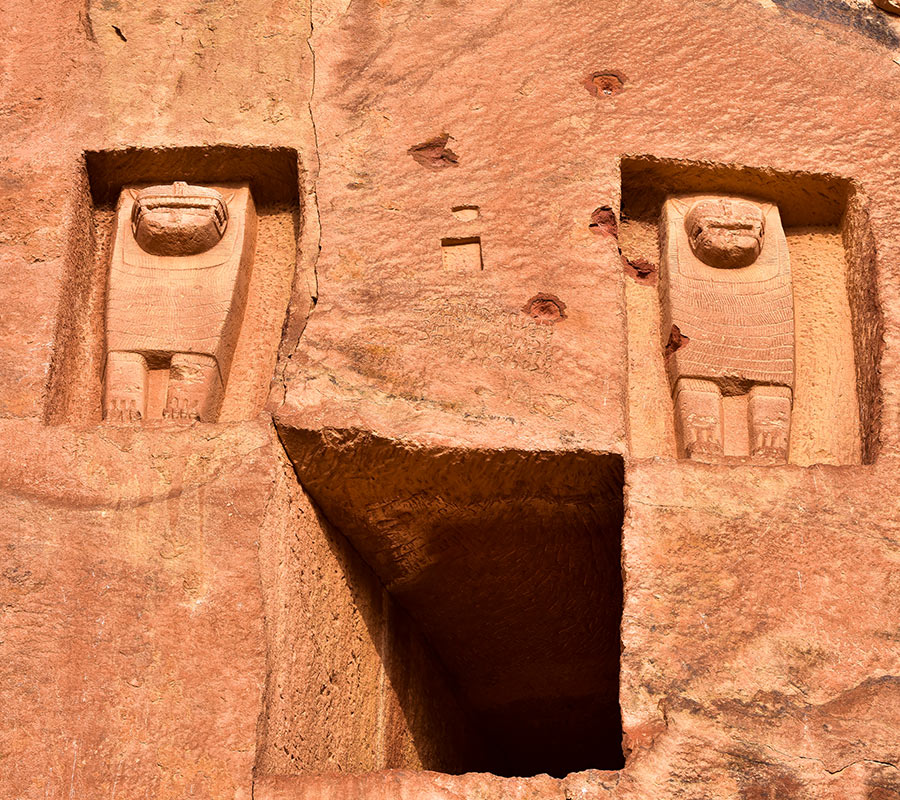 A significant aspect of the Lihyanite society was the high level of skill in architecture and sculpture, including carving rock-cut tombs. I am sipping qahwa and carefully observing the tombs, most of which look like square-shaped holes. They are cut at different heights out of the side of the mountain, their cavities being about two meters deep. Just then, I spot a tomb built up to 50 metre above ground level and decorated with two seated lion sculptures. Our local friend and guide Suleiman is quick to point out that the lion tombs belonged to the influential and elite. According to the religious beliefs of the day, the lions were said to protect those buried within.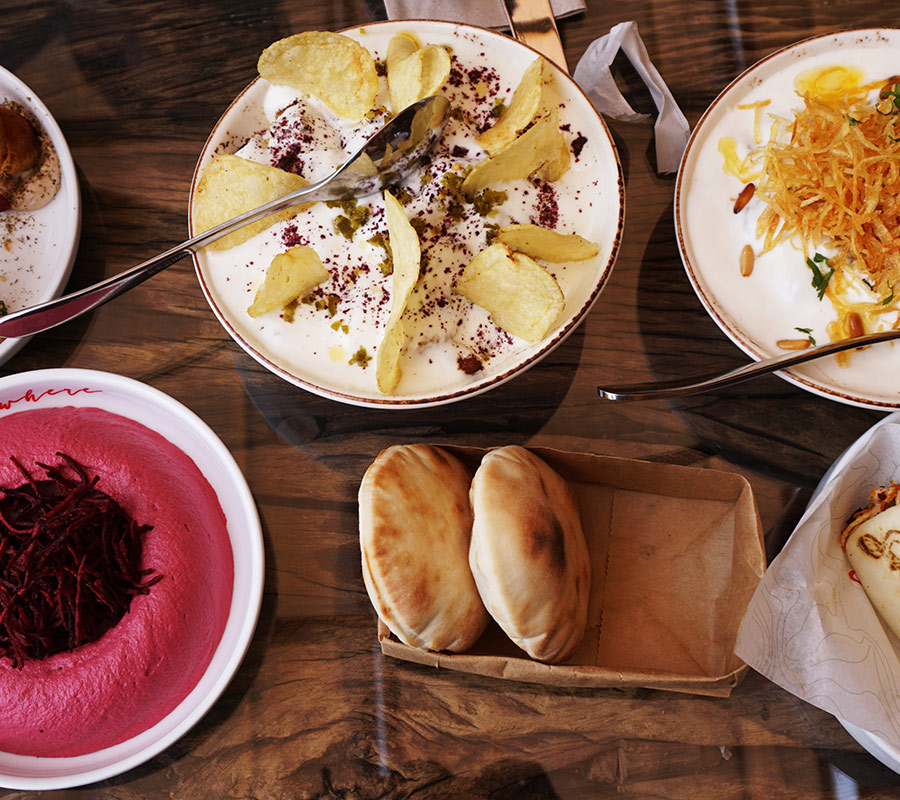 A quick meal
It's time for a luncheon and some respite from the heat. So, we head to Somewhere, a restaurant tucked into an oasis farm, in the centrally-located AlJadidah Village, within the Cultural Oasis District of AlUla. Its outdoor seating characterised by Morroccan-style throws and cushions in all possible earthy colours and a beautiful water body at the centre instantly bring a sense of relaxation and comfort. In a laid-back atmosphere, we are feasting on modern dishes fused with authentic Mediterranean flavours. Think Passion Fruit Mocktail, Shrimp Kunafa, Beetroot Hummus, Batata Harra Fries, Somewhere Fatteh, Chicken Shawarma Bao, Chicken Musakhan rice and more. Each dish feels like an explosion of fresh flavours in my mouth. We finish with the luscious French Coffee Baklava served with creamy coffee ice cream that leaves us craving for more. 
Rocks, stargazing and more 
Just 15 minutes from the AlJadidah Village is Jabal AlFil, or Elephant Rock, a monumental sandstone structure that resembles an elephant whose trunk extends to the ground. A geomorphological wonder, it is shaped by millions of years of wind and water erosion and rises up to three storeys. We are here at the golden hour before sunset when gorgeous natural light is enhancing the beauty of the unrefined structure standing on sands studded with rocky outcrops, many of which are equally impressive and interesting in size, and shape. In front of the looming Elephant Rock, there are sunken sand pits with couches for people to park themselves. I see a group of men smoking sheesha while some couples are enjoying a quiet stroll. My friends and I occupy the bean bags placed under a canvas roof for unobstructed sunset views. The twinkling lights and soft music from SALT, their on-ground rustic restaurant, are setting the mood. While one has the choice to gorge on juicy burgers or succulent beef and chicken sliders with refreshing lemonade from SALT's menu, we are happy simply watching the day turn to night.        
We decide to end the eventful day with a session of stargazing. The sky was fundamental to the enigmatic Nabateans, a nomadic tribe that inhabited certain parts of northern Arabia including Hegra in AlUla. The Nabataeans used the stars for practical purposes like navigation, localisation, counting hours, and days and determining seasons.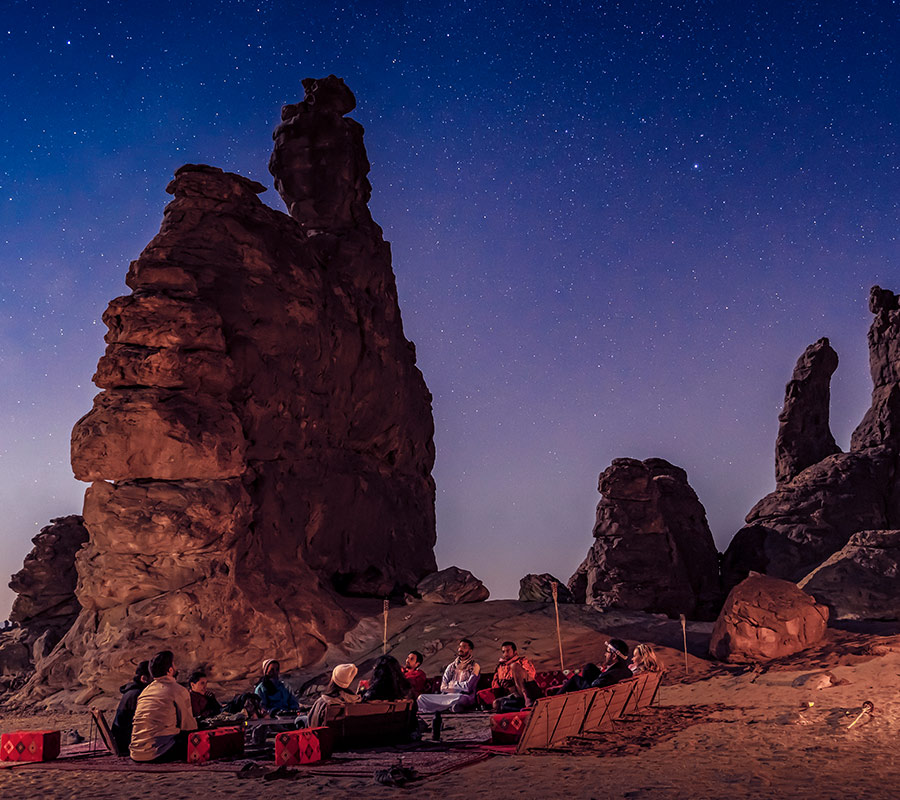 For exploring the cosmology and astronomy of the Nabatean civilisation, we make our way to the mystical rock formations of remote Gharameel situated in a vast open space, far from city lights. I can feel the chill as soon as I get out of the car. The centrally-located seating area is adorned with cushions and lit up with very few battery-operated lamps. I put on my jacket and find myself a good spot to lean back and immerse myself in the tranquillity of the desert-scape. As our star guide narrates stories about the stars and their influence on the climate, I try to look for star Suhail, the third brightest star in the northern hemisphere after the Sun and Sirius. The ancient Arabs linked the atmospheric and yearly changes to the emergence of Suhail. Suhail was remembered in their poems too. I am no expert stargazer and I fail to identify Suhail with my naked eye. However, in those few hours of staring at the moon-lit sky in silence, I end up establishing a special bond with the desert and its ancient people who possibly believed in keeping their eyes on the stars and their feet on the ground.  The experience turns out to be both humbling and inspiring at the same time! 
FACT CHECK 
Getting there
Saudia offers connecting flights from Delhi and Mumbai to AlUla via Jeddah or Riyadh. Fly Dubai operates 2 weekly flights between AlUla and Dubai from Al Maktoum International Airport.
Where to stay
For a sustainable, luxurious stay, surrounded by sandstone cliffs and palm groves, pick Habitas which is nestled within an ancient oasis in the desert canyons of the Ashar Valley. It also offers art and culture walks, canyon trekking, yoga, meditation and outdoor cinema screenings. 
Alternatively, spend a night in a Canyon RV tucked into the stunning AlUla valley, not far from Elephant Rock. A modern twist to camping!
Getting around AlUla 
Renting a car, with a driver or without, is the best way to explore AlUla. If you plan to self-drive, make sure to carry a valid driving licence with you.
Local currency
The local currency is the Saudi Riyal (SAR). There are ATMs in AlUla, but there is no currency exchange. Best to exchange money at Riyadh or Jeddah airports before your arrival. 
Local language
The official language of Saudi Arabia is Arabic, but English is widely spoken in AlUla and around the country. 
Photo: Shikha D; AlUla Tourism