Exotic wedding venues are the rage right now. And why not? Who wouldn't want to be married at a dreamy location on a beach where the ocean meets the sun kissed sky; in a ballroom festooned with chandeliers, at a century old fort where the walls whisper secrets from a bygone era or on a verdant farm under a star studded sky? But finding a retreat that looks straight out of a postcard sure is a tough job. That's until you read this.
Zee Zest scouted the length and breadth of the country for some of the best resorts for a bespoke and memorable wedding. In addition to tranquil settings, stunning views, delectable catering and a rejuvenating vibe, these resorts have a variety of thoughtfully curated experiences to offer for you and your guests.
1. Skyview By Empyrean, Jammu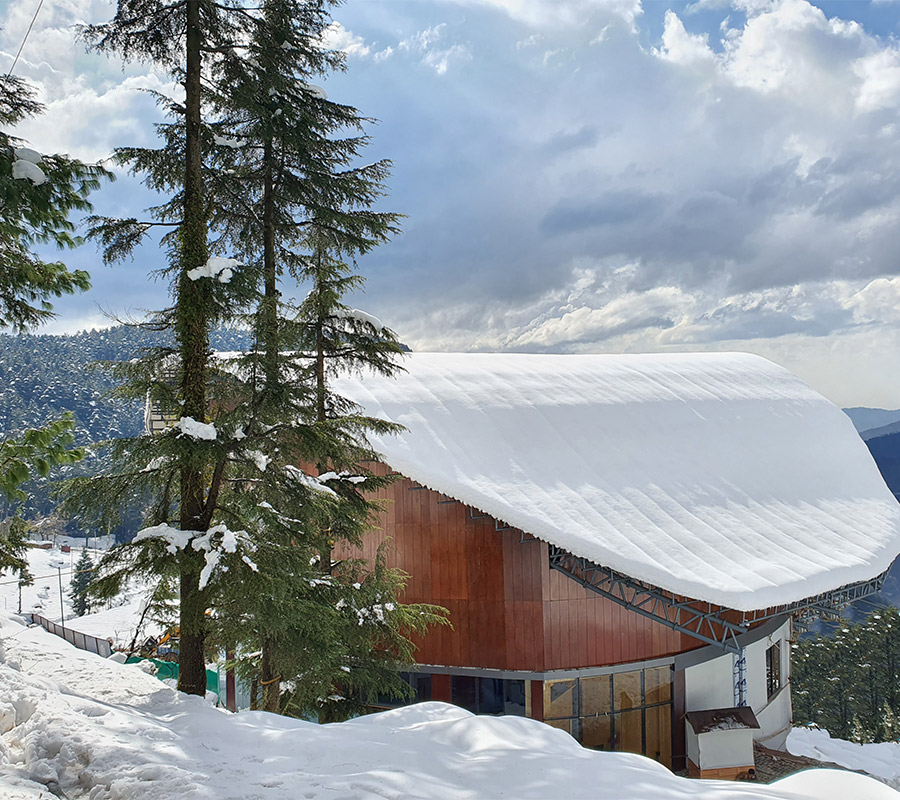 The magic of a winter wedding often lies in its smaller scale. There's something terrifically intimate about cozying up with your nearest and dearest while flurries fall from the sky. Spring for a full buyout of Skyview By Empyrean, a rustic mountain resort nestled in the charming Shivalik belt, and you'll achieve exactly that. The property is a two-hour drive from Jammu, passing through four spectacular tunnels. The rooms come with all modern comforts and wrap-around mountains views. 
Meal venues are equally dramatic – perched on a mountain with views of the picturesque Sanget Valley. The baraat can come in a gondola riding through the tall pine forest to an open-air lawn studded with gigantic roses. It's the most picturesque spot to say, "I do". The Skyview Terrace surrounded by snow- capped mountains and lush meadows is another stellar setting.When the sun goes down bonfires go up along with street food carts and piping hot trays of sizzlers. Post the wedding guests can picnic near the scenic lake of Sanasar and Natha Top. Adrenalin seekers can go biking in the mountains, trek the Shivalik range or go zip lining at the property. Mata Vaishno Devi temple in Katra is just a 90-minute drive away.
Address: Village Sanget, Chenani, Jammu and Kashmir. 
For reservations: 18001039747
2. Larissa Ashwem, Goa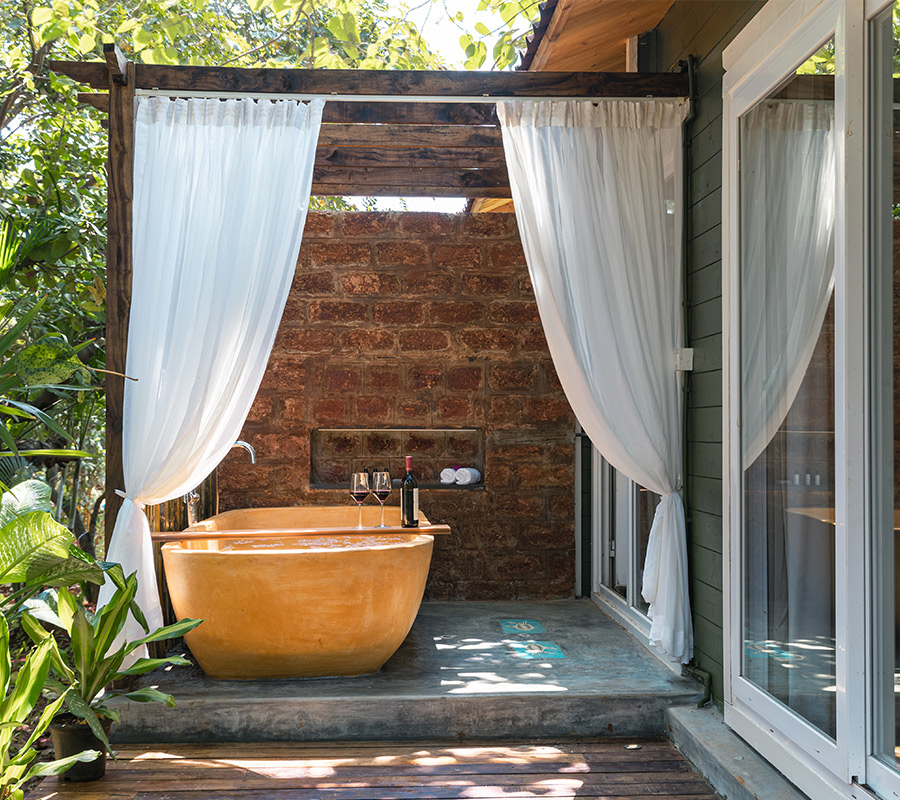 Tie the knot at this lush green resort in North Goa in the land of sunshine and sand. Larisa with its swaying palm trees and winding pathways makes for an Insta-perfect wedding setting. There are 20 wooden cottages decked up with soaring ceiling, old world tiles and floor-to-ceiling glass doors that allow in plenty of light and add a touch of grandeur. 
The piece de résistance is the stone bathtub in the private patio wrapped with bamboo bushes. When it comes to your nuptials, you can exchange vows on the lawns andthen dine and dance the night away at the beachside restaurant shaded by leafy palms. For couples seeking a beach wedding Ashwem is just five minutes away. As an added bonus, you can prep and pamper before your big day at the luxurious spa at the property. There's also a cute boutique for any last moment purchases. The sink in bathtub is perfect to wash off the fatigue.
Address: Near Ashwem football Ground Mandrem-Goa.
For reservations: 08048766766 
3. Sukoon Blusalz Escapade, Ranikhet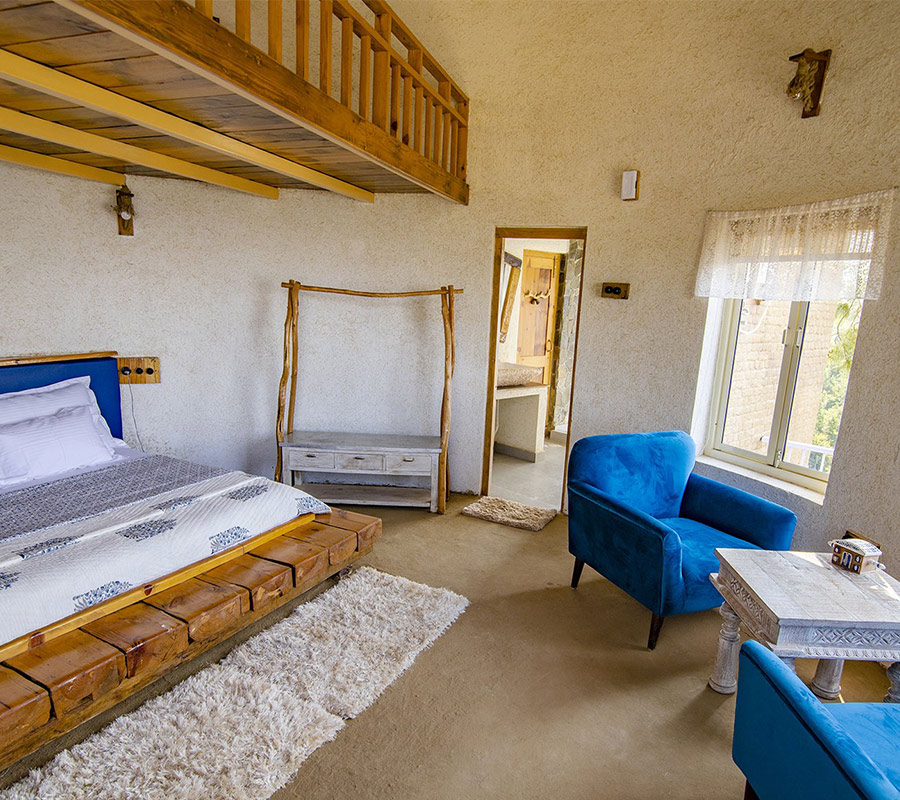 Longing for a venue with a dose of rural romance? Sukoon Blusalz perched on the hills of Ranikhet is perfect. Weddings here are mystical and magical, and the views are out of this world. This mountain retreat with log huts and mud huts is ideal for an intimate wedding with a guest list of 35-50 people. Whatever room type you choose they all come with charming balconies to ogle at the rolling hills and the most mesmerising sunset. 
Cozy up for cocktails in the woods before moving to the rustic dining area for a sit-down meal of Kumaoni delicacies along with other crowd favourites. The barbeque here is just outstanding. The property sits under the majestic Kumaon mountains, so there's no shortage of photo ops. The morning after, walk into the countryside and return to a breakfast in the forest.
Address: Bhatrojkhan near Ranikhet, Village Dharar Pant Gaon, Al Mora, Uttarakhand.
For reservations: 07618111555 
4. Jehan Numa Palace Hotel, Bhopal
For couples with opulent fairytale fantasies, it just isn't a wedding unless you marry in a real palace. Jehan Numa Palace is both a five-star luxury hotel and a wonderfully preserved piece of history. Built in the 18th century by the last begum of Bhopal, Jehan Numa is reminiscent of royal quarters, adorned with wall carvings, antique mahogany furniture, plush embroidered carpets and gilt-framed art. 
Every room opens into green courtyards or balconies overlooking trees, the swimming pool or the riding track. Old world fixtures, swords and sepia tinted photographs scattered all over the property lend it a very museum like vibe – albeit a luxurious one. There are five magnificent banquetsand a stunning lawnto choose from. Apart from the incredibly warm service food is another major highlight of this property. Expect dishes straight from the royal kitchens and centuries-old recipes from the Begums' repertoire along with an array of Asian, Western, Indian and popular global fares.
Address: 157, Shamla Hill, Bhopal, Madhya Pradesh.
For reservations: +917552661100/ +917554235100 
5. Chittoor Kottaram, Ernakulam (Near Kochi)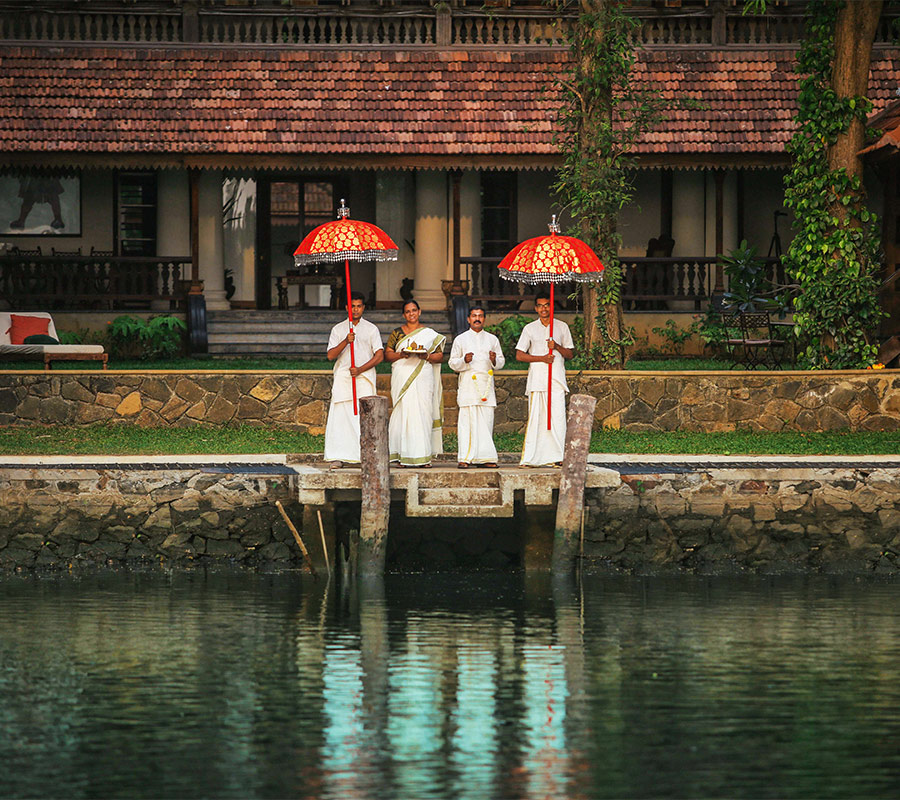 For a beautiful wedding with centuries of character, look no further than Chittoor Kottaramby CGH Earth. This single-key mansion which used to be the erstwhile getaway of the maharaja of Kochi has been carefully restored to its understated royal elegance. From the heritage furniture to the arts that adorn the wall, every inch of the palace is a storyteller. The wedding rituals can take place on the vibrant front lawns that seem like a vision straight out of the 'Avatar', and the bride, groom and guests can arrive on decorated wooden boats. 
While the mansion's master suite on the first floor and two smaller bedrooms on the ground, all with ensuite bathrooms, are just right for the bride and groom's convenience for the big day, guests have an option to stay at CGH Earth's other Kochi properties – Brunton Boatyard from where the boat can depart for the celebrations. Create memories by the pool inspired by temple ponds or surrender to rejuvenating massages while the chef whips up secrets from old Kerala kitchens and other popular delicacies. If you wish to step out, the property can organize visits to the local village markets as well as to an 800-year-old Krishna temple a few hundred meters away, the reason the Rajah of Kochi built the palace.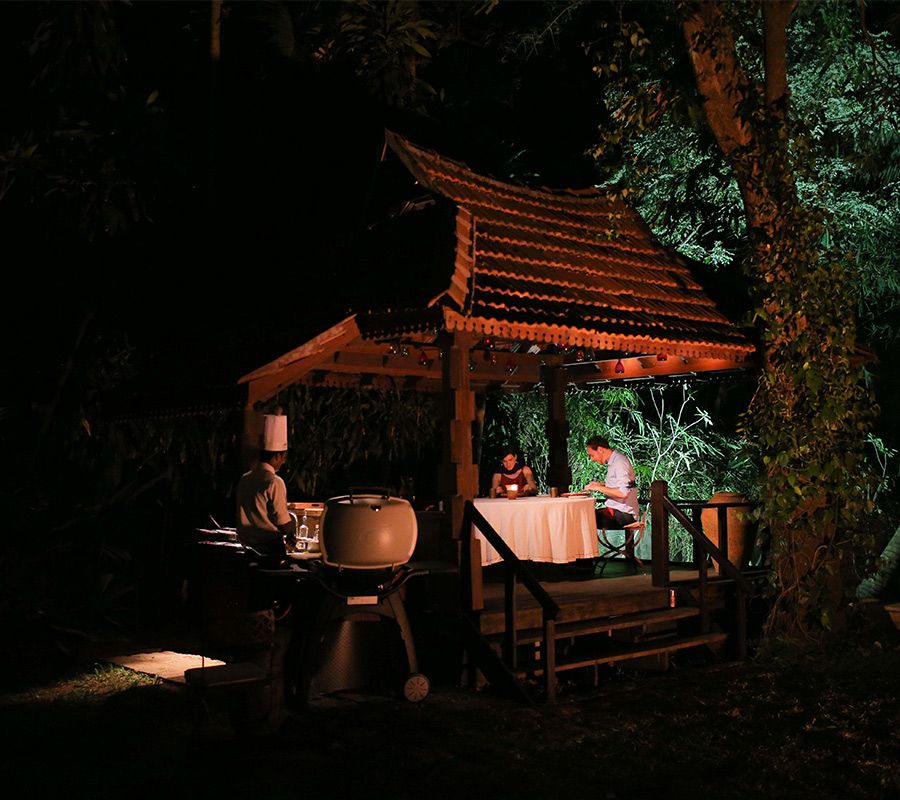 Address: Opposite SBOA School, behind Chittoor Temple, South Chittoor, Kochi, Kerala.
For reservations: 04844261711 
6. Pilibhit House, Haridwar
How about tying the knot under a mango tree at a luxury hotel where the air is thick with the lilting chants of the evening arti while the Ganga flows by gently? This spiritual setting is possible at Pilibhit House a meticulously restored century-old mansion. The 35 artfully designed rooms and suites are drenched in soft pink, the colour of Har Ki Paur and the temples of Haridwar, while the common areas are decked up with vintage finds including glass chandeliers, rare paintings, photographs, and artwork made of 980rudraksh beads. Balconies attached to rooms offer magnificent views of the Ganga and the hills beyond. The spectacular infinity pool under the shade of a mango tree can be the setting for the pheras. Just a few steps down is the private bathing ghat of Pilibhit House, which reverberates with evening aartis. There's a spa and a restaurant with the most delicious vegetarian fare. Pilibhit House is only an hour's drive from Dehradun airport.
Address: 21 Pilibhit House, Ram Ghat, Haridwar.
For reservations: +911334 226443/7500263336
7. Moksha Himalaya Spa Resort, Kasauli, Himachal Pradesh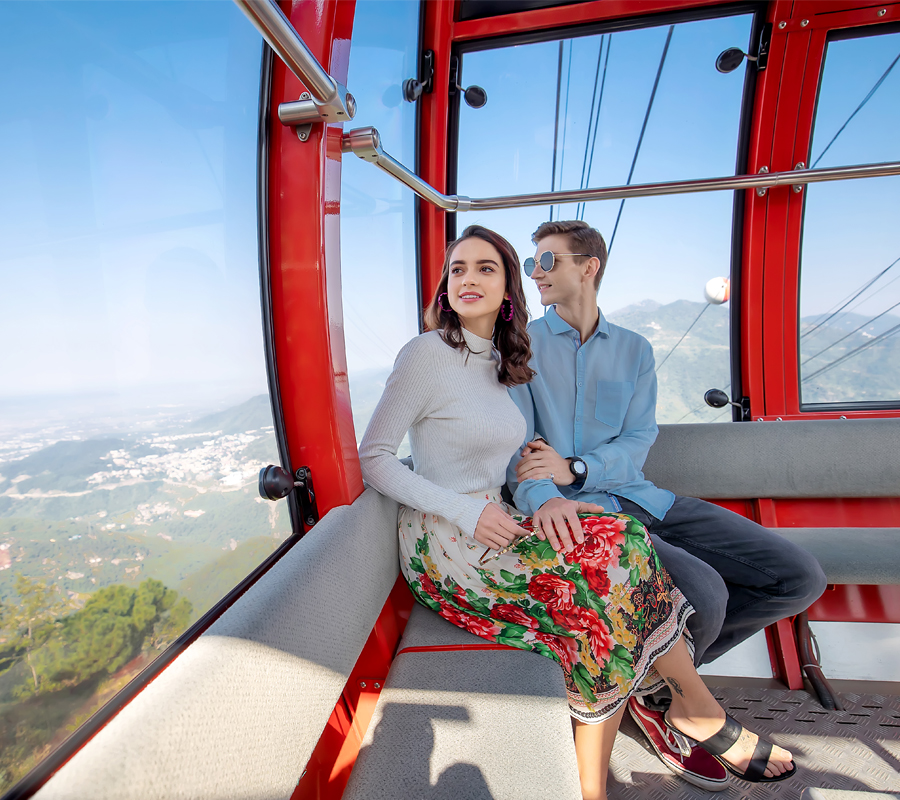 Nestled amidst the lush green hills of Shivalik ranges, Moksha Himalaya Spa Resort is a stunning retreat to tie the knot. The arrival itself will be a memorable experience –through a gondola via a mesmerising green valley. The choice of venues include scenic garden terraces, beautifully manicured lawns and snazzy indoor spaces like the Mansion Hall or Royal Ballroom. The wondrous views of the mountains make it an exceptional setting for a wedding.  
Apart from 62 lavish suites and rooms with private balcony overlooking the breathtaking scenery, there is also a beauty salon to ensure the bride and groom are at their radiant best. The infinity pool and outdoor jacuzzi are great places to unwind before the big day. Logistics is another plus point as the retreat is just an hour away from Chandigarh airport and five hours from New Delhi. Popular sightseeing gems such as Kalka Temple, Pinjore Gardens and Shimla are close by.
Address: C/o Timber Trail Resort, NH 22, Near Village Banasar, Parwanoo, Himachal Pradesh
For reservations: 092185 32347 
8. Tijara Fort Palace, Alwar, Rajasthan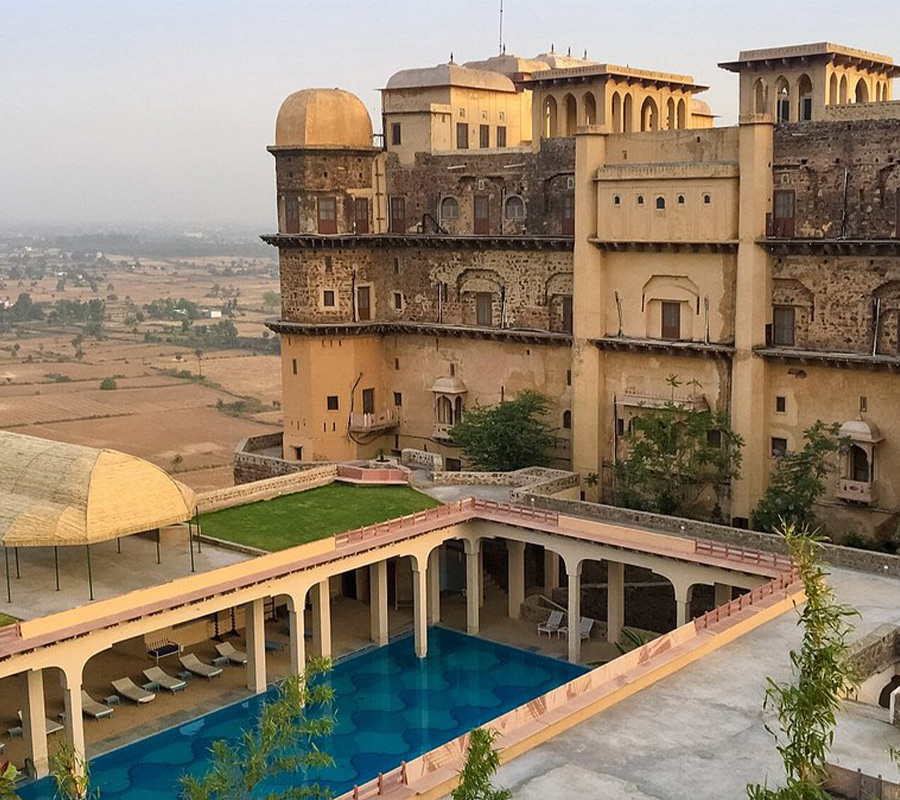 Enjoy breathtaking views and abundant art at this 19th-century fort affectionately restored by Neemrana into an extraordinary boutique hotel. Ideally located two and a half hours from Delhi the fort premises boast of some of the most beautiful gardens filled with amaltas and jacarandas along with some stunning vistas of date palms and Aravalli hills. Each of the 60 suites is named after India's leading painters, designers, artists and aesthetes who have lent their art to the rooms. 
Unquestionably, the terrace of Rani Mahal is where you should be headed for the nuptials with the background of the most dramatic sunset and then head for an alfresco dinner in the gardens or in the all-glass restaurant Kanch Mahal. Your guests are going to love oodles of artifacts, (there is an entire room hand painted by Anjolie Ela Menon), great views, quirkiness and a lot of history to explore within the property. If you wish to step out the Bhangarh's ruins are well worth a visit.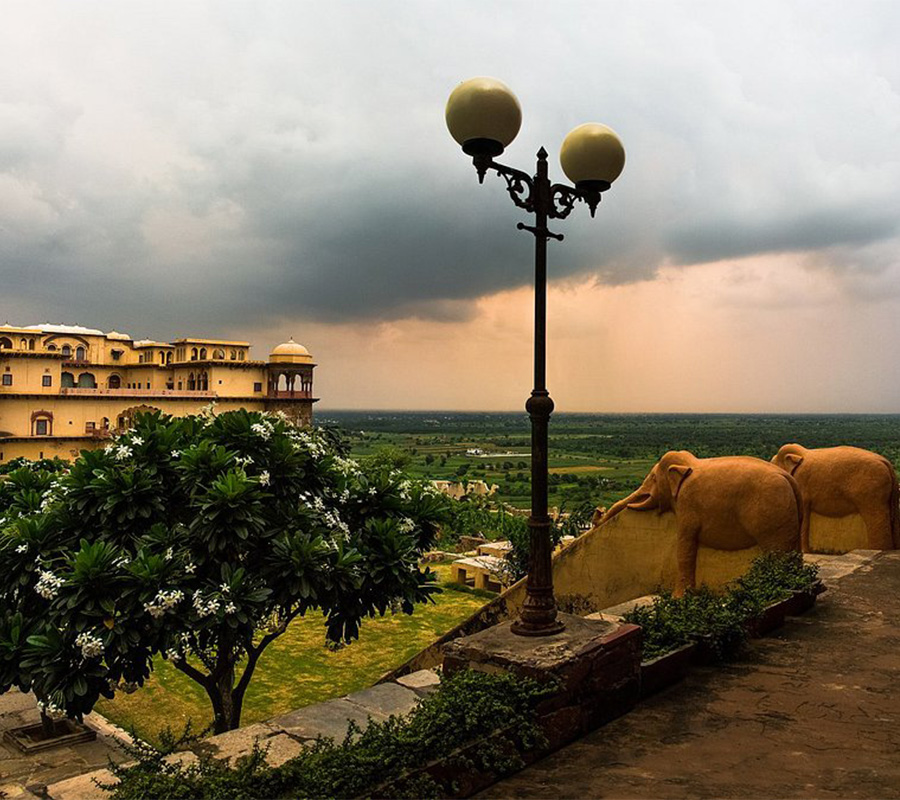 Address: Hasanpurmafi, Tijara, Alwar, Rajasthan.
For reservations: +919587885003
Photo: Moksha Himalaya Spa; Featured hotels