Vembanad Lake, which is located in the centre of Kerala, is a stunning treasure that beckons visitors with its tranquil beauty and alluring attractiveness. This expansive body of sparkling blue water, which spans more than 200 square kilometres, is not only the largest lake in India but also a testament to the abundant wonders of the natural world. Vembanad Lake gives an amazing experience that stays in the hearts of those who visit, from charming backwaters to rich biodiversity. Here, we explore the factors that make this natural marvel a must-see destination for all tourists.
How to reach
By train: Vembanad Lake has excellent train connections to important towns in Kerala and other regions of India. Vembanad Lake is located about 30 km from Ernakulam Junction, the closest railway station. Through frequent train service, Ernakulam Junction is well-connected to places like Mumbai, Delhi, Chennai, and Bangalore. To get to the lake from the railway station, hire a taxi or board a local bus.
By road: Vembanad Lake is easily accessible by car, with well-maintained highways linking it to a number of cities in Kerala and other states. A well-liked access point is the town of Kumarakom, which is located on the lake's eastern side. Kottayam, which is well connected to places like Kochi, Trivandrum, and Coimbatore through a network of roadways, is roughly 16 kilometres distant from Kumarakom. From Kottayam, local buses and taxis can take you to Vembanad Lake.
By air: Cochin International Airport, located about 75 km from Vembanad Lake, is the closest airport. Major Indian cities and foreign locations are easily accessible from the airport thanks to frequent flights run by both domestic and foreign airlines. One can take a pre-arranged cab or hire a taxi to get to Vembanad Lake from the airport.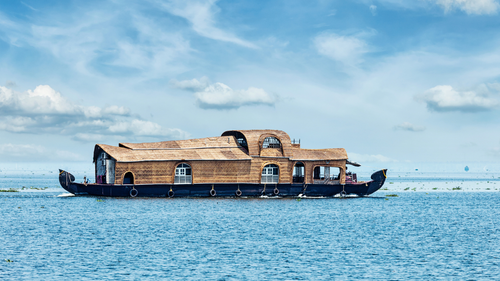 Best time to visit Lake Vembanad
Vembanad Lake is best visited between October and February between the winter and spring seasons. The temperatures are nice throughout this time, ranging from 20 to 30 degrees Celsius. The lake and its environs can be comfortably explored thanks to the pleasant temperature. Additionally, the lake's natural beauty is enhanced throughout the winter months by increased opportunities to see migratory species that frequent the area.
It is advised to stay away from Vembanad Lake from June to September during the monsoon season since heavy rain can restrict outdoor activities and boating possibilities. Temperatures can climb beyond 30 degrees Celsius during the summer months, which are from March to May.
A special treat is going to Vembanad Lake for the August Nehru Trophy Boat Race. This much-awaited occasion features traditional snake boat races when hundreds of rowers work together to produce a spectacular display that reflects Kerala's rich cultural heritage.
Hotels that you can choose from
1. Vismaya 
A 400-year-old, freshly renovated villa with stunning views of the wide, salty Lake Vembanad, Vismaya is located on a peninsula and is concealed in a tropical coconut grove. There are just two bedrooms with contemporary en suite outdoor baths, allowing guests to take showers beneath a starry or azure sky. The house was recently rebuilt to a high standard. It's intended to be an exceptional, pampering experience because there is only a small team of personnel available to care for up to 4 guests.
2. Ameya
Ameya is a recently constructed eco-retreat owned by the French with breathtaking unobstructed 180-degree lake views. Accommodations are provided in three roomy deluxe cottages, two of which have separate wooden cabanas. The atmosphere is serene and gives off a sense of barefoot elegance.
3. Coconut Lagoon
A tiny canal leads to the historic coconut plantation known as Coconut Lagoon. Its lush grounds and private cottages make it the perfect getaway for both families and couples. Known for its delicious home-cooked Keralan food, the restaurant offers private cooking lessons with the chef.
4. Boat stay
How about staying on a traditional kettuvallom boat like those found in Kerala? Join the Discovery, a houseboat powered by electricity that is causing a stir in the field of ecotourism. It is the perfect place for a romantic break or travelling families because it has a master bedroom and a living area that can be transformed into twin bedrooms. Simple yet stylish décor made up of locally produced art and materials. Additionally, meals are a contemporary interpretation of Southern Indian cuisine. Delectable fish dishes served on banana leaves can be savoured on the sunny patio while lazily exploring the backwaters.
5. The Zuri Kumarakom
With one of South India's largest spas, The Zuri Kumarakom is the ideal place to visit for anyone seeking a wellness retreat. It is the place to go if you want to completely unwind because it offers traditional Ayurvedic, Chinese, and Western therapies as well as individual yoga courses.
6. The Kumarakom Lake Resort
The Kumarakom Lake Resort is a 50-room hotel next to Venbanad Lake that offers both rooms and traditionally designed villas that are situated next to the river as well as a river-style swimming pool. There is a lot of teak in the decor, which exudes luxury. There are outdoor bathrooms in several of the villas.
7. Vivanta by Taj Kumarakom
The little ones are properly taken care of at Vivanta by Taj Kumarakom, where there are a variety of on-site activities and methods to exhaust themselves. There is something for every member of the family with the addition of two-bedroom villas with private pools and children's menus as well as exquisite dining and a spa for adults. And the 28 rooms have nightly rates that begin at about Rs 7000
8. The Punnamada Resort
The Punnamada Resort, located on the lake's southern bank, is a haven of traditional elegance that offers quality, understated luxury, and discreet, attentive service. The lodging is in a group of bungalows that circle the pool, each with tastefully decorated interiors made of jack fruit wood, four-poster mattresses that are incredibly comfy (and have draped mosquito nets), appealing workstations, trunk-style tables, intricately carved embellishments, and high-quality brass fixtures.
---
Photo: Shutterstock