As spring arrives, India gears up to celebrate its diversity like never before. It's a time when the air is filled with the aroma of flowers, and each community unites to commemorate their respective festivals with great fervour. And among the many religious festivals, one that stands out is Mahavir Jayanti, celebrated by the Jain community.
Mahavir Jayanti is a time of spiritual awakening and celebration, commemorating the birth of Mahavira, the last Tirthankara of Kalyuga. For Jains, it's a day of immense significance, and the celebrations are grand and filled with devotion.
If you haven't yet had the chance to visit a Jain temple, Mahavir Jayanti is the perfect occasion to do so. These temples are architectural marvels that exude a sense of serenity and beauty and are indeed a sight to behold. It's no surprise that people worldwide flock to these temples during Mahavir Jayanti to witness the grandeur and soak in the spiritual vibes.
So, if you're looking for places to visit during this long weekend, get ready to embark on a spiritual journey and witness the diversity of our great country. Make sure to visit any one of these Jain temples during Mahavir Jayanti. You won't regret it! Celebrate this festival of oneness and experience the peace and tranquillity these Mahavir Jain temples in India offer.
7 Jain temples in India that are a must-visit during Mahavir Jayanti!
As you step inside a Jain temple, you will be transported to a world of intricate wall carvings, towering marble pillars, and magnificent domes. Each temple is a work of art, crafted with precision and care to reflect the beauty of Jainism. So, why not take a break this long weekend and explore the beauty of these Jain temples in India during Mahavir Jayanti? Each of these - Jain temples is a testament to the rich cultural heritage of India and a reminder of the importance of preserving it for generations to come.
1. Palitana Temples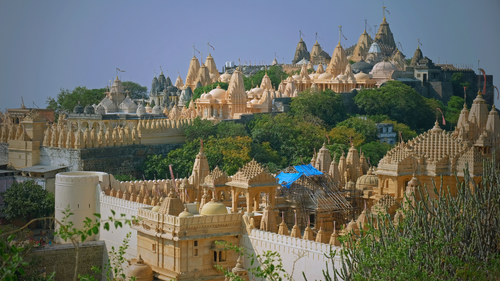 A temple to visit during Mahavir Jayanti 2023 is the Palitana temple, known to be one of the largest Jain temples in India. Nestled in the picturesque Shatrunjaya Hills of Gujarat's Bhavnagar district lies the magnificent Palitana Temples - a sprawling complex comprising 3,000 Jain temples that boast exquisite carvings. These architectural marvels were constructed over several generations starting from the 11th century and require a climb of over 3,800 stone steps to reach their divine sanctum. Palitana Temples is one of the- temples to visit if you seek spiritual solace, historical wonder, and breathtaking views of the surrounding hills. This one-of-a-kind Mahavir Jain Temple in India should definitely be on your list of places to visit.
2. Gomateshwara Temple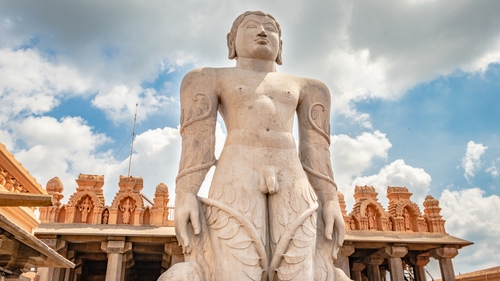 Shravanabelagola, a town in South Karnataka, is known for its majestic Gomateshwara Temple, which features an awe-inspiring 18-metre-tall black granite statue of Gomateshwara, the first Tirthankara. This masterpiece has made the temple one of the largest Jain temples in India. Every 12 years, during the Mahamastakabhisheka festival, the statue is bathed and anointed with milk, drawing devotees worldwide. The temple was commissioned by Chavundaraya, a minister of the Western Ganga Dynasty, around 983 CE. While climbing the 700 stairs to get a closer view of the statue may be daunting, the towering statue can be seen up to 30 km away. Nothing beats the view of the towering Gomateshwara statue in all its glory, and witnessing it is such a rewarding experience that any fatigue from trekking the extra 700 steps is easily forgotten. Include this in your bucket list as one of the places to visit in 2023.
3. Ranakpur Temple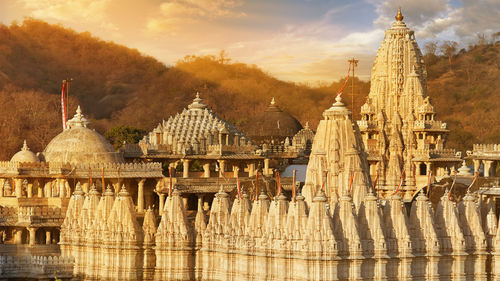 One of the must-see Mahavir Jain temples to visit during Mahavir Jayanti is the Ranakpur Temple. The Ranakpur temples are an architectural wonder, said to have been constructed in the 15th century by a visionary Jain businessman, Dharna Shah. Legend has it that the idea of the temple was born out of a dream about a celestial vehicle, which he took as a divine sign to construct the magnificent temples. The temple complex houses the Chaumukha temple, a four-faced temple dedicated to Lord Adinath, the first Tirthankara of the Jains. The temple is truly a sight to behold, with an impressive array of features, including a pillared dancing hall, courtyard, and idol of Adinath. The temple boasts 24 grand halls, 80 domes, and around 400 columns, each adorned with intricate carvings and sculptures, making it a true masterpiece of architecture.
4. Khajuraho Temples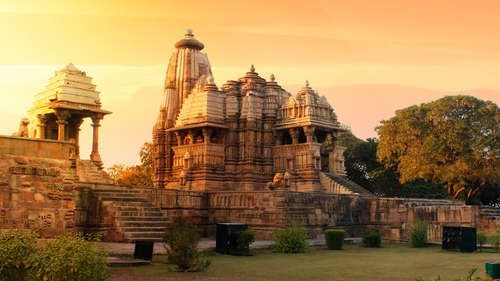 With a history dating back to the 9th century, Khajuraho temples were built during the reign of the Chandela dynasty, a Rajput kingdom in central India. Despite being surrounded by date palms during construction, only 25 of the original 85 temples remain today, with the complex named after the Sanskrit word for date palm, kharjura. Most famous for their intricate sculptures, only a tiny percentage of carvings feature erotic imagery, with the majority depicting everyday life in the form of farmers, musicians, and potters. The complex's eastern section houses several Jain temples, known for their impressive mediaeval architecture, attracting tourists for their cultural significance and aesthetic beauty. This should surely be on your list of Jain temples in India to visit during Mahavir Jayanti 2023.
5. Sonagiri Temples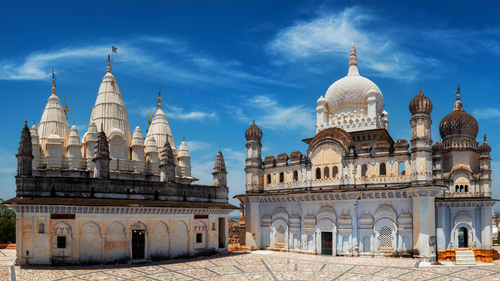 Nestled in the hills and surrounded by a quaint village, the Sonagiri temple complex is a haven for Digambar Jains seeking spiritual solace. A testimony to ancient Indian architecture, the complex comprises over 100 temples, some dating back to the 9th century. It is believed that millions of ascetic saints achieved liberation at this site, making it a sacred pilgrimage destination for devotees and saints alike. The striking white spires of the temples rise tall against the hills, offering a mesmerising view. Visiting this place during long weekends is the best way to indulge in self-discovery and experience the divine. Don't forget to witness the magnificent 11 ft statue of Lord Chandraprabhu, the 8th Tirthankara, at the 57th temple—the highlight of the complex.
6. Shikharji Temple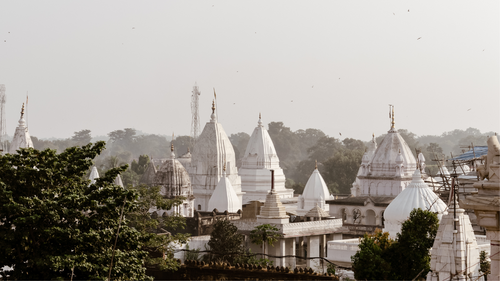 The majestic Shikharji in Jharkhand is steeped in profound spirituality, revered for being the sanctum where 20 of the 24 Tirthankaras discovered enlightenment through their ardent meditation. Nestled atop the majestic Parasnath hill, the ancient Shikharji temple is a testament to the region's rich heritage, with an ancient idol at its core that exudes an aura of mystical energy. The devout undertake a sacred journey, traversing the verdant Madhuban forest before embarking on a round trip around the hill to seek divine blessings and spiritual awakening. The pilgrimage to Shikharji is a life-affirming experience, inspiring visitors to explore the depths of their being. Indeed one of the must-visits during Mahavir Jayanti 2023.
8. Girnar Jain Temples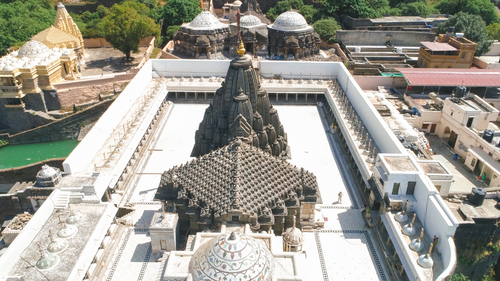 Junagadh, an ancient town in Gujarat, is a sacred haven for spiritual seekers. Girnar Hill, a revered pilgrimage site since 250 BCE, beckons the devout on a journey of self-discovery. A climb of 3,800 steps leads to a breathtaking complex of Jain temples perched on a rocky ledge, offering a glimpse of the mystical peak of Mount Girnar, still a few hundred feet away. The Neminath temple, the largest of the temples dedicated to the 22nd Tirthankara, radiates an aura of transcendence, as he is said to have attained salvation at the summit of Girnar. Every November, pilgrims embark on the Girnar Parikrama, a sacred pilgrimage at the last hill temple, the pinnacle of spiritual awakening.
Mahavir Jayanti 2023 presents a perfect opportunity to visit some of the most significant Jain temples in India. These temples offer a chance to immerse yourself in the rich Jain culture and history. There is something for everyone, from the ancient and awe-inspiring Khajuraho Temple to the spiritual and peaceful Ranakpur Temple. So, whether you are a devout Jain or simply seeking a unique cultural experience, make sure to add at least one - Jain temple to your itinerary during this special occasion.
Additionally, if you are also looking for some delicious Jain food to eat on Mahavir Jayanti, be sure to check out our selection of mouth-watering dishes that will tantalise your taste buds.
---
Photo: Shutterstock